Round two of the Monster Energy Supercross Series in Oakland had some carnage and a 450 winner that hasn't lit the candles since 2018! We had the TMTB, Team Fried, a little visit from karma and a pissed off 125 rider show up to Oakland so there is plenty to dissect in this week's Daytime Program!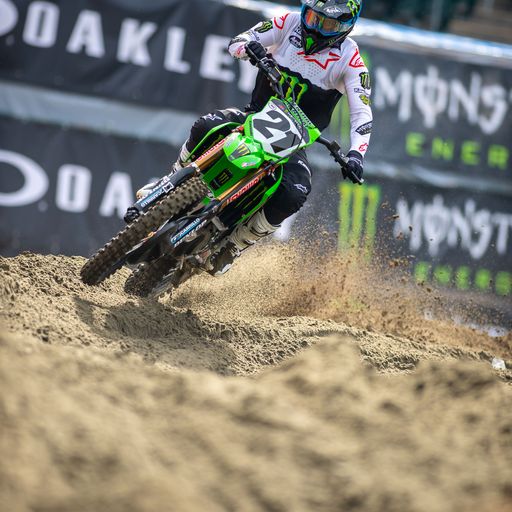 Jason Anderson: I think it's hilarious that people as well as some media think that this guy doesn't train. If you're not in shape you can't sustain 21 laps on a rutted Supercross track with Aaron Plessinger right behind you. JA is part of Team Fried, but that doesn't mean he's just partying all day and riding a little. He has been through the Aldon Baker program and decided long ago that he could get his work in and get the job done. Saturday night he did just that and looked comfortable doing it! All of the Kawasaki guys have said JA has been a pleasure to work with and he even is a pretty good tester himself. I think it's great for our sport to have another rider to talk about and with the points he made up in one round, it goes to show you that on any given Saturday night a rider can win and then the following week can get an 8th! We are in for a hell of a season.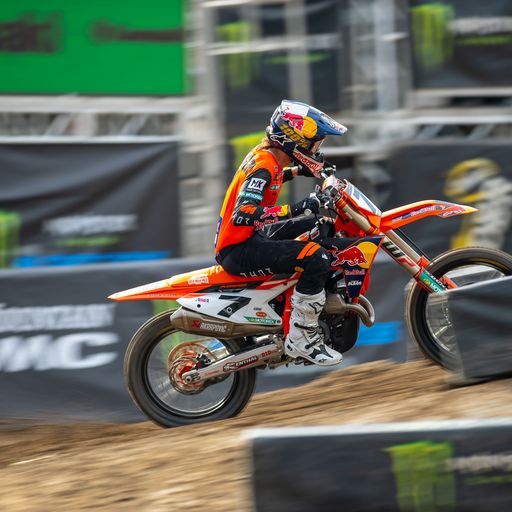 Aaron Plessinger: I picked AP for five wins this season on the Racer X Supercross Preview Show! I know that sounds like a ridiculous number to some, and it may be, but I do think AP will start to gain momentum after this round and pick off some wins. AP was really good Saturday night in flat corners as the way he positions his long/lanky body in these areas give that KTM tons of traction. His rear end never steps out and it looks like Aaron has worked on throttle control or that KTM just offers something the Star Yamaha couldn't in the past.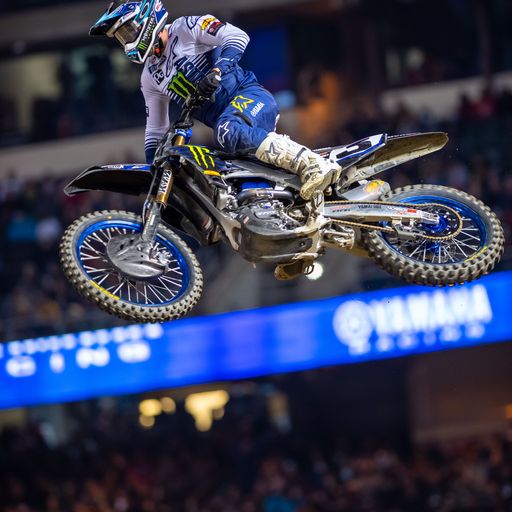 Eli Tomac: Tomac had the fastest lap of the main event but of course his starts hurt him. There is no doubt that if he gets a top three start that he wins. An 8th place isn't going to cut it in 2022 so Tomac and the Monster Energy Star Yamaha team needs to figure out what the deal is off the gate. Ferrandis was 13th off the start so both Yamaha 450 boys need some better rear wheel traction coming off the grate.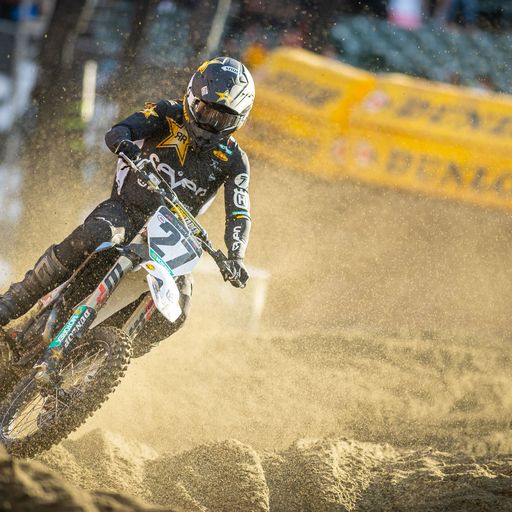 Malcolm Stewart: A top five is a great ride by Malcolm. He beat the reigning SX/MX champs and his lap times prove that he is in great shape. When I was at the Baker Factory, I saw first hand how hard he works and this new Rockstar Husqvarna allows him to ride the way he wants to ride. Aggressively. Podiums are going to happen in 2022 and I bet we might even see Mookie flirting with a win by the time we get to SLC.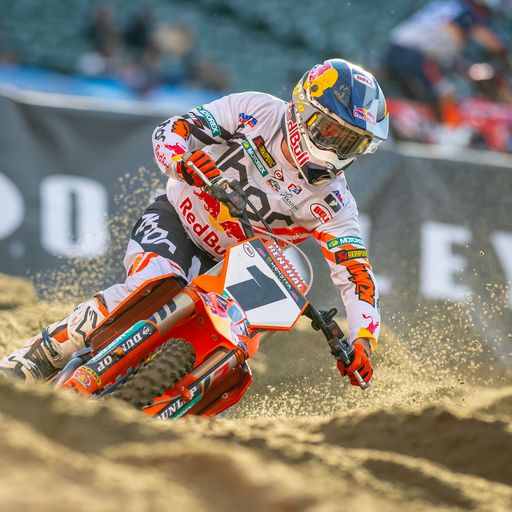 Cooper Webb: I am still not worried. Are you guys? Three points out of the lead and we are moving on to San Diego where he won the last time we went there! I bet Webb is fired up from the result from Oakland and a pissed off Cooper Webb is a winning Cooper Webb. Watch out come San Diego folks! Funny how some people are already talking about points. Moving on…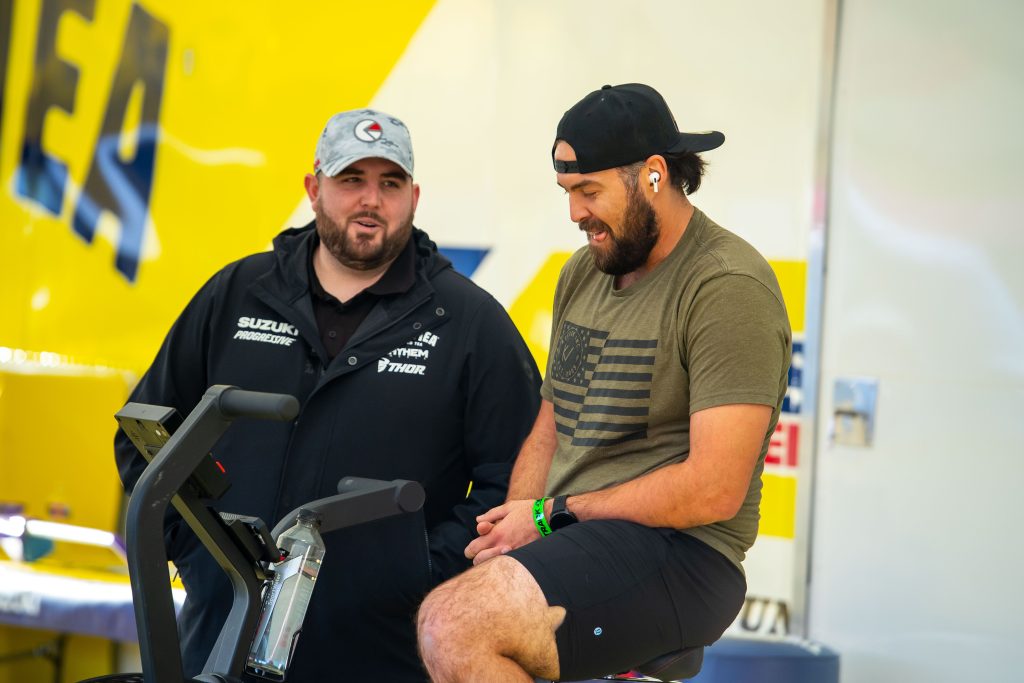 Ryan Breece/Adam Enticknap: I mean you're both in qualifying positions and you want to risk a move like that? Is there any beef there? I don't know man, but if I was in fourth in the LCQ and I felt like was faster in the whoops than the guy in third, I don't think I would of risked that pass Breece made on 722. I do know Breece is not scared and he looks to be a main event guy every weekend but I feel like that might have been a little aggressive. I do think that Adam was really trying not to retaliate after being a lap down, but he played it cool and witnessed that cartwheel by Breece, which you could see gave the 722 a little satisfaction. I like both of these dudes so let's hope they bury this LCQ Oakland beef and move it to the main event come San Diego. Karma is real people!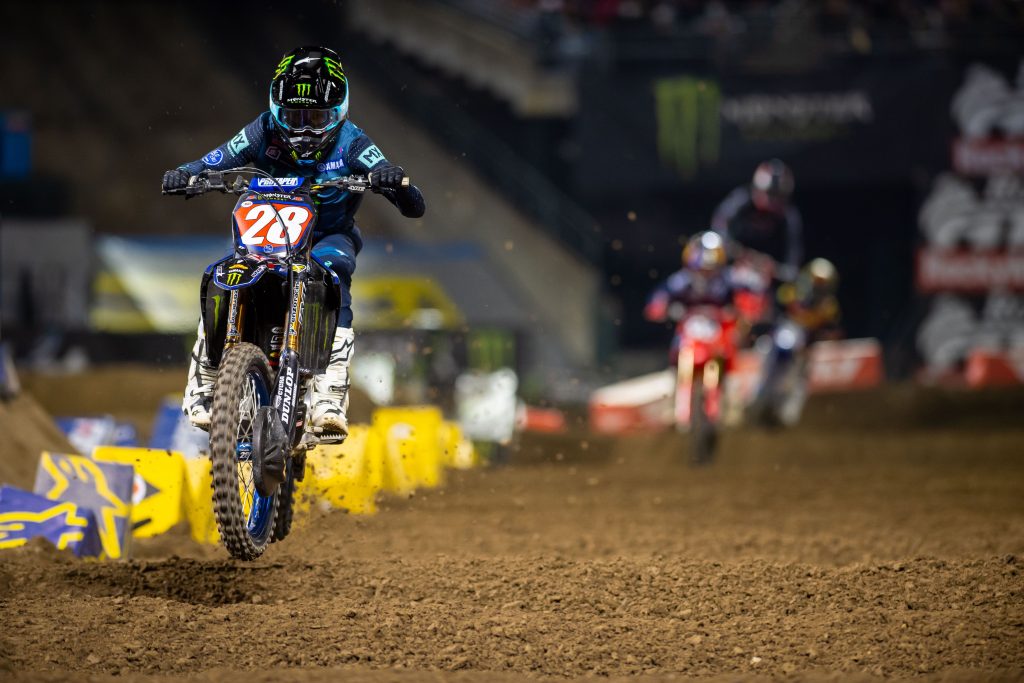 Christian Craig: TMTB. Two whoop sections equals Craig wins. His bike set up looks balanced and his ability to get into the whoops where they are "clean" is really where he makes up his time. Where some riders are trying to go down the middle and skim (only to mess up half way in), Craig goes in super close to the edges of each side in order to build speed through them, not lose speed through them. He even looks like he sets up the corner before based on where he will enter the whoops! SMART! His ability to ride the tough blocks (edge of track) into the whoops and then slowly make his way back into the main line is where he stacks time against his competitors. Even when the whoops are edgy, he has so much speed that his Yamaha can settle in those crapy spots of the whoops. Impressive.. Again… TMTB.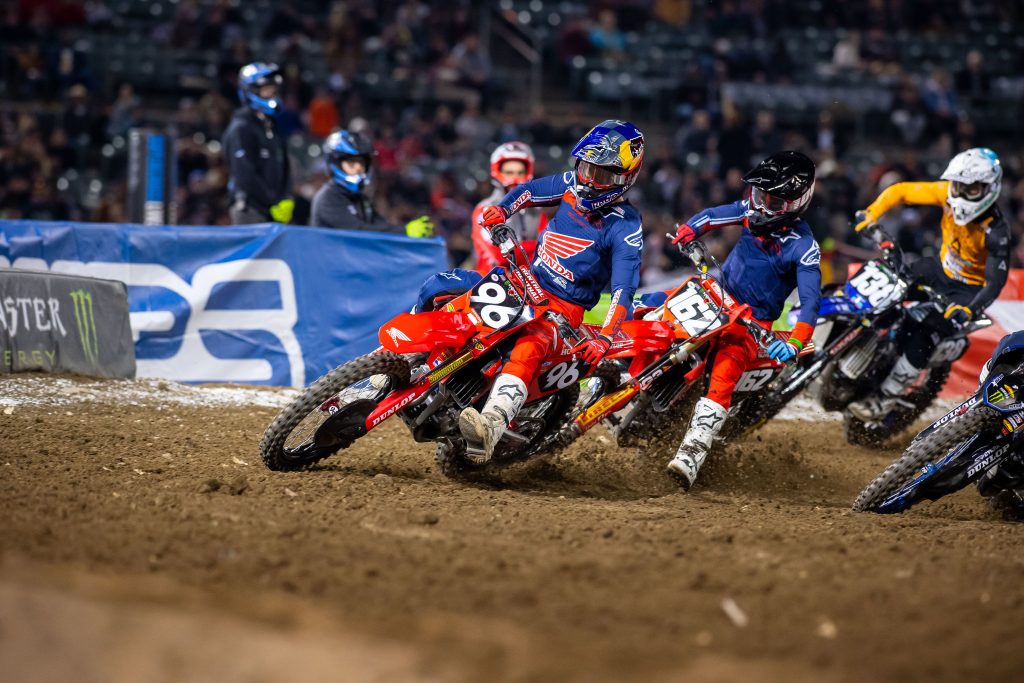 Hunter Lawrence: Hunter has that end of race stamina that I feel could be better than Craig's but it won't matter if he can't get through the whoops a little cleaner. Now that is not saying that I think his speed isn't good in the whoops, it just isn't great. I do think some of that can come from a better set up. His bike looks rigid in the rear and you can see his rear end deflect off some whoops near the middle to end (when they are chewed up). With the CRF250R being a new bike, I think there will be some growing pains here, but I am sure the team as well as Hunter's father will figure it out.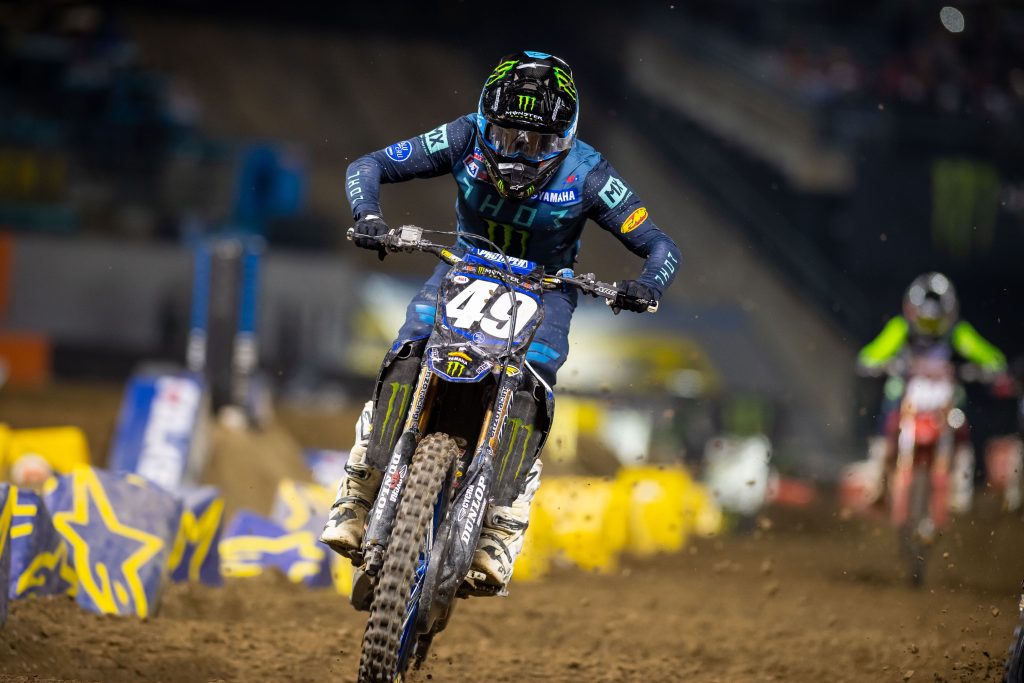 Nate Thrasher: Good to see Nate put a good result together in a baseball stadium. For a guy who has two wins in this class I think he flies under the radar a little. I don't care where you get your two wins (stadium or speedway), it's a freaking Supercross and that means you're a bad dude.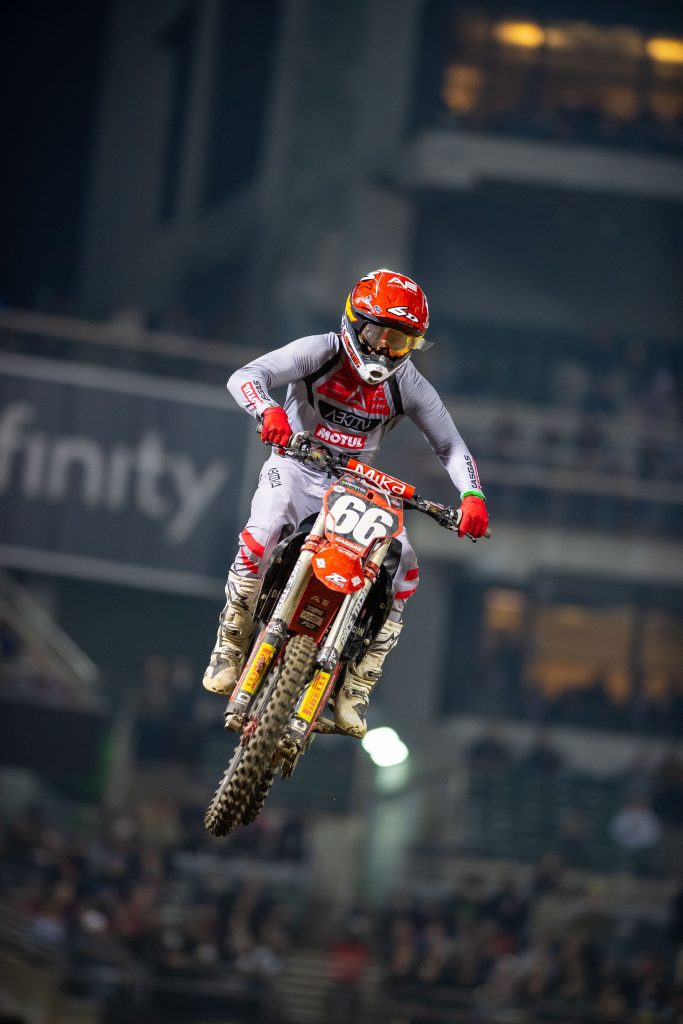 Chris Blose: Nice to see Blose get into the top ten after that get off in practice last week. This is his last season and being that he is in his thirties, it's not easy to just shake off a big crash like the one he had and get a top ten the next weekend. Not to mention that his crash last year was really bad. This is how much Chris loves to ride/race people! Once dirt bikes get your claws into you, it's tough to let go and Chris is showing us that he is more than capable to piss off some factory riders main events with his speed.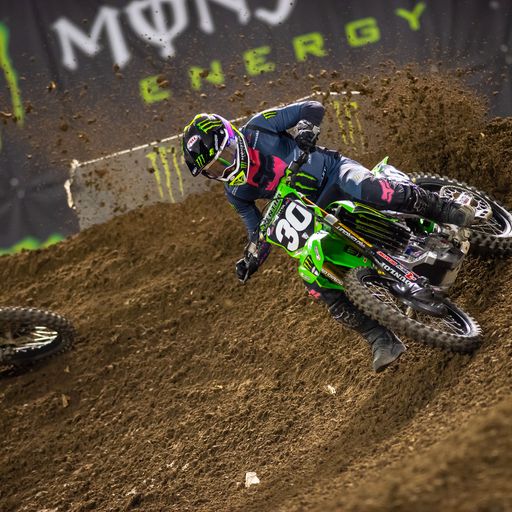 Jo Shimoda: Crazy crash by Jo in the whoops. Usually Jo is one of the smoothest 250 riders there is, but it looked like he wanted that one a little too much. I am fairly certain he learned a lot in Oakland and him making that mistake twice within this series is not going to happen.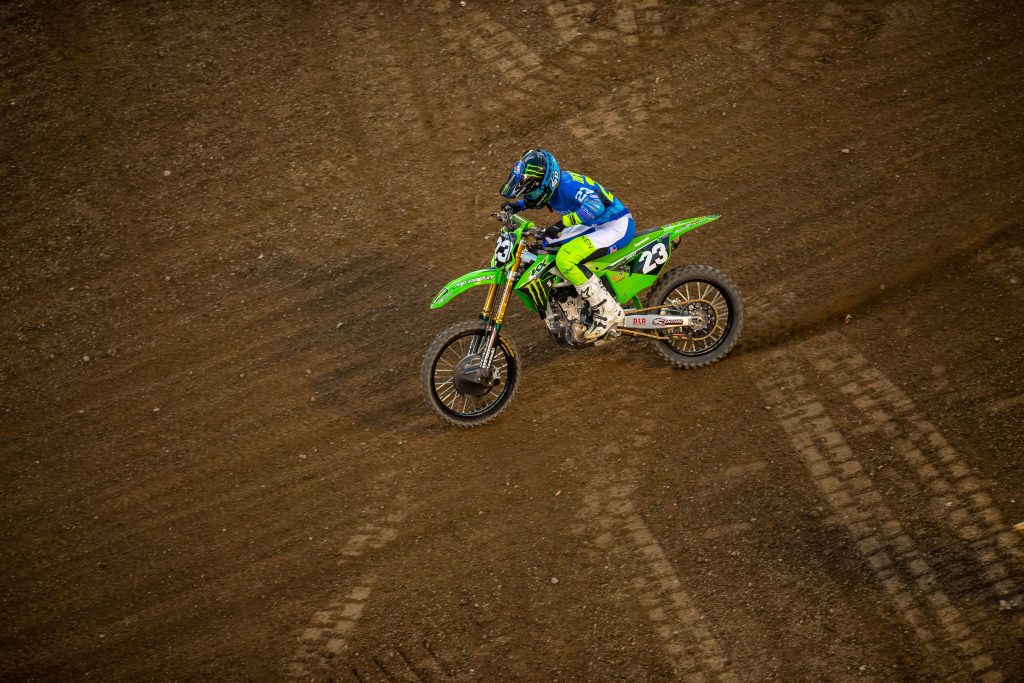 Supercross Futures: Ryder D didn't have anyone to race. He was on a different level than everyone else. He was better in the whoops than the other kids and he had a rhythm that he was doing that others weren't. We need some of the faster kids racing this and I think we will see that come Anaheim. Ryder looks to be growing up, getting taller and his voice is dropping. Damn it! I am getting old!