2022 is off to a great start, not unlike 2021. The Top 10 is separated by a mere 15 points after two rounds, but the points gap for the Top 10 in 2021 was 14 points. Not much difference between seasons. Justin Barcia didn't win the opening round this year, but he does have the red plate leaving the 2nd round for the 3rd consecutive year. While it's a new year, there's a new COVID variant, and a handful of prominent riders are on new teams, it seems not much has changed.
Let's inspect that further…
450SX
Eli Tomac got 6th at the opening round. I took a look at his career 450 results by round and to no ones surprise, the first round is his worst. He has zero wins, 1 podium, averages a 10th place finish, and has scored a mere 100 points in 8 attempts. He's on a new team, but seems not much has changed.
Do you know Cooper Webb's worst round?! That'd be round 2 and his 7th last weekend in Oakland is very close to his career average 10th. Round 2 is also the only round he's never won or even stood on the podium. He's got a history of starting seasons slow and this year is no different.
Ken Roczen won the opening round wire-to-wire. It's not entirely surprising, he's now won 4 times at the opening round, twice the amount as any other round in the series. He also started the season where he left off, leading laps for the 6th consecutive round. Again, no surprise, he's led the most laps the past 2 years.
Through 2 rounds last year, Chase Sexton had qualified fastest once, had the fastest lap in one main, and had lost positions in both rounds. He's mirrored those stats through 2 rounds in 2022. While he's publicly stated he wants to eliminate those rookie mistakes, he's not delivered through 2 rounds. I imagine he's not happy about that either. Seems not much as changed, so far.
If the above rider results are what we've come to expect through 2 rounds, there's a few that have broken the mold.
Malcolm Stewart was the fastest qualifier at the first round. The first time he's done so in his career. New team, new trainer, he's looking lean, and he showed some serious desire after a run in with Marvin Musquin in Anaheim. He seems to have upped his game for 2022.
Jason Anderson sits second in the standings, just 3 points behind series leader Justin Barica. Last year, he sat 13th in the standings and was already 21 points out of the championship hunt after finishing 15th and 8th at the first two rounds. With his 8th career win at round 2 in Oakland and a solid outing at round 1, the ever popular Anderson has shown a new spark.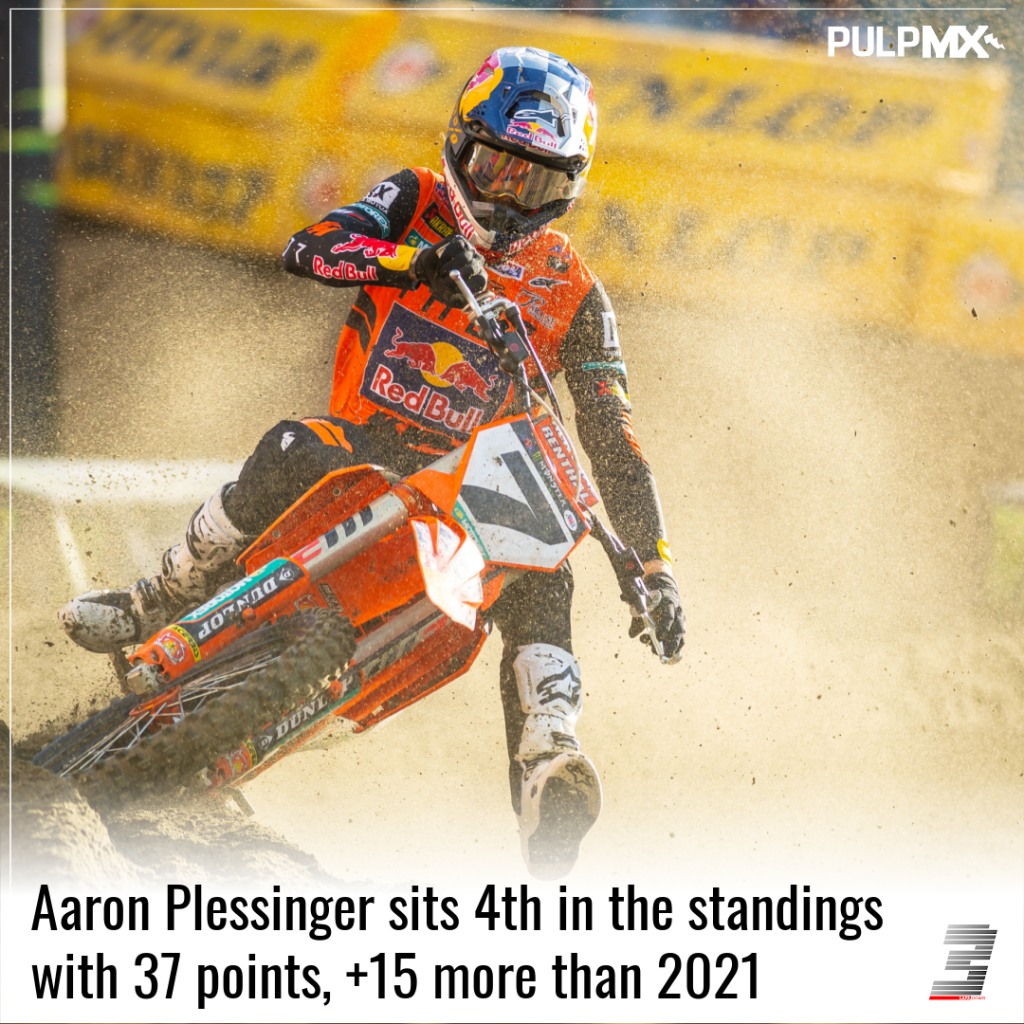 Similarly, Aaron Plessinger sits fourth in the standings through 2 rounds. Last year, he was 12th in the standings and 18 points out of the title hunt. This year, he's finished 9th and 2nd and a mere 5 points out of the title hunt. New team, new trainer, and so far, the results are trending better. Does it continue? We'll know in a couple of days.
250SX
Christian Craig is definitely still silky smooth in the whoops. Give me a follow on Twitter for the weekly "poetry in motion post". If you're having a bad day, it's sure to make you smile.
Your weekly poetry in motion post – Christian Craig in the whoops. pic.twitter.com/u2QWEQ3GM9

— Clinton Fowler (@3lapsdown) January 15, 2022
Michael Mosiman
is a clear title contender and has show the speed to compete with Christian Craig. Case in point, he was fastest in the first qualifying session in Oakland and has been 2nd fastest in the other 3 sessions. Unfortunately, he's finished 6th and 4th after mistakes in both rounds, not unlikely 2021 where he finished 7th and 4th in the first two rounds. Seems not much has changed.
Seth Hammaker has quietly started the season with 2 podiums. In just his 2nd season and 11 races into his career, he's got 1 win, 5 podiums and 9 Top 10's. In an era where the older riders have dominated the wins and championships, Hammaker is a throwback to the day when younger riders were immediate title threats. But his rookie season didn't start off great, a 6th followed by an 11th and then his breakout win at Daytona in just his 3rd race. Can he do it again at round 3 in San Diego this weekend?
Who else has given us more of the same through 2 rounds? Who's given us something different? Hit me up on Twitter or Instagram @3lapsdown with your ideas.