"Triple Crowns are so much better than a normal race. You need to talk Feld into going to this format for every race… at least a 2 moto format". That's the message I got from my cousin and ex-DKNY Husqvarna rider at the end of the night in Glendale. It's something I've heard more than a few times over the years. Personally I agree and maybe we'll get a few more in the upcoming years. It's great to see the variety. However, as a statistician, I'm not a huge fan because they come with a bunch more work.
Given the extra work, I'm going to cover some of the more interesting all-time triple crown stats this week. Take a look and let me know what sticks out as interesting to you.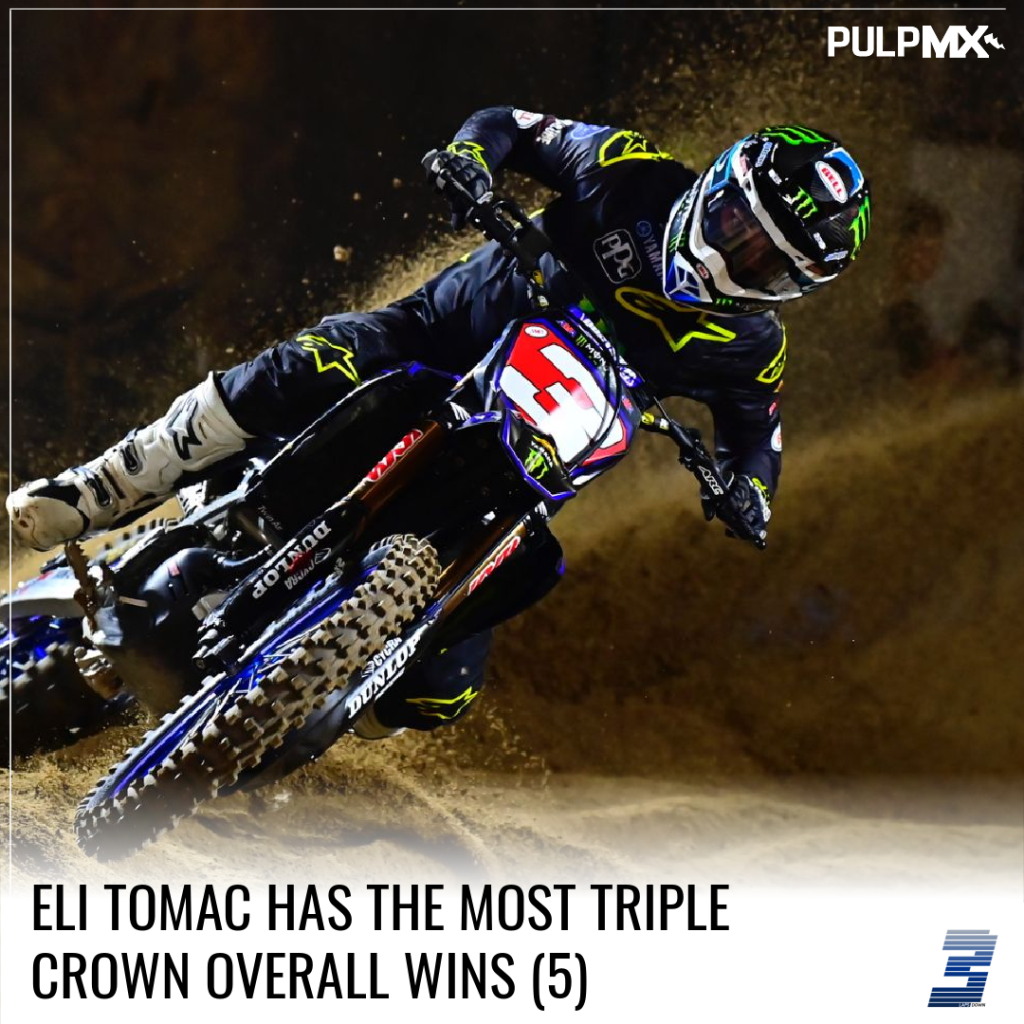 Eli Tomac (5 triple crown overalls)
He was on fire this past weekend in Glendale. He's clearly building confidence as highlighted when he said his bike was "haulin the mail". Reality is that he always 'hauls the mail' at triple crown events. He's got an average finish of 1.9, he's been on the podium in 8 of 9 overalls, and he's won 5 of the 9 triple crowns ever! The competition should be thankful there's not another triple crown till round 8 in Arlington.
Eli Tomac (2nd best first lap position)
This one had to be called out separately cause it's that good. First and foremost, only Chase Sexton has a better triple crown race first lap position, but he's only raced 3 triple crown races in the 450's. Eli's raced all 27 races!  What's amazing is that throughout Eli's career he's been a 5-6th rank first lap position rider in normal format main events. Starts have never been his forte, but when it's a triple crown, he's the best.
Ken Roczen (1-1-1)
He's the only rider to ever complete a clean sweep of a triple crown. He did so at Glendale in 2020. However, in 7 career triple crown events, he's only been on the overall podium 2 times and inside the Top 5 in 5 of 7 events. Triple crowns haven't been his forte and this past weekend was no different. He went 4-6-7 for 5th overall.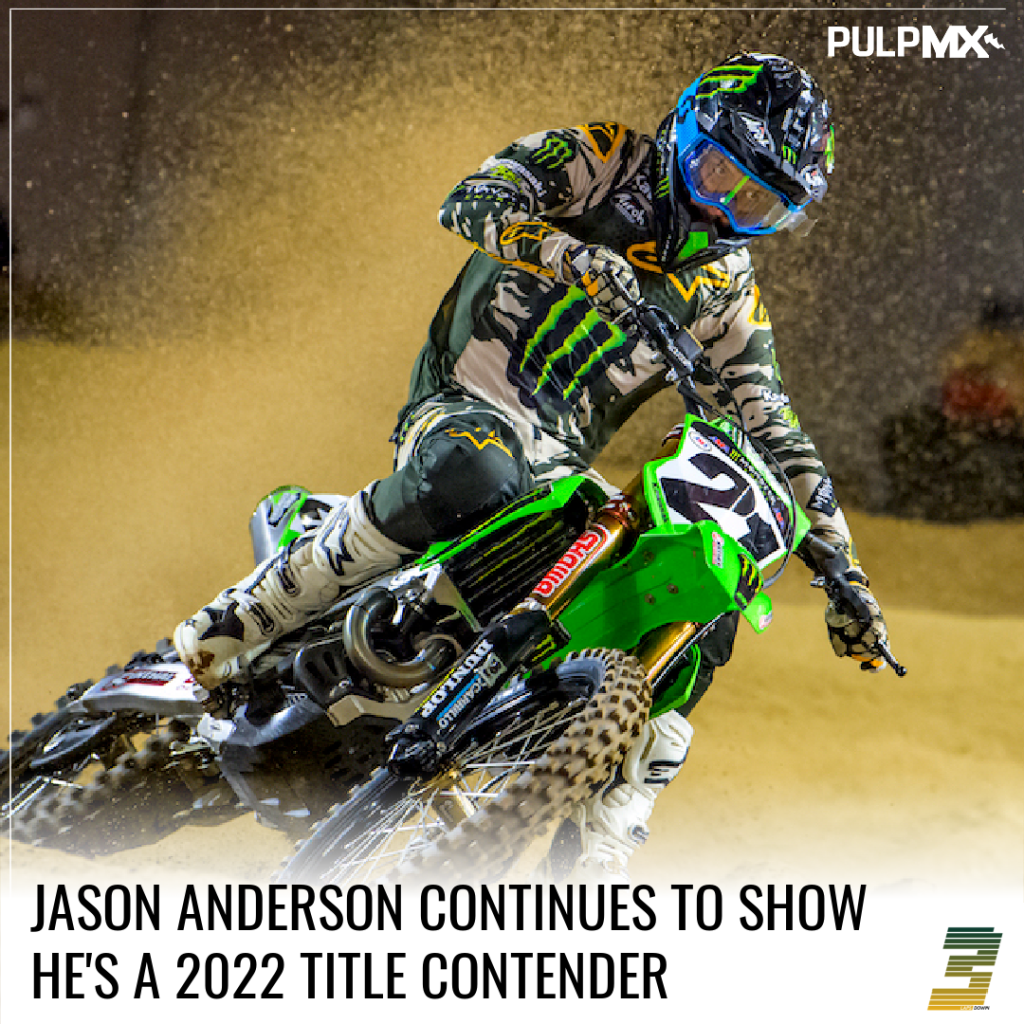 Jason Anderson (5 podiums)
For a guy that's openly shared he doesn't like the format, he does really well at them. He's been on the podium in 5 of the 7 triple crown events he's raced. Had he not fallen in the 2nd race this past weekend in Glendale, there's no question it would've been 6 of 7 career triple crown podiums.
Justin Brayton (1 triple crown race win)
We talk about Justin's 2018 win at Daytona as a major accomplishment, but it's worth noting that Justin has also led 35 laps and won 1 triple crown race. As he finishes his career and heads into retirement at the end of 2022, I think we need to recognize this 'other' win a bit more. #thismessagewasapprovedbyweege
Austin Forkner (3 triple crown overalls)
Austin is the only 250 rider to win more than 1 triple crown overall in the 25i's. Not surprising when you consider he's also led the most laps (80). It'll be interesting to see how he does in Arlington at the next triple crown. Does he return to historical form or does Jett Lawrence get his first triple crown win?!
Shane McElrath (1.7 average finish)
In 3 250 triple crown events, Shane never finished off the podium. He doesn't have the wins that Forkner has, but he was very successful at triple crowns. What's particularly interesting about this is we didn't see Shane upfront this past weekend in Glendale. He's been great off the start on the 450 this season – 6th best first lap position. It'll be interesting to see if he has more success at the next triple crown in Arlington at round 8.
Dylan Ferrandis (3 fastest qualifiers in 250 triple crowns)
Let me know if this sounds familiar. Dylan Ferrandis was fastest qualifier in 3 of 4 triple crown events, but only won 1 of them. He's never gotten a holeshot, averages 6th place on the first lap and averages a 5th place finish. That said, he's got the most podiums (10) in 250 triple crown history. Now just imagine how many wins he'd have if he could get off the starting gate better!?
18 250 Riders have led a triple crown lap.
This one struck me as interesting. In a typical 250 regional supercross season, there's 7-9 races. Looking back at the past 3 seasons and 6 250 regional championships, we've averaged 6 different riders leading at least 1 lap. But in 9 triple crown events we've see 18 different riders lead laps. That's 3x the norm so it's not surprising the fans love the racing – there's more passing and that's always more exciting to watch!
Eli Tomac (+67 position changes)
Yes, another Eli stat. Consider this, in 27 triple crown races (9 total overalls), he's got +67 position changes. That's 241% more than any other rider in triple crown history! He's got a 1st lap average of 5th and an average finish of 3rd. He's just really, really good at triple crowns.
Thanks for reading this week. If you have any stats questions, hit me up @3lapsdown on Instagram or Twitter.