With a break in the schedule, I thought it'd be interesting to look at a couple of streaks. Eli Tomac has won 5 races in a row while Cooper Webb has now gone 12 rounds without a win. For each of these riders, the streak represents the longest of their career.
Obviously Eli Tomac is riding high having won the last 7 of 9 races and the last 5-in-a-row. Something that only 8 riders have accomplished in their careers. No surprise, Eli looks to be the happiest he's been his entire career. Who wouldn't be with a +54 point lead over 2nd place!?
On the other hand, Cooper Webb hasn't won in 12 rounds. It's the longest winless streak since joining KTM back in 2019! No surprise, Cooper looks to be frustrated and hard crashes at 2 of the last 3 rounds have only added to that frustration. I can imagine the entire Webb camp continues to work tirelessly to get him back on the top step of the podium. Unfortunately, it hasn't stopped his career longest 12 round winless streak.
Let's dive in and look at how each of these streaks stacks up against other streaks in the history of supercross….
5-IN-A-ROW
Going back to the beginning of AMA Supercross, only 8 riders have won 5 or more races in a row. It's not quite like winning a championship, but it's definitely a statement that these riders are one of the best to throw a leg over a bike.
To put it in perspective, riders like David Bailey, Jeff Stanton, Jean Michel Bayle, and Cooper Webb have never won more than 3 in a row! It's one thing to win 1 race. It's another to win back-to-back. But winning 5 in a row has only been done by 8 of 65 premier class winners. It's rare. Very rare.
Looking at the all-time streaks, Jeremy McGrath and Ricky Carmichael stand in a class all their own having won 13 races in a row. Between the teams, trainers, and competition nowadays, the likelihood we see this happen again is extremely low. The King and The Goat were just on another level. A step down from these two you've got maybe the fiercest rivals in the sport – James Stewart and Chad Reed – that won 7 in a row. Seems almost silly relative to 13 wins in a row, but there's 4 total riders that have won 7 or more. It's still extremely rare!
Then you've got Eli Tomac who now has a chance to join Bob Hannah, Rick Johnson, McGrath, and Carmichael as riders that have won 6 in a row. Considering his momentum and a relatively injured riddled field, do you question whether he'll add his 3rd win in 8 career starts in St Louis!? I'm not betting against him.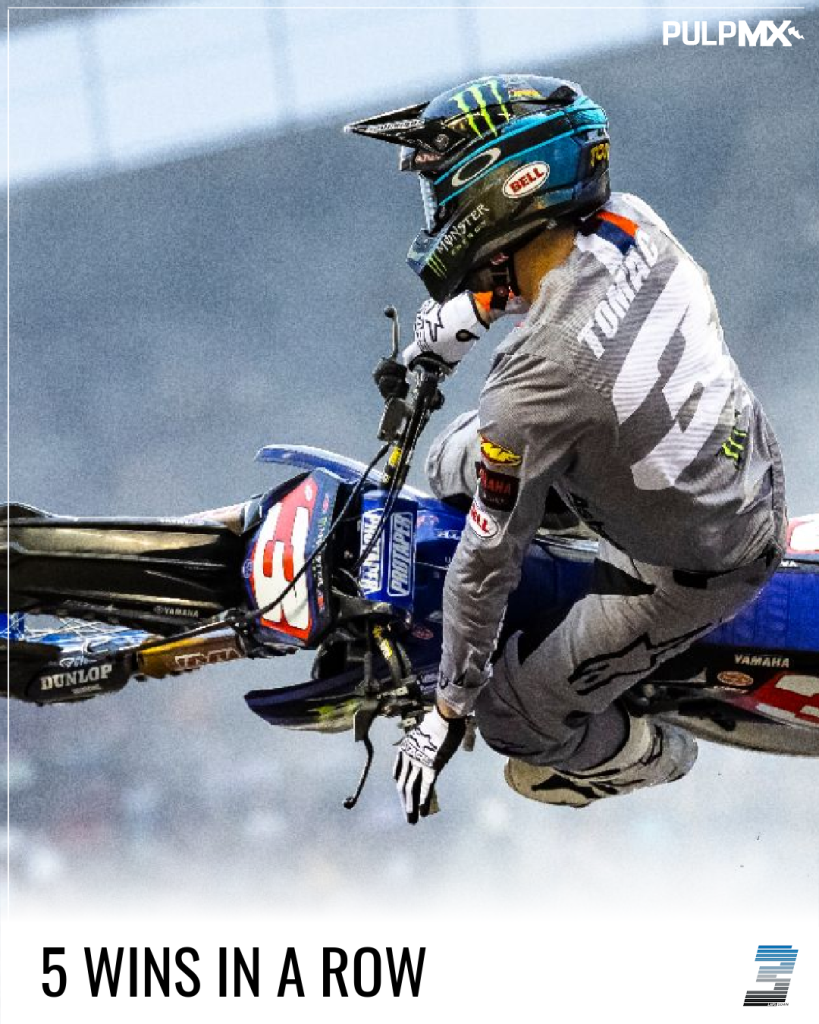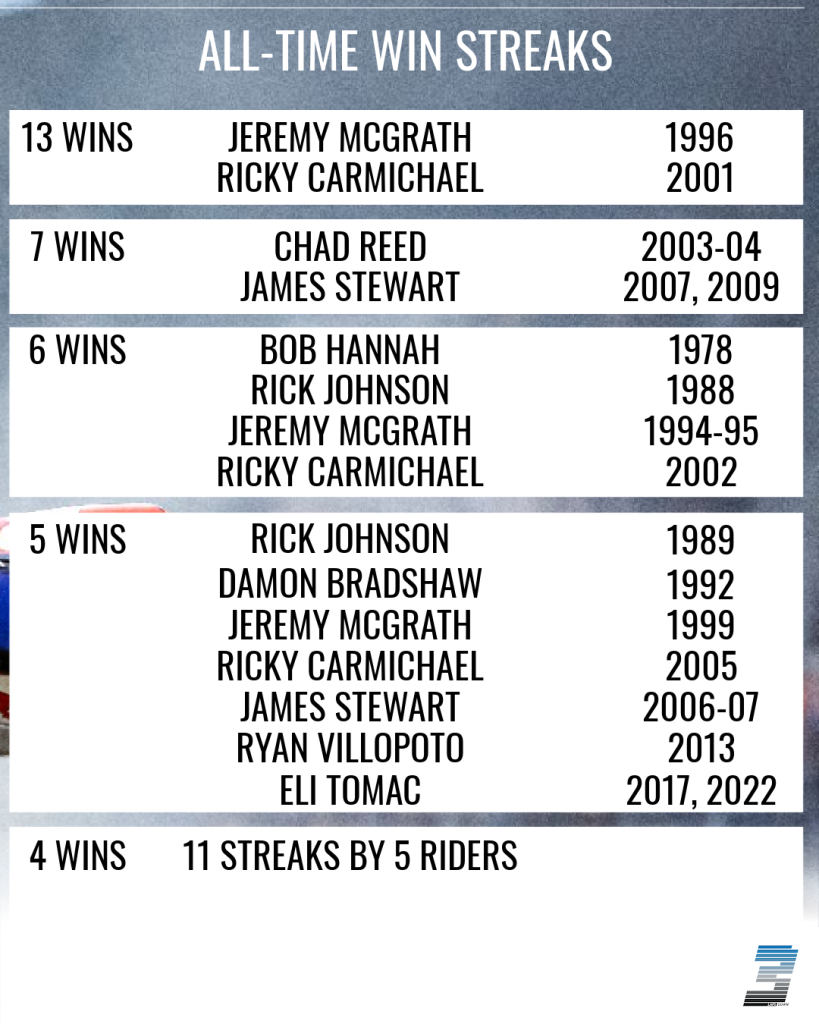 12 WINLESS ROUNDS
On the flip side, we've got Cooper Webb's longest winless streak – 12 rounds. It's the longest winless streak since he joined KTM in 2019 and it may also be the first season that KTM goes without a win in the premier class going all the way back to 2011.
What's really interesting is that following round 6 in Anaheim, Webb made overnight strides. I'll hold back from theories on what possibly could've changed in 6 days that hadn't in the previous 6 weeks and an entire off-season. What I do know for sure is that Cooper Webb started riding like it was 2021 (!) again. He looked poised to grab a few victories. He looked so good that I even put $20 down on him winning 2 races before the end of the season.
But he hasn't won.
He went 2-3-2 and then made a rare mistake in Detroit that resulted in him finishing 20th. The last two rounds he's showing the 'never give up' attitude that's earned him 2 championships, but the injuries have clearly taken a toll. He doesn't seem to have anything for Tomac, Anderson, Barcia, or Stewart.
But the question stands… how does his current 12 race winless streak stack up against the 11 riders with more all-time wins than him? The answer – only 4 of those riders have longer winless streaks.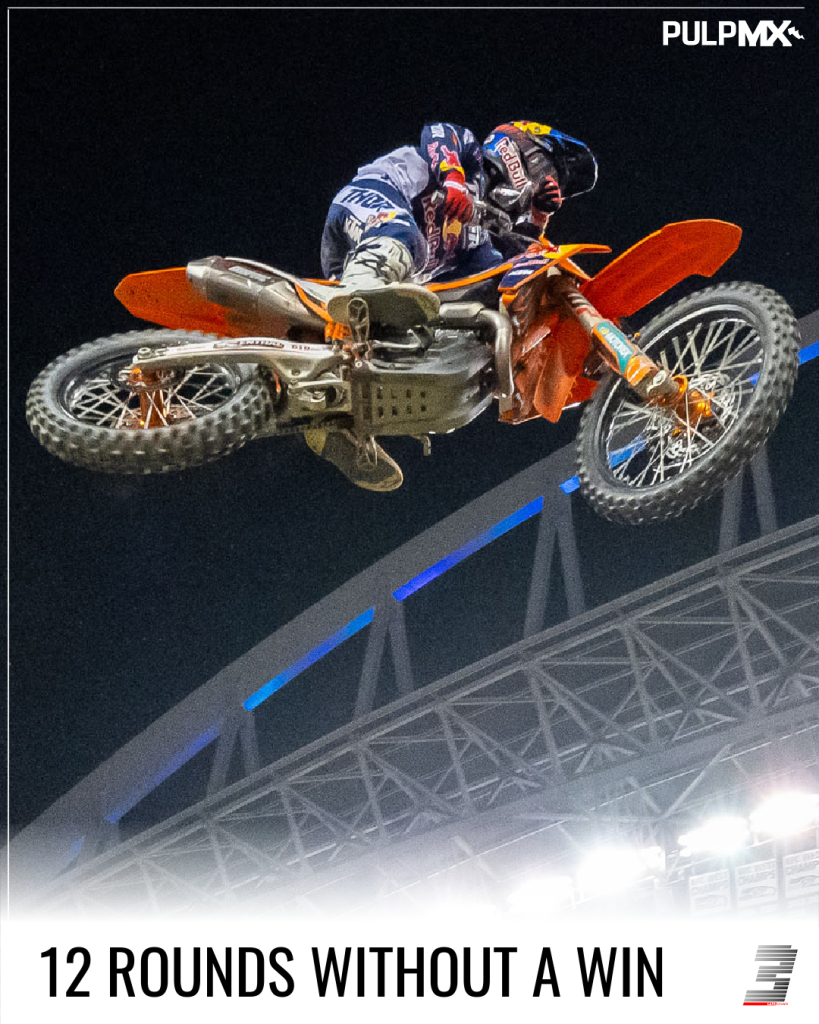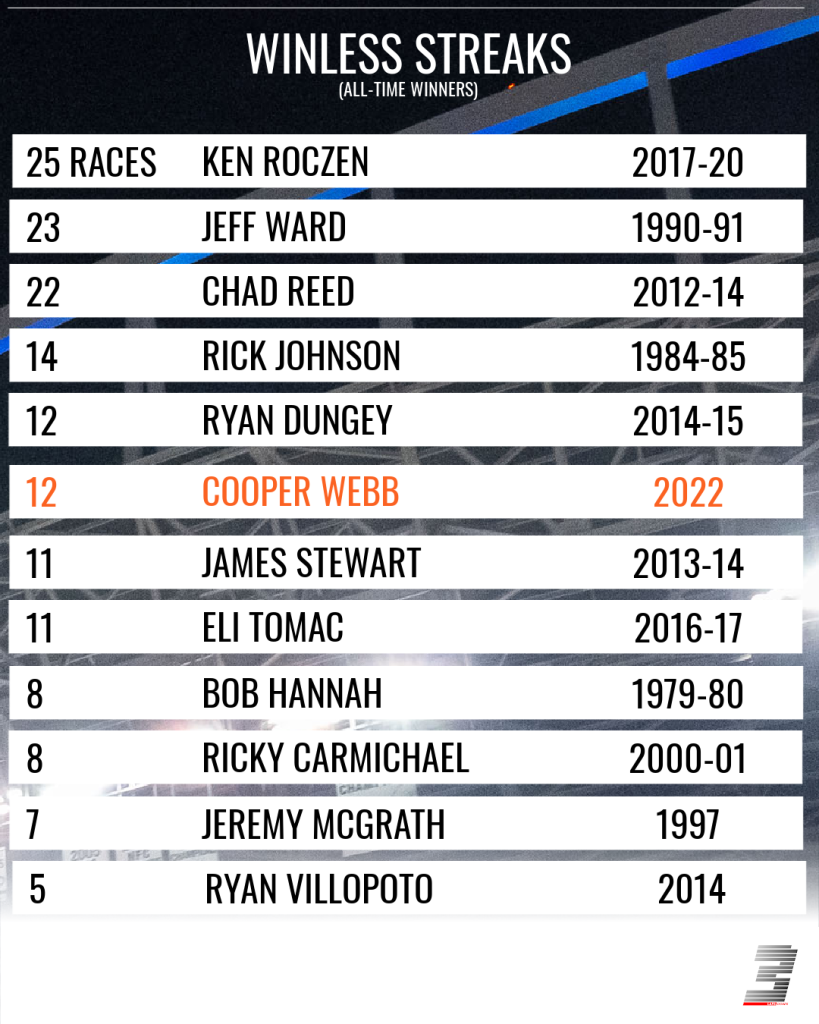 ** I've excluded both Chad Reed (87 races) and Jeremy McGraths (41 races) winless streaks that ended their careers. We can debate the merits of including them if you'd like.
Assuming the current trend continues, it's going to take mistakes from Eli Tomac, Jason Anderson, Justin Barcia, and Malcolm Stewart for Cooper to get a win before the end of the season. If he doesn't win this season, he'll have the 4th longest winless streak among the Top 10 All-Time Winners. Interesting to consider how many people had him for the championship at the beginning of the season, myself included.
One last thing to consider… the only defending champion to race all the races the year following his championship and not win a single race is Mike Bell back in 1980-81. If Cooper doesn't win a race this season, he'll be only the second champion to not win a single race in his title defense!
Hope you enjoyed this weeks Advanced Analytics. Hit me up @3lapsdown to tell me what you think – do Eli and Cooper keep it going?!