Remember when we started the year with 4 different winners and it was the most stacked season ever!? Pretty amazing to look at the stats now and see just 5 different winners. Maybe even more profound is that only Eli Tomac and Jason Anderson have more than 1 win.
But the story about how many winners we see each year has been covered… repeatedly. So I won't bore you with the fact there's 4.6 winners per season. It doesn't matter what decade you look at, the average is 4-5 winners per season. It's as consistent as the sunrise and sunset.
Sure, there was 8 winners in 1985 (Johnny O'Mara Broc Glover, Ron Lechien, Mark Barnett, Bob Hannah, Jeff Ward, Rick Johnson, David Bailey). There was also only 2 winners in 1996 (Jeremy McGrath, Jeff Emig) and 2001 (Jeremy McGrath, Ricky Carmichael). But these are outliers – rare occurrences in our favorite motorsport.
But what I'd like to cover today has to do with the age of the Top 5 riders in the 450 standings. The average age of the Top 5 riders in the 2022 premier class is 30 years old. Thirty, 3-0!
Eli Tomac = 29 years old
Jason Anderson = 29 years old
Justin Barcia = 30 years old
Malcolm Stewart = 29 years old
Marvin Musquin = 32 years old
For a sport that's mostly been considered a young mans sport, it looks like there's a shift in the age of riders. Sure, there's riders like Justin Brayton (38 years old) who's still finishing in the Top 10 week in, week out. But he's an outlier. He's the exception, not the rule.
Being a data nerd, I wanted to find a stat that confirms the top riders are getting older. That it's a trend. Guess what? I found it.
The stat = average winners age.
Average winners age in the 1980's was 23. In the 1990's it was also 23. This confirms the idea that supercross is a young mans sports. And then it went up ever so slightly in the 2000's – the average winners age was 24 years old. And once again to 25 in the 2010's.
But looking by decade masks the relatively drastic change you see when you look at the last 7 years. Looking at it by year, you can see a steady increase in the average winners age.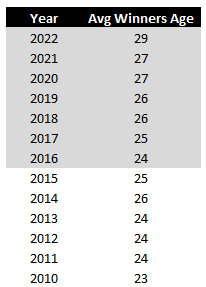 You can argue that's simply following Eli Tomac's average age, but you've got to keep in mind that Ryan Dungey, Ken Roczen, Marvin Musquin, Jason Anderson, and Cooper Webb have significant win totals during this time and their ages vary quite a bit.
So now the question is… why's the winners average age rising? Is it because winning in a time of regimented training programs and a deep field requires more maturity, better racecraft that takes more years to build, and a better ability for a rider to setup his bike to perform more consistently at the top?
Hit me up with your theories @3lapsdown.