For this edition of Classic Ink, we are going to take a look back at One Industries' awesomely successful Hurricane Kit from the late nineties.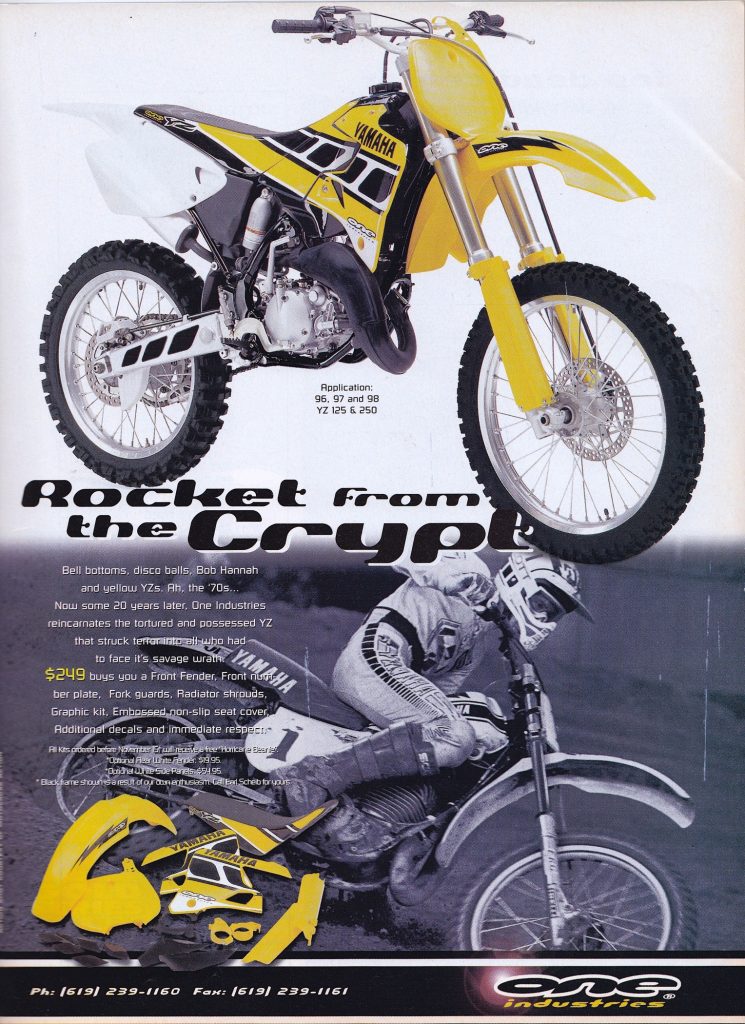 Today, the idea of a yellow YZ does not seem all that novel but in 1997 this Hurricane kit blew people's wigs back with its cool retro swagger. Photo Credit: One Industries
Motocrossers are a fickle and fashion-conscious lot. While we love the latest and greatest of everything, we are often also suckers for the mesmerizing pull of nostalgia. Throwback gear, throwback races, and throwback motors (four-strokes in the 80s and 90s and two-strokes today) are all like honey to a Poo Bear for a huge portion of the motoing community. While not every nostalgia play is a home run (Thor's "leathers-look" Hallman pants had more people scratching their heads than reaching for their wallets at Red Bud last year), every once in a while, one comes along that hits the sweet spot of cool, classic, and contemporary.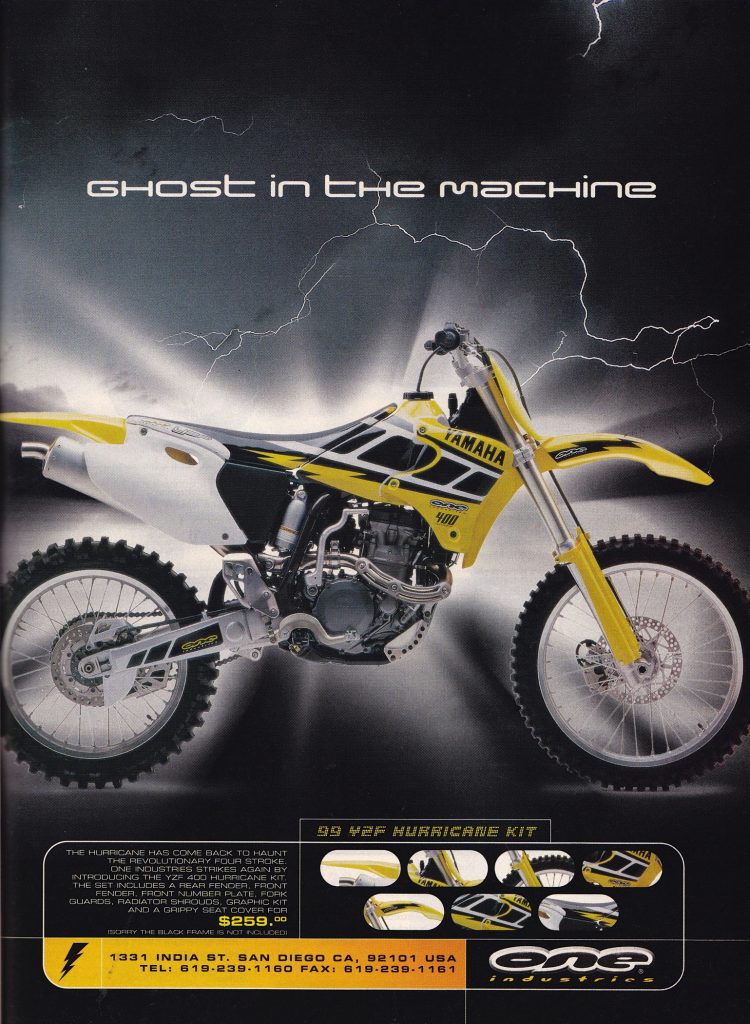 While some probably saw it as blasphemy to "Hurricane" a four-stroke, it certainly did not stop One Industries from selling thousands of the restyling kits for Yamaha's revolutionary new thumper. Photo Credit: One Industries
In 1997, One Industries did just that with the introduction of a full plastic and graphics kit aimed at transforming the new blue YZs into Bob Hannah-era bumble bee machines. Dubbed the Hurricane, this kit included a full set of yellow plastic (minus the rear fender), an embossed non-slip seat cover, and retro graphics. At this point, it was only twelve years since Yamaha left this iconic look behind and many riders still fondly remembered the black and yellow machines of their youth. The new kit perfectly captured this nostalgia for the Hannah and Glover era and flew off the shelves in droves.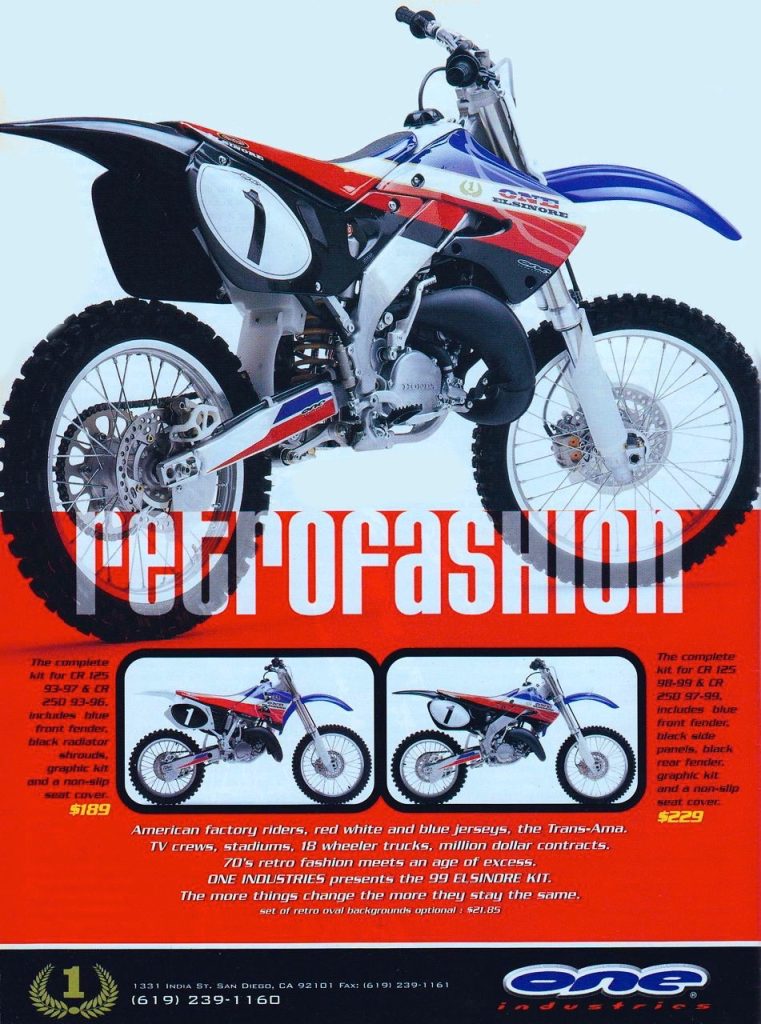 While interesting, the 1999 "Elsinore" kits never seemed to catch on with the same level of interest that the Hurricane kits engendered. Photo Credit: One Industries
After the move away from Yellow (in the US – other markets offered their YZs in red and white) in 1985, Yamaha spent the next decade going through a revolving door of color schemes. Red, pink (magenta in Yamaha speak), purple, and lavender all had their shots at catching on before Yamaha finally settled on their now familiar blue in 1996. In 1997, the blue was still fairly novel, and more than a few people were not yet sold on the deep navy and understated white of the new machines. This new Hurricane kit utterly transformed the somewhat dour look of the new YZs into a bright and vibrant throwback that screamed "look at me!". It was the perfect product, at the perfect time, and immediately tracks across the country were once again awash in yellow and black YZs.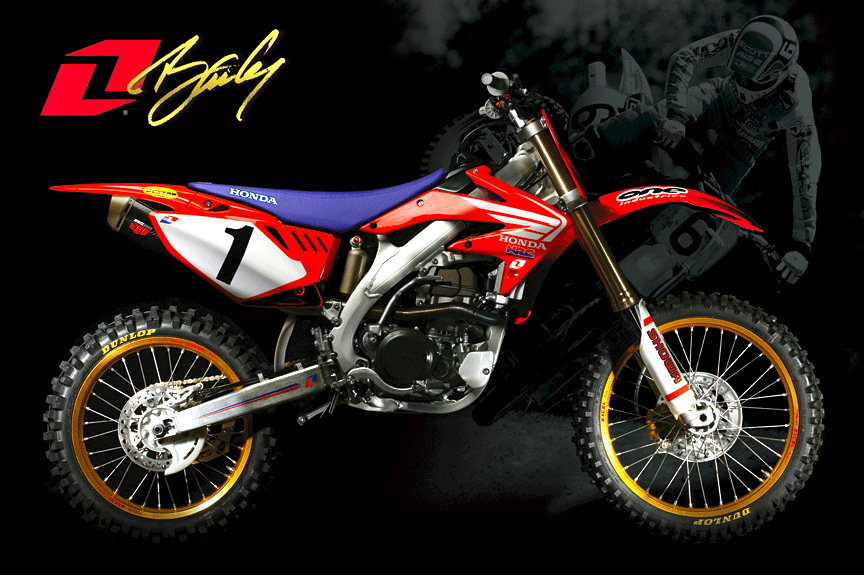 For my money, the mid-2000s David Bailey kit did a much better job of tickling that Honda nostalgia nerve than the Elsinore design. Photo Credit: One Industries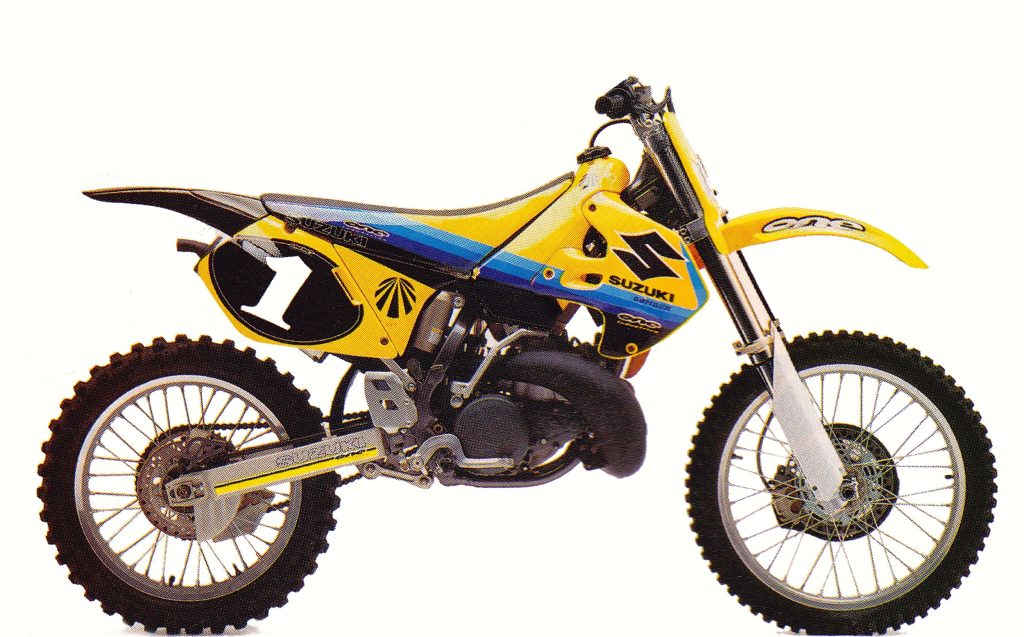 The 2000 "Bomber" kit was another attempt to capture that Hurricane magic that seemed to fall a bit flat. That round numberplate always struck me as a bit odd (the Elsinore kit suffers from the same issue) and the graphics just don't work particularly well with the 2000 RM bodywork. The only thing I do like about this kit is the cool De Coster-era rising sun graphic on the airbox. Photo Credit: One Industries
Over the next decade, the Hurricane kit would remain in One Industries' lineup as one of the most popular accessory kits for Yamaha riders. Later they would add similar restyling kits for Hondas and Suzukis, but the Bomber and Elsinore kits never quite caught on with the same enthusiasm that made the Hurricane such a hit. Today, One Industries is another casualty of the corporate buyout mentality that has ruined so many other iconic brands both inside and outside of our sport. While the brand is sorely missed, its influence lives on in many of the great gear and graphic designs we see from others throughout the industry.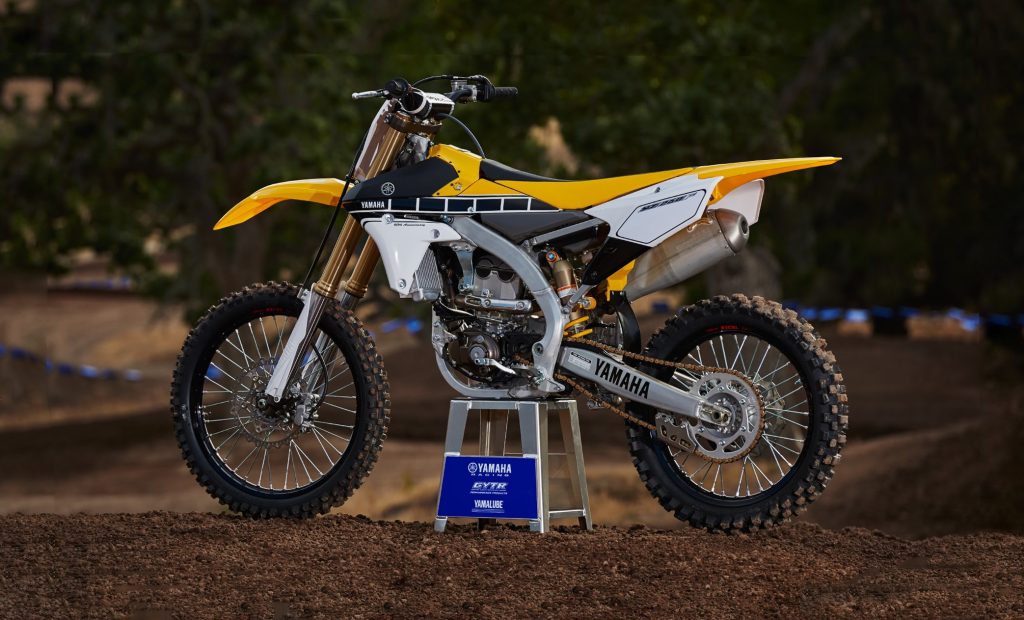 While the One Industries Hurricane kit is no longer with us, Yamaha does pull out a similar look every ten years with their Anniversary Edition YZs. Let's hope the two-strokes get this treatment as well in 2026. Photo Credit: Yamaha