I have been a Garmin user for as long as I can remember but I thought it would be nice to branch out to see what a lot of the top professional motocross athletes are using. Are they just getting free product? Is the product actually good for us normal weekend warrior types that like to use their watch not only for multisport but for moto as well? A lot of them are on Polar products so I managed to grab a Polar Grit X Pro to see if it could handle the rigors of all of my riding. This test article is around four months in the making so here are my thoughts. 
While hardcore moto athletes will find its limits – and there are several to speak of – the Polar Grit X should satisfy the needs of most moto enthusiasts. Physically, the Polar Grit X strikes a balance between a robust build and streamlined design. Though it's tough enough to pass several military durability tests – including water resistance to 100m – it's less overtly rugged than its Garmin counterpart (the Fenix 6). Same goes for the silicone strap, which is sturdy yet comfortable, with 22 adjustment options and a premium textured finish. Despite its 47mm diameter, the stainless steel casing isn't chunky or cumbersome. At 13mm deep, it sits low enough to fit under most dirt bike jerseys, while a reinforced polymer back keeps the weight down to 64g. That's 16g lighter than the Fenix 6 and makes the Grit X feel more like a running watch than its heftier outdoor rivals.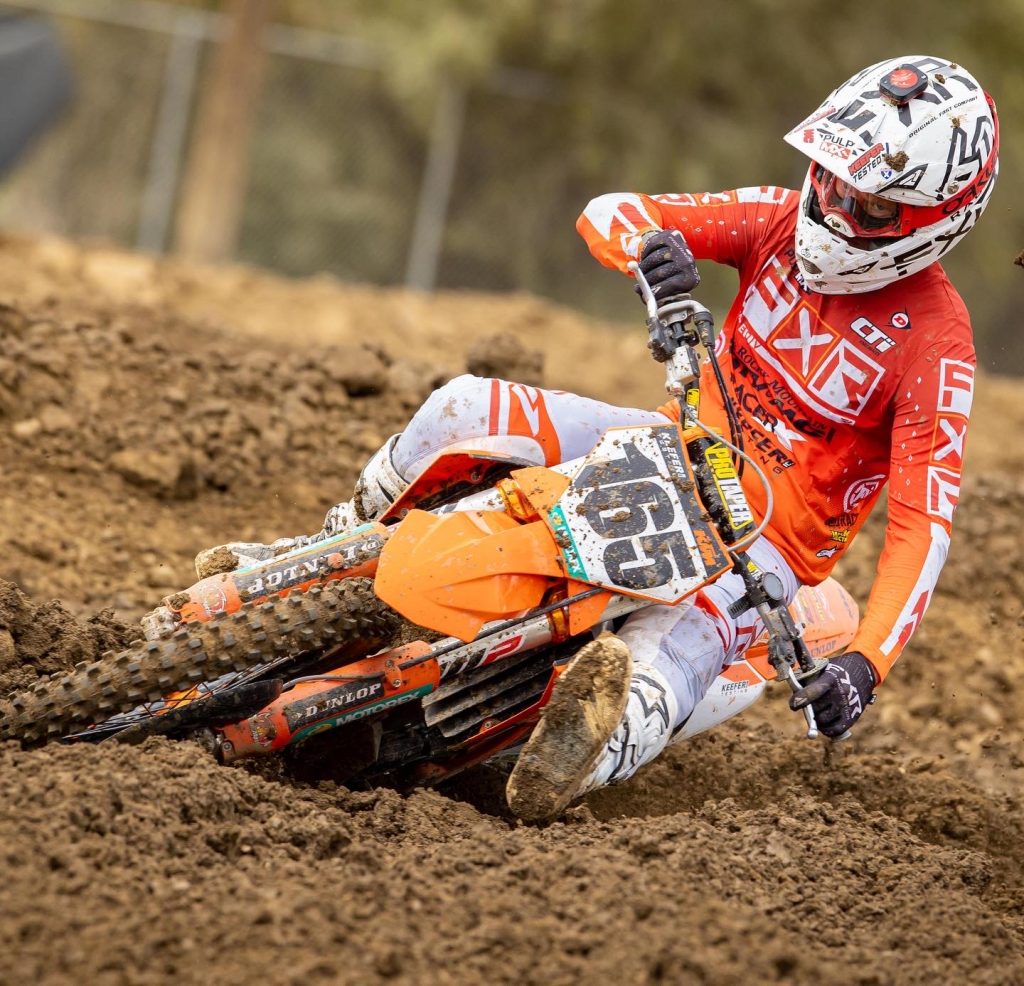 Front and center you'll find a 1.2-inch color touchscreen, ringed by a black frame with subtle time markings. While it can't rival the crisper apple smartwatch screen, the display performs well on outdoor duties: it's clear and readable in even the brightest sunlight, with decent contrast and no shortage of space – with a backlight for night riding if you choose. I am able to see the watch face while riding if secured to my handlebars. Five textured buttons are neatly sculpted into the shell. Responsive and well-proportioned, these perfectly compliment the watch's clean and uncluttered operating system, which benefits from a logical layout that's easy to use mid-exercise. Interaction with the physical inputs is so natural that the laggy and imprecise touchscreen essentially becomes redundant.
In the multi-sport arena, the Polar's credentials stack up. There are profiles for more than 130 disciplines available, up to 20 of which can be stored on the watch at any given time. I have never used that many but it's there if you need it. On a day-to-day basis, the Grit X serves up some of the best activity, sleep and recovery insights that I have used, with in-depth analysis that goes far beyond simple step counts. Something about waking up to see if I got enough sleep or have recovered has given me piece of mind to go hard or not for the day.
Based on activity data, it offers feedback meaningfully tailored to improve your training. Training Load Pro monitors the impact of your efforts; FitSpark recommends workouts to aid recovery; Nightly Recharge and Sleep Plus Stages assess the quality of your shut-eye. You don't get the top-end Recovery Pro system found on a Vantage V, but with several tools to assess and improve your riding performance, as well as a fitness test and guided breathing exercises, the Grit X doesn't come up short on support. Heart rate is at the root of most of these features. While it's possible to pair the Polar Grit X with a compatible chest strap, some will use the built-in Precision Prime wrist monitor, which employs a combination of skin contact and optical sensors to get a consistent pulse reading, but for moto I simply DO NOT think this is the correct measurement. Going to the chest strap offers me a more detailed heart rate which is more accurate than the wrist. I wear the chest strap almost always when timing my motos.
In practice, results of the heart rate measurement on the wrist were generally 10-20 bpm off, with averages that matched chest strap readings across exercise sessions and throughout the day. That said, on a couple of occasions the Grit X recorded unrealistic spikes in heart rate readings – in both directions – during intense exercise. This didn't affect the overall average, but does limit the reliability of zone training with the wrist sensor. Outdoor exercise/laps can also be tracked with the built-in GPS, which picks up signal pretty swiftly and generally proved accurate to within 100-150 feet over the course of a 20 minute moto. What marks out the Grit X as more than an activity watch is its arsenal of outdoor features. Besides intervals, timers, laps and race pace options (for cyclists and runners), as well as support for Strava Live Segments (Steve will love this).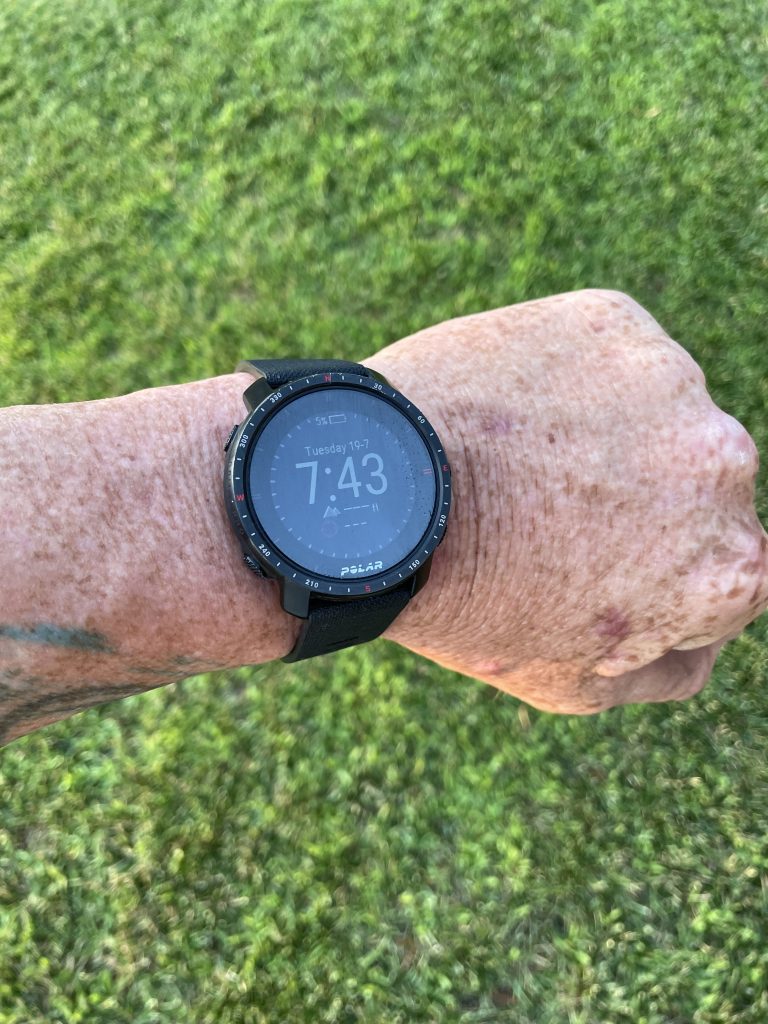 More meaningful is FuelWise. Based on activity history, the duration of a planned ride and live heart rate, the smart fueling assistant aims to help you maintain your energy levels with timely reminders to rehydrate and consume carbs at optimal points. It can't account for your exact physical state at any given moment, but it's an intelligent attempt to create a nutrition aid that could make a real difference to the less experienced vet rider out there. On paper, the 346mAh battery is good for up to 40 hours of GPS-enabled tracking or seven days of timekeeping with continuous heart-rate monitoring. In reality, with all of my activity I do during the course of the day, the normal was around 5 days per charge.
Power saving options can be tweaked for every discipline, giving you the potential to substantially extend longevity, but I usually don't mess with my Polar Grit X once I have it set up. When hiking with the wife or something, for example, you can disable heart rate, enable a screen saver and adjust how frequently the GPS updates, but I have only done that once just so I could talk about it. Prior to starting an exercise, the Grit X displays an estimate beside the battery symbol illustrating approximately how long it will last on current settings. In testing, drain proved relatively predictable at 3-5% per hour during exercise.
Fully charged using the proprietary adapter – a neat disc that attaches magnetically and securely to the rear of the Grit X –  and with Bluetooth notifications disabled, I dipped below the 5% mark after five days. This is not awesome, but it isn't horrible either. My previous Garmin was much better on battery life. Staying true to its endurance focus, the Grit X pares back smart features to a minimum. Bluetooth notification alerts can be configured through the app, while a neat weather forecast face displays meteorological predictions for the next 10 hours. And that's your lot.
If you like apps with your watch, you might be bummed, but to me the watch feels like a focused training tool – but it does lack something found on several less expensive Garmin rivals: Spotify support. If offline music is something you want from a watch, you'll need to look elsewhere. What you do get is access to the Polar Flow system, which is one of the best wearable companion apps out there. Syncing with the Grit X takes a little while but, once completed, you'll find all the data you could ever need in the app, from activity totals and goal percentages to progress charts, sleep reports and training plans. It's attractive, adaptable and a stat-lover's dream. I am a geek when it comes to this stuff
Can the Polar Grit X compete with the Garmin Fenix 6? I personally love both, but I will give the Polar the nod because of how accurate it can get my laptimes. What I also like is that it is slightly less expensive than the Fenix 6 yet equipped with a range of skills to suit those just starting to stride off the beaten trail or track. It might resemble a rugged running watch, but the Grit X offers an impressive range of insights, training aids and tools that moto riders will love without dumping too much money into a training tool for your wrist. Having a lot of features handy for the average daily workout go getter or a moto should make the Polar Grit X a compelling proposition for those taking their first steps into a moto watch.
If you have any questions about this review, unlike Steve, I like people, so feel free to email me at kris@keeferinctesting.com.