Engine Feel: The 2023 Yamaha YZ450F engine comes on much smoother than the 2022 model and climbs much harder as well. The engine builds RPM's more like a KTM down low (but with more meat/torque) but then has a hard hitting mid range that pulls into a top end/over-rev that pulls farther than any other 450 that I have tried to date. The 2022 had too much low end power at times through corners but the 23 is much more manageable when rolling your ruts! Second gear pulls farther than any other 450 out there right now, it's amazing! This allows the rider to be lazier in second gear, but the 23 engine still can be lugged in third gear, although not as much as the 22, it still is better than all other 450 competitors to date.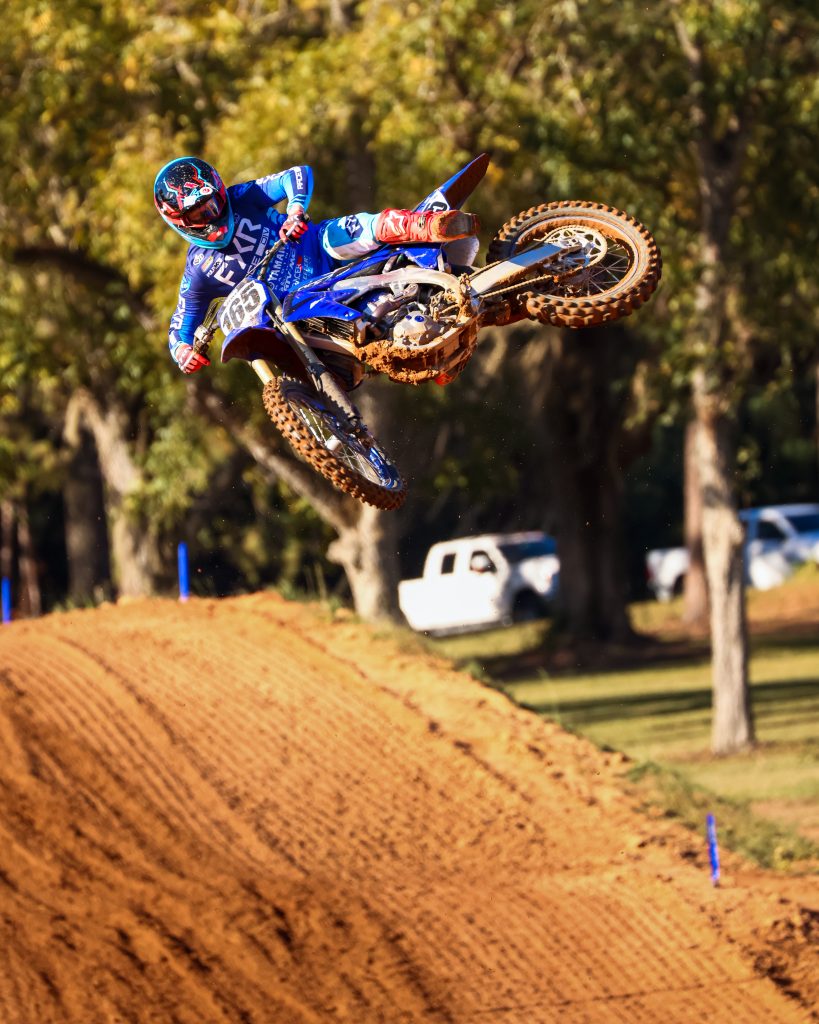 Ergonomics: Hallelujah! We have a Yamaha that feels "normal"! The new YZ450F feels like you're sitting on top of it versus in it and your knees will not be so bent up that you will feel cramped. I had a 5'8 and 6'0 test rider on the bike at the time of the test and both agreed that it was much more comfortable to transition from sitting to standing. Also, unlike older YZ's the newer YZ allows the rider to stand up much longer in the corners than in previous years.
Chassis Difference: This is where it gets tricky for me. The new chassis feels stiffer on the track. This necessarily doesn't mean that it is rigid/harsh or twitchy but it does feel different than the 22 frame. The new chassis allows the rider to corner better through areas 1-3 as well as gives a lightweight maneuverable feel. The 22 frame DID NOT do this. Where I feel the jury is still out on the 23 frame is on corner entry/set up. I get a little deflection/wiggle as soon as I chop throttle to set up for corner (on lean angle). The fork/front area of the chassis seems to deflect a little more than previous year models when under lean angle. I did manage to help this with some suspension settings (see below), but it was felt enough that I felt I should let you all know about it. I don't know if other media felt this, but I don't know if any other media members have as much time on past Yamahas as I do, so I am finicky with this bike. 
Suspension: So for a stock Yamaha set up, the 2023 model is much different with a standard sag recommendation of 97-98mm and a fork height of 7mm. This is so much different than last year's model where we were around 4mm of fork height and 105mm of sag. The overall action of the KYB suspension is still that unbelievable plush feeling and the fork has better hold up on de-cel. The shock also doesn't squat as much on acceleration so the whole bike does feel a little firmer than in years past. With that being said, I think some of this new chassis feel that I do experience can be somewhat alleviated with a setting change. I ran the fork back down to 5mm, adjusted the sag to 99mm then backed off low speed compression a couple clicks. That along with a fork setting that was 3-4 clicks stiffer allowed me to get less of that deflection/wiggle I got on lean angle with the standard Yamaha setting. In my opinion this chassis might take a little more work to dial in for guys that are looking for that straight line stability that they loved back in 2022.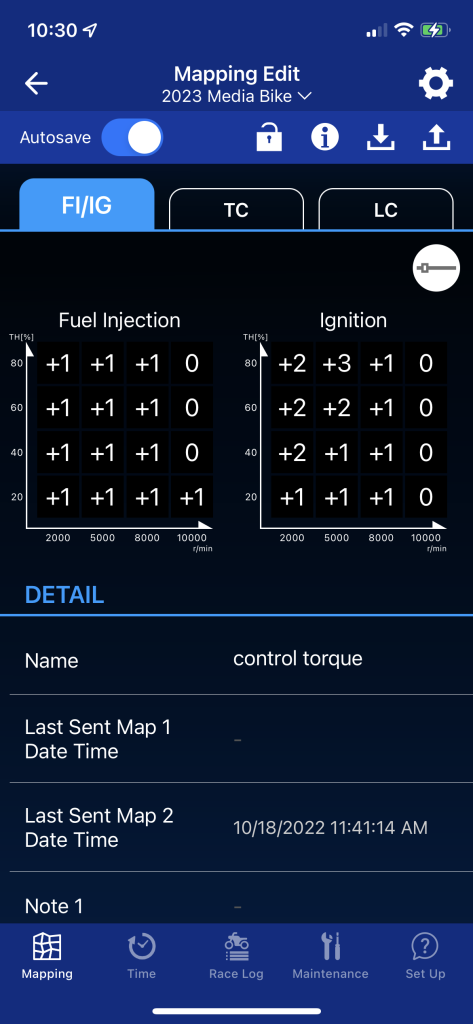 Power Tuner App: The new Yamaha Power Tuner App is amazing! You can simply drag your thumb across for a smoother roll on or more aggressive type of power! The Yamaha Power Tuner App is more user friendly and has even more features like a lap timer, launch control adjustment, traction control adjustment and even suspension suggestions! I ended up with a map setting called Control Torque (shown here) that helped the control of the Yamaha and made the bike feel better on acceleration, with more rear wheel traction. 
2022 Parts That Cross Over: The only parts that will cross over from your older YZ will be the fork/shock, wheels, triple clamps and handlebars/mounts, piston/pin/clips.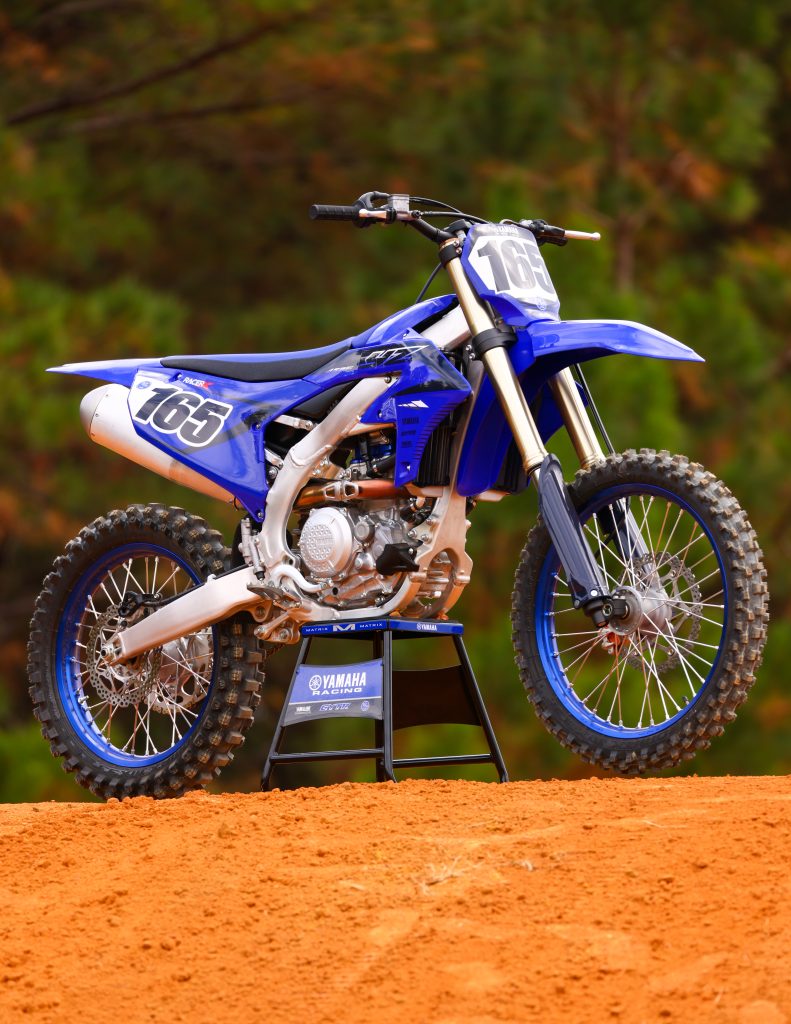 Split Front Engine Mount: After listening to Yamaha's presentation about the new bike, I thought it was interesting that the new Yamaha comes with a split front engine mount design. Some of the Yamaha test riders thought the Yamaha needed a little more compliancy during the pre-production phase so the engineers in Japan thought of a split front mount engine design which gave the engineers that 8mm amount of thickness they wanted (on the front engine mount), but split it up into two 4mm pieces in order for the two plates to flex a little more (or float a little)! Genius! These are some of the little things that I think that are innovative on the new 2023 Yamaha YZ450F!
Front Hole Vs. Back Hole: The Yamaha now comes with the bar mounts in rear hole (stop it, get your minds out of the gutter) where I like them! Most of you should stick to the stock mounting position if you're anywhere between 5'8-6'2.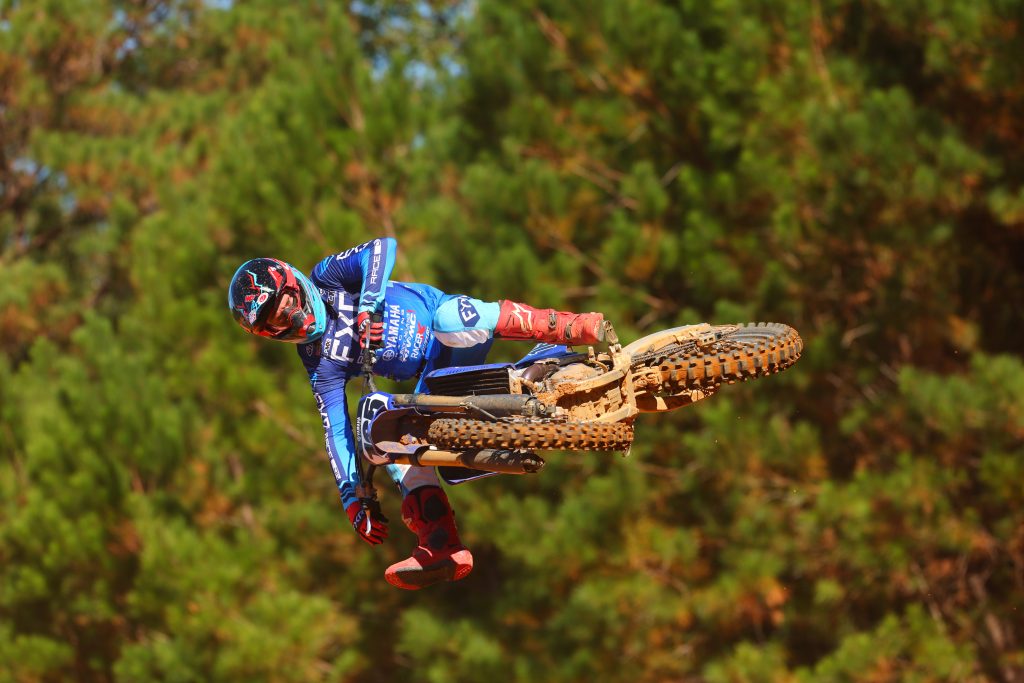 Seat Shape: The new seat shape is a little narrow in the middle so it can give you a foreign feeling when you're using the edges of the seat on corners, but the stiffness of the foam is much firmer than the 22 model. The seat cover isn't great as it is super slippery and gives chafing to the arse area! DO NOT MANSCAPE BEFORE RIDING THE 23 YZ450F!!
Light Weight Feel: The new bLU cRU is five pounds lighter on paper, but feels much lighter than that when riding the machine. Front wheel traction is better through corners as well as corners with nothing to bank off of. Direction change mid corner is improved and flickability also is much better than the beefy feeling 2022 model.
Overall: So what the hell do I really think? Yes, it's a better YZ450F! It does almost everything better than the 2022, but I will dissect this lean angle wiggle that I got at the GOAT Farm that I usually never felt on the 22 chassis more. However, if you're looking for a 450 that feels light, can rev to the moon, has a smooth roll on, plush suspension and gives you a good feel when you sit on it, this new Yamaha will be out in dealers at the end of this month (October). Stay tuned for set up tips as well as some Yamaha Power Tuner maps to try soon, right here on Pulpmx.com!