For this edition of Classic Ink we are going to take a look back at a some iconic Boyesen ads from 1993.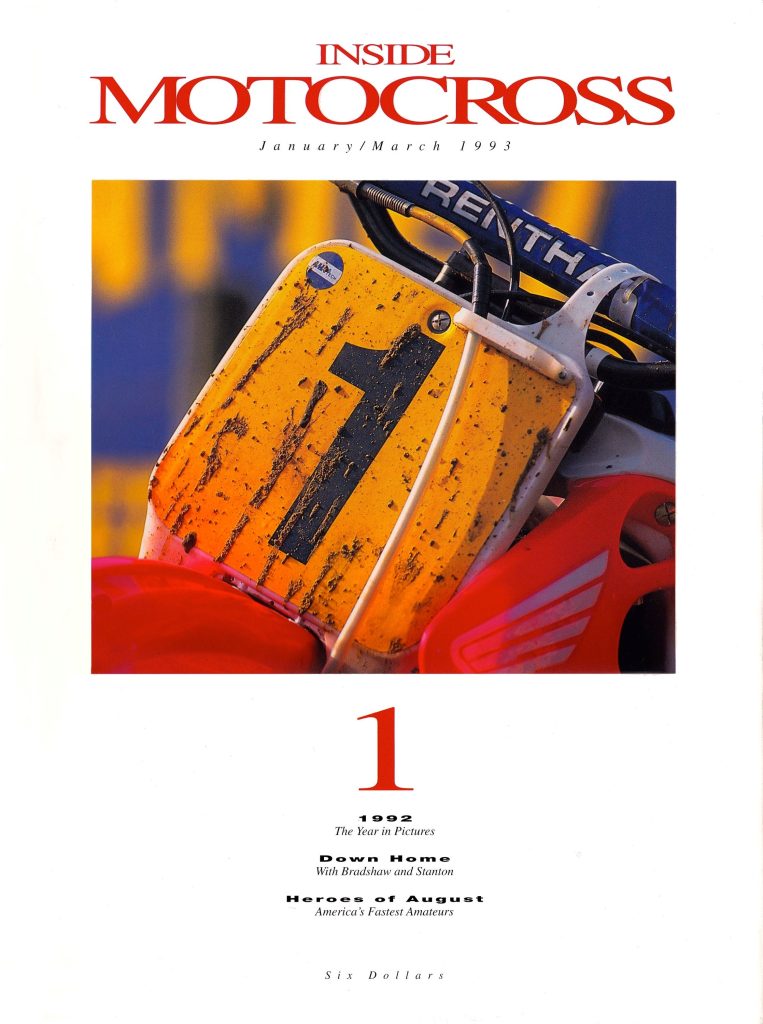 Inside Motocross featured some of the best MX ads in the business in 1993.
In 1992, photographer Fran Kuhn and AXO Sport USA head man Jim Hale set out to change the off-road publishing game by introducing a whole new type of motocross publication. Titled Inside Motocross, the new magazine focused on the personalities behind the sport and featured incredible photography in an oversized high-gloss format. Lasting only four issues, Inside Motocross became an iconic part of motocross culture in the early 1990s. 
In addition to the amazing photography, one of the things that set Inside Motocross apart from its competitors was the quality of the ads found inside. Unlike today, where ads are thought of as annoying interruptions to a video's content, motocross ads in the pre-internet days were often some of the best parts of the magazine. It was often the only place to learn about new products and advertisers went to great lengths to make them clever and visually interesting. For Inside Motocross, this was taken to the next level with beautiful, colorful, and artistic ads that were often exclusive to the magazine.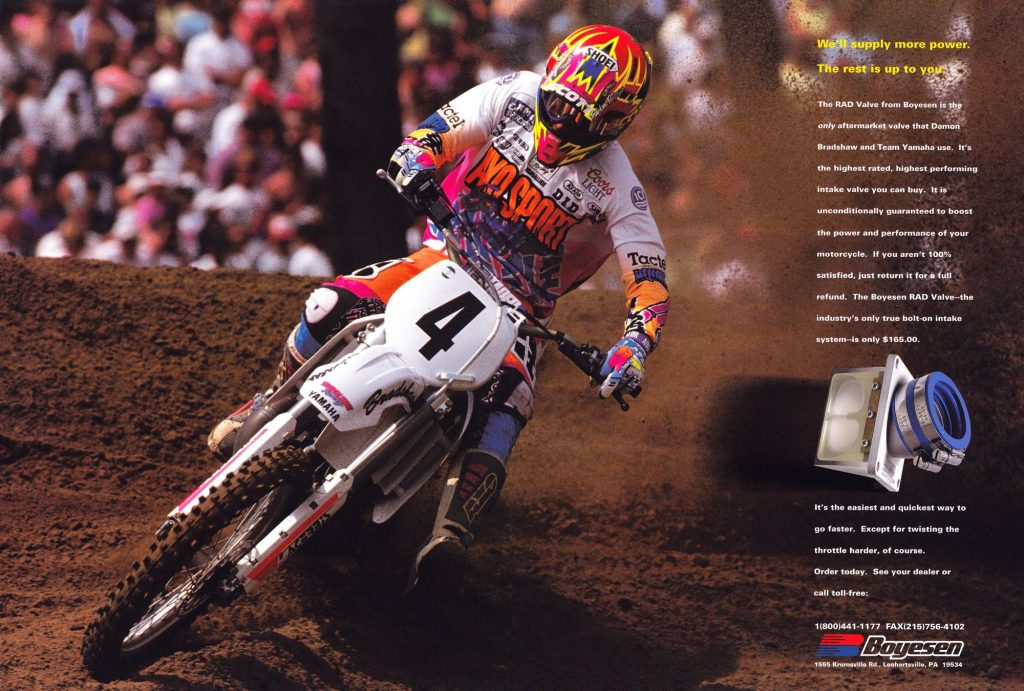 Having Damon Bradshaw and Team Yamaha using the Rad Valve was a really big deal in 1992. This Paul Buckley photo of Bradshaw at Southwick absolutely popped on the high-gloss photo stock used by Inside Motocross.  
One brand that took advantage of this was Boyesen. A pioneer in motocross performance, Eyvind Boyesen made a name for himself in the 1970s by patenting a design for lightweight reeds that significantly improved two-stroke performance. These lightweight fiber reeds quicky became a must-have upgrade with several OEMs licensing his technology. 
In the early 1990s, Boyesen launched an all-new reed-valve solution that replaced the entire intake for improved performance. Dubbed the RAD Valve, this new intake replaced the stock manifold, reed block and valves with custom designed parts crafted for optimized fuel flow. One of the early partners for Boyesen in this project was Team Yamaha, who saw fit to bolt the Rad Valves onto the machines of their stars Jeff Emig and Damon Bradshaw. Both men used the Rad Valve to great effect in 1992 with Bradshaw winning nine Supercross mains and Emig capturing the 125 National Motocross title.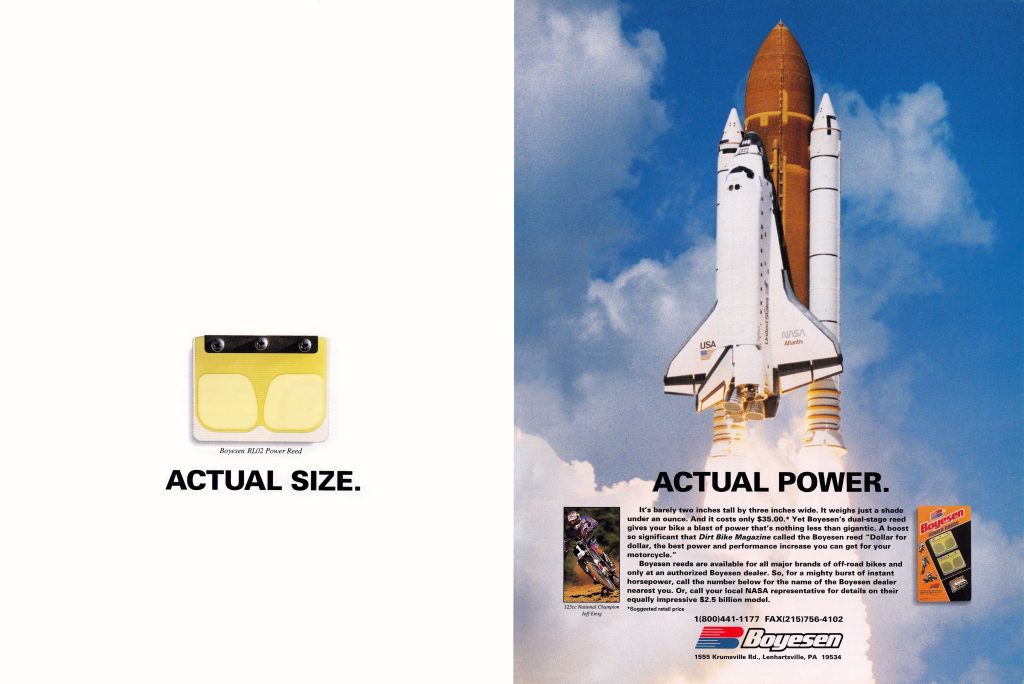 The Space Shuttle has long since been retired, but Boyesen's iconic Power Reeds are still pumping up the ponies on thousands of two-strokes around the world. 
While ads like these for the Rad Valve were beautiful and creative, the additional publicity they generated for Inside Motocross turned out to be a double-edged sword. While readers loved the magazine, some within the motocross print industry felt that Inside Motocross' close ties to AXO were a conflict of interest. Major players like Motocross Action put pressure on advertisers to not support Inside Motocross and in the end, it made more sense to shut down the publication than to pick a fight with the industry's most influential outlet.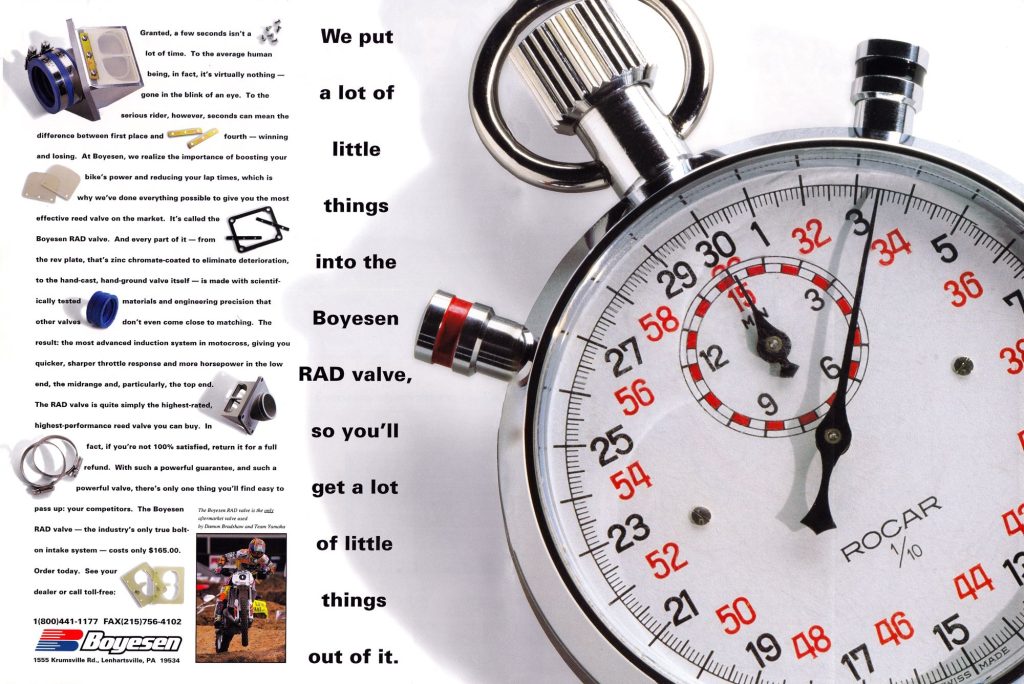 While not as visually stunning as the Buckley shot above, this more technical ad for the Rad Valve still captured the reader's interest with a large two-page splash and lots of info. 
 In some ways, this has only added to the mystique of Inside Motocross. Today, it remains an icon of the motocross publishing industry and a touchstone for many within it. Publications like Racer X and Meta clearly owe much of their inspiration to Fran Kuhn and Jim Hale's vision. Timeless, beautiful, and visionary, Inside Motocross and the ads within it are a glorious time capsule from one of the most entertaining eras in motocross history.