(I wrote this column about Ferry but really have no place to put it-after all who wants to listen to me drone on and on about how great he is. But for reals, this is an interesting story because when he started doing well at Kawi, people were astonished and would ask me why he was good again. This is what he had to go through to be good again. Just because I was his mechanic for four years doesn't make this less credible…does it?)
(I wrote this column about Ferry but really have no place to put it-after all who wants to listen to me drone on and on about how great he is. But for reals, this is an interesting story because when he started doing well at Kawi, people were astonished and would ask me why he was good again. This is what he had to go through to be good again. Just because I was his mechanic for four years doesn't make this less credible…does it?)
In 2003 Tim Ferry was one of the top racers indoors and out, he had completed that year 4th in the outdoors and 6th in the indoors. He missed a couple races in sx and in outdoors had a few really bad motos but all in all, the eleven podiums that year were impressive. Things were looking up for the veteran racer and that next year, 2004, he was going to be on the bike that he felt was even better indoors-the Yamaha YZ250 two stroke.
Ferry had picked up the four stroke mantle after Yamaha's previous rider, Jimmy Button, had a career ending crash at San Diego the year before and the blue team had hired him for 2002. Yamaha was a pioneer in the four stroke world and the bike was a big advantage in motocross but in the tight confines of stadium racing, it was not the ideal machine…yet. In 2009, we all see how the modern bikes handle supercross but in 2003, they were still working on things like throttle response and the ability for the motor to "catch up" when you wicked the throttle. The 450 made a rider very, very cautious when trying to put together twenty laps
So Timmy was on his 250 and pounding out the laps, he was really feeling it and thought it was going to be his year. He was rejuvenated on the two-stroke, there was a sense of new-ness (is that even a word?) about the deal and he loved the way you throw a 250 around and make it do what you wanted. He was riding the bike, not it riding him. I remember going to his house in Florida and watching him string off three 20 lappers, all with times that were pretty close. The aggression was there, the fun was there and 2004 was going to be a great sx year for the one five.
Ferry in the Moto XXX days.
Photo by Cudby (Thanks Simon!)
The first round at Anaheim came and it was quite a night to be working for Factory Yamaha. After running in second for a while, Ferry ended up third in the main behind his teammate David Vuillemin and his other teammate, Chad Reed. It was a night of celebration for the squad and we reveled in it and I was happy with Ferry's ride, he showed me what I saw in Florida. The next round was Phoenix and I figured things were looking really good when Timmy went out and had the fastest times in practice. In both sessions, he was almost a second faster than RC! He was showing that he was going to be a player on this two stroke, he looked aggressive and the bike was awesome as well. The years of not doing much to the motor had really prepped Yamaha's Bob Oliver to get everything out of that bike. That night, he didn't get the start that he needed and came from way back to get fifth. Things were still ok and we went back to Anaheim and that was where Ferry's career took a very dark turn.
In practice there was a little section of whoops that you had to be lined up right straight to make it through, the corner before proving to be a little slick so it took some controlled aggression to do it right. Ferry suffered a front end wash out in practice and broke his wrist, it was a seemingly innocent fall and one that, if you lined him up 100 times, he probably would not crash again. The hospital diagnosed it as a broken navicular and the season was a wash for him. He had surgery to repair the damage, at the same time getting a torn thumb ligament fixed which he first hurt at the MXDN in 2003. There were four months off and then he lined up for the outdoors, ready to try and show his speed where he's always been the most comfortable.
However, it just didn't happen. He couldn't recapture his form outside, the best finish being a sixth in one moto but there was more frustration as he just couldn't hold on and pound through the bumps like you have to do. The wrist was pinned not 2 months earlier and there was nothing there. Eventually he decried "no mas" and he packed it up before round six at Red Bud and I was left to be the practice bike guy for the rest of the year.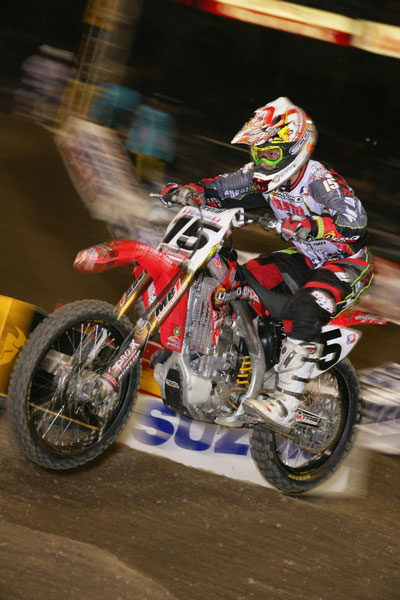 This is a rare photo of Ferry in 2006, not many photos were taken in sx because he wasn't near the front.
Photo by Cudby
Another surgery followed where the doctor tried to relieve some of the pain around the wrist in the off season and the man known as Red Dog came into the 2005 sx season again full of optimism. Mother Nature had some different ideas as that race might be remembered as the muddiest supercross in history. The sunny outlook Ferry had about his season soon turned dark like the clouds around the stadium when Jeremy McGrath backed out of jumping the finish line at the last second. Ferry was committed and ended up almost landing on The King and tumbled hard to the ground. That was it, the wrist was screwed again and all that sweat and effort Timmy had put into rehabilitation was lying with him in the mud in Anaheim. He came back a little while later but just couldn't hang on in the whoops, couldn't soak up the jumps and would go on to have another miserable supercross season. There were lots of LCQ's and 10th to 15th places that year, lots of bar bends tried, wrist braces, tape jobs-you name it, we tried it. There seemed to be no end to the searching for a cure for Tim and his wife Evie, they were leaving no stone unturned. The outdoors came and things got even worse, the cartilage in his knee was torn early on in the mx season so there was one race missed for some arthroscopic surgery and then on his first ride back, disaster struck. While practicing at home his weakened hand flew off the bars, he weeded himself into the ground, of course landed directly on the knee that was just operated on. His riding partners came over and Chad Reed, Jason Thomas and Troy Adams just saw him lying in the grass wondering out loud why he was doing this. He left his bike in the grass, walked into the house and told Evie he was done. As in, like, forever. The scoreboard at that point was wrist-1,437 Tim Ferry-0.
Later that year while he was contemplating whether he wanted to go through another year something his trainer said to him really stuck. Dean Golich asked Tim if he really wanted his last riding memory to be in the rolling around in the weeds in pain. With that in mind, Ferry decided try again but there was just one problem. He had to find out what was going on inside his wrist. He had to have his wrist operated on for a third, and a last, time. He flew around the country, saw some top surgeons and was told everything from "just deal with it" to "you should retire". The lowest point coming when the renowned Dr Ting told him, "I don't know what to do". These weren't the answers he wanted to hear but finally in the state of Wyoming one doctor, while coolly eating a sandwich in his office said "I can fix you and you'll be able to race again". The plan was set, Red Dog would go to Colorado and get his knee fixed, wait a week and travel to Wyoming for his wrist. He was bed ridden for two months, no weight on his knee and a cast on his arm. The process of rebuilding Ferry and hopefully his career had begun.
The results weren't there at first, the lack of movement was a factor as was the pain. The way the doctor explained it, there was so much scar tissue from the other surgeries, injections and everything else that it would take time for Timmy to break all that down and then begin the real rehab to try and get back to where he was two long years ago.
Just like it was predicted by many, Yamaha chose not to resign Ferry that next year, in fact nobody really wanted to sign an aging rider with a bad wrist. Timmy's only offer came from a bare bones Moto XXX team that could offer him a small salary from O'Neal clothing and Honda contingency. With no bidding war going on for his services, Ferry took what many perceived would be his last professional racing contract with the privateer Moto XXX team riding a Honda CRF450.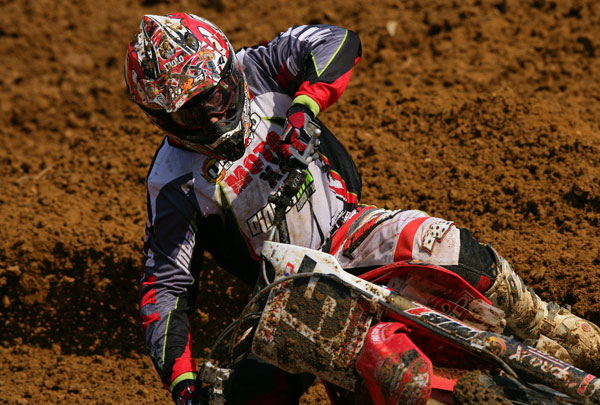 A strong second half of the outdoors would land Red Dog a factory Kawasaki ride.
Photo by Cudby
In a show of determination that not many riders would do, Ferry went and bought himself a CRF450 when the team didn't get the bikes quick enough, he went out and purchased some Showa suspension to make the bike better. After he purchased disability insurance for himself, he was in the hole ten thousand dollars. Just like that, his salary was gone but it was what he felt he had to do. These were all things that he knew would help him get better results because let's face it, he wasn't getting any younger and he HAD to get some results this year or it was retirement time. He had some money saved up and decided to invest it in himself. Because of all the surgeries and healing time, Ferry went from June to December before he got on a motorcycle again. In that time I travelled to Florida and claimed his works bikes and parts and left his garage empty, a reminder that as easy as success comes in the motocross world some tubby guy can come and take it away easily as well.
The first round of the 2006 supercross season came and Ferry just didn't have the seat time that one would need to be competitive with the top riders. He came out in practice and for the first time in four years had a new color bike, new gear and new boots but the old magic hadn't come back yet. His heat race came up and for a brief glimpse, things were sunny again as the Moto XXX Honda of Ferry grabbed the holeshot and led the pack into the section of whoops. Unfortunately for Ferry, he proceeded to cartwheel upon jumping into the whoops and just like that, his night was over. Everything new was old again and it didn't look good. High above the floor I sat in the press box that night and I honestly wondered if we'd ever see him race again.
Like he'd done so many times before Tim Ferry persevered and continued to line up each and every week, slowly getting better but still not where he wanted, and needed, to be. The crash at A1 had actually helped the wrist as it stretched it to the extreme and broke down more scar tissue. He was riding ok but then, one more time, he would be tested. While testing for the motocross season, he crashed and suffered a hematoma on his thigh. He would have to go into surgery for a ridiculous fourth time in sixteen months. The doctors had to cut his thigh open, relieve the pressure and then sew it back four days later. My wife and I spent some long days in the room with Evie and Tim, playing cards and laughing about old times. He missed the remaining three supercrosses and the first two outdoors races.
When he came back at Southwick, he went 8-6 and the comeback began. Again. He again worked his base up and got stronger and stronger as the outdoors went on. The turning point came at Red Bud, frustrated with his suspension Ferry turned to Pro Circuit and purchased some suspension from them and the results were him running in third for a long time that weekend and eventually finishing fifth. The next race, Unadilla, saw him go five-five and the roll was on.
Ninth in points was the final standing for the fifteen and in a weird twist Kawasaki happened to be looking for a rider. A year earlier, with his wrist in a cast and a brace on his knee Ferry had come to the US Open to beat the bushes for a ride and asked Kawi team manager Mike Fisher about a testing job. He told me later while we ate sushi at MGM that Fisher had looked at him like he was crazy. Kawasaki had actually wanted Michael Byrne back but by the end of the series, Ferry was beating Byrne consistently and when Byrne's agent demanded more money than the previous year, the friendly Aussie's fate was set. When asked what he wanted from Kawasaki, Ferry simply said a bike and a chance. By now, you know the rest but you didn't know the journey from broken down veteran racer to the rebirth as a new man on the green machines. It certainly wasn't easy and Ferry would be the first one to tell you that. The man that had been dropped from two factory teams was now beginning again with another factory and nobody should be surprised that he came back yet again.