The thing with Preston is that you can just talk to him like a normal person so I figured he'd be a good guy to call up and see what's going on with him and besides, Ferry wouldn't call me back.
The thing with Preston is that you can just talk to him like a normal person so I figured he'd be a good guy to call up and see what's going on with him and besides, Ferry wouldn't call me back.
Me:I have my own website now and thought I'd call you up and chat, have you ever checked it out?
Travis Preston: No.
I'm guessing the team wanted you in San Diego this past weekend?
Yeah, I'm sure they did.
What I mean is you wouldn't leave your high desert palace unless the team asked you to right?
No, things have changed Steve, I'm there to support my team and I'm there for the fans and to give out autographs.
Your season is not really going very well.
No, it's not.
What's the matter?
Yeah, from day one I started getting hurt and it's been a trend that just keeps going.
I imagine your late start in signing didn't help things.
Yeah, I broke my hand right after signing with KTM, and then had about a week of riding before Anaheim 1. I fell and bruised my hand again at Anaheim 2 and missed two races then came back and crashed at Anaheim 3and tore my rotator cuff and will now be out for about a month.
What's the deal?
I'm asking myself the same question Steve.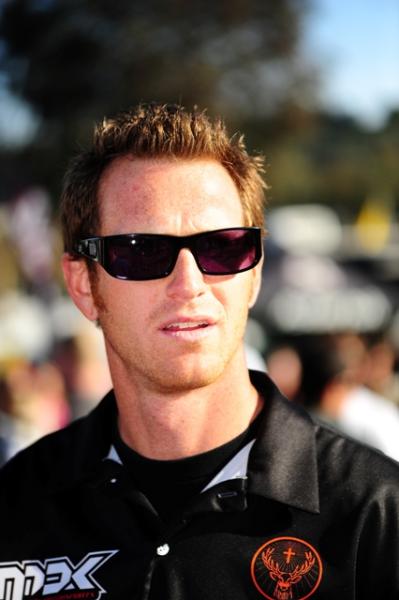 Preston is one of the most normal riders out there, whatever that means.
photo by Steve Cox
The thing is that people are going to point to is the KTM bike but it's not that, the guys there have bad luck with riders. Look at the MC thing, Wey had a tough time there and now you're crashing. It's not the bike but they have some incredibly bad luck sometimes.
Yeah, it doesn't feel like the bike to me. It's a rough deal for sure. I don't know the reasons for it.
What does your bike do better or worse than a Japanese bike?
I love the motor on my bike, it's got great power. I love starts on it, I love that once I get it in a rut it tracks straight and true right through the ruts. I like it in the whoops, it feels good in there. I think for me, initially getting in the turn is tougher. That's probably the problem with it to me.
Every time we test I get it a little better but I can only stay on the bike for three weeks or two weeks at a time and it's hard to make progress. There have been some crashes that have been my fault and some crashes that haven't been my fault, it's been tough.
Are you ever going to ride the nationals again?
You know, I've always thought of myself as a better supercross rider and other people seem to think so also because they pay me to do those only. My results say otherwise, I've had some good outdoor finishes. When I ride, I feel more comfortable in motocross, so maybe I might do some now.
What does a top factory rider do when they're injured? Do you move your stacks of money around into different patterns?
(Laughs) Yeah pretty much. I'm married so my wife has a long list of things to do. My job is so stressful and busy that I'm not able to take care of the little things around the house. I have to stack firewood with my left hand, have to chop it with my left hand. I have to rake horsepoop with my left hand.
There's going to be no problem with arm pump in the left had when you get back huh?
No, there's not. I don't get a break Steve, things keep happening.
What really bugs you in the sport right now?
What bugs me is the stupid girls. They've got these girls everywhere now with their butts hanging out, walking around everywhere. I thought motocross was a family sport. I thought that the guy that buys a motorcycle is a guy that owns his own business and stuff. They're going for the 19 year old Metal Mulisha guy that rides a '02 Yamaha. They're going for that guy and I don't know if that's the group you want to go for.
I was actually sitting in the stands this week and was blown away by how many people don't watch the race. There was so much beer drinking and partying it was amazing. I'm not even kidding, during the opening ceremonies, there were people dancing. Dancing! I'm not even kidding. I thought I was at Club Metro.
You just needed your glow stick and pacifier…
People just go there to party and drink beer man. That's not the crowd that buys bikes and stuff. It was just surreal to see people dancing in the stands. If I have kids I don't want to take him to the races and try to explain why that girls ass is hanging out. He shouldn't have to see it.
It seems they have stopped the crotch cam and the 30 second girl wiggle, which my wife noticed cause it really bugs her.
It just seems like they try too hard. Motocross is the tall guy out there doing the start and they need to get him out there again doing it. Motocross is a show but it's us racing that is the show, they need to worry about that I think.
It seems that they've almost gotten into a "My girl is sluttier than yours" contest.
Yeah for sure.
That's a very mature outlook Travis. Yes, you're married but you're a factory rider, good looking man with lots of money…
Thank you.
And some of your peers wouldn't think like that. I've said the same thing before and always just get the response that I'm just mad that the girls wouldn't sleep with me but that's not it. Here you are saying the same thing and the girls would sleep with you but of course you're married.
Hold on, get this. I was talking to Will Hahn, who is 19 and was asking him who he looks at on the starting line. Does he look at the girl holding the card or, and I don't know if you've noticed this or not, but there is an AMA guy standing to the side of the chick. He points to the girl. Will said he looks at the guy because the girl is distracting to him. Who wants to see some half-naked chick walking around before you have to race? I'm not here to look at cheeks and boobs.
Yeah, you can go look at cheeks and boobs after the race if you so desire.
To me, it just comes off as very trashy and trying too hard. It comes off as cheesy.
My wife says the same thing really.
Your wife sounds like a smart lady, well except for the fact she married you.
Yes well, I tend to agree.
If you want to have trophy girls, that's fine. That's something that's been in the sport for a long time. You can have a classy looking girl there, spend some money and get a model y'know? Don't go down to the liquor store and just grab whatever is closest. Go to a model agency, find a good girl and put some clothes on her.
Anything else bug you in the sport? Does the over complication of the sport get to you, the fact that there is so many people standing around the bike looking for something to do, and in effect give the rider an excuse, get to you? I think the riders are a little pampered nowadays.
Your problem Steve is that you're a mechanic. All you know how to do is change parts. I'm a talented athlete and it's never my fault. It's either your fault, the managers fault. It's somebody's fault other than the rider.
It bugs me that when a rider isn't having as good of a practice as maybe he should be comes off the track and the team thinks it's the bike and changes all these things when the rider just needs to turn the throttle more. Also, guess who has to do all the changes? The mechanic, that's who.
Yeah I understand. For me, when I get off the bike I just tell them to shut up and leave me alone. It's not the bike, it's me. I know when I'm riding bad and when the bike is working bad. I just say to leave me alone and let me get a couple of laps in and try to get into it.
Do you really say that?
Yeah! Why wouldn't I?
Lots of guys wouldn't, they would say it was the bike.
Well, yeah I know when the bike isn't working or when I'm not riding well.
What about the media and all that part of the sport, you get along with everyone?
Well it's easy right now because when you're not qualifying, you don't have to really talk to any of those guys. It hasn't been a problem for me this year.
What about when you were fast?
Yeah, no I don't have a problem with doing it or talking to you guys. I kind of enjoy it really, I like talking to different people.
Did you feel that year that you were a podium sensation for just going up there and being yourself, that you had pressure to say something funny up there?
Yeah for sure. It was kind of a deal where people were like "what's he going to say next?" I'm really not that funny of a guy, I may say funny things once in a while but it's not like I say funny things all the time. You know what kind of bugs me now that we're talking about it?
What?
Well, now that I can finally afford a TIVO, I watch the races on that and I like how they are showing the battles more. They won't just show Bubba riding around by himself, they will actually find two guys fighting for position. But I don't think the angle of the track is very good. It makes it look too easy and I think with a little different placement of the cameras you could show the track better. That's just me being picky.
I brought a buddy of mine down onto the track this weekend and he was amazed at how big and crazy the jumps were and when we got to the press box he remarked a few times how you don't get the sense at how big the obstacles are.
I'm not going to tell them what they need to do because I don't think I get paid to tell them what to do.
Do the announcers bug you as much as they do some people on the internet?
I guess when I'm watching the race, I'm studying the riders and don't hear the announcers at all. Another thing that bugs me is the sound issue. They want to have quiet bikes for some reason and it's getting annoying now. The bikes are still loud and now everyone just cheats and gets around it. It's a motorsport and it's supposed to be loud. I mean, if you want to go quiet that's fine then make them all electric but who's fooling who? You can then have a conversation with your buddy when they're electric but other than that, forget it. NASCAR doesn't do it, drag racing doesn't do it, we're the only sport trying to make it quieter. And for what reason? The tracks? Well the tracks in southern California are not closing because of noise; they're closing because of houses that are being built. It's not a noise issue.
Preston in the mud. Photo by Steve Cox
You ever go on the internet and Google yourself to see what the people are saying on the forums and such?
The closest I've ever gotten to getting on those was sitting next to Tim Ferry. He would tell me what the people are saying. That's all he does is read those things.
He likes to say he doesn't but I know that he does. So I take it you've never visited pulpmx.com where I'm going to put this interview?
No but now I will because you're kind of an interesting with some of the stuff you do so I'll check it out.
Do you read the magazines much?
No, I don't really read them. Why?
Because in the new Transworld there is an interview with Jason Lawrence where he talks about how it's his team now and he put all this money into it and if he screws up, he's just hurting himself and if you didn't know any better, you'd really believe this kid. But then he goes and gets suspended for fighting at a race that he missed because he was sick. My point is what's up with him?
Well, I don't know him at all…
The thing is, as a veteran guy that was almost out of the sport once and probably broke at one point, you must just shake your head at the kid.
I just think he's young and he's worried about having a good time and being cool. I think he's going to regret a lot of his decisions seven years from now. I mean the dude can obviously ride a motorcycle so I think he's going to wish he didn't do that partying and that he trained and took it seriously.
I get the sense that the people around him think he's cool and that he's working on an image but one day, when the money is gone, they'll be gone.
I think that the agent is probably happy about him because he get's 10% of everything that the kid makes and that means that the more people get on board because of his stuff, the more money he makes. I'm actually kind of upset that people actually sponsor him anyways. I know Kawi would tell him to get lost and never give him a motorcycle and I can bet you a million dollars that Honda would never give him a bike or sponsor him. So Yamaha and whomever else helps him, that kind of shows you about those companies.
How's your buddy Jimmy doing? (This is Travis's buddy that rides really fast but has the worst bike maintenance skills ever. He is a desert rat biker but hauls ass)
He's real good, he had a Honda and as you know, he doesn't work bikes unless he has to. He'll run the tire completely bald and the teeth will break off the sprocket before he changes it. He rode the Honda so much that the valves are out of adjustment and it won't start. He got a Yamaha before but he didn't like it and then went and bought the Honda. A new '08 Honda. Now he's riding the Yamaha because it's the only thing that runs and now he loves the Yamaha. He's still running flannels and dickies and the knee braces over top of the sweats. And he's going real fast.
Let's talk about your mechanics.
I feel like I've been real blessed with good mechanics over the years. I had Shawn (Ulikowski) who was more of a sub-contractor than a mechanic. Shawn likes to do motors and that's about it. He loves doing motors and you can see he's in the perfect job now (Shawn is a motor guy for JGR). When he worked for at Factory Connection, he did everyone's motors. He traded the motor for the brakes, graphics, whatever. My bike was built by various people. It never broke so I guess it worked out.
And Frank (Latham) is a hard worker, he likes to do everything himself and gets really pumped up about racing.
Frankie must have been pretty funny at times.
He was but I don't know if it was me or what but both of those guys would get really mad at me. They both lost their tempers at some point. If I had a bad race, Shawn wouldn't talk to me, he'd go two or three days without talking to me sometimes. And Frank would yell at me, or break the pit board, he would really verbally abuse me.
You don't seem like the type of guy to really respond to that…
Steve, I'm trying to tell you that I'm a nice guy. I'm trying to get along with these guys! Shawn was the real quiet, I'm not going to talk to you type of guy. Frank was very verbal…things like I'm trash, I don't know how to ride a motorcycle, you need to pull it together. Things like that. The funny thing is I've become very good friends with both of them and talk to each of those guys once a week. My guy now, Chris, is a great guy, hard worker and I feel really lucky.
Your new guy has barely worked for you!
Yeah, but he's handling everything real good. He's getting bored because he's not working very much.
I would bet you're not one of those guys that really respond to the rah-rah, win one for the Gipper speeches. You're an older guy that's been around so that stuff doesn't really work.
It's kind of a weird relationship with your mechanic. I was telling my wife this, it's almost like I have two dads. Or dad figures. But then it's like I have another girlfriend sometimes because us riders can really emotionally hurt the mechanic. You can really hurt a guys feelings because let's say you worked really hard one week on the frame of the bike. You know, you really put some extra love in there and polished the frame better than ever. Then I come walking in and don't say anything or don't notice the extra work you put in then you're going to get mad at me and we're not going to talk. Then I have to ask you what's wrong, and then you're going to say that if you don't know I'm not going to tell you. That sort of stuff.
I used to get all hurt when Red Dog would get off his bike and talk to his trainer, team manager, suspension guy basically whenever he talked to anyone BUT me when getting off the bike.
You sound like you might be a little more emotional than some mechanics.
I was. What was the bike bike you've ever ridden?
I don't know if you should ask that question. I guess my '07 CRF 450 with good suspension and Pro Circuit motor. I don't know, I don't have enough time on this bike just yet. I really like the guy who does my motor at KTM, Leighton.
Yeah, he's cool and a nice guy but I think a little nutso. He does love KTM however.
He's a great guy and good at his job. Rick Asch at Kawasaki also. I think the best guys to do my motors have been Leighton, Rick and Mitch (Payton).
What's the worst race bike you ever rode?
I'd say the Husky just for the fact that the suspension just did not work. I went to Steel City, the last national in 2001 and my shock blew in the first moto. You know, oil everywhere, the whole deal. We didn't have an extra shock,that was it. We didn't have the parts to fix it or the time so we tracked some dude down in the parking lot that had a Husky and used his shock. We took it off, completely stock and put it on for the second moto and the shock felt exactly the same. There was no difference. That was how the suspension worked there.
When you were at Kawi, what were the most cups of coffee you saw Mike Fisher drink in one day?
I don't think it's possible to count that because there was always a cup of coffee in his hand. You really had no idea. I don't know when he refills them. He was a great manager and we got along great. The whole Kawasaki thing for me was a lot of fun, I had a great time over there.
I think to work at Kawasaki you have to have a special personality. Everyone gets along real good, everyone's real nice and they all like each other. You can't bring someone in there that's going to mess it all up.
They have a lot of people over there for two riders, you have an assistant team manager and two motor guys for two riders at Kawi…
It comes down to the fact that everyone gets to leave the shop at 5 or 530 at night and have a normal life away from motocross.
Yes exactly, they have it down I think.
And in turn, when you ask everyone to really work hard and stay late or put in a bunch of time, they don't have a problem with it because they're not burnt out. You get better performance out of them at work because they are refreshed and ready.
There's some other teams out there that I've ridden for where you're just working them hard all the time and you're maybe not getting the best out of someone when you're working all the time.
Yes as a mechanic, the mentality is there that if you work longer hours then that means you're a better mechanic and as you can imagine, I was considered a bad mechanic because I liked to go home at night.
Exactly, that seems like what some guys like to do. Staying late does not mean you're a better mechanic. I notice that the teams look at that differently, some guys are quicker than others and it's different at other teams. Some teams want you to live it, love it, eat it and sleep it but I don't think that's right.
In 2000 when you had your worst year, were you thinking that you might have to get a real job?
Yeah, but I actually never thought I'd race motorcycles and make money at it. I kind of thought I was doing it as a kid and then not get a sponsor one year and then I'd have to get a real job. I've been real lucky for sure.
How rich are you? Are you super mega rich?
No, I'm not that rich, I'm definitely debt free which is good and I'm happy with that.
Are you like Larry Ward where you would take your off season sx show up money and bury it in coffee tins in your back yard?
No, I put all my money into real estate. I have properties and houses and it's all paid for. On paper I'm rich but not in the bank.
How much longer are you going to race?
I like racing and still kind of suck at it so as long as someone keeps paying me, I'll keep trying to get better. I feel great and still ready to race.
Summey told me that it kind of bugs you how I ask about your donkey so much, so I'm going to stop but one last time, how is she?
She's good. This is the last time we're going to talk about it. We changed her name though, her name is Mindy now…no, no..Daphne. I mean Daphne.
Who's Mindy then?
That's our miniature horse. Mindy.
Thanks for doing this.
Yeah, hey can you send me a text when this is up with the name of the site?
Yeah, you're actually going to check it out? Because when riders tell me they don't read the internet I don't usually believe them but with you, I truly believe that you're not a big internet guy.
I go on the internet but it's to pay bills and stuff.
Ferry tells me he doesn't read it, but I know he does.
There's not too many riders that I really look at when they ride but I actually watch Timmy, he's a great rider and I'm just saying this because I know your relationship with Timmy is a little weird and I know that you really love him.
Hey man, we're good friends. We talk and text a lot and I always say that you and I could have the same relationship if you put the time in to respond back to me. Like Nick Wey, he doesn't put the effort into our relationship that I need so we don't talk that much.
(Laughs)..Is it me or is Timmy always texting?
No he is, he loves it. Not as bad as Jason Thomas, who will be buried with his sidekick in his hand. You know it's bad when a guy has a phone for just texting. But Red Dog does love to communicate that way.
When I go to the test track, I'll leave my phone in the truck. Timmy has it in the chair next to him, he'll come off the track, tell the guys what's wrong with the bike, sit down and start texting right away.
Thanks Travis.
Thanks Steve.