This is a running diary of the 1983 500 USGP. Just because I'm weird like that.
This is a running diary of the 1983 500 USGP. Just because I'm weird like that.
The 1983 USGP was a compelling race for me. Sure, I was ten years old and really had no clue about big time motocross but I remember that I had a lot of questions bouncing around in my brain about this race. I suppose MXA didn't satisfy me with their recap for some reason. I recently went back and watched it on YouTube and it made me appreciate Magoo and made me appreciate YouTube for the 534,215th time. It's like the cell phone, what in the hell did we do before this YouTube thing?
Here's a running dairy of the 1983 USGP.
:02– We pick up the right away as a guy wearing jeans and a collared shirt (I think it's Ron Crandell) holds the 5 second card. He's not wiggling at all and has a hand in his pocket like he's perusing the nail section at Home Depot or something. He's definitely not looking like a guy holding a card signifying that in a very short time, a gate will drop and send 24 (where in the hell was everyone?) men on fire-breathing 500cc motorcycles towards him.
:14– Kent Howerton gets the holeshot but can't stop on the icy Carlsbad track, overshoots the first turn and allows Honda's Danny Chandler to sneak around the inside. And in a related note, Carlsbad was always hard and slick. You could make a case for it being the hardest and slickest track IN THE WORLD. I'm serious. Anyway, I can't help but wonder what the guy that was in charge of watering was thinking. When you add water to a hard pack slick track, you make it even slicker. As the guy on the Kawi found out. I think a light sprinkle was in order here, not a dousing.
:30– The race just began and Chandler is checking out! He's on it and yarding everyone big time. Remember it was only the year before when he might have put in the best ride in motocross history when he swept the Motocross and Trophee Des Nations. Over the course of two weeks, he beat the absolute best in the world. Four times in a row. There are dudes almost killing themselves back in the pack as they are splashing through puddles and going sideways. It looks like somebody decided to hold a race at the Staples Center. When the Kings are playing.
:34– Check that, Chandler's out. He slows going around a turn and it turns out somebody forgot to turn his gas on. He's like 30th now. This is Factory Honda when they were probably at their peak, the absolute trickest bikes in the world, the best riders and you would think the best mechanics. I'm pretty sure Magoo's wrench was trying to make a noose out of some safety wire.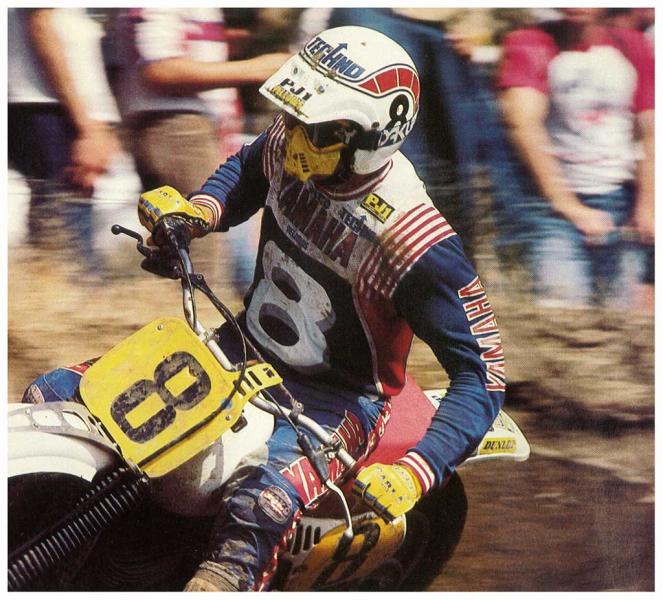 Carla looked pretty stylish at this race, matching his face mask to his number plate is clever. Not having a crossbar pad is not so clever. This was the era when men were men.
1:12– The eventual 1983 World Champion, Sweden's Hakan Carlqvist inherits the lead and is putting some time on Yamaha's Broc Glover. They are both on YZ490's here but I'm guessing Hakans is a whole lot better. I know a guy that went testing with Hakan around this time and he had a wicked temper I guess. He saw him punch a hole through a van and one time he grabbed a shovel and tried to bury his bike when he wasn't happy with it. Not a man you want to mess with.
1:41– Carlsbad was cool because it was so legendary. It also might be the last track to have names given to sections." The Ledge", "The Freeway", "Devils Drop"," Rattlesnake Gulch" and "Angels Drop" aren't strip club names, its sections of the track. When I was at KTM, we went with the guys to test one day when the track was almost shut down and looking pretty dilapidated. And at the end of the day, in my Etnies and a helmet, I rode slow laps around the track and cherished the thought that I was riding the same sections as all the legends. I can now say I rode Carlsbad. Sort of. Then I got yelled at to come help load the box van. Good times.
2:36– Hakan is still leading and you can see the rear ends of the bikes just dancing around, this track was brutal. Square edges, dusty and I guarantee you today's riders would go on strike before racing a national here. Heck when I was at Yamaha one time we showed up at an empty Glen Helen for testing and it wasn't watered and the riders revolted and went home. There's no way in HELL they would ride this track.
2:47– Helicopter shot here and a pretty big lead for Hakan. The announcers say the people call him "The Super Swede" which no doubt it one of the more original nicknames out there. "We need a nickname for Hakan"….."Well, he's from Sweden and is a super good rider"…. "What about Super Swede?"…"That's so brilliant, no one would EVER think of that." This is how I imagine the conversation went.
3:04– The first shot of "Bad" Brad Lackey. Lackey was an interesting case here as he won the '82 World Title after 800 years of trying and for some reason, couldn't defend his title when no one would hire him. I don't know the reasons why, maybe he showed with war paint on his face that was chicken blood or maybe one time he took a sack of puppies and sacrificed them on the podium because absolutely NO ONE wanted to hire him. He had the number one plate for god's sake! For this race, Brad had the number one on a privateer Yamaha and the fans were behind him.
3:48– Incredibly, we see Chandler trying to make the move on Lackey for fourth! He is on the move and has "Road Block" on the back of his pants. But right now, he's as far from a road block as you can get.
3:54– Never mind. Chandler goes down as he's right behind Lackey, his front end just washed out on the Staples Center-like surface.
4:50– The interview I reference in the title is now taking place. Carlqvist kind looks like a beaver with his brown hair and buck teeth. A very massive, angry beaver from Sweden.
5:21– Chandler is right back on Lackey again! He's like the energizer bunny really. You can't stop Danny Chandler on this day, you can only hope to contain him. Magoo was nuts, this we know. He was really fast when the world's riders got together. He never had the success on the AMA circuit that he had on the international stage. When he did GP's, my same friend that told me about Carlqvist told me that Danny spent too much time in the beer tent when he was racing over there.
7:10– Chandler finally gets by Lackey, almost killing himself in the process. Next we see Carla riding around in first. Man, he was a big dude. He dwarfs that YZ490 and makes it look like one of those toy motorcycles from Sears. He's just a massive Swedish meatball out there and I'm pumped that I used the words "Swedish" and "Meatball" in this story.
8:40– After a thrilling POV helmet cam where you couldn't see a thing, we see third place Alan King on the factory Suzuki 500. It would be another year before King would shock the world (or at least me) by winning the 1984 Hangtown national on a Team Tamm Honda (I never understood why that win never gets the same amount of amazement that, say, Rick Ryan got for Daytona '87. King was racing the 250 class and it had everybody in it except for Ward, O'Mara, Bailey and Glover. And unlike Ryan, he was on a production bike versus true works bikes. He beat RJ, Lechien, Hannah, Liles, Barnett, Howerton! On a production bike! All hail Alan King from Michigan for this.) Who do we see behind Alan? Well of course, it's a rabid Magoo with the throttle pinned and he's a few seconds away from being able to change his name to Lane Frost.
9:03– The announcers tell us that Magoo was in thirteenth at one point, we saw him crash behind Lackey and now is challenging King for third. He gains about 125 bike lengths on King up the freeway. He seriously looks like he just hit the nitro button in a Mario Kart game. He sweeps the turn and continues past King on the downhill, right out of f-ing control. I'm sure King doesn't even know what hit him, he just sees the dust and hears the noise (on that note, I want to call King and talk to him, anyone out there know how to get a hold of the lanky man from Michigan?)
10:03– Oh c'mon… now Magoo is right on Glover in second. This might be the best ride in the history of Carlsbad, Magoo is just pinned and the rear end of his bike looks like he took off his shock and put on a slinky. It doesn't seem to bother him.
10:10– Hakan takes the checkers and it's now Sweden-1, USA-0 (actually this was just the start of Sweden's American takeover, years later Americans would raise a collective white flag by giving IKEA bajillions of American dollars). He does a sweet wheelie to celebrate and there is absolutely no one cheering him when he comes across. Later on, he'll go back and beat every one of those fans up.
11:30– Chandler comes up short in his bid for second. He is SO fast up and down the freeway its ridiculous. It's not a coincidence that the freeway is a section of the track that takes a lot of balls. He's all over Glover and even sticks a wheel in there a few times but can't complete the deal.
11:55– I don't know if it's real time or not but they show Carla in the pits with his shirt off and smiling and joking. He doesn't even look like he's sweating. He's probably laughing at the pitiful Americans and their attempt to beat him.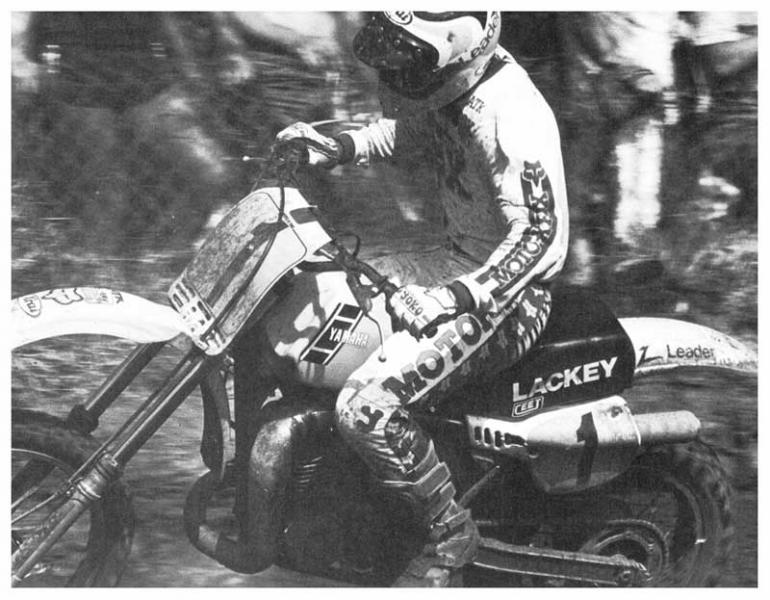 Bad Brad at the '83 USGP. Notice the custom Ceet seat. That's pretty sweet. Notice the crappy-ass Leader goggles. Apparantly Brad didn't like the Fox gloves and ran his Yokos. He did pretty good at this one off race, going 5-6 for 5th OA.
12:43– The second moto is off and there is a big first turn crash and of course, it's Chandler down. He doesn't have any luck today. Glover and Carlqvist is one-two and it's setting up to be a good battle. Unless Chandler comes from two minutes down and passes them both. Which he just might do.
13:11– The water guy apparently got fired after his first moto performance. The track is now dusty and dry like a popcorn fart. I've heard that term used a few times and have no idea what it means because popcorn is not a living breathing thing, so therefore, it doesn't fart. It's still funny though.
13:48– Glover is down! In a crash that makes him look like a junior rider, Broc tips over and Carla gets by him. He could have been surprised by the river jump, which is a raging river of water running through a trench. Strange.
15:40– Broc makes up the ground and catches back to Carla. It's weird how Carla just smoked them in the first moto and now it looks like he is losing a lot of ground to Broc…oops, never mind, Glover just got by him in the Rattlesnake Gulch section. King is in third but losing ground.
16:03– Back to the river jump. The riders have to clear it every lap and even though it looks about three feet wide, Glover can't seem to get over it. Apparently, the YZ490 does not quite have enough HP to get all the way over.
16:20– The announcers inform us that a 2-1 does not beat a 1-2 like it does at every other track in America. In the case of a tie in the points, the second moto is not the tie breaker; it goes off total time that a rider takes to complete the moto. Damm Euros and their rules.
16:40– Wait, I just figured it out. A track is inevitably rougher in the second moto so the winner of the first moto, when the track is smoother and the rider is fresher, would almost always have the better time right? Glover is going to get screwed!
16:55– The guys tell us that Lackey is difficult to work with, a bit of a loner and asked Suzuki for a lot of money to defend his title. Way to throw the feel good story of the race under the bus guys. They go on and on just backing up and running over Bad Brad some more. The viewer at home is like….Oh….I guess I won't cheer for that guy anymore.
17:50– The show cuts to an interview with Bad Brad where he's at home, the ocean is in the background and he has his shirt off. How did that go? "Hey Brad, we want to interview you on ABC but I think we should have your shirt off because the viewers will want to see what a World Champions armpit hair looks like" Whose the director for this segement? The cop from Village People? Brad does have a pretty good beard going and kind of looks like Kenny Loggins. I feel like this is a good time to say that I don't like dudes (in that way) but that I bet Brad was a pretty sexy guy in '83.
18:57– King is all over Carlqvist right now but almost eats poop when he tries to go through the mud (which it looks like no one has tried that line all day). Carla looks good with his Techno helmet and visor and racing striped jersey. I can't help but notice Hakan's bar width, it looks like he bolted on a pull up bar from his local gym. King just looks like a giant banana.
21:38– Of course,Glover looks great in his all white JT gear. King gets by Carla but they have a titanic battle for second with Carla getting him back around the outside before Devils Drop. Then King gets really squirrely and almost goes down. Believe me, there isn't too many tracks that are rougher on you if you crash than Carlsbad. Can you say road rash?
22:23– Oh no, The Rhinestone Cowboy, Kent Howerton has gone down in the mud somewhere and is kicking his right hand kick start with his left leg. Huh? So he has to get off his bike every time he needs to start it? Weird. Also, I didn't realize this but Kent's Kawasaki SR500 works bike is liquid cooled which means that Honda wasn't the first to have that.
22:47– We hear now that the timed scoring thing is the lowest time of both motos combined. So my worry about that unfairness is unfounded. Go Glover!!
24:38– Glover takes the flag and the win in the second moto. The calculators are out…
25:16– But Carlqvist wins! The margin is only three seconds and they're now interviewing Broc and he makes it sound like he didn't know about the time thingee. He is lamenting the fact that he could've made up three seconds somewhere along the line in a forty-five minute moto.
26:02– Carla is getting interviewed and when asked about whether the young Californians are impressive to him, he goes on to say that he has to worry about the mighty World Championship and the Americans can just go wide open and try to win this one race. He sounds like a poor loser, except he won! Then he says he's very happy to lead the GP points and flashes us his beaver teeth one last time.
And that, ladies and gentlemen, is my recap of the 1983 500 USGP.
Watch it yourself here.