Welcome everyone to the Toronto Supercross, brought to you by Monster, Parts Unlimited and many others. The track here in Canada is kind of like a Boston Creme from Tim Hortons. An outside shell that is slightly harder then butter followed underneath by just thick creamy underbelly. Ummmmm….donuts.
Welcome everyone to the Toronto Supercross, brought to you by Monster, Parts Unlimited and many others. The track here in Canada is kind of like a Boston Creme from Tim Hortons. An outside shell that is slightly harder then butter followed underneath by just thick creamy underbelly. Ummmmm….donuts.
Seriously, the second 250 practice is out there now and no one is jumping either triple. The first practice a guy named Jason Thomas and maybe one other guy jumped one of the two triples. The ruts are already forming and we're going to be in for quite an experience. I texted Red Dog to tell him this fact and he said "It sounds like 1992 all over again". WOW, I just saw a guy case the triple and he just sunk into the earth, never to be seen again.
The fast 250 guys are out there an so far, one guy (Blair) has tripled anything. The ruts are so deep I can see German solidiers heads in them. Lemoine has gone down and there are "almost crashes" everywhere you look. Should make for exciting times! Jason Thomas is going to be the fastest guy by virtue of him being able to triple three or four times in the very first practice. Sweet!
Scratch that, Stroupe, Pourcel and Hahn are tripling now and going pretty fast. Be sure to click on this X-Brand banner as it is right in the way of me typing. Have to inform my web guy that I can't see my lines when I get to the right of the page. You may as well click on it for me.
The big dogs of the 450 are out there right now and the trackwas fixed a little bit before the guys got out there but that only lasted maybe until halfway and it's right back to where it was. There is so much lime out there that I'm sure the track will have lyme disease by the end of the night! Thank you, I'll be here all night, make sure you tip your waiters.
Ok, second practices are over and I'm sure right now all the riders are going over to the AMA truck with torches and pitchforks in hand, ready to riot and hang someone. The thing is, there is no one to blame for their struggles out there. The dirt is what it is, it's Canada and therefore this time of the year there will be snow and rain on it. Like I was saying there is lime put into the dirt and the Dirt Wurx guys are trying to groom it and trying their best but…
I've seen more mistakes from the riders then I've seen all year and the reports I got from a rider are that are done is "sketchy" and "scary"..ok actually I have just been texting JT. There, that's my source.
Jason Lawrence is here, he's made it across the border and is looking good. He's a creative rider and this track is going to reward the guy that can think on his feet. There will be lots of times you drag a footpeg or whatever and cannot (or come up short) jump something and you're going to have to make the best of it. Stewie crashed in a slow speed section and went over the bars when his front end stuck in the goop. Actually, lots of guys crashed so maybe not fair to single him out. Pourcel is going to be good with his technicality (is that a word?) and Stroupe is pinning it and going fast but I don't like his chances of staying on two wheels with the changing of the track. Ferry is still not here either…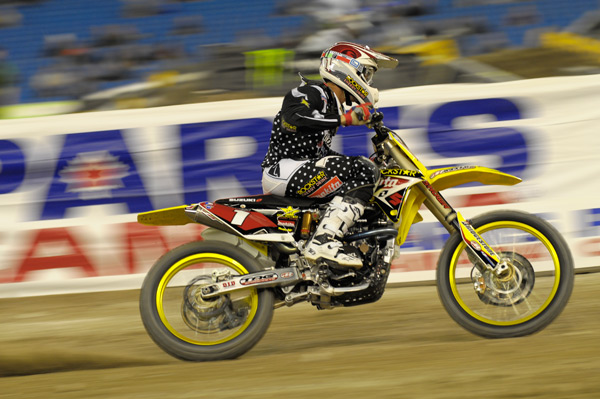 I think Reedy was the fastest but the AMA scoring isn't working for some reason. He won here last year with a massive lead and looked good in the first session. Stewie looked to struggle a bit and wasn't in the same second as the Suzuki rider. A James Lissimore photo.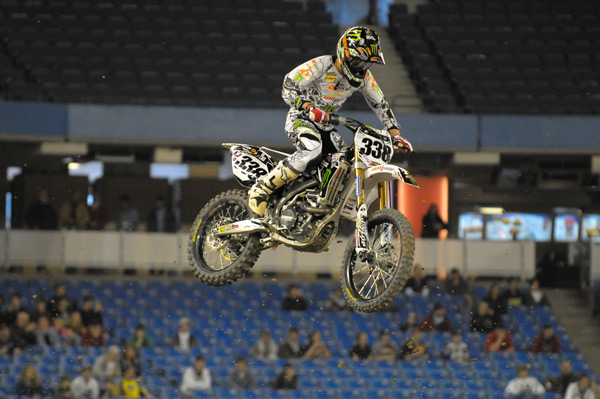 Lawrence was fast and was working the body english big time. He's going to be good tonight but I'm wondering about his fitness because tracks like this are a lot of work to muscle your bike around and avoid eating poop. A Lissimore photo.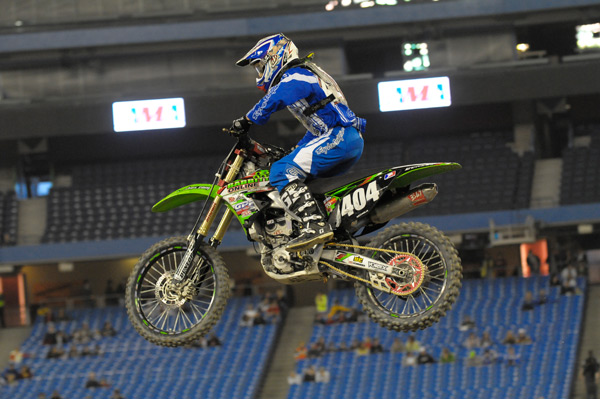 Here is the 2009 regional arenacross champion and Canadian number 3, Tyler Medaglia. He was the fastest of the three Canadian guys that lined up to try this supercross thing out. Photo by Lissimore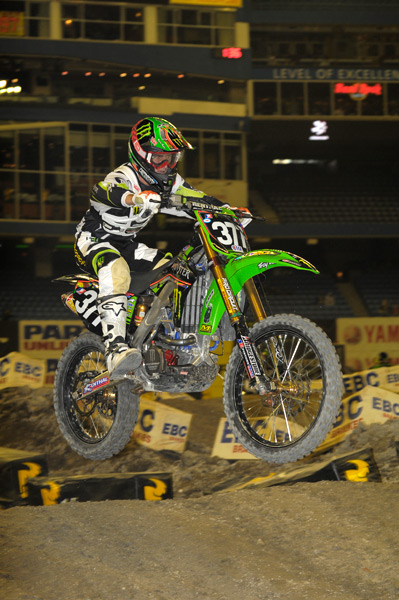 Pourcel can clinch this weekend if he beats Stroupe no matter the position. At least thats what the Kawi PR guy told me. Stroupe's mechanic is pumped because he's walking around with some sunflower seeds from France that Christophe's mom brought him and he says they are the best he's ever had. Photo by guess who?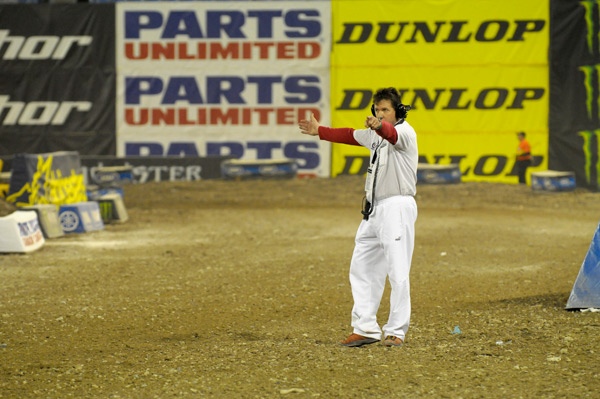 Here's the CMA official in all his white suited glory. I'm sure he's a nice guy and I feel a little bad for making fun of the CMA and the white suits but can't help it. Lissimore photo.
Second set of practices are over and the track got a little better, it dried out some, the dozers worked on it some and there was also some sand put down in places. JT looks pretty good and it won't be long before he's in the fast group of practices. Stroupe almost, and I mean almost ate poop big time but saved it. He tucked behind Pourcel but being the sneaky Frenchman that he is, Pourcel pulled off and let him by. Purple Rain came out first lap and busted out the triple, he's not scared for sure.Will Hahn was the only guy that I saw jump the other triple, he would just rail the turn to get over it but as the times show, it was helping him.
In the 450's, it was obvious that Stewie is trying very hard to get his usual spot on the board but the the thing is, this track and soil doesn't reward being overly aggressive. It's like if I was at an all you can pizza place and just grabbed 34 slices and sat down and gobbled them down. Chances are the dough would fill me up fast and I'd be unable to eat anymore. If I paced myself and ate one slice at a time, let the buffet come to me persay, then I might be able to eat 45 slices. Understand? See how it all makes sense?
But then he smoothed out and stopped coming out of ruts and blowing turns to post the fastest time anyways so for now, it looks like he's figured it out. Man, Tommy Hahn had a rough practice, it seemed everytime I looked over he was either picking up his bike, trying to start it or having an almost crash. Reedy looked like he was just kind of riding around not pushing it and Hill was fast right from the start. Lawrence was like Reedy, looking like he was just riding around.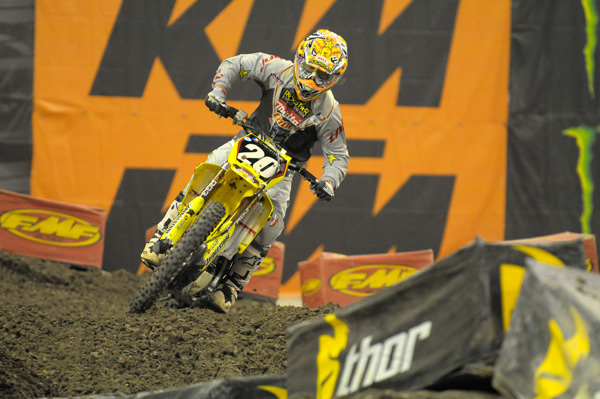 Nicco should win one of these soon, maybe tonight. Izzi going fast? Yes, he is. Photo by Lissimore.
Thats about all I got from the Skydome after practice. It was uneventful really, again the riders are really racing the track and not each other. They have to just focus on themselves and try to survive out there. See you around 7pm and thanks for reading.
And we're back! Opening ceremonies right now and I just got back the Ontario institution known as Pizza Pizza ( a place so good they had to name it twice) with my buddy JT. The Canuck seem more enthused than ever to greet Stewie and mildly happy to see Reed. The roof would've blown off if Ferry was here I'm sure.
Kyle "dont call me Kenny" Keylon grabbed the start but in a real clever move, Pourcel doubled the triple then launched off the landing and doubled the next set of jumps. It was a real sweet improv way of turning the doubling of the triple into a pass for the lead. Willard crashed out and all of Canada and Rupert are bummed. Will Hahn's bike is very fast and he's not bad either as he came up from the back to get fourth. The mercurial Jesseman caught Pourcel at the end but the Frenchman turns in his best ride in the last little while. Oh by the way, the track is sketchy. Watching the 250 guys just sky out to make the jump is scary..the mic isn't working right now and on the screen Mrs Supercross is just waving to pass the time–oh, now it is. Good times!
Second heat is over and this just in, Stroupe is crazy! The green throttle jockey was wild the first few laps and made up for a bad start to just about get Lemoine for first. Brady Sheren made it in, making Canada proud but Tyler Medaglia did not, making Canada sad. Almost no one did either triple and the dozers are out there now fixing it before the 450's. Good ride for Lemoine who is certainly in the lead for the "fastest guy with no real results" award. Jason Thomas, with a belly full of pizza and chicken ceasar salad, rode pretty steady for a seventh.
First 450 heat and as you probably heard, Tedesco led for a while before Chad Reed realized he was Chad Reed and turned on the afterburners to grab the win. KW came up and made the pass on Ivan much to the delight of the Canadians. Josh Grant rode great to come from the back and Wey took way too long to get going. At the end of the race he was good but it's another LCQ for the two-seven. The last two races I've been at, he's just waiting too long before getting the charge on. Chisholm and Hahn were grinding aluminum quite a bit in their battle for eighth. Mike Alessi grabbed the start and you will know why on Weds when I post Observations because I have found out the secret to the 800's starts. At least a little bit anyways
James Stewart took the lead from a very game Davi Millsaps and sped off for the win. There were some close calls however. Lawrence was like fourth going around the second turn but drifted a bit wide and got passed by the whole pack when he single, single, singled the triple. He then had to pass everyone back..or at least most of them. He made a couple of errors but brought it home in sixth. Voss went down twice very hard in the same section and is headed to the LCQ. Pretty uneventful race really and in more shocking news, the dozers are out again trying to smooth the track out before the LCQ's.
What the hell is with all the bracelets and rubber bands and god knows what else on Terry Boyd's wrist? Seriously, you guys have got to see it. He looks like a guy that got turned down for a WHAM video back in the day.
The 250 LCQ went off without a hitch unless your name wasn't Kevin Johnson and Jacob Saylor. Then you got the hitch because you didn't qualify. If that made any sense at all. Good to see Kevin back on the scene, he's a friendly guy. Jonon gets the gas card and Canada's hopes for two riders in the main is dealt a crushing blow when Medaglia was going for the pass to put him into third when he took both guys down. 450 LCQ is up next and has Kiniry, Voss, Laninovich and Wey all going for two spots. Man, the LCQ's have been gnarly this year.
WOW, what a race in the LCQ. First off I have to say that Voss is probably hands down the one of the hardest riders to pass in motocross history. He was leading for most of the race and there was a road block behind him. You can tell Heath knew he didn't have it on this night as he was taking inside lines and rolling a ton of stuff because he wasn't very comfy out there. First Marsack got by and then Wey went to work on the man who is built like a linebacker. It was a tough race, and they literally drag raced up the finish with Wey getting the nod by a whisker. Wey needed this bad, like real bad and the happiest guy in the pits might be Matt Boni as he is trailing Heath in the privateer points and will make up big ground tonight.
Pourcel grabbed the start in the 250 main event and is checking out. Everywhere you look, there are Whartons down on the track. Stroupe just got by Tickle and now Jesseman is closing in on Broc. Izzi and Lemoine are going at it and Hahn is coming from way back..
It's over the 2009 East Coast series champion is a Frenchman who's name is Christophe. Deal with it people! In a great ride over his teammate Austin Stroupe, Pourcel comes ALL the way back from a massive injury suffered two years ago. Tickle gets third in a race that honestly was pretty uneventful. My buddy JT got a horrible start and was dicing with his teammate Keylon all race. They worked their way up to 12th and 13th. I didn't think Stroupe would be able to be consistant all race but I was wrong and he rode pretty damm good. Izzi was up there for a while before crashing and doing some donuts on the concrete trying to get on the track. He got 11th and there is one round left on the east side before jumping back west.
Jason Lawrence is not coming out for the main and the Yamaha guy behind me says he has no idea but did say it's his "off week".
The 450 main just ended and Stewie did what he had to do, win the race. Early on him and Reedy were playing cat and mouse with each other as they would take turns reeling each other in. The track was rutted and mistakes were plenty and this win wasn't the most stylish ever for the seven, but he got it done. Reed busted out this triple onto a table and then off on the second lap, he was the first guy to do it but then something went off in James' head and he did it the next lap. So this made the top two guys just vanish from the pack. Josh Hill was the real star of the night in my opinion, he came from the back to pass Short, Tedesco and Grant to grab the third spot. Good ride for the pacific northwestern, who no doubt was used to the ruts and the soil. There was somethingup with Shorty for sure as he went from third to ninth in a poor ride. X-Brand goggle athlete, Nathan Ramsey wound up in the number twelve spot in a good ride. Guess who got the holeshot? Yep, thats right-Mike Alessi. I know why and will tell all in my column on Weds. It's groundbreaking for sure, that would be the highlight of his night as he went backwards to 11th. Is he hurt? Does anyone know? This isn't usually the Mike Alessi that I know of.
So James won and the race for the 2009 supercross title goes onto Jacksonville next week where I will hopefully blog there if I'm not too busy eating.
Thanks for reading!