Let's take a look back at the 2009 supercross series points and review the rider's performances, doesn't that sound fun? Thanks to Stone for his photos. I didn't steal them and then tell him afterwards like normal, I actually paid him!
Let's take a look back at the 2009 supercross series points and review the rider's performances, doesn't that sound fun? Thanks to Stone for his photos. I didn't steal them and then tell him afterwards like normal, I actually paid him!
450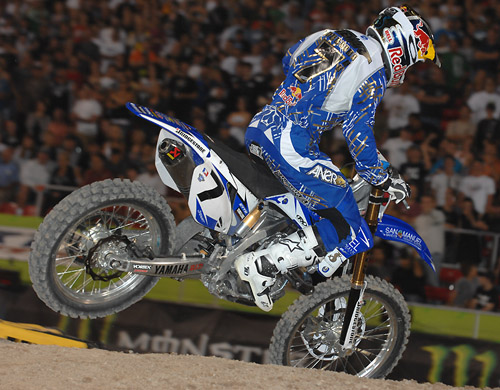 Here he is, the champ! James was amazing this year and so was Chad actually. Who says you need parity to have a great season. The really cool thing for us fans is that they don't like each other.
1-Stewart– Did what he had to do at Vegas and really, who can dispute that he wasn't the fastest rider all year? Stewie is able to do things on the bike that have never been done before, go back and watch his pass on Reed at SLC over the finish. Ridiculous.
2-Reed– Impressed the hell out of me that's for sure. He never really beat James straight up but gave him a run that no one will soon forget. The best thing you can say about the 22 is that he's a fighter. It's hard to raise your game up out of your comfort level.
3-Short– The underrated Shorty gets third again. He works really hard to get what he does and you have to wonder if he needs to teach himself some new tricks to step it up to the next level. Reed did it, can Andrew?
4-Grant– The rookie of the year (yes, over RV) in my eyes. Started out with an amazing win and carried it on from there. Weege thought he'd piledrive himself into the ground at some point and he did many times but he showed that he's tough and he's for real. Nice riding style also.
5-Windham- A quiet season for KW that could've easily been third in the points had he not broken a tranny at Indy and got taken out at A1. Kevin is just putting in his time, he's got a fan base and tries hard but at this point in his career the wins are done I think.
6-Villopoto– Got a little lucky in both of his wins but good to be lucky, lucky to be good right? RV made an incredible transformation from struggling with crashes and getting sick to two time main event winner. Confidence is a scary thing.
7-Tedesco– I thought early on in the year he was going to step up and challenge for third more often. He finished with a couple of 4ths but kind of faded at the end of the season, he needs a change to refresh him and get back to his attacking, aggressive style of years past.
8-Millsaps– What can you say about this guy? Super talented, burnt out and hard to motivate? Yep, you can say all that. Davi turned it on at the end of the year to again remind everyone in the pits what he can do. If you took a poll in the pits, you'd be amazed at how his talent level is held in high regard.
9-M Alessi– A disappointing end for the 800. He had a chance at 5th in the points a few weeks ago but drops to 9th. You have to hand to Mikey, he knows he can't run with the big dogs but he still gets the start every time. There's an internal pecking order in every riders head but Mike's. He still believes he belongs up there, has to get better in whoops and being more aggressive.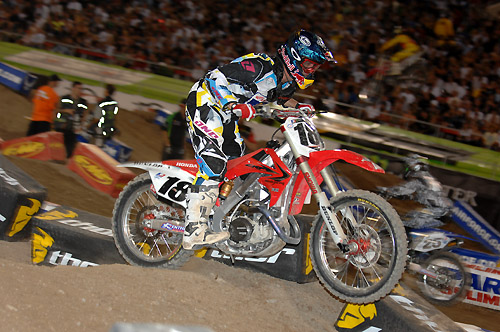 The talented Davi Millsaps. He didn't like his bike and had to be coaxed into trying by his support group but man, when he does try it's nice to watch. I don't like the trend of the gear companies just throwing color all over, what happened to nice clean lines? Maybe I'm old…
10-Hill– Hill struggled early on with injuries, got better and got a third and rode great at Jacksonville but unfortunately missed the rest of the season after that. A total write-off for the Factory Yamaha rider and coming off a win last year, looked set to do big things in '09.
11-Boni– A great year for the 54. Matt switched teams halfway through the year and that couldn't have been easy. He also got better as the year went on and I really wouldn't have expected this performance out of him. Matt has a bright future but needs to do the outdoors, actually all the younger dudes need to ride mx because the factories need to see what they can do. Out of sight, out of mind y'know?
12-Voss– Lost the privateer of the year award at the last race to Boni. Voss is just Voss, consistent and quietly good. You don't really notice the motorcycle cop riding style out there but he goes fast. He's a bit of a mental case also.
13-Ferry– Incredible season, was just getting ready to challenge for podiums when he broke his heel. Had lulled everyone into a deep sleep and was getting ready to strike like a cobra when he got screwed by gravity. I'm going to need a tissue here…
14-Wey– Man, I don't know what NYK's deal is. He's still got that beautiful riding style and tried hard, puts the work in during the week but it's not happening for the former podium contender. I know Nick needs to have everything working for him and no distractions and I think his team's atmosphere was something he had to battle with
15-Carpenter– Paul was pretty under the radar this year and almost missed the main a whole bunch of times before really coming through in the closing laps to grab the final spot. He missed five races with injuries. Onto Canada he goes!
16-Chisholm– Will be tainted for a while from his SLC actions where he kind of lost his mind. Kyle's a good dude but I honestly thought he would've done better. He had a season best 8th place at J-Ville but with his equipment and advantages, should've been an 8th to 12th place guy. Gotta remember though, it was his first year in the 450's.
17-Hepler– As usual got hurt and missed a bunch of races. Hepler got his first career podium though and that's a glimpse into what he CAN do. Factory Yamaha had two riders that potentially could've started 34 main events and both guys added up to miss 12 mains. That's not good.
18-Coisy– Was really good and leading the privateer points early but faded bad down the stretch. Not sure what the deal was but I know his team was wondering what was up also. Ben will be trained by the legend, JMB, for the outdoors.
19-T Hahn– Another guy that couldn't buy a break. T Hahn is a good rider, you have to watch him to see what he can do but injuries and bike problems hurt him. He missed seven main events and DNF'd quite a few more. This guy was factory Honda not too long ago.
20-Lawrence– What can be said that hasn't been already? Got twentieth in the points with four races! He seriously needs to get some professional help but man can he ride, just a really unique style where he's 120lbs soaking wet but yet throws the bike around with a ton of body english. He's got to get ahold of himself or he'll be out of the sport in three years.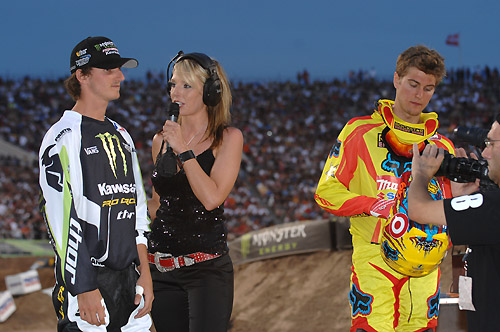 Maybe Pourcel could pull his hat down some more? Doesn't he just look like the kid behind the counter at the local 7-11? The Dunge looks like a racer.
250 West
1-Dungey– I never thought that he "cracked" under the pressure last year. He just got bad starts and got taken out a few times. This year though, he HAD to win this title and he did. Great come from the back rides at A3 and somewhere else I can't remember won him this championship.
2-Weimer– Everyone knew that Jake was going to be good, he is on the path upward to becoming a star and got with the team and bike to keep it going. Maybe did a little better than I expected and is now the frontrunner for the title next year. Interesting to see how he does with the pressure this off-season.
3-Morais– I really, really want this kid to get a win somewhere, sometime. He's in for a fight to keep his spot on the team next year and that's too bad. He needs a good outdoor season but look at the dudes on his team he has to beat!
4-Brayton– Justin is done with the 250's and that's a good thing. He's a big kid that had ridden the 450 really good in the past. He was a tick off of the top three guys.
5-C Blose– Chris was really good, he made the most of his opportunity, no doubt about that. You wonder if he can step it up to that next level because he's been a pro for a while now and what you see is kind of what you get.
6-Canard– Trey was starting off at a disadvantage because he was bumped to the west when his other teammates got hurt. His leg wasn't 100% when he started and he tried really hard to make up for his lack of preparation. This resulted in crashes and missed races. Came on after the break and showed what he could've done had he been healthy and 100% going into the year.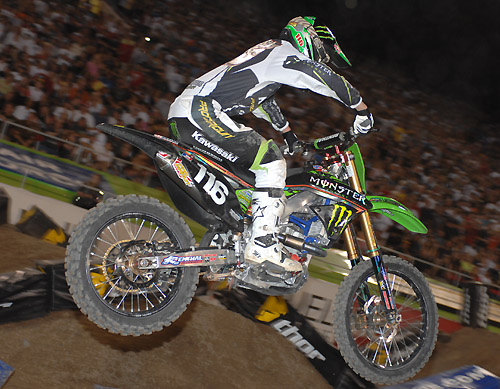 Ryan Morais is a good kid with a good family that needs to ride his ass off outdoors to save his ride. He's had a rough career so it's good to see him have some success now.
7-Sipes– Ryan needs to break through but he keeps breaking himself before he breaks through. He can go really fast though.
8-J Alessi– Jeffy had a quiet season and I suppose he is the second sort of "non-factory" guy behind Blose so not a bad season. He did get a fourth at one race but otherwise was a consistent top ten guy.
9-Reardon– It didn't happen for Reardon this year and unfortunately, I'm sure he's going to get another chance on a team as good as what he had this year. Dandy Dan is going 450's for the outdoors and that is where he made his name in Australia, maybe he can turn it around.
10-Larsen-Did pretty decent for his rookie season but after the results of Canard and Dungey the last few years, one might say that he sucked. I wouldn't though, he did well as he's young kid that showed he can compete. He'll get better.
11-Cunningham– Takes the trophy for "fastest guy that did nothing". KC was blazing fast at times but seemed to put it on the ground more times than not. He needs an outdoor season like he had last year to help him out. The thing with these kids is they only get so many chances before the teams look for the next fast kid.
12-Evans-Ben rode pretty good and is a big kid. Really for the team he was on, he did great. Not a knock on the Ti-Lube team but they are a step down from the TLD's of the world. He told me in a pre-season interview he wanted to get top ten and I thought that was a little lofty but look, he almost did!
13-McCrummen- He missed two main events and scored bad in another one. In between there was a couple of tenths. That's about all I know about the guy. He wore X-Brand goggles for a bit but got mad that they weren't built for him so he switched goggles. I didn't know that 10th place 250 dudes could be prima donnas.
14-Moss– Jake missed four rounds recovering from injury and then turned it on at the end of the year. He's got a bright future and Star Racing might be wishing they didn't let him go. He might ride a little bit too much with his heart and not his head.
15-Borkenhagen– Borkey was good, he had never really ever ridden supercross before this year and the TLD team loved the kid. He's good peeps.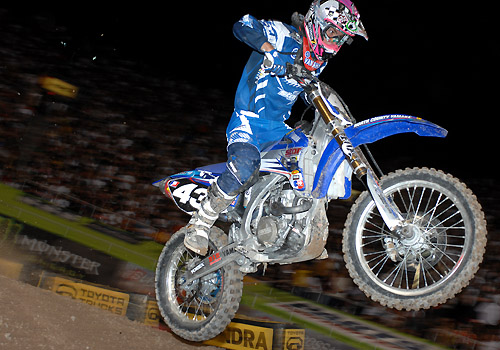 Broc Tickle of the Star Yamaha team. I really wanted him to make a podium just to listen to his speech thanking everyone.
250 East
1-Pourcel– He really was a man among boys out there. His GP experience showed as he limited his off days to 4ths and 5ths when his competition would DNQ. He's sneaky smooth out there and I'd like to see him ride out of control, it probably doesn't look a whole lot different. Nice comeback also from a real bad injury.
2-Stroupe– Stroupe's mistakes were big ones (Atlanta, Daytona) but he was equal to CP on speed. But a completely different way of riding from Christophe. Austin needs a strong outdoor season to make sure everyone forgets about his going away last summer.
3-Izzi- Broke his heel at the last race and probably won't be back for the outdoors. Not good when his contract is up. Nicco was fast but again, with his support and machine, he should at least win a race here and there.
4-B Wharton– Like this guy, Blake was pretty good and his winning a race shows everyone that he can do it. Nothing is hard like winning that first one, then people at least always say "hey, maybe he can do it again" instead of "Is he ever going to win?"
5-W Hahn– Hahn is on an upwards trajectory, no doubt about that. You could see his confidence growing each week as he put in some great rides. He's in shape also and never gives up, that's something that you want in a young rider.
6-Jesseman– Made a podium this year and at this point, he is what he is. A solid rider that never talks.
7-Lemoine- I think this kid is going to be a star in the future. He's still a little throttle jockey but he'll smooth out. He's got some talent, no doubt about that.
8-Goerke– Goerke did ok considering his team and machine were probably not as good as the guys around him. Matt is riding the 450 outdoors and I'll be seeing if he can do what he did last summer when he ran up front quite a bit on the KTM.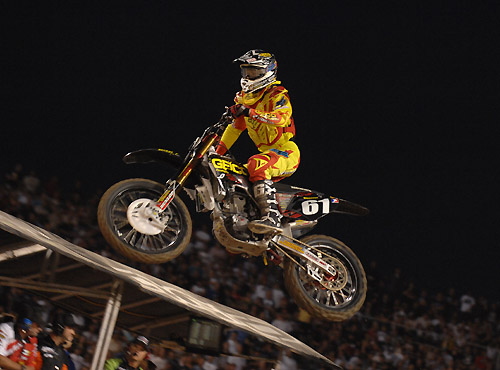 Purple Rain won a race, and grew a cheezy porn 'stache also. He's got a great future, let's hope that the money and attention doesn't screw it up.
9-Blair– Good for him to get a Geico ride, I like it when the long time privateer gets a shot. He didn't do much better on the better bike but people at Geico love him and say that he might've been trying to hard to prove that he deserves the bike.
10-Durham- A quiet season, again like Larsen, he did good considering he's a rookie but some would point to others immediate success and wonder what happened? It's funny that him and PJ battled each other at Loretta Lynn's last year and they both end up with a 10th place in their respective series.
11-Clarke– Scuba Steve was good for his first year. Again, considering the bike and team he did pretty good. He's a good starter so that's a plus for him this summer. The English rider seems like the type of kid that would be pretty funny also.
12-Tickle– Third year pro needs to do more. He got hurt at round one of the west and missed some rounds. It's not that 12th is that bad (when you factor in the missed races) but when a third year pro on a good bike comes back, he should run right up there and except for his podium in Toronto, he wasn't much of a factor.
13-Davalos– Again, time to step it up. Martin makes a lot of money, is on a good team and needs to win by now. The window is closing on him.
14-Saylor– A real privateer and because of that, a 14th in the points is pretty good. An 11th was his best placing in a race. It's still better than Europe!
15-Friese- Got picked up by the Motoconcepts team and performed pretty good. He's a good starter and a little on the dirty side. He didn't make many friends out there among the other riders, I know that. Still, he tries hard and looks good on the bike. Needs a hair cut though.