I was walking through the Glen Helen pits after practice when I came upon a lonely Tommy Hahn. He was just eating a peanut butter sandwich and getting ready for two motos of hell.
I was walking through the Glen Helen pits after practice when I came upon a lonely Tommy Hahn. He was just eating a peanut butter sandwich and getting ready for two motos of hell.
We spoke briefly and I recorded this interview in two parts, before the race and after the race where Tommy placed a very impressive (and surprising) seventh overall.
BEFORE THE HELEN:
Me: How's the peanut butter?
Tommy Hahn: Great.
How is everything going for you after practice?
It's good, I'm pumped to be on the big bike. My first two practices I was a little off but I'm fit, I'm happy and I have the speed. Being in shape is going to work to my advantage.
How is riding the 450 outdoors after so many years of 250's?
It's definitely a little different for sure, I have a mellow riding style that is a little less aggro than the 250 guys out there. I'm good for 40 minutes. That will work to my advantage. I'm in shape and I think that late in the motos today, I can get some guys. Some of those guys that were quicker than me out there will get tired, I know that.
You told me you don't like this track.
Yes, this is my worst track. This one-actually all the ones on the west coast- are not on my list. Washougal, Hangtown and Glen Helen are not my favorites. Almost every track out east is better than the ones out here.
What are you hoping to do here in about two hours?
I just want to leave here top ten, I'd be stoked for that and I can work from there.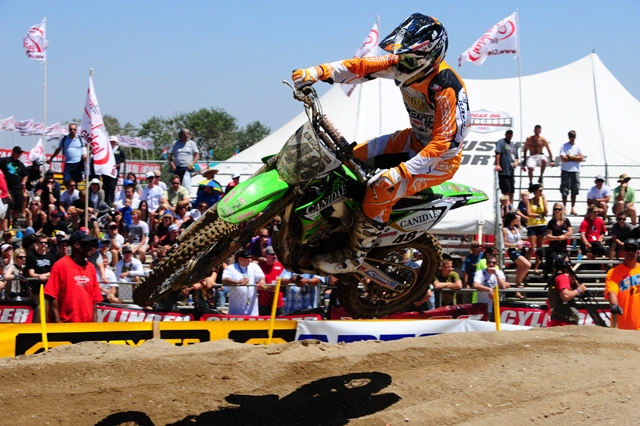 T-Hahn flies through the air with the greatest of ease. Seventh overall!! Photo by Cox.
I'll have to be honest, there was no way I thought Tommy was going to get top ten. I knew that he wasn't healthy and the class is stacked. I do like the guy and cheer for him but top ten? C'mon…
AFTER THE HELEN:
Me: So I'm pretty much an idiot because I thought there was no way you were going to get top ten but you rode great and got a seventh.
That was my whole plan, make everybody like you that didn't think I could do it- to prove you guys wrong. No, basically I wanted to do it for myself and for my team. I had a bad sx season, battled injuries and could never get on track it seemed. It seemed that every time I got ona roll, I would have a bad race or crash. It felt good, started out the season right. I feel good on my bike. I need to work on my raw speed and get up with those top five guys, they have me covered right now but I'll get it. Little by little I'll work on it.
You never really were 100% healthy during supercross from what I gathered.
I'm still not! I'd say I was 85-90%. I have a bad shoulder that's been bugging me for a while. I did it before the supercross season and then hurt it again in Florida during the year and then again the week before this race. I just can't get it to heal, I need to stop crashing because that's when I hurt it.
It's a very common thing called (BLAHBLAHBLAH- I couldn't make out what he's saying) it's a network of nerves in the back of your shoulder and when they get stretched out, they shut down your shoulder and the only way is to stop crashing. I have to stop hitting it.
I'm no doctor, but what about a chest protector?
People ask me about the Leatt brace also and I don't wear one of those either. It was weird, I wore one at Honda. I was used to it and it felt good. I did a photo shoot last year as Kyle Chisholm and took my brace off to do his shot and it felt so good with it off. I can't get used to it now. To each his own.
Your fitness is great, your lap times were solid. How is the 450 compared to the 250 now that it's over?
The 450 is tougher than the 250. You have to point and shoot on it, I'm getting used to it for sure but it is different. I think I showed last year at Texas when everybody was dropping like flies in the heat that I'm strong. My fitness is not a problem, I know how to get in shape. I work hard on and off the bike. I have to put myself in position to have a good finish, the on the bike stuff is what I need to work on. It's about getting good starts and I got them this weekend. My bike is a rocketship so hopefully I keep doing it.
Your team had to have been pumped huh?
Oh yeah for sure, anytime you can get up there it's a good reflection on the team. I was top privateer this weekend and that makes them look really good. I'm happy for them and they were happy for me.
Did you rub it your brothers Will's face?
Yeah, this week he's Tommy Hahn's brother. It's not Will Hahn's brother anymore.