One of the coolest stories of the outdoor nationals is happening under the Monster Energy Kawasaki tent and no, it isn't Tim Ferry coming back from injury (although that is pretty cool). It's the emergence of an off-road guy into a legitimate podium contender.
One of the coolest stories of the outdoor nationals is happening under the Monster Energy Kawasaki tent and no, it isn't Tim Ferry coming back from injury (although that is pretty cool). It's the emergence of an off-road guy into a legitimate podium contender.
Ricky Dietrich isn't, in my opinion, getting enough coverage for what he's been able to do. The 21-year old from Snohomish, Washington (yes, Larry Ward's hometown as well) has been really, really good and his ability to ride fast for a long time has been evident at the motocross races as he zooms by dudes in the last few laps every moto. I called him just as he was returning from a weekend trip to the river to unwind and get ready the second half of his moto and WORCS series.
Me: Ricky how was your weekend off?
Ricky Dietrich: It was nice, nothing to crazy- just tried to relax and enjoy my last weekend off for a while. If everything goes right, I think I have nine solid weekends in a row racing moto and WORCS races. Then a couple of more races and I'm done with everything. My fall forecast is looking busy! So I tried to enjoy my last off-weekend to the fullest.
How is the outdoors going for you? I think it's been pretty darn impressive and I also think that you're rise to prominence hasn't been given enough publicity. You're fast!
Thanks, yeah they've been going pretty good actually. I'm extremely happy with it and I'm happy to have the opportunity with Monster Energy Kawasaki to ride on the team, it's been a dream come true for me. I've been consistently top ten every single moto and that's been the best thing that I've had going for me. I need to work on my starts and my speed in the beginning to get where I can potentially be. Other than some small things, it's been going extremely well for me. I'm very happy.
Have you been counting the dudes that you've passed in the last five laps, it's got to be over two thousand.
(Laughs) No, but I know it's been a lot. The last couple of laps, I've always made some passes. That's my off-road riding coming into play. My late race stamina and endurance has definitely been my strong point.
I've been looking at your lap times and they really don't drop much at all. It's eerie and if you can just bring up your sprint speed we might have something really good.
Yeah, that's exactly it and I'm working on it.
Is it true that after Glen Helen you got in trouble by your bosses at Kawi for riding the national?
It wasn't that bad, I didn't get in trouble or anything like that. It was a verbal slap on the wrist to remember what I was hired to do and not get hurt or anything like that. I look back on it and it was probably the best thing I could've done for myself- to go out and break the rules. It helped me a ton with where I'm at right now.
At Glen Helen you were eighth in the first moto and the people I was standing with thought you were a lapper but then you got a flat tire and dropped out of the top ten right?
Yeah that's it. Right when I crossed the finish line with the white flag waving I got a front flat and I had to do an entire lap trying not to kill myself going down the hills. It was awesome.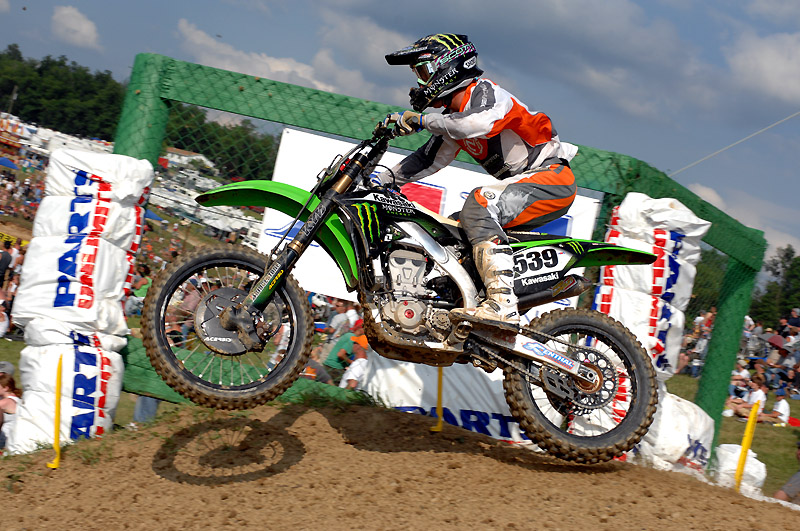 RD's moto scores on the Factory Kawi so far- 7-6-8-9-10-6-5-6= pretty impressive! Stone pic.
Did you surprise yourself with that ride?
Yeah, a little bit. Coming into that race I expected to get a top ten and honestly I would've been disappointed to not be in there. It was more of a relief once I did it to know that I was right on. I knew my speed was right there from practice so I figured that I could do it. I just had to bring it to the track and do it in a race and it was a confidence booster for me to know that I could do it.
Did you have any idea that Kawasaki was going to call you to fill in for Ferry/Villopoto? What was that call like?
I wasn't expecting to get it but I was hoping to get it. I actually called Mike Fisher myself to let him know that I would love the opportunity to try out and see what I can do. I think a big part of it was my boss at Kawi off-road, Jason Smigel, talking to Fisher and letting him know that if he gave me a shot, I wasn't going to blow it and that I was going to try my hardest. I was going to mess it up or bring Kawasaki down or anything. It was cool that my boss came through and helped me out, it was above and beyond what he is supposed to do for me and I appreciate that a lot.
What is the Factory Kawasaki like compared to what you had been riding?
The bike was actually quite a bit different from what I thought. I had Ferry's bike at first and he runs a different set-up from RV and now after riding there for a while my set-up is closer to Ryan's. Honestly, I like Villopotos bike set-up better, real squatty in the rear. It's just a different style, the bike is real good it has a ton of power and I've never ridden a bike that has been that fast before because in off-road, we don't need it. So that was cool, the suspension and everything that comes with it. It's a factory team it's the best of the best. It's everything I expected it to be, I love it.
Could you take that bike and go race a WORCS race with it?
Well, some tracks for sure. It depends. The ones I have coming up are in Washington and are in the trees and is a really slow pace. Honestly, I don't think I would want to race it at those races it would be a little much. The Southern California ones, oh yeah for sure! I'd love to have the bike for those ones as they are a little faster.
How does that work for your pay? Are you collecting two paychecks right now?
Well I'm still getting my WORCS series money but as far as the motocross team it was a race by race deal so I didn't even worry about it. Now I'm on Ryan and Ferry's bonus program so that is good. Really I'm doing them a favor by showing up and representing them on the track but at the same time, I don't expect much and I'm happy to have the opportunity right now. It's all good right now for me at this time.
Did you have any idea that you could do this well? You're ninth in the points and missed three motos and you've gotten fifth overall at a race! Is this beyond any dream you could imagine?
Y'know I have kind of blown my expectations out of the water a little bit you could say. I didn't expect to be top ten in the points, it's really hard to put two motos together at a national and that's what has helped me I think. I've been in that top ten every moto and that's huge as a lot of the other guys can't seem to do it. It's harder than you think to back to back races together and that's why I've shot up into the points so quick. I've been able to put both motos together every time I'm on the track and being consistent is hard to do but it's been working out for me and I'm pretty happy.
How has the reactions from the other racers been? Have you been making any new friends?
It's been a learning experience for me at every race that I'm pretty focused on what I have going on. I haven't mingled with many people really except for Timmy. I'm sure those guys can't be too stoked that an off-road guy is coming in and beating some of them. They aren't probably too pumped on it but I'm happy to be there.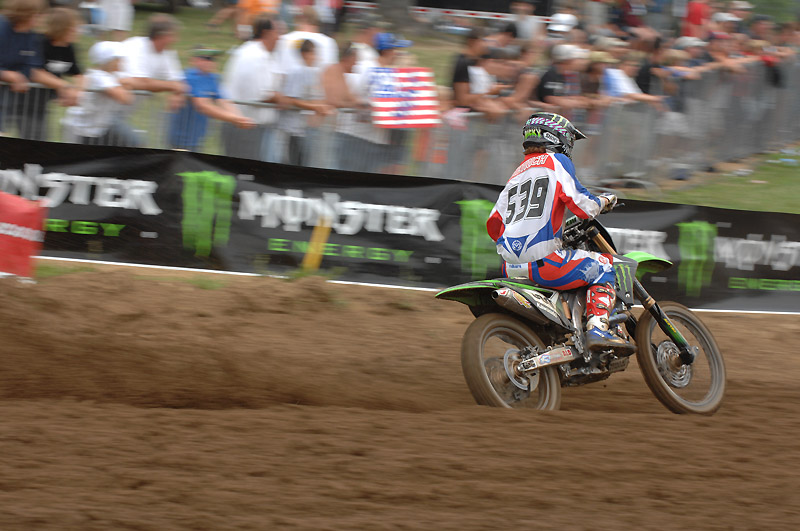 Dietrich at Redbud. He's probably picturing a bunch of gringos chasing him right now. Photo by Stone.
What's it like being teammates with Tim Ferry? That must be incredible…
Timmy's cool and I enjoy hanging with him. He's kind of the old wise guy that's been around for a while. It's cool for me because it's kind of like hanging out with Destry (Abbot) on the off-road end of things because he's helped me out in my career as he's been there before. It's like that when I hang with Ferry and he's cool and fun to have around.
The WORCS race that you did the day after High Point didn't go so well for you but overall, is this motoing going to help or hurt your WORCS stuff?
Oh help it for sure. Racing motocross is going to help so much and I've already noticed it already even though we haven't had a race for a while. Just my whole intensity has been brought up by me racing motocross. I'm really looking forward to the next two WORCS races which are in August as I'm going to bring this speed and intensity to those races and it's going to help out tremendously.
Are there any more that conflict with AMA motocross?
Nope, it was just that one after High Point.
What has been your favorite track so far?
Redbud for sure, that track is so cool and every jump is so huge and fun. That's what you're looking for when you think about going to a pro track.
So where is this going to lead you? Do you want a sx/mx ride for next year? Can you ride supercross?
I think that, for sure, I wish to remain on the motocross/supercross side when I look at the future vision of my career. I have ridden supercross before and not many people know about that but actually the whole month before the Endurocross finale last year I rode supercross three times a week. I thought it would help me with the Endurocross because it's tight, your breathing is the same and Ryan (Hughes) has a private supercross track out on his property and I picked it up pretty quick. I was hanging with some of the kids that he had out there. I feel comfortable going into supercross and I do have experience.
So you would leave Kawasaki if someone offered you a good motocross/supercross deal?
Yeah I mean ultimately I would love to stay with Kawasaki and feel comfortable with all those guys there but yeah, my doors are open to any opportunity that comes along. If something did come along that was good for me, then I would look at it closely as that's the next step in my career y'know?
And I hope you keep wearing Moose gear no matter where you ride, got to represent the antlers as well.
Yeah, gotta keep those guys happy as well. I'm sure the moto guys can't believe they are getting beat by an off-road guy and someone wearing moose gear!
What about Pingree making fun of you in Racerhead a while back? You want to respond?
Oh Ping…yeah well I didn't even respond to that and what he wrote about me. I think that it's better I just let the one go. Give the people some time to get to know me and not just believe some guys comments on the internet that has a hard-on for me or something. I'm not too worried about it, you say he's a good dude so…
Thanks RD I appreciate this.
Thanks.