Through the eyes of Carl "NJ for life" Stone.
Through the eyes of Carl "NJ for life" Stone.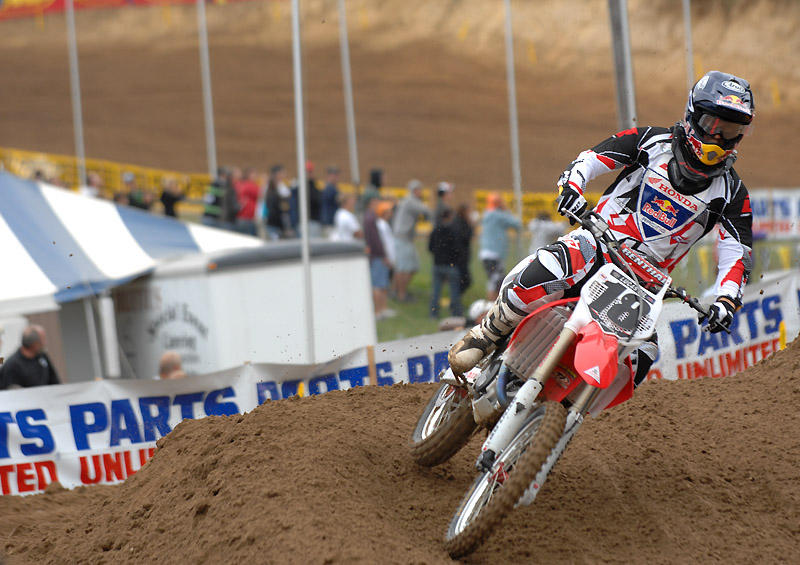 Davi the Duke was impressive this weekend and should've gone 3-3 if it wasn't for a faulty part on the CRF. I spoke with Eric Kehoe and he wouldn't put the blame on Short's mechanic, Gothic Jay, no matter how hard I tried to get him to do it. Anyways, his ride this weekend just showed you what he could do all the time if he really worked at it. Anyways, let's not be a Debbie Downer and take anything away from the 18, he was fast.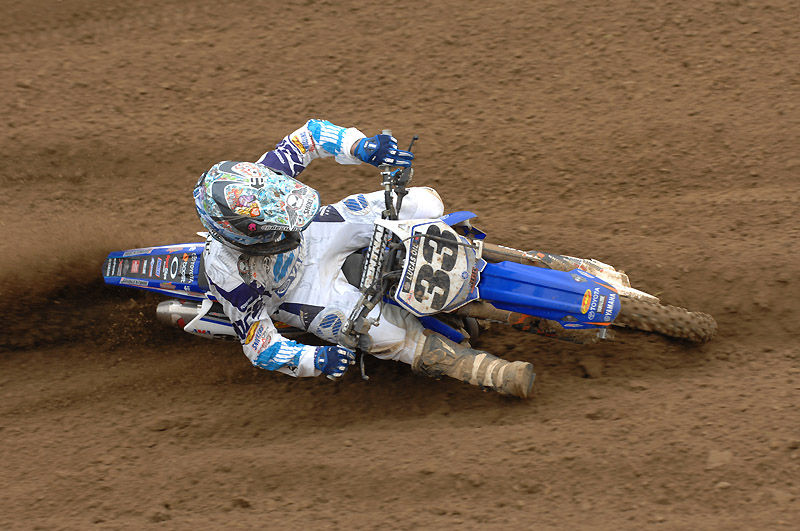 Nice shot of Grant. Josh was on fire in the first moto and took the win over Reed. It must be hard to ride balls-out for 35 minutes with the 22 on your ass. Anyways, Josh is figuring it out now and will be a major factor from here on out for the win each week. What hasn't really been talked about much is the fact that a JGR bike is beating the factories at their game right now. The motor specs in JG's bike are all developed in house there in North Carolina. Wonder if Factory Yamaha needs to lease some motors?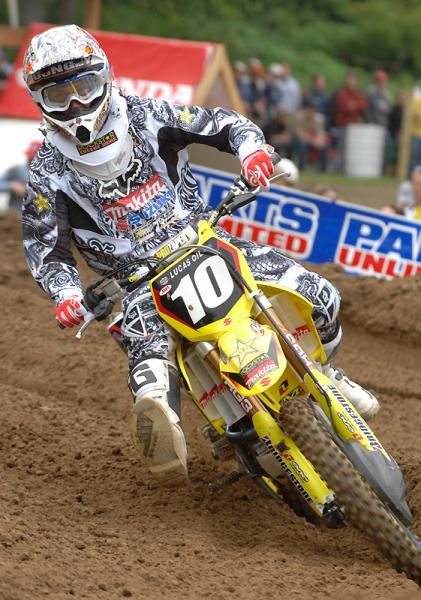 Ryan Dungey probably has a million laps around Millville and was
expected to win this weekend. Actually doing it though is another
matter but RD came through. I like Ryan but he seems to be scared
around me, I try to joke with him but he doesn't want to go
there. He seems nervous around me, like I'm that weird uncle at the
reunions that keeps wanting him to sit on my lap.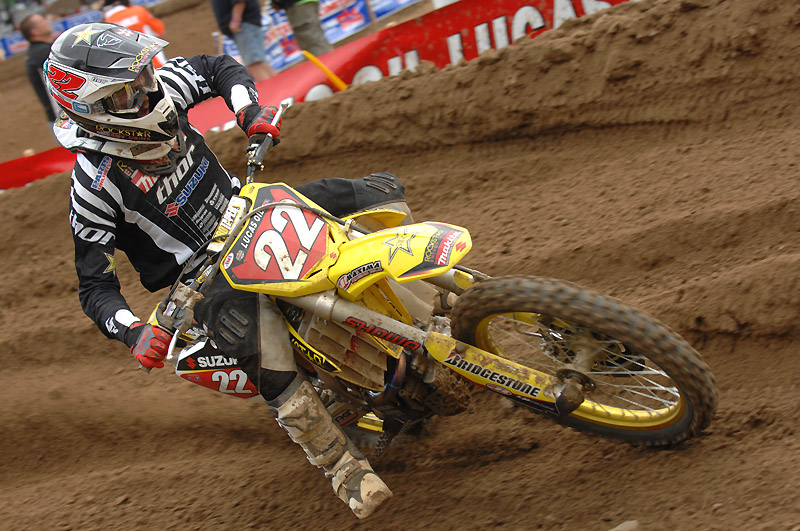 I wasn't there, but by all accounts, Millville was Reedy's best race of the year. That doesn't surprise me because he always went good in Minnesota. This gear here is nice looking and I'm not sure what in the hell he was wearing in that one moto. It looked like Biff in Back to the Future part 2.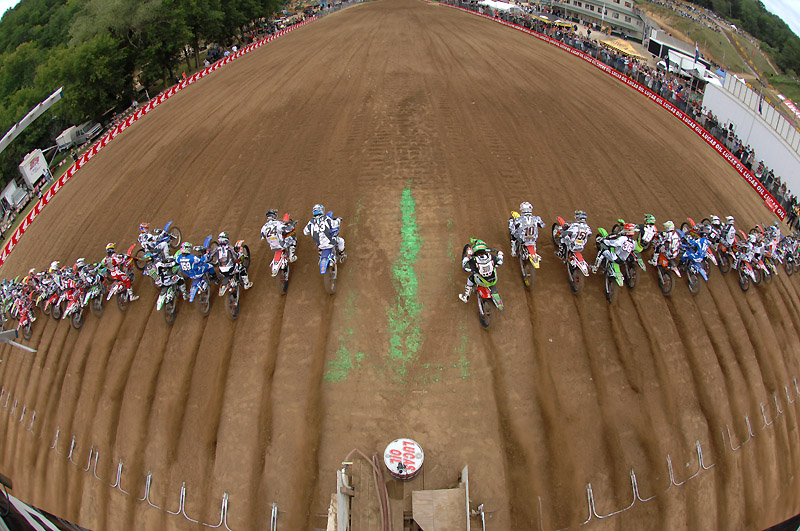 Nice start shot by Cstone. I've raced and ridden Millville a bunch (prob not as much as The Dunge tho) and you can really hold it on in the first turn. It's loose and you can lean in and power slide around the first turn. Unless you're Mike Larocco in 1995, then you wash out in front of 39 guys and they all run you over and then you tear every ligament in your knee.
Check out Pourcel's jump and sideways action- not the way you want to start your moto.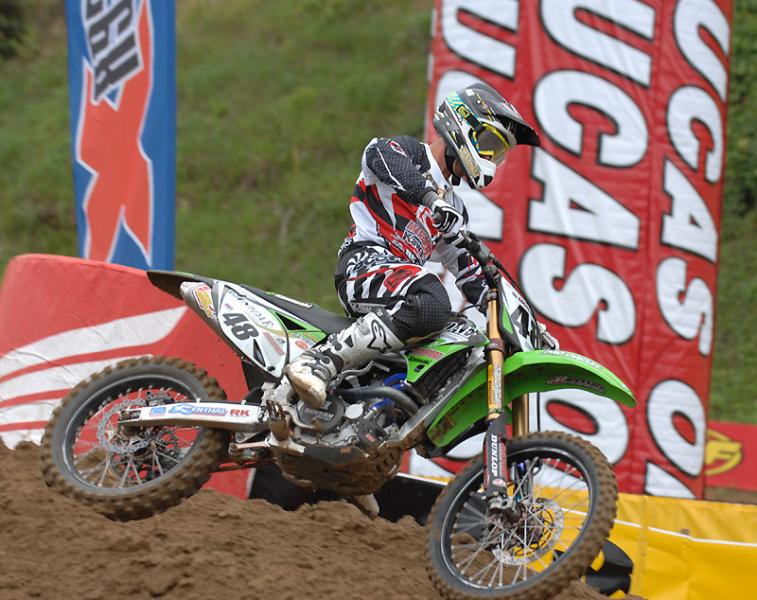 Tommy Hahn is definitely making himself on the short list to get the open spot next to RV in the Factory Kawasaki truck. I hope he gets it if Tim Ferry doesn't but I'd rather not think about what would happen to me if Red Dog doesn't ride there next year. Mike Fisher would have my blood on his hands. If he can sleep at night with that then I guess that's fine. Anyways, Tommy rode to a strong fourth in the first moto and then crashed second time out to get thirteenth. He is a big surprise this summer no doubt about it.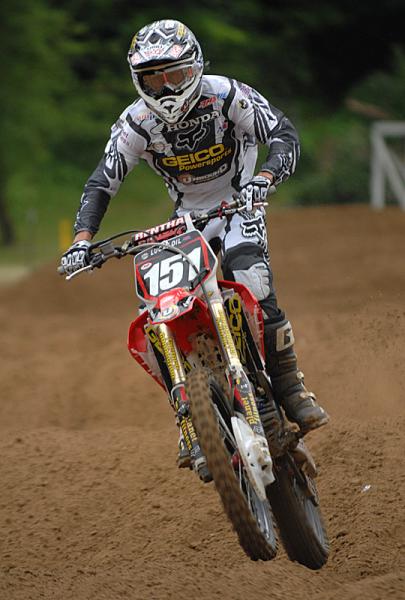 It's like he drinks a thawed out Freezee right before he goes out to
moto. There is just a little bit of wasted energy with Justin Barcia to
to be sure but he's fun to watch. I can't see him keeping this up
when he's 25 but for now, we should all enjoy the kid. I bet he wins
an overall this year.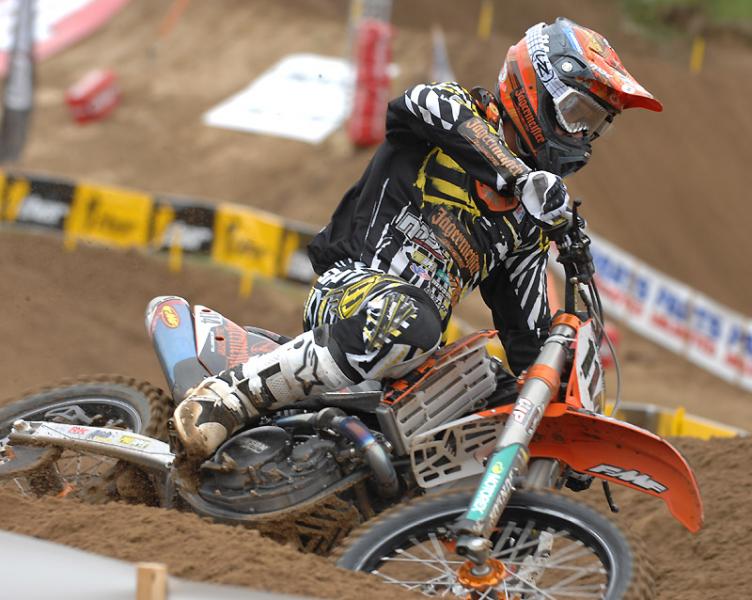 Justin Brayton quietly went 7-7 on the day and I say quietly because that's all this guy does. Ride fast and be quiet. Justin's a good dude and I hear KTM is going to have a two man 450 team next year and MDK will have a 250 team with another brand. There will be no KTM 250 team and Tommy Searle will be elsewhere in 2010. That's this week's rumor anyways.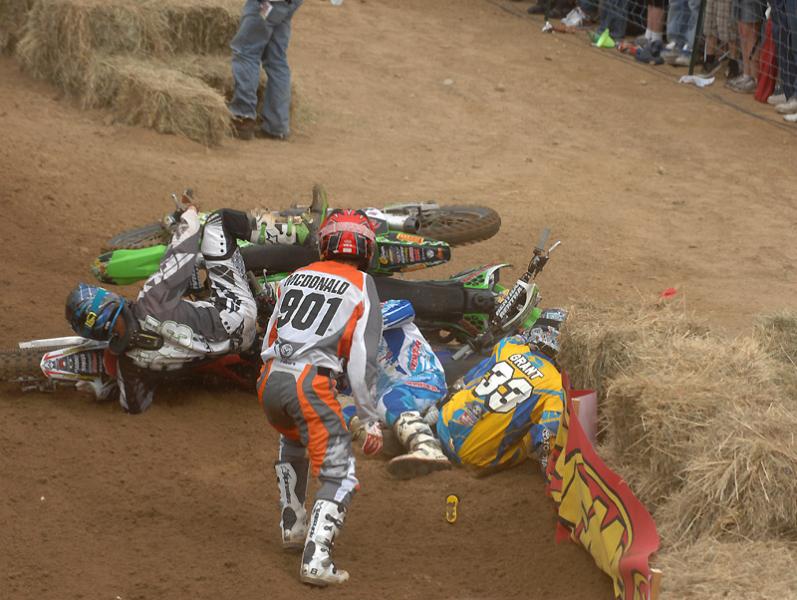 Here's the first turn crash in the second 450 moto. That's your first moto winner there laying on the ground. That's also the Kiwi, Justin Mcdonald standing there wondering what just happened. Grant came back from this all the way to tenth.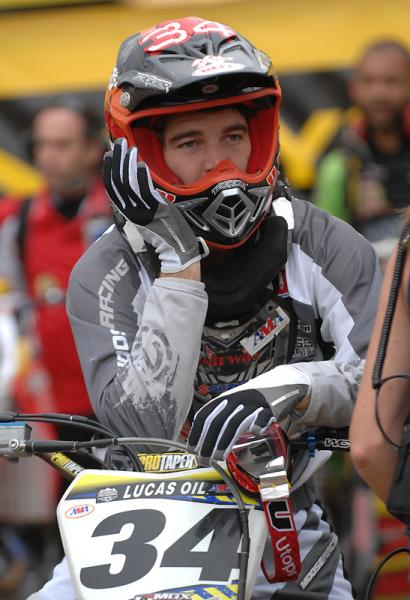 Matt "Beef" Georke came back at Millville to a track that he rode
well at last year. In the first moto he came from way back to ninth
and showed that he can still ride a bike. Second moto he all of a
sudden dropped out from a crash or bike problem. There haven't
been too many more guys that have had mechanical problems with
their bikes like Matt. Even dating back to the Motoworld Suzuki
days.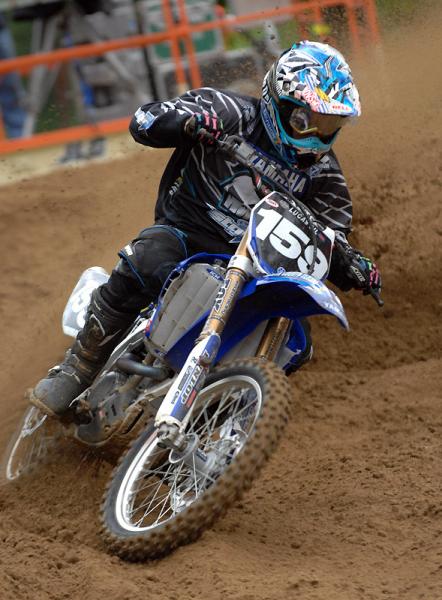 I don't know what to think of Darryn Durham. He looks great on the bike but seems to struggle putting it together for two motos. But like Ricky Dietrich told me last week, it's really hard to put two solid rides together and I suppose Durham is figuring that out. I know some fantasy moto people aren't happy with him. At Millville, we saw good and bad Darryn as he went 15-5 on the day (which was a career high in a moto for DD).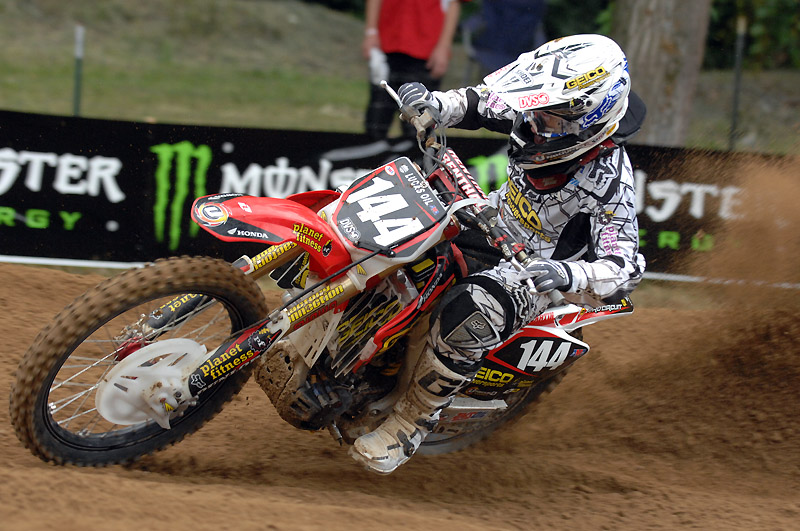 GEICO Honda gave local boy Alex Martin a shot on Trey Canard's bike for the race and the Ewok Warrior repaid them with a career best eleventh OA. Alex's dad owns the track and he lives on the property. I've always been a fan of the big teams giving privateer guys a shot on a vacant bike. It's a win/win for everyone although maybe not for Alex when he has to get back on his still-very-good-but-not-a-GEICO-Honda-machine.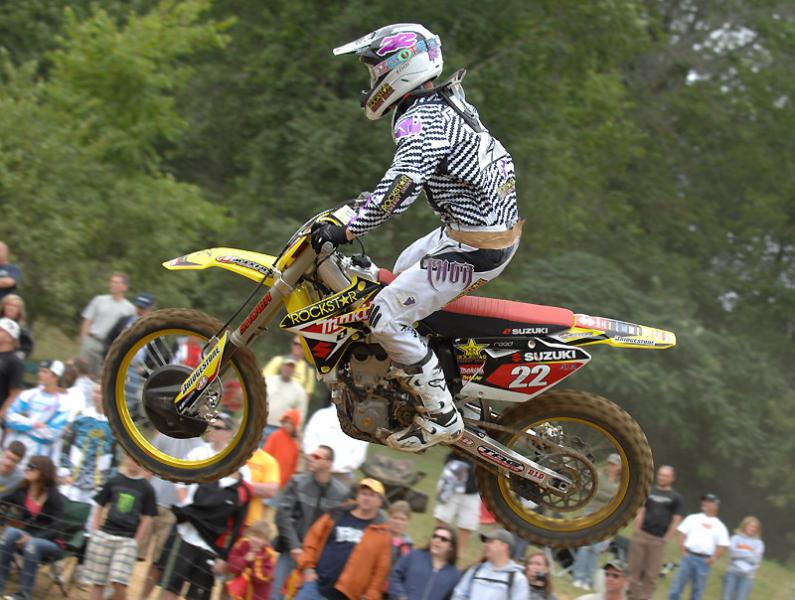 THIS is the stuff that Reed was wearing that I was wondering about. Along with that errrrr, belt he has on. Hey Chad, Max Headroom called, he wants his outfit back.Or Biff from Back to the Future 2.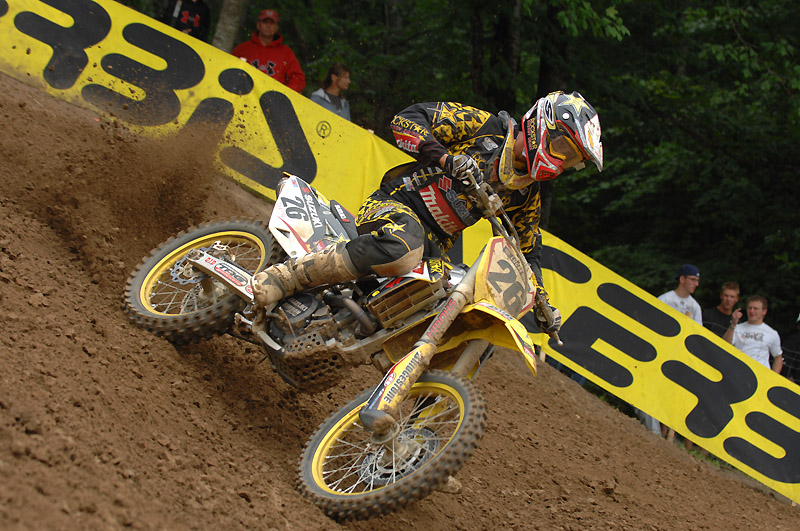 Michael Byrne got third OA. The Byrner is making me look like a genius for the first time in my life when I correctly predicted that he would get better and better as the series went on. Byrner also is riding for a contract next year and there are no rumors about him, which is too bad. He's an asset to any team. I bet no one realizes that he was third on the day.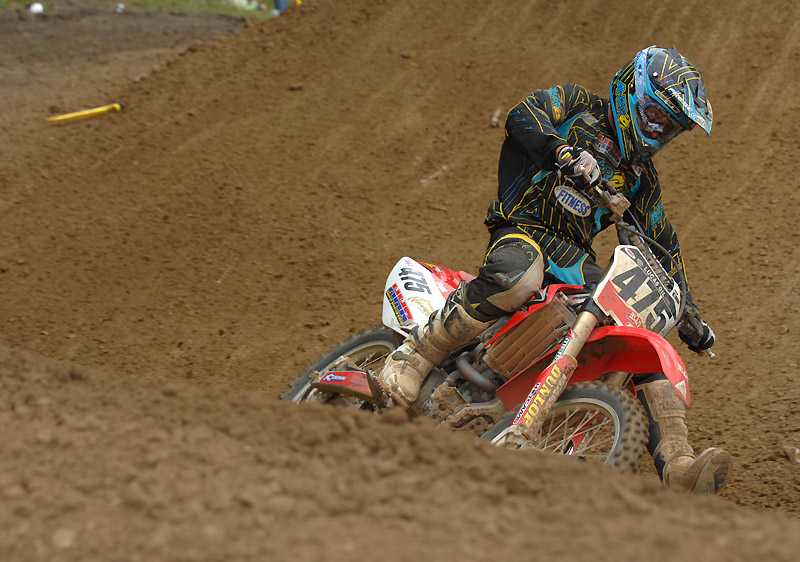 Roger Larsen, the Answer gear guy, LOVES this kid. Kyle Regal from Texas is one of those amateurs that made the jump up quietly to the pro ranks earlier this year. He started off in the 250 class but recently switched to the 450 on his 2008 bike. He ran top ten at Redbud but ran out of gas on the last lap. At Millville Regal started up front in the second moto, fell down and came from the back to get sixth. He was THE fastest guy for three straight laps in the second moto, that's right THE fastest. He's a privateer. On an '08. There is quiet buzz about this kid and TLD is looking at him.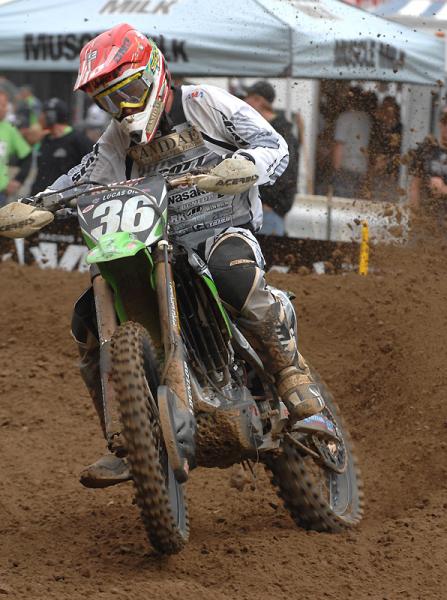 Slowly Kyle Cunningham is getting better and better. He's scored his season best in three out of the last four motos and if you looked at his points last year, he came on strong in the seocond half of the season as well. Kyle can go really, really fast but often can't stay on two wheels. He's doing it now.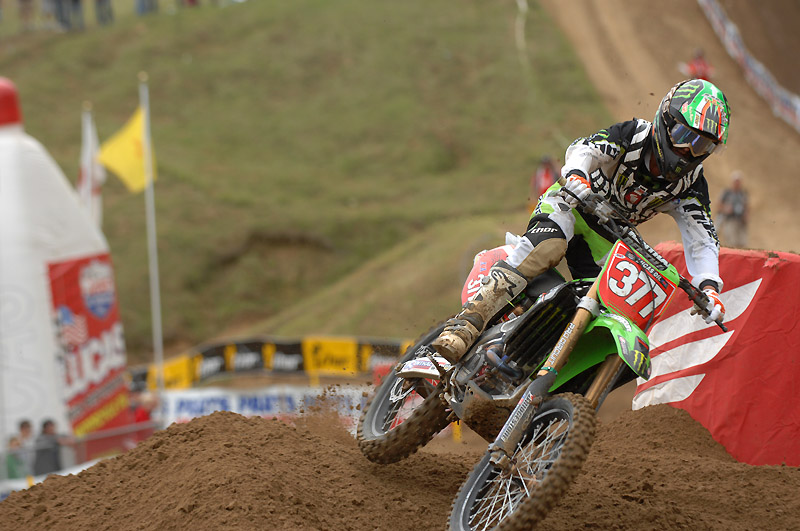 Chris Pourcel went 2-2 but it was a distant 2-2. He was close in the second moto before he tipped over and for him to crash, he must've really been pushing it to stay with Dungey. The title chase is down to three right now. Very exciting stuff!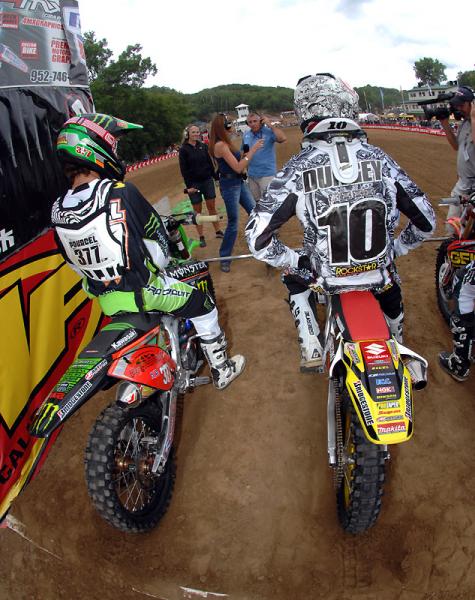 Here are the two rivals right next to each other. It's weird because you never really see the top two dogs line up right beside each other. There's always some sucker in between. I oftentimes tried to get Ferry to line up there because then there was a good chance we (I) would get on TV.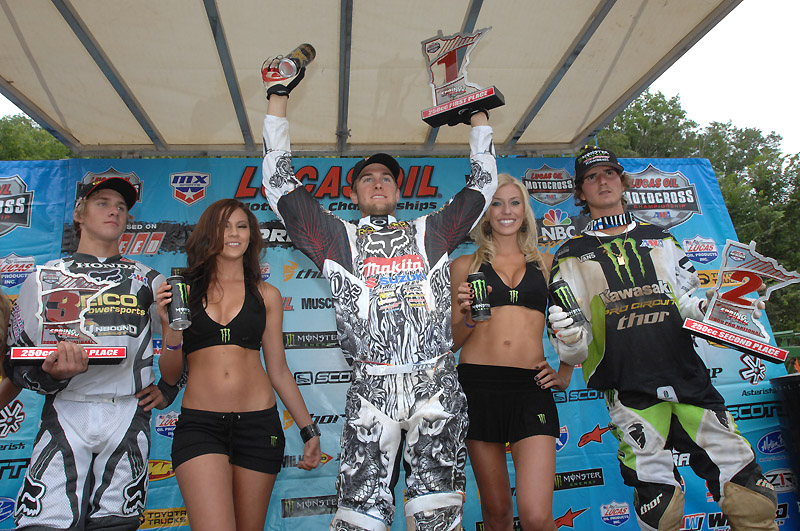 I understand Pourcel not looking pumped to be up there but why isn't Barcia smiling? Is he a jaded old veteran now at 16? C'mon kid, be happy-most kids your age are getting together for some World of Warcraft tournaments.