With four races left in the 2009 Lucas Oil AMA Pro Motocross Championships, these are things that I think, nay, I know to be true.
With four races left in the 2009 Lucas Oil AMA Pro Motocross Championships, these are things that I think, nay, I know to be true.
-I know that Chad Reed deciding to race the outdoors might be the best decision he has ever made. When the two-time defending supercross champ hemmed and hawed about whether he should jump into the series, it was thought to be at the time a passing fancy. After all, Suzuki is known to be short on cash and Reedy's deal was a sx only thing. When he lost that title at the last round, the gears probably started to spin inside his head. Bad economy, no contract for next year, didn't win supercross-I think I'll race outdoors!
And he's now, barring complete Chernobyl-style meltdown, going to win the 450 championship. I thought it would take him a few races to get up to speed and after Villopoto went down, he was my pick. But then the 800 was dominating and I know in talking to Chad right after Texas, he was big-time worried about the points he was already down. But, like so many times before, the moto gods smiled on the Aussie and riders either got hurt (Alessi) or faltered for other reasons (Short) and here we are. Yes, Reed has benefitted big-time from his competition getting hurt but staying healthy is a skill and Reed has always had that. I say good for the 22 and good for motocross. Did you know that Reed goes and insures himself to win every title? Yep, Lloyds of London will apparently take policies out on anything and after the calculate a premium for Chad, he slaps it down on himself winning the title. When I asked him what it was, he just smiled and said "A lot."
Mr Lloyds of London better be getting that checkbook out methinks.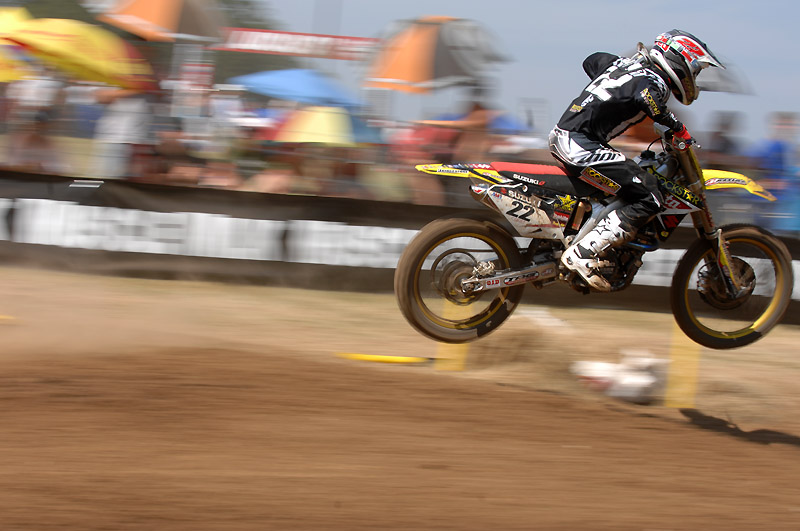 Chad Reed is looking more and more like a smart man for racing the mx series.
-I think that, yes I'm a freelance journalist whose biggest client is Racer X (whose sister company-MX Sports runs the nationals) but I truly believe the changes in the motocross series have almost all been for the best. The Saturday move is great, the loss of one day of practice (although bitched about endlessly) has proven to be moot, the TV and internet coverage has been great and overall, there has been a feeling of fresh air being breathed into the outdoor series. The series isn't perfect (inconsistencies in rulings and confusion on the new wheels on the ground flag) but the open communication between the teams, riders and series will pay off in the end. I personally don't like the small numbers on the side plates but if they help the teams make money, then great.
The motocross nationals had grown stale and the changes have been much needed and effective. Seriously.
-I think I don't know what to think about Davi Millsaps and his desire, skill and problems riding a motorcycle really fast. He looks like he can do it (Millville) but then goes out and has races like Washougal where he goes from third to seventh. Davi reminds me of a lottery winner that just bought the train to go around his property and has run out of ideas.
-I think that the 250 class has been simply amazing drama. Neither Ryan Dungey nor Christophe Pourcel can grab this thing by the neck and take it home. The title is like Jason Voorhees, and just keeps popping up and putting one guy down. Dungey seems to be rattled more than Pourcel who has just had bad luck. It seems that if Ryan goes down, gets a bad start then shit is going to go bad. When he checks out early, there is no problem. I don't know who is going to win it and I don't care, it's going to be great.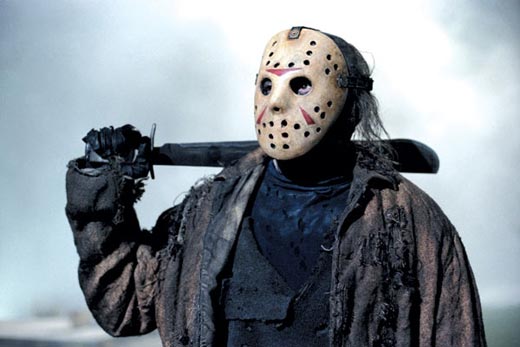 Jason, like the 250 title, just can't be put down.
-I think that we knew those two would be the men in the 250 class and therefore, the rider I'm most impressed with is Justin Barcia. The 16 year old has come out of the amateur ranks and been a real treat to watch. I feel like I should go over and keep putting quarters into his exhaust to make the monkey keep riding. He's got a style like no other and is so entertaining to watch. I can't wait to see what this kid can do in supercross. He's going to be sick.
-I think that Mike Alessi must really be wondering what he did to the moto gods to deserve his fate. There's no way that they hold the "Believe the Hype" shirts to him still, is there? Mikey boy was on his way to this year's title when a practice crash put him out. Did you know that he has finished second in the point standings four times? And I'm counting his penalty at Glen Helen that pushed him to third because, well, just because. Oh and I'm also counting last year when he was second by a mile before he got hurt.
It now looks like Mike is on the outs with Suzuki and is slowly running out of teams. Honda won't have him back, KTM would rather burn down their HQ then take him back and now his act has worn thin at Suzuki. That leaves Yamaha (which is in talks with him) and the option that I think will happen and has been discussed by his dad. A private team with his brother Jeff and dad Tony running the show. I feel for Mike and he's a good kid but until he learns what Bradshaw,RV and Lusk all learned, there won't be many changes.
-There are so many thoughts out there on the track preparation for the nationals and they're all good opinions. I believe that there is no right or wrong way to prep the tracks. For a long time, they were left alone and Ricky Carmichael would go out there and destroy everyone. That's fine, that makes for tough men but you have to remember, these 450's are heavier, faster and have more torque than the old 250's. This produces a rougher track than your Grandpap's 250 two-stroke. Also, the four-strokes tend to keep following you in a straight line when you go over the bars. It's like God's little way of punishing you for all your past sins.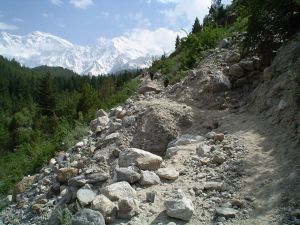 Glen Helen second moto pre-2007.
I'm for the grading but understand the "I walked to school uphill both ways" people. That is, after all, what motocross is. The roughest, gnarliest sport out there. Look, we didn't grade them for a long time so let's try grading them now and see what happens. Many times when the leader in NASCAR is checked out, there is a debris on the track flag thrown to bunch everyone up again. Maybe they know that the fans want to see racing? Trust me, the smooth tracks produce great, great racing. Look at the second 250 moto in Lakewood for proof.
-I know that Andrew Short and Tim Ferry picked the worst years to have down years as a healthy Ferry/Short would be right up there with Chad battling it out. But then again, a healthy Ryan Villopoto would be half a track ahead.
-Finally, I know that Team USA is real close to being Team No-show but I believe will end up going in some way, shape or form. The money just isn't there to send the whole kit and caboodle that we did in years past (I say we, even though I'm Canadian because I want to be associated with a winner) and that's fine. You don't need security, a fenced in compound and 20 people per rider. Send Roger DeCoster, an assistant team manager, three mechanics, three suspension guys, three motor guys (or less if two guys are riding one brand) and there you have it. Team USA on a budget is better than no Team USA and I don't care if they win or not, just show up dammit!