Last week I ran part one of my look at the national tracks and the reason why it was broken up into two parts was because I only did half of it before I ran out of jokes. Yep, sometimes the reasons are really simple folks. And we have The Weege back to contribute his memories as well.
Last week I ran part one of my look at the national tracks and the reason why it was broken up into two parts was because I only did half of it before I ran out of jokes. Yep, sometimes the reasons are really simple folks. And we have The Weege back to contribute his memories as well.
Anyways, here is my take on the tracks of the second half of the AMA nationals.
Millville
Spring Creek is the name of the track and sentimentality is the name of the game with me in regards to this track. Y'see, being only eight hours away from my house growing up, it was the only national that we could go to each year. We started heading down there in 1988 and I think I've only missed one or two races since then. My pops and I would race local races here, amateur days at the pro national and then I actually raced two or three pro nationals here on the mighty 500 as well. I've spun quite a few laps around the track and have an acute knowledge of the place.
The drive to the track is a little too long for my tastes but being in a major city like Rochester has its perks. Like Starbucks, nice restaurants and it brings back a bunch of memories for me. Memories can't be bought, sold or lost and that makes them more valuable than anything I can think of. That Holiday Inn by the water tower is where tech inspection was for years, I can clearly picture running around there and looking at all the bikes and mechanics back in the day. Seeing Tony Berlutti spin the wrenches for Lusk and now, I can call Berlut up and go have dinner with him anytime I want! Amazing…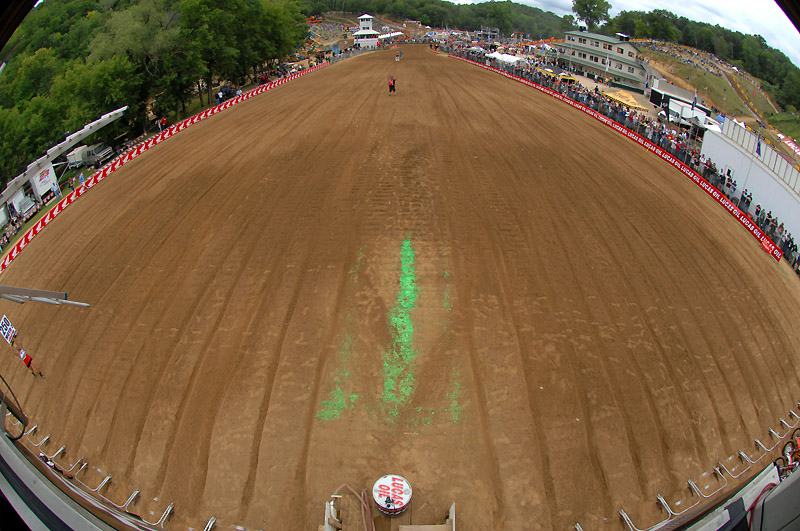 From the top of the tower overlooking the start at Millville. It's fast and scary as hell. Stone pic
If you can't make Starbucks, there's a drive-tru coffee place on the left heading out of town that has divine carmel mochas. If you want to meet a pro rider, go to the Outback on Friday night-they'll be some there for sure. Pro riders and Outback Steakhouses are like moths to a flame. In the old days, the pits were scattered around and down a little ravine for the privateers but in the last five years or maybe more, they are in a nice flat field. The views of the track have also greatly improved over the years as more and more trees have been knocked down. Ignore that last sentence if you work for the BLM.
The infamous Millville sand whoops are gnarly and you can try to set your bike up to work for that section but it's going to suck everywhere else. It's always a quandary for the teams and riders. When I raced there the sand whoops went down beside Spring Creek made a left and threw you right back into the massive whoops. Now they are flatter and faster than they used to be, I recently watched Millville '85 and it was confirmed to me that, yep, the whoops were much bigger back in the day. Not sure why, how or what happened but watching Wardy, RJ and the rest just pull up and slam into the first one, almost coming to a complete stop assured me that I was right.
My Favorite Things
-Have I mentioned that coffee stand on the way out of town?
-I'm not sure how I feel about the Whoop Monster. He's a guy that once gave privateer Jason Frenette 20 bucks to "help him out." But then I think about how he was contacting industry companies and trying to "sell" spots on himself and his golf cart and I start to think that this grown man might actually be morphing into an actual whoop monster. Or at least a capitalist monster.
-Bob's Cycle Supply is a major retail store that has set up in the same location at the track for as long as I've been going there. They used to sell stuff that seemed just dirt cheap to us Canadians but then you would look closer and a logo would be up-side down or a color would have ran. Then you realized that they bought all the seconds from the apparel companies. I still didn't care, with the dollar being 60 cents to the US one, I ate that second hand stuff up like Pac-man getting those pellets.
-The fans are always good at Millville, they are knowledgeable about the sport and Minnesota people are by and large, pretty friendly. Despite the fact that they can all be traced back to blood thirsty Viking warriors back in the day.
-The first turn is scary. Coming into the right hander, foot off the brake and wide open takes some cojones. There's almost always a crash and in 1994, LaRocco tore his knee up right in front of me in the first turn. You have to go in hard, lean it over and pray.
-Spring Creek runs right beside the sand whoop section and there are always kids playing in it instead of paying attention to the race. Stupid kids. Anyways, it's really cold and last year for the Bottom Line show, I almost lost a big toe because we had to do so many takes.
Favorite Racing Memories
Man, there are so many I don't know where to start. Well I guess the first place to start would be the total dream-crushing that RJ did to me in 1989. He had been the man earlier that year but broke his wrist pretty bad at Gainseville. He was back for the last half of the nationals and I remember standing at the fence at the sand whoops and here comes the first 500 moto with RJ in front of the pack. YES, soon RJ would re-establish his dominance and leave these fools in his dust. Only he came up to the first big sand whoop and grabbed the brakes. The first nine-ten guys zoomed by him and it was obvious to all of us. RJ's wrist wouldn't let him hang on. A little piece of my childhood died that day……What about the time I won my class on amateur day and got to ride during intermission of the pro national? Yeah, that's right they had chicks, 80's, 60's-whomever and they staggered started us. So there I was in 1989 riding my dad's 1987 CR125 because my Kawi had broke (once again) and I head out of the sand pits and up that hill that's right there when my chain snaps halfway up. I slowly come to a stop just about at the top and then start rolling backwards into the pack! Then I turn the wheel and cart-wheel DOWN the up-hill. Good times, my dream of having a factory team manager see me and sign me up were over……Then there was the muddy rainy Millville '92 where they cancelled the first practice and then opened the track up to the 500's. Only no one went out! Everyone was waiting for it to dry out a bit. Only two men braved the elements and the mud…Jeff Stanton and me. That's right, you used to ride along the right side of the starting line next to the fence to enter the track and there we were, six-time national champion Stanton and four-time Manitoba provincial champion me riding out together. Like warriors going to battle, like equals really. Then we made a right onto the actual track and I never saw him again…..What about Tim Ferry in 1999 grabbing the lead by blowing by Doug Henry in the sand whoops? That was my first time as a mechanic ever leading anything. Unfortunately it was short lived as by the end of the sand whoops, Ferry was cart-wheeling into the bushes on his way to a DNF……Remember when RC lapped the field in the mud?…..What about Reedy in 2005 being in first place and having his head pipe break off? Good times in the Yamaha truck for sure. There are a ton more but I should move on.
Weege's Memories: The most infamous Millville race ever, by far, is the "Believe the Hype" Mike Alessi pro debut back in 2004. Racer X staffer Bad Billy Ursic and I wanted to go badly, but it's an 11-hour drive from Morgantown and we had just gotten back from 10 days on the road with Loretta's. We didn't go to the race and I forever regret it. Let's move on.
Washougal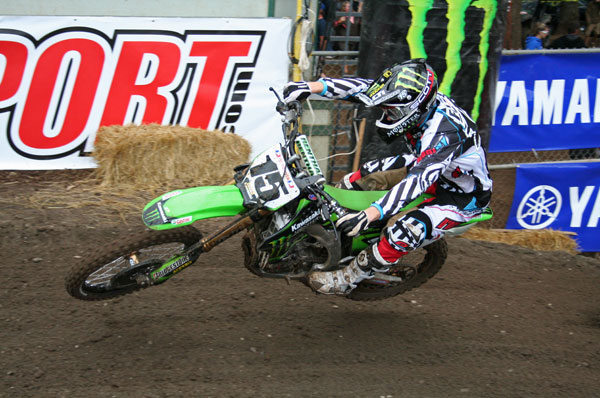 Stone didn't go to Washougal this year so I was searching my stuff for an overview of the track. I couldn't find one but I did get this sweet shot of the 15 cresting the finish line.
This might be my favorite race of the year and it has nothing to do with the track. I just like this area, always have. One of my first jobs was working for a privateer from Oregon named Ty Birdwell and he lived in Astoria right at the mouth of the Columbia River on the west shore. Also where Goonies and Kindergarten Cop was filmed for you movie buffs. Anyways, I would go back there during the summer and hang out, just a great area of the country and I also lived in Victoria, Canada for a year and further realized the charm of the Pacific Northwest.
Anyways, to the track and the amenities. Washougal might be one of the best races as the big city of Portland and Vancouver are literally 20 min away. The hotels are nice and another aspect that people like about Washougal is you can sometimes get out on Sunday or Saturday night after the race. That's a weird feeling, being home in your bed while just hours ago, you were watching Tim Ferry go 2-2 for the overall in 2007. The traffic sucks getting out of there although better in recent years. As far as the track is concerned, well the less said the better. It's slippery, shadowy and not anyone's favorite. I think they blew it when they took out the Chuck Sun tabletop and the Catcher's Mitt sections of the track myself. I'm a sucker for traditions though and the above mentioned changes might have helped the track make money, I'm not sure.
My Favorite Things
-The big-ass uphill is cool. That's a real test of man and machine. Machine because it's got to be 500 feet up a pretty steep hill and you can see who's got the HP's. Man because you're falling off the back and if you're behind someone, you're just getting pelted with rocks like a Muslim girl that got caught kissing a dude in public.
-There's a pizza stand in the infield that I traded a Tim Ferry jersey to in exchange for some happy kid giving me two slices. That was sweet…free jersey for slices of pie. Red never probably noticed the jersey gone anyways. What wasn't cool was the manager-type looking lady that about fired him and he had to stop talking to me.
-The big giant evergreens are really neat, the air is a nice change from the stifling heat of the east coast tracks that we had all gotten used to and did I mention that I love the PNW?
-What's not so cool is the start. This is the third different start that I've seen at Washougal and it's the worst one. It's also the one that is probably here to stay. It's too short and too tight of a turn. There are almost always pile-ups and I think that is a sign that it's not good. Riders aren't supposed to fall in the first turn every single start.
-I like the Portland airport. It's got good amenities and is easy to get in and around. Just another reason why this race is my favorite.
-The infamous whoop section before the finish is cool but I wish they would just build it as a stadium whoops and leave it alone. I can still picture Bradshaw on his number 28 Yamaha skimming them WFO.
Favorite Racing Memories
Again, I got a lot of them. I raced Washougal a couple of times and one of them was epic. I was Birdwell's wrench and we went there for a local race and I had no plans to race. Somehow I was roped into racing Ty's buddy's CR500 (probably because I was bragging about me being a 500 master and able to tame the mighty beasts) but there was two problems. I missed practice and no one had pants that could fit me. So I went to the line with my sweats on with knee-pads duct taped to them! Yes, I was pretty much awesome. The funniest thing happened also, I got the holeshot! I don't know what class I was in or what the other dudes were on but I remember holeshotting and not knowing where the track was going. I think I ended up fifth though with my plumbers crack distracting everyone up the hill….I remember Jason McCormick winning his moto on the Planet Honda 125 and having the place go nuts…Ryan Huffman, the track owner's son, putting in some good rides here and there. Huffman was a good rider but his problem was always the staying in shape part…What about RC and KW going at it on 125's? That was great….I remember working for Ferry at Chaparral and Washougal being the only race that MC came out for. It was a gong show of hanger-on's, flat billed hats and piercings everywhere. I think Ferry beat a just sobering-up MC that day……I remember Ryan Hughes coming over to Jimmy Button when I worked on PJ1 Yamaha and wanting to fight Button after practice for something Jimmy did. Button was all "Sorry man, I didn't mean it. It was just practice and we're buddies Ryno" and Hughes saying he didn't care and he would kill him and that he better watch out. Then when he walked away Jimmy looked at us and said "He'll be fine, I'll see him at the Tuesday night poker game."
Weege's Memories: In the early 2000s, I was trying to break into the announcing business so I volunteered to do pit reporting for the live announcing crew. No pay, but Tim Cotter at least would say my name (Erv Braun, meanwhile, I don't believe ever learned my name). I strolled through the pits and interviewed mechanics while they looked for my TV cameraman. It was lame. By 2004, I had earned my shot at a "real" announcing job. Tim Cotter had to skip Washougal to go to Loretta's, so I got to work in the booth with Rob Buydos. I was also in charge of setting up all of the Webcast equipment. I set it all up and tested on Saturday. We were all set.
The next day, nothing worked. Apparently there was a short somewhere and that fried our connection box thingy (as you can tell, I'm a big tech guy). In those days, nothing made MotoTalk explode like a webcast that didn't work, so I was about to be public enemy number one unless I made a fix. I found a lane line and called Cotter down at Loretta's, finally got a hold of him at noon. I was on the phone trouble shooting with him while the AMA's Steve Whitelock was trying to coordinate the opening ceremonies with me on the radio. Telephone, radio and microphone all at once, I have lost years off of my life due to the stress of these moments. We finally came up with the concept of dialing into the internet sever on the land line and leaving the phone off the hook next to a speaker. Hence, the track PA system would be heard through the phone and over the internet. High quality audio for sure…and if anyone dropped an eff bomb in the announcer's tower, the whole world was going to hear it.
Cell phones didn't work at the track back then so I just had to hope the phone never cut out, if it did, no one would be able to get a hold of me to tell me to turn it back on. Luckily, it worked all day, and someone started a "Hey this new guy is pretty good" thread on the announcing. My career was off and running.
As for the race, I remember Kevin Windham was pretty out of it that summer, but Ricky Carmichael was really pissed off about getting beaten by K-Dub here in '03. So RC kept running up on Kevin in practice and battling with him. RC would get next to him and then look over at him like "Oh you think you're fast?" But I think Kevin's reaction was pretty much "No, I don't, really."
Unadilla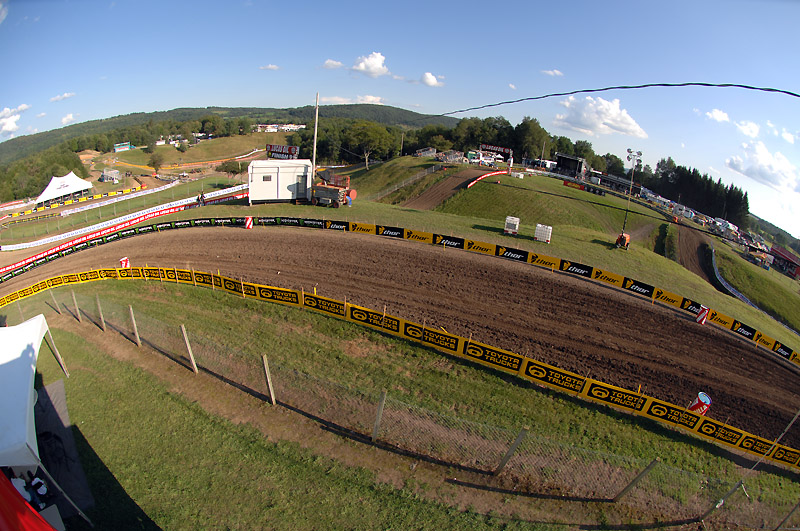 Unadilla, underneath this soil lies a rocky bed of hell. Don't be fooled. CStone pic.
Ahhhh, classic Un-f-ing-dilla located in upstate New York. A track that has hosted memorable, historic races from Trans-AMA's to GP's to MXDN's and now AMA nationals. The track used to host one race a year and the grass would be knee-deep when you ventured out for practice. The soil was primo and the track was rough, really rough. Except a funny thing has happened over the years, the track was used too much, the soil has gone away and the track is no one's favorite anymore. RC went on record many times saying he wouldn't miss this place once he was done. The line forms behind RC with many of today's riders in it. My first visit there, I was bummed as it was blown open from amateur days and was a shell of its former self. It's come back in recent years but the question I always wonder is, why not just move the stakes over ten feet and have fresh dirt? Not the Mikeee P kind either.
The track hasn't kept up with the infra-structure improvements like the other tracks have and the towns that you stay in aren't the greatest. The track is a long drive from civilization and there isn't much there to get excited about to be honest. The cities you fly into are a ways from the hotels and add in the always expensive flights to those towns and you get a national that not a lot of people are excited about.
My Favorite Things
-Despite all the above negativity, it is cool to have the Gravity Cavity and the Screw-U out there. You can think about how all the greats have raced the same track that you are at and Unadilla is rich in history. Man, the parties that I hear about from the old days sound nuts.
-I really liked the addition a few years ago where the riders raced up a big hill and jumped into a field then made a left and jumped back down the hill. Just after this section is where Stewie landed on RC a few years ago. They took it a year or so ago.
-Ummmm, that's about it. I hate to be negative Nancy but I don't have a lot good to say about this track and national. That's just my opinion, you may love it and I could be wrong but I'm sticking to my guns.
Favorite Racing Memories
My first year on the circuit I worked for Shaun Kalos and he went pretty good at Unadilla. He had qualified something like 11th best or somewhere around there and the first ten guys were lining up around the box or in from there. Shaun started walking behind the gate and he came to where everyone was…only he kept walking. And walking. All the way out to the fortieth gate pick on the far left! I asked him what the hell? And he just said that back in the day he banged a holie from this spot at a GP. He said you can sweep the turn and come out ok and back then the dip in the start straight wasn't as pronounced as it was in the middle. And I'll be dammed if he didn't get a top ten start! Crafty, that Kalos…One not so great memory was when Red Dog's gas petcock brass insert fell out in '04. Yes, the brass insert that the fuel line is connected to came out of the actual petcock. Never seen it before or since. It's held in there with glue and we eventually surmised that the larger aluminum tank was actually bouncing off the top of the carburetor. They weren't touching or anything but on the hard landings the frame was flexing and making contact with the carb. Timmy just stopped and stuck it back in and finished the moto but he was a little slower, no doubt worried about it coming off in the air again…The RC/Stewie battle was pretty amazing there until Stewie landed on him…One of the best rides I ever saw at 'Dilla was Robbie Reynard just waxing the field in '98 or something. He was amazing there and watching him ride back in the day was a thing of beauty. The Robbie Reynard of 2009 looks like a zombie compared to 1998.
Weege's Memories: Lot's of great races here in the past, I could wax on about the '87 MXdN and watching my mom get splattered in the mouth with Jeff Ward's mud after a collision in turn one of moto one, but the moment that stands out the most came in 2000. I had to get my wisdom teeth pulled, and I heard a lot of horror stories from some of the wimpy girls I knew in college. I was determined to prove this wisdom teeth deal was no big deal, in fact. On Friday I got the teeth pulled. On Saturday, I felt fine. I had already taken the weekend off of work, so I decided I might as well drive to Unadilla and watch the National. Mom wasn't stoked, so she said if I was going she had to come with me. We left Sunday morning at 5 a.m. and got there in time for practice. I met up with Bryan Stealey from Racer X over at the booth. I was determined to get a job with him at that time, so I whipped on my orange AXO jersey and orange Fox hat to show just what a hard core moto dude I was. Plus I was cruising with my mom. Very cool. It took over a year for me to get hired. Wonder why?
Budds Creek
This track has been around for a while and has a great advantage that not all the other tracks have. They can run it either way which always changes things up for the guys. It's a pretty simple track that doesn't really challenge the riders too much. The trickiest thing about the track is all the off-cambers! The soil used to be very hard and slippery but in the years that I've been going there, it's tilled up very nice (except the infamous 2007 national where RC went off on the prep.)
I like Budds and I like the town of Waldorf where everyone stays. Nice hotels and they have a Seattle's Best or something in the Barnes and Nobles bookstore beside the roach infested Days Inn where we all stayed in the mid-90's. In 2005, after going there year after year and never stopping to smell the roses, Reed's mechanic Darrin Sorenson and I stayed back an extra day and saw the Washington DC sights. I've since been back with my wife and did all the touristy crap and the Smithsonian is pretty damm cool I think.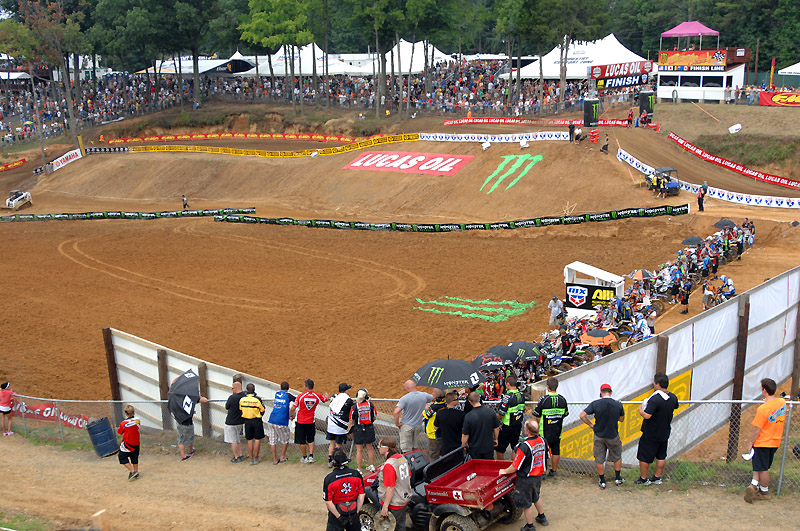 Budds Creek and the semi-new start. Good viewing at the Budds. Carl Stone pushed the button on this
My Favorite Things
-There used to be a sno-cone place right behind the old start (the one before the new one, not the old, old start) and we would be there in July or whenever and it was so freaking hot and humid. Anyways, in 2003 Ferry won the first moto and to celebrate I thought I'd get a sno-cone on the way back to the truck. Only problem was I didn't have my wallet on me but I did have Ferry's parade lap goggles on me which I tried unsuccessfully to barter the lady behind the counter with. No dice. She wasn't having it, clearly she didn't know whose sweat was in that foam. So I turned around and said "Who wants to buy a set of Ferry Scott goggles for $1.50?" at which point I had a ton of offers. Sold the goggles and got my sno-cone. Did that for a few years actually, became a tradition.
-I like Waldorf the town, like I said lots of things to do there but they do need a Starbucks.
-The owner of the track, Jonathan Beasley, is good people. He's a little, uh, out there but is a passionate fan of motocross and a good guy. He also loves to park cars apparently. The series needs guys like him and he's the only reason that America really got a MXDN a few years back. He pushed for it and either made $8 million dollars off the event or lost $139 million depending on who you talk to.
-Did the East Coast Four-Stroke Nationals for a couple of years with Kelly Smith (two-time champions btw, Kelly went undefeated one season-just like RC) and Budds was always one round. So we usually stayed back after the race and rode at the track during the week and hung out there. So I'm very familiar with the track, town etc etc.
Favorite Racing Memories
Well, who can forget Tim Ferry winning the first moto at the 2003 race? Beating Ricky Carmichael was pretty cool and Red Dog got quite a few podiums at that track. Looking back though, it was clear that the thumper was an advantage on the off-cambers and up the hills compared to RC's two-stroke. Who cares though? A win is a win…Also in 1999, a horrendous mud race produced a Barry Carsten holeshot in the 125 class and the man that his competitors called "Big-bore" led for a little while. I was working for Ferry at Chaparral then and he was 6th in the points going in and raced both motos to like 25-28 moto scores and dropped from 6th to 12th in points. Awesome, thanks for completely destroying the bike for zero points…Another great race was the 2007 MXDN. An absolute lambs to the slaughter moment for American fans. I just thought it was great all the people from all over the world that I met there.
Weege's Memories: 2007 MXdN. Is there anything else to even talk about?
Southwick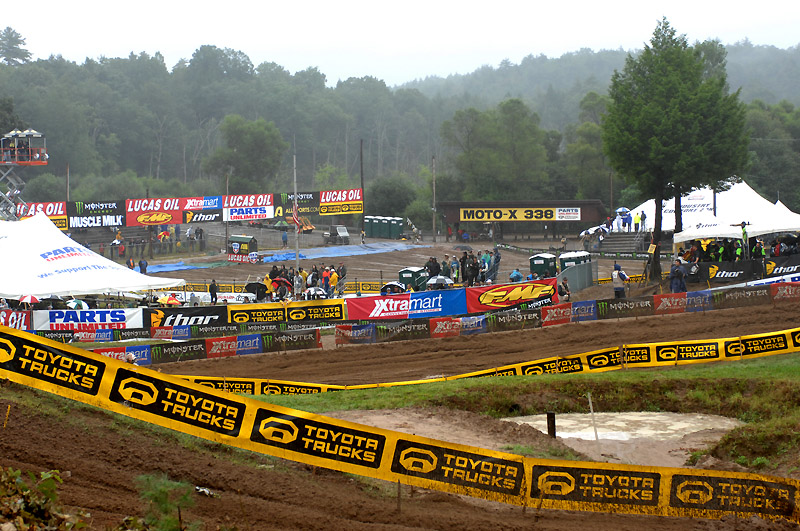 Southwick this year in the rain. The sand is not fun and when it rains, it's even worse. Stone shot
MX338 as it is known to the locals is the only sand track on the circuit. It's located in Massachusetts, just over the Connecticut border. It's funny because the track is located right in the town of Southwick. There are houses only a Jamarcus Russel throw away. Ok, I mean a real NFL QB could hit a house. Anyways, this track more than ever has always favored the locals and in my time it was always cool to see a Doug Henry or John Dowd lay the smack down on the mx heroes. A few years ago they reversed the track's direction and I don't like it. A few guys bitched and complained and I'm not sure the reason for the direction change as it seemed to flow way better back then. They also got rid of the Frog Pond section because I think it was actually on someone else's land! It's a typical sand track, brutally rough and a real test of a man and his machine.
Just about everyone stays right by the Hartford airport and there are a bunch of hotels and restaurants there. When I was at Yamaha we stayed a little ways away in a real nice hotel but we seemed to be the only ones that were there. There's a new Starbucks there, a Ruby Tuesday's and a nice hotel by the airport.
My Favorite Things
-Love the locals doing well like I said. Years ago the fence was only two bike lengths from the gate and the fans would pack in and yell things at the guys. If you were Dowd or Henry, all was good but if you were RC and you might beat a local legend, well then you got an earful. It was all good stuff, RC even flipped one guy off to the delight of everyone.
-The rides by the locals who didn't follow the series were interesting. Tony Lorusso got second in a moto once. Keith Johnson top fived the 250 class one time when he wasn't doing the series. Mike Treadwell and Pat Barton had some great rides.
-You can't walk ten steps without hitting a Dunkin Donuts. Not sure if that's good or not.
-I went to a Red Sox game one year and seeing a game at Fenway will always be a cherished memory for me.
-Red Dog was always good there. So I liked that despite the national being a ton of work. I remember staying at the track one night till 2AM lapping the valve seats because we sucked sand through the filter. Good times.
-I went to a killer Italian place that was like in a run-down strip mall somewhere and it was awesome. Only one year and I never could find it again. Maybe I just dreamed it?
Favorite Racing Memories
Like I said, there were a few podiums by Ferry in the day there. He's really fast in the sand…I remember watching RC there every year and it was a thing of beauty. He was pretty good in the sand also. He was good in the dirt, mud and whatever surface you want to name. He could really ride The 'Wick though, lemme tell you that…Doug Henry being a part-time racer and landing on Ferry in '04 was not so cool. I remember thinking, Doug, did you really need to do that first lap when everyone is in a bunch?…What about that day that Craig Anderson won? It was a battle back and forth in the Lites class and was some great racing…I saw Robbie Reynard pick his bike up in the first turn and go from dead, dead last and ended up 4th or so. Great ride.
Weege's Memories: Although one Pulp reader says I am not from New Jersey, I did drive to Southwick from Jersey with my old buddy Frank Visone back in 2001. This was the big Langston vs. Pastrana In the Sand battle, a race they both guaranteed they would win. Joel Smets raced, too. Smets holeshot the first moto and I was scared he was just going to wax everyone, but then RC got on him and dogged him for a bit before passing and taking off. International crisis, averted.
In the 125s, Langston separated his shoulder in practice but still rode hard in both motos, an all-time Ironman effort. Mike "f***kin' novel" Brown won moto one in a romp but crashed in the first turn of moto two. Travis did what he needed to do to win the race, including tracking Broc Sellards down from way back with two laps to go to get the second moto victory. They took Langston away in the medic mule and Travis congratulated him. Some amazing and dramatic moments in a season that was full of them.
When I got home, I discovered I had a tick burrowed into my thigh, about two inches from the danger zone. Scary times.
Steel City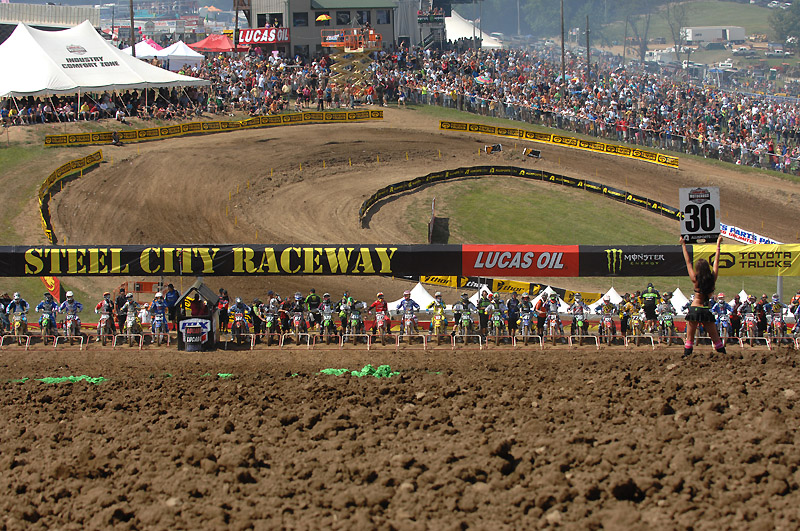 Looking back down the start at Steel City, 30 seconds 'till the end of the season. Photo by Stone
The legendary Jean-Michael Bayle's favorite track, Steel City is a nice track that can best be described as what happens when a supercross track meets off-cambers. It's great for viewing as you can see almost the whole track from the hill-side. The dirt is pretty good and it can get rutty and tricky. Back in the day they had a bunch of table-tops strung together and the hot line was to drop into a little gulley and launch onto the top of the next table-top. It was cool to watch and the first guy I ever saw do it, Brian Swink, I thought was going to die. One drawback to the track is it's far from the Pittsburgh airport so everyone stays close to the airport on Sunday night. Just hurts the hanging out. When it was the last race and the Monday fell on a holiday, there were always some killer parties in Pittsburgh on Sunday night.
The town of Delmont, where everyone stays, has everything that you need and I have stayed at the Sheraton on top of the hill almost every time I've been to this race. And in case you were wondering, there is a Starbucks in the Barnes & Nobles nearby.
My Favorite Things
-I like that it's the last race, I don't know why but it was that way when I started wrenching and it just feels like Steel City should be the last one.
-The track is tricky and it takes some skill to ride it. I raced amateur day a couple of times and it's not easy to ride fast. I came up short on the uphill double and bruised my heel which made walking around as a mechanic real fun.
-The uphill start is always cool. The inside gate was always for years the hot ticket but recently they changed the second and third corners to make the middle the hot spot. It's a horsepower start, no doubt about that.
-There was a VW bug on a pole right outside the track forever and this year it was gone. Sad.
-They have Tim Ferry on the sign when you enter the track. That's always sweet.
-There's a toll booth on the way from Delmont to the track. Approximately 7,392 motocross people have ran the operator-vacant toll booth.
Favorite Race Memories
Timmy Ferry in second in 1999 was cool. He eventually ended up in fourth or something but David Bailey said that my pit-board advice was "spot on"…What about Grant Langston's wheel exploding in 2001? Yeah, I have a hand in that as I was at KTM then and my rider, Kelly Smith, didn't qualify so I was sent out as a spotter. Standing in the middle of the track I noticed a rear wheel wobble and came over the headset asking what was up with it and for all the guys in the mechanic's area to take a look at it. After he went by those guys, I asked if it was just me and I only got silence back. Soon, it was disaster…Albee winning his title was sweet, everyone was pulling for him and he's a good dude. Nice to see him win in America, only five years after he was supposed to.
Weege's Memories: My Senior Year of college was about to begin, but there was no way I was missing the 2000 finale with Pastrana and Stephane Roncada battling for the title. I worked my Saturday shift at Six Flags Great Adventure, then drove seven hours to Steel City, slept in my truck, and watched the battle unfold. Some back marker named Ivan Tedesco holeshot a moto and then crashed, nearly taking Pastrana down. Get that loser off the track! Besides that scare, Pastrana won both motos with ease and got the title.
At that point I was still trying to get a job at Racer X, but I noticed Production Manager Julie Kramer was out selling tickets at the front gate, so what kind of job was I really getting into? I read on the website that Racer X was hosting a party in downtown Pittsburgh on Sunday night, so I found the place and saw all of the top riders hanging out. I couldn't speak.
Thanks for reading this long ass report on the national tracks!