The Dogger speaks…
The Dogger speaks…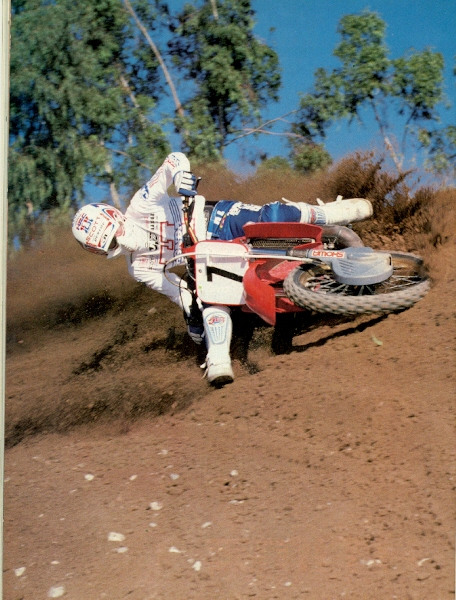 Lechien in all his Honda-glory at Indian Dunes

"This was 1984 and it was at Indian Dunes. It was a photo shoot we were doing for Ken Faught who worked for Motocross Magazine back then. I'm almost positive that Ken took this photo anyways, that's a bad ass berm shot! I didn't crash or anything and it was a big banked berm so you could fly in there pretty good. I remember thinking that I was going to blow this thing (berm) up and make it a real cool shot and then when I exited it, the guy was standing right there and I nailed him with my bike (laughs.)
It was right between his legs and he went flying, he was like 'whoa, whoa' and I was thinking that he better jump one way or another but he didn't and I hit him pretty good!
This was my first year at Honda (1984) but I think this is late in that season. I can kind of tell by my gear that I'm wearing. I bet this is close to 1985. RJ and I had a great battle in the 250 nationals this year, we were at each other's throats and it came down to the last moto at Washougal. I got out in front of him, got tired and he reeled me in and won the championship. It was a bummer looking back on it now.
RJ deserves full credit for his win although I should've taken it a little more serious and trained a bit more. Actually it's amazing that I did what I did with the little training that I did do! I just really rode, that was pretty much my training. This was '84 so I wasn't too heavily into my dungeon days at this point. I still did a lot of riding but I wouldn't do too many motos, I would play-ride a lot but I wouldn't do a thirty minute moto.
I had a good season though, I won some nationals at Lakewood, Colorado which was a great track for me. I won Millville and also Saddleback which was the last year they had nationals at that track so that was a cool one for me.
That bike was great, Johnson was on a production bike and I had the bike advantage on him for sure. That Honda was fast, light and super good. When I first got on it from my Yamahas, it took me a little while to get used it because it was so much faster. Just the way the thing hit and pulled throughout the range was incredible.
I love my look here, I dig the red, white and blue stuff. Everything looked real cool, the decals are sweet. I was all into that stuff, the Venturi mask from Scott is kind of wild looking as well. I always wore Scott, I was hooked up with Bevo for most of my career until I came back in '92 and wore Oakley. The Scott goggle was really good, I always thought they were bitchin."