The '88 125 East Champ has beef with me.
The '88 125 East Champ has beef with me.
A little while ago in a look back at MXA in 1988, I recapped the 1988 125 east series in this way:
EAST
1-Todd Dehoop
2-Mike Jones
3-Mike Larocco (who scored zero points the first two rounds- me thinks Dehoop got a little lucky)
That got me this email from Todd himself;
"I see you wrote in your lineup of finishes for the supercross class in the 125 that I got lucky winning the championship, Since you're such the scholar I would think winning 4 supercross mains is very lucky. You dont no me and you were not there when mike jones tried to pick a fight with me on the starting line ofthe last round at the meadowlands in new jersey. I still holeshot and finished second with a broken clutch lever. Try jumping the triples 70ft on a 88 125 with no clutch. Dude luck what ever."-Todd Dehoop
Dear Todd, I based this on the fact that Larocco missed the first two rounds and then won 2 out of the next 5 races. But upon closer inspection, DeHoop won 2 out of the last 5 as well. And if you average the points out of the races that both guys raced in, you get 20.4 points for Todd and an even 20 for Mike so clearly, I was wrong. DeHoop matched The Rock's pace the rest of the series. I guess just looking at their careers afterwards infuenced me into thinking that Larocco had DeHoop covered if he had raced the entire series. But no, in 1988, DeHoop deserved his title and there was no luck involved whatsoever. Thank you for pointing this out to me Todd.
p.s- You should probably get bonus points for the fact you rode an '88 RM 125 which, compared to a '88 Honda, was like taking a slingshot into battle against the American army.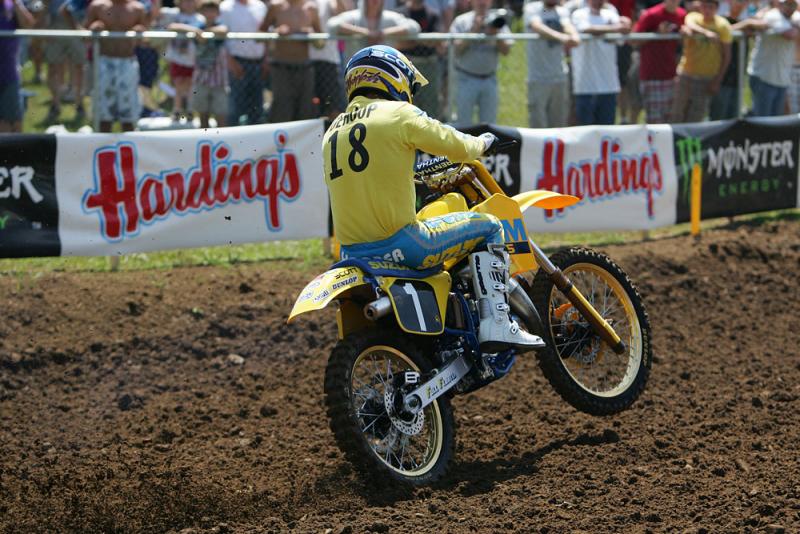 DeHoop still has his '88 RM 125 and it's pretty trick. Here he is at Red Bud a couple years ago. Photo stolen from GuyB at Vitalmx.com