Time to answer some letters. Thanks to everyone who sent one in and sorry if I didn't get to it. I'm busy bro.
Time to answer some letters. Thanks to everyone who sent one in and sorry if I didn't get to it. I'm busy bro.
Hey Matthes-
What is that noise that is in the background on the podcasts and the Moto Show? It sounds like a squeaky rocking chair, twirling keys around your finger on a key chain, squeezing a stapler, or using one of those hand grip exercisers. I can't figure it out. I just happened to notice it once and now I hear it on every show, so it's got me intrigued, like that old Cheers episode where Kevin McHale was trying to count the bolts on the floor during the Celtics games.
Dear unnamed, I got a few emails about this but hopefully you've noticed that it has stopped recently. For a while I had this titanium bolt on my desk with a nut on one end and a washer in the middle and this provided me with endless amusement during some podcasts. I didn't realize that it was getting picked up by the mic and I stopped doing that. Another time, during the Jeff Emig podcast, I was unwrapping lenses and was doing it at arms length while I spoke to Fro but alas, the mic picked that all up as well and people were letting me know that I was driving them crazy. I now just sit there with my hands on the desk and try not to move.
Hey Steve

As we all know the beautiful Pontiac Silverdome was closed down a few years back and what used to be one of the biggest stops on the tour came to an end. Well, I recently learned that some Canadian real estate company put a bid on the venue on actually won for $550,000! The new Canadian owner "vows to revive the stadium as a big-event venue by investing millions of dollars" and it was reopened April 17, 2010.
As my only "connection" to the motocross industry it is your job to spread the word so we can get back to supercross in Michigan. I'm not going to be greedy and ask for a double header but I would like to see the track go up into the stands like the old days…maybe even throw in the over/under bridge and a few camel banners??

Thanks, Jamin
Jamin, yes the Pontiac supercross was a great stop on the circuit for many years. Then we moved to Ford Field in Detroit (which is like going from a VW Bug to a Ferrari) and no one came. I don't understand it, it's not that far or anything but you people (and I say "you people" meaning Michiganders) just wouldn't venture into downtown Detroit. I stayed right there for every year and never really felt unsafe or anything like that. There was that Greektown casino not far from the dome, some nice hotels..I don't get it and I'm sure the folks at Feld Entertainment didn't get it either. It's too bad that the Silverdome closed down, it was a cool place and the fans were into it. I remember pushing through my bike through the snow one year, I remember my hotel losing its power one year and I remember how effing cool it was that the track went into the stands. But then that was taken away, the doubleheaders were long gone and it became more like a regular sx.
I know from talking to the guys at Feld, they've looked at going back to the Silverdome but it was in a bad state of disrepair but with this Canadian dude buying (figures that it takes a Canadian guy to rescue the sport of sx) the place and trying to move a MLS team in there will be what it needs to get back on the sx schedule.
Steve,
Big fan of the moto show! I'm new to technology and such with the whole iphone/twitter stuff. But I too rely on your updates at the races since I'm usually working Saturday nights. Just want you to know I appreciate it. Also, after having a race with my buddy to see how many pro riders we can follow on twitter, I've realized that Josh Hill has his head so far up his ass that there's no possible way he could see the track. Perhaps this is why his results have been so poor.
Thanks for your time!
Jared, WV
Thanks Jared, Twitter has been a great thing in my sad, pathetic life. I actually enjoy trying to get my thoughts out in 140 characters or less. And the sx tweets seem to have a bit of a following but it does make it hard to watch the race. I'm not that solid of a typer! The riders are embracing it more and more and there are some little golden nuggets in there for sure. The guys like Andrew Short, Chad Reed and Wil Hahn are pretty funny on there and not scared to share some inside information. Unfortunately Josh Hill and his merry little partner Josh Hansen are not on the list of valuable information given out on Twitter. Hill has gotten in trouble be retweeting something that his other buddy Jason Lawrence said about Ryan Dungey, he's said some obscene things on there (but a lot of it is funny) and he's a good kid but I agree, if you didn't know him, you would think he's a bit of a wingnut. I do know him and can vouch that he acts like he's a 21-year old kid on Twitter. Which he is but I do think he needs to realize that he's also a hero to some kids and there are fans on there waiting for him to slip up so they can bash him.
As far as Hanny, well any guy that announces he's going to take a shit and go ride his bike or talks about "boning" "Jap guys" chicks, well you know he's staying classy!
Steve,
I am wondering what the HELL are the weird strap things that i always see the racers wear. Dungey always wears them and in the racer x video of reed when he is putting his jersey on he has a cross black strap thing that crosses in front and back, what the hell is it?!??
I hope you remember me, I email you and call in all the time. Will you be my man friend?!
Thanks for the answers man! Rob
Rob, the straps you see are the neck brace straps for the Leatt or Astar neck brace. It's a way to keep the brace tight on someone and not move up and down while the riders in the air. Reed doesn't wear any straps or anything like that, he just slips it on and it stays there and doesn't bother him. What a weirdo.
Hey Steve,
Chico here from Michigan. Some friends and I were bench racing the other day and I asked them if they think that James Stewart is over rated. I am a big James fan and I honestly think that he is the fastest man to ever ride a dirt bike.
With that being said. Has James ever defended a title? He seems to get hurt every other year. If you took all the supercross and outdoor national races there have been since James turned pro, and counted up how many of those races he has missed from being injured, I am curious to see what that number would be. Who knows it may not be that many races he has missed, but it just seems like the missed races would be close to the number of races he has raced.
I also question his decision to race outdoors. I do agree that if I could make as much money working 5 months out of the year, as I would working 10 months, I would also take the 5 month deal. Not that I think there job is easy by any means. I just don't like it when a rider says they want to ride the nationals, but there deal is a supercross only deal. If you really wanted to ride the outdoor nationals, then you should have signed on with a team that will do the whole season. I also think that if James wanted to ride the nationals, Yamaha would bend over backwards to help him out.
I also feel Jame's reality show is doing more harm for him than good. I think the show looks to scripted. To me it just seems like the show is just a marketing tool just to keep the hype around his name out there.
I also just may be full of shit and don't know what I am talking about, at least that's what my friends say. I am Stewart fan and do not mean this in any disrespect to James at all. If I had to put money down on a rider for a indoor or outdoor race, James would get my bet.
I just wanted to see what some other peoples thoughts were on James career so far. Sorry to bore you with my thoughts.
Later
Chico.
Chico, Stewie's career, while very, very strong, probably hasn't gone the way that him or a lot of people thought it would. He's been injured a fair bit (like you said) and then without racing the nationals it's kind of dropped him down a notch in some fans eyes. I don't agree with that though, like you said we would all take the offer of a 12-month pay scale while only working 6 months. He has gone on the record as saying the outdoors doesn't mean as much to him and he dreamed of winning supercrosses when he was a kid. But that's a fine line to walk and if you get hurt (like, say, this year) then your whole season is a write-off. You have to look at it this way, there are only so many teams that can afford/have the support to get JS on their team. And when it came time for Stewie to sign, Honda was full, Kawasaki didn't want him and he didn't want to go to KTM. That left Suzuki (who he talked to) and Yamaha (where he went) and the L&M team was already not doing the outdoors as a team decision.
But yes, I agree that James giving lip service to saying he wants to race the motocross season is just that, lip service. He signed a contract to do sx-only and that must be ok with him. He just doesn't want the fans coming down on him for not riding out in the sun. We can debate the fans on the message boards and why they are so mad all day long but in the end, that's why he says he wants to race. What I don't believe in your letter is the statement that Yamaha would bend over backwards to help him. Budgets are budgets and equipment is ordered from Japan early in the year for however much they need at that time. Do you know a win bonus is $100,000? Plus a million in a championship bonus? That's a lot of extra money that Yamaha has to budget for because there's a good chance Stewie wins them all again.
Steve,
Love your stuff. Keep up the good work.
With your infinite wisdom and knowledge of all things professional motocross, maybe you can answer this question for me. Why is it that 99.9 % of all the pros, when showing off, decide to whip the bike out to the right? I know some of the best (MC, RC, Stewart…and of course Ferry) can and do sometimes whip to the left, but if given the chance, even on a neutral straight-on jump, they still go right.
As a kid, life outside of elementary school for me consisted of 3 primary things: eating candy, watching cartoons, and most importantly, riding my BMX bike around the neighborhood. The earliest and most important skill a kid can learn on a BMX bike is how to kick out your rear wheel (usually for the purpose of pissing off your grumpy neighbor by clipping the corner of his yard and spewing gravel all over his driveway. For me, I could never go right. Left always felt more natural, and it was that way for most of my right-handed friends. My only friend who preferred to kick out right ended up in Juvenile Detention….just saying.
When I ride today, although I'm definitely no whip artist, I still feel awkward whipping to the right. Left is much easier. Could it be that most of our current pros grew up with grumpy neighbors that lived only on the right side of the road? I realize there are holes in my theory, but I need some answers. Maybe you could ask Ferry.
Jason
That's a great thought Jason. Brilliant really. I'm not sure why the dudes do that but I do think you're right. Most guys whip it to the right. I asked a couple of guys that I know best and here is what they said to the question, Why do riders whip it to the right?
Jason Thomas: "I think it's a lefty righty thing.. I'm left handed and am wayyy better at whipping to the left" and I would guess when he wins the LCQ's, it's a lefty whip.
Tim Ferry: "It's easier to use the throttle to straighten the bike out."
So there's your answer Jason, I went right to the sources and that's what they told me. You're welcome.
Hey Steve,
Got a little bored today, and was reading some old articles and whatnot and came across this pic of the '81 Trophy/Motocross Des Nations (I hate the new title by the way).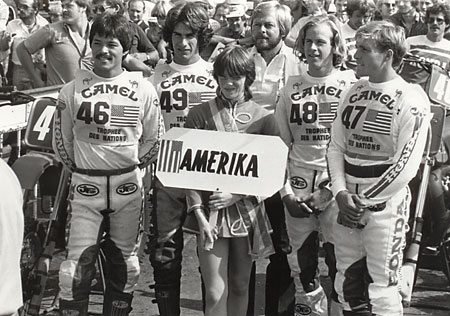 Some scary similarities here.

Is it just me, or does 1) Donnie look like Lil' Hanny in that pic, and 2) The O'Show looks like Barcia? Well, I think it's time I get back to work now. Oh Yeah, have Hill tell Lil' Hanny to put some vagasil on the hurt vag he has, and come on the show. I don't know what his deal is, I've never heard you say anything about a rider that wasn't true. And if they're doing good, you don't talk crap about them (like MXA). Looking forward to the Pulpmx Show Monday night. Have fun not having to travel this weekend, and make sure to eat some food from the Kawi pits for me.
Best Regards, Joshua
Joshua, thanks for the nice words and you're right. The similarities are amazing to those two. One of them is a little to be expected…you know, the whole father/son thing but O'Mara and Barcia is eerie. Also kind of funny how O'Show was always known for his calculating, precise riding style and Barcia is the exact opposite.
At this point I don't care about Little Hanny very much and whether he'll come on a the show or not. I spend the same amount of time thinking of him as he does me. And that's very little. If he asked to come on one time, I'd certainly take him but he's too busy in Hollywood these days. I just hope he doesn't find himself in the same predicament that he found himself in last time he started going to Hollywood and living that life. One of his old agents told me there were 30K bills a night billed to his credit card. I hope he's learned his lesson…
Steve,
I'm not usually a write-in kind of guy, but I figured what the heck. If hasbeen can call you 5-6 times each show, I can send one e-mail, right?
First, thanks for the TRE discount. It was perfect timing, since I needed a new rear wheel. I had never heard of them before, but I got a really good deal and great customer service from them. And they got the wheel to me in time to ride this weekend, which is great since I ordered it late Wednesday night.
As for the shows and podcasts, you do a great job. I just got back into riding a little while ago after about 15+ years away from it. It has been fantastic to hear stories from the guys I read about in the magazines in the 80s and early 90s, hear from the guys today, and also start to figure out what happened in the sport while I was away. I also think the shows have been tons of fun. I can't imagine what it would be like to try and keep a guy like Watson on track, but I think it's hilarious. I just love the stories in this sport—I can't get enough.
In the unsolicited-story-about-obscure-privateers-department, I loved your Rich Taylor podcast. I've also heard you refer to Jeff Hicks a couple times. I started riding in southeastern Idaho in the mid-late 80s. Bob Hannah lived in Sun Valley at that time, and he, Taylor, and Hicks came to a few local races in 1987-ish (I think—Hannah was on a Suzuki). My dad and his friend decided to ask Hicks if he was interested in doing a riding school for me and my brother and a couple friends. So he hung out for 2 or 3 days in Pocatello and the Indian reservation to do a riding school for 4 squids on 60s and 80s in the cold and rain and probably made $600 minus gas, food and hotel. Taylor helped him out for part of the time, and they were both really cool, down to earth guys. It was a great experience for a bunch of little kids to hang out with a real, live professional motocross riders. I bet Rich tells the Blackfoot Indian reservation motocross school story all the time along with his stunt work and factory R&D testing stories. I'm just surprised he didn't mention it as one of his career highlights during the podcast—very disappointing.
Keep up the good work.
Thanks, Gabe
PS – Don't let Hanny get you down. He seems like a wiener.
PPS – That Brian Swink interview was absolutely brutal. Please tell me that he's not representative of the majority of retired pros. That was totally depressing. I listened to the Damon Huffman one before that and was curious what you meant about the contrast between the two. Holy crap. You weren't kidding. I don't know if I felt worse for him or for you, but I couldn't turn it off.
Gabe, I'm glad TREMX.com could help you out. Good bunch of guys down there and remember the discount is there to be used all the time. Just type in "PULPMX SHOW" in caps when you go to check out and you'll get a discount. Thanks to those guys for believing in the show and the entertainment value that Kenny provides to everyone.
I'm trying to get Rich on the podcast show again and I hope soon he'll come back on. He told that he got so many people come up to him and remark on the show we did that he went home and wrote a whole bunch of stuff down so that he'll remember the stories! Also, he's got some time on his hands as he recently severed his Achilles tendon and is laid up. Good time for me to get'em!
The Swink interview was hard for sure, he's having a bit of a tough time in post-retirement life and hopefully he'll pull it together and get back on his feet. Swinkster was a bad dude.
Matthes
Why have you never done a podcast with RC? Is there bad blood? It would be great to hear you interview him. The podcast with Holley was awesome!! Thanks for that. Also your show with Watson kicks ass, except when you guys start bickering like my little sisters. Do you think 22 is gonna be the fastest guy outdoors? I hope so.
Matt
Matt, thanks for writing in. I would like to do a podcast with RC but I'm afraid he's not a big fan of mine. I hung out with the guy for a couple of weeks in '99 in Florida with Ferry and he was cool, just a chubby kid on 125's that could ride ALL DAY LONG in the Florida heat. I do remember that. But there was the Salt Lake City thing (for more on that, read THIS) and then I did a few interviews where I mentioned that calling him the GOAT was a little silly because MC's got about 25 more sx wins than RC and if you want to be the Greatest Of All Time then, in my opinion, you should hold both records. I heard through the grapevine he wasn't really happy about me saying this (it was in a MC Podcast and a Stewie interview right HERE) and it's amazing the insecurities a guy that has millions in the bank and had won so many races has but I digress. There were a few other things like I think I made fun of his farewell tour where Feld would play "There goes my hero" and he would walk down the start straighaway (hey, I'm jaded. So sue me.) and also I made fun of his banquet speech where he droned on and on for 45min about each and every year of his career. I have no hard feelings towards the guy personally, I'd do a podcast with him in a second but one time I tried to call him one time and one of his cronies definitely made it a point to say he wouldn't talk to me. That's ok, life goes on.
As far as Watson and I bickering sorry about that. We'll try to stop and in regards to your pre-Hangtown question about the 22 having the speed outside well, I think that's been answered.
Hey Matthes,
I don't think we've met, but I work for ASTERISK Mobile medical center on occasion; I'll be at TX next week covering for Eddie C. hope to see ya out there..
But I had a thought cross my mind as I sit in the Orlando Airport: If you were team manager right now, and you had your picks of the whole lot of riders to man a 4 bike team, both 450 and 250, where would you go with it?
There's something to pass time for ya.
Arden
Great bench racing question Arden and I suppose the first four that come to my mind is James Stewart, Ryan Dungey, Ryan Villopoto and Christophe Pourcel for the 450 team (notice no Chad Reed and I know, call me crazy) and in the 250 class Justin Barcia, Dean Wilson, Broc Tickle and Eli Tomac. Remember that Canard, Weimer and Stroupe are all moving up next year so these eight riders should get me all set for the races today and in the future.
Steve,
I know you have a fascination with over/unders in supercross so that's what I'm writing to you about. I rode at a local supercross track that has one and at first I was skeptical about it on an amateur track. Welp, turns out its awesome and you may really be on to something. Guys were railing the shit out of the outside wall inside the tunnel and it made for some interesting lines. That's my story. Hopefully it brings some joy to your day
Go Dungey!
Luke
One time back in the day, I'm sure people laughed at Ben Franklin as well. I'm telling you, over/under bridges are where it's at. Thanks Luke.