The Scottish-born, Canadian-raised, American-living kid speaks.
The Scottish-born, Canadian-raised, American-living kid speaks.
Dean Wilson came within ten feet or less of his first ever AMA national win. The kid from Canada passed early leader Eli Tomac and sprinted off into the lead and, at one point, had over a seventeen second lead with three laps remaining. Then disaster struck when Dean let teammate Tyla Rattray by because he thought he was lapping him and then Dean compounded that mistake by slowing before the finish in confusion and letting Broc Tickle by. There went the overall on the day and I caught up to the friendly kid to get his take on what went down this weekend.
Me: Dean, heartbreaking race for you in Texas. Talk about it.
Dean: Yeah, it was pretty emotional to say the least. I came into the race hearing everyone talking about the heat and it seemed that so many people were putting the heat on a pedestal and I decided that I wasn't even going to worry about it. I was just going to focus on myself and race the race. Everyone was saying, "It's going to be so hot" and all that but I was over it. So I got out there and wanted to race both motos without worrying about the heat.
First moto I got bumped off the start by Tyla and was probably back somewhere around 15th and had my work cut out for me. I thought I rode pretty well and worked my way up to third. It was a pretty good race for me really. The second moto I was in second and stayed behind (Eli) Tomac for a bit, got by him and was on my way to winning my first ever moto and overall. But from what I saw on the side of the track, I thought I had a huge lead and I guess I got tired and wasn't paying attention like I should have been. I saw Tyla with about a half a lap to go and I wasn't going to let him pass but he was charging and I thought he was a lap down so I was the nice guy and let him by. But I guess I was too nice of a guy because I gave him the win and when I saw him do the fist pump over the finish, it really hurt me. I was bummed and I gave up from there. Then right before the finish, I was being a baby and got passed again. I didn't realize that even with a second I was going to get the overall! I definitely learned from that race, no doubt about it.
I spoke to your parents after the race briefly and mentioned that it was still a great race for you and the wins will come soon for you. Have you turned it into a positive or are you pissed?
I'm pissed (laughs) just because it was a stupid move obviously. I've never had so many people in my life to tell me to race to the checkers. It sucks bad, I'm still pissed off about it and I just really wanted to win. I'm pretty happy there's no week off this race and we just get right back on it and I'll forget about it.
What did Mitch Payton say to you after the race?
You know, we went 1-2-3 and he couldn't get that mad about it because it is all about the team. I'm not sure if he's bummed on me or not, he knew I gave it my all both motos and that's all he can ask for I think. It was a bad mistake on my part and that's pretty much it. He said he was proud of me on how hard I was trying and this was just another stepping stone.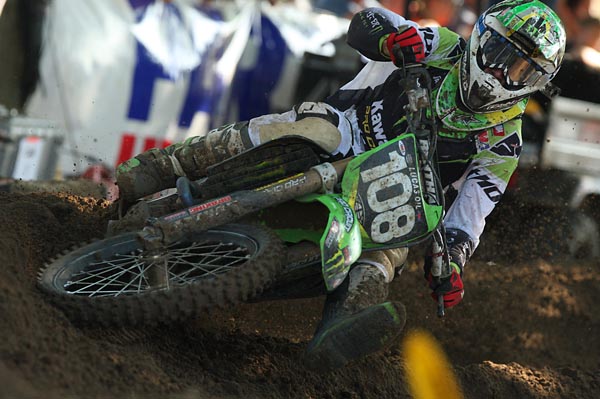 Dean Wilson, even with his troubles this past weekend, is still third in the points. Photo courtesy of TWMX

Let's talk about Hangtown a bit and to me, you looked a little herky-jerky, almost too aggressive out there. Like you were trying too hard to go fast. Am I right?
Yeah, you're right. Practice went completely horrible for me but in the first moto I was up to fourth early on when I went down. I was all the way in the back and had to catch up through the pack. I made it to ninth and was closing on Tyla for eighth when I went down again. That was with three laps to go so I ended up tenth. Second moto I was chilled out a bit more and just wanted to stay up and score points. I was up there with the leaders early but they were going pretty fast and I didn't want to crash so I settled in a pace that I knew I could do the whole moto. I got passed on the last lap by Pourcel but it went pretty good for me still. I walked out of there with some points and I improved in Texas so that was good.
At Hangtown I was expecting too much of myself and I learned a lesson.
I know you probably get this all the time but talk a little bit about your team that you're on. Everyone is so fast and that must make for some great internal competitions to try and be better than the next guy.
Yeah, it's pretty awesome because during the week we've been riding-well everyone but Pourcel that is- is out at Glen Helen riding against each other. Even (Josh) Hansen was there at 3 o'clock one day. It was crazy, he was hard-core! He said he was enjoying himself also which is weird. But anyways, yeah we're all out there and it's weird 'cause we're all racing each other. They're all really cool, we all respect each other and we get along which is the best part.
Is there one guy that is just always faster than everyone? Like does your team have a great practice?
No, not really. We're all out there at different times and do our own thing.
And Pourcel isn't around much?
Yeah, I don't think he even rode all last week.
C'mon, he probably did. He likes everyone to think he's not trying or whatever. He was wearing a sweatshirt at the track this weekend!
Yeah, he probably was riding. I don't really know that much about the guys program.
Did you pay attention to the first round of the Canadian series at all?
Yeah, I saw that. I felt bad for poor little Beets. (Everyone's favorite little gnome Kyle Beaton of the Blackfoot Yamaha team, once again suffered an injury at the first round and will be out for a while) I feel bad for the guy for sure. Aww man Beets, I wanted him to win bad. It was too bad and I don't know why that little black cloud keeps following him everywhere he goes but hopefully he heals up soon and gets back at it. I saw that (Colton) Facciotti won big-time and that was pretty boring.
I heard a little while ago that you were not doing any interviews with any Canadian writers over your whole Visa snafu during supercross when some things were written about your situation. Is that true?
No, not at all. There's certain Canadian people that I won't do interviews with but other than that, no problem.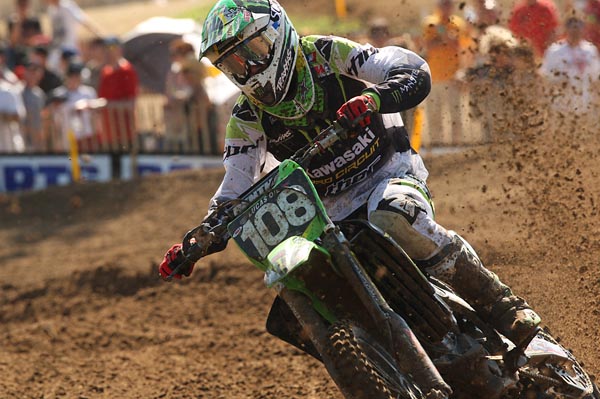 Dean's got a bright future over there on the PC team. Photo courtesy of TWMX