This is developing into a pretty nice little story. Pics courtesy of TWMX
This is developing into a pretty nice little story. Pics courtesy of TWMX
Ben Townley has certainly been through quite a bit over the last few years. A supercross title winner in the 250 class and a runner-up position to Ryan Villopoto in the 2007 outdoor nationals certainly seemed to indicate that the former World Champion had adapted to America quite well. A ride on the powerful Factory Honda team followed but so did two years of injury for the friendly (are there any other kind?) Kiwi. Townley raced in a grand total of two races for Honda and then packed it in to get his shoulder fixed.
Two years later, he's back on the privateer team of Troy Lee Designs and trying to make it back to where he was. We're three races into the rebuilding of Ben Townley and although many people are happy with his finishes (two top five's in six motos and currently fifth in the points) the man known as BT101 is not. I caught up to him after Mt Morris to get his take on things.
Me: Ben, talk about your comeback and how it's going in your eyes?
Ben Townley: It's been going, it's not been going as well as I would've liked to be honest. I'm always hoping for a lot more in my career and I probably underestimated how the race time away would hurt me. I've lost some of my speed but not that much really. It's been pretty much two full seasons away. When I get to the races, I don't feel like myself yet but that will come when I have more gate time against the guys I'm racing against. It seems that, right now, although there is no RC or James out there that the depth of competition is really thick. There's Ryan (Dungey), Josh Grant, Shorty, Hahn, Millsaps, Reed and Alessi and I've probably missed some guys in there as well. It's hard to get back to where I want to be, which is winning. I'm happy with the ways things have been going but I have some more work to where to I want to be.
I had heard that you weren't that happy with yourself but to me, to Ping and to others, you've been doing great considering all the time you missed. What are you unhappy about?
I'm really disappointed with the small mistakes that I've been making, they have really been bugging me. I didn't expect that I would do that. Coming into Hangtown, I didn't even know for sure if I'd be racing because of a set-back that I had, but we went there and my speed was good. In the first moto I was sitting there in fourth behind Alessi and thinking that it was pretty easy. We were a bit behind the eight-ball with testing because of the set-back and then I stalled it so I ended up fifth.
The second moto I was in second and I was sitting pretty there but I dropped it and my fitness wasn't that good at that stage so I just rode that out to a seventh or whatever. Then at the GP, I got jacked up with Alessi but the second moto was good. But even there I felt like we had some work ahead of us. In Texas, I got bad starts and had to work my way through the pack. First moto I came all the way to third, but then in the second moto mistakes happened that have made me frustrated. In Mt Morris, I finished fourth in the first moto and thought I rode like junk and in the second moto I got sixth but felt like I rode the wheels off it. So this is the frustrating thing for me, I feel like I haven't shown my true colors right now and even thought I rode Honda's before, this is an all-new bike and we're still slowly working things out and it's just around the corner for me.
When I look at the points standings, the guys you're racing with are all on full-factory bikes save for Brett Metcalfe so you have a bit of a built-in excuse.
I feel like my bike is better than most people's out there to be honest and it looks like Ryan's got a pretty good set-up and Chad does as well but other than that, I believe my bike is as good as anyone out there. I think, to be honest, one of the things I'm struggling with is the lack of a 450 teammate. I thought that would be awesome when I first signed but then we missed all the time and all of a sudden, the nationals were here. We didn't have a lot of knowledge to start off with. But as far as the total package, it's one of the best bikes out there. When I talk to the riders, they tell me how fast my bike is so there is no problem with horsepower and as far as chassis is concerned, I have the best guy in the business helping me out there.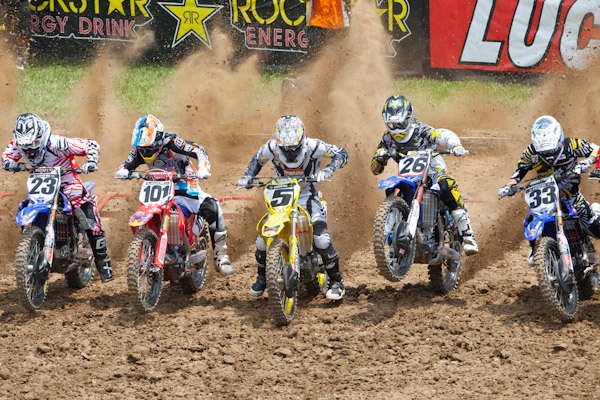 Ben blasts off the line at Mt Morris. He's just a few small mistakes away from winning a race.

Talk about the Troy Lee team a little bit, you've ridden for the best teams over in Europe and here in America, what's the transition like to a privateer team?
For me it was perfect at this time in my career and to be honest, if I can make it work I'd love to do it for the rest of my career. Like you said, I have ridden for those teams and when you're winning, everything's cool and all that. I put a ton of pressure on myself to do well and when you're hurt and not able to ride, the situation I was in was difficult. With the economy and stuff, it wasn't fun to not be riding. I didn't want to be in that situation again when I came back, I wanted to have a really good bike where I could be in a situation where I could go out and get top tens and they would be ok with that. Not that I wanted to just be doing that but I didn't want the situation where I was getting pressured to win a title or anything like that. So that was a great thing with these guys, they gave me everything I needed. When I did my first test with them and pulled in after literally only a couple of laps and said this brake is terrible, David (Pingree) made the call and got me what I always liked. Same thing with the clutch, I wasn't happy and they got Ron (Hinson) out there to help me out and make it better. And obviously with the engine and suspension package we knew we didn't need to go there. That was the last time that I was comfortable on a bike so why search around for something when we know that they (Pro Circuit) knew what I liked and how to set-up a bike.
This team deserves a lot more support than they get. They are a fairly new team for sure but with Wil's results and Cole as well, even though he's a young kid. I think that what they have done with what they have is great, they are on a very steep curve. Especially from an OEM and I hope that my weight will help them out if I stay there in the future. They do things professionally and they get the results. You can't ask for much more from them as far as an OEM is concerned.
Yeah, speaking of your front brake, it's a radial Brembo brake and looks gnarly.
Yeah it's awesome. I used it when I rode for KTM and didn't have a problem when I switched back to a 250F here in America but the 450 is a little bit bigger girl to stop down the hills and I have a tendency to run it in than most people and use the front brake more than some guys. It sounds weird but this is only my second season racing in America and I'm still getting used to learning the American way of racing. You run it in hard to a turn and you actually lose time when you brake because of the dirt and the way the tracks are prepped over here.
Yeah, there's traction and berms and you can fly into them and not worrying about stopping as much right?
Yeah, exactly. But that front brake is great and it has the bling factor as well.
It looks like it's made of Beryllium.
You're asking the wrong guy…
Yeah I think it is. Very trick like you say. So anyways, any surprises in the way or riders or tracks or anything like that in your comeback?
The way the set-up is for the nationals, I'm not sure if I'm a fan of it to be honest. I think the change was made because they were thinking a couple of their stars would race if it was a one-day event but I don't think the atmosphere is what it could be with the one-day format. And as a rider, it's a real rush, the whole day. That's the way it is thought and in America, Sunday is a big day for TV and I guess they want to get the time on TV on Saturday's so I understand it somewhat. It's a change for me and it's nice to come home on a Sunday but for me I'd rather be racing on Sunday.
I guess I have to make the point that Ryan Dungey has come a long way since I raced him last. I used to school him when we last raced. When I last raced, he kind of flaked under the pressure from Jason Lawrence and lost that title. Then the outdoor season he wasn't near Ryan (Villopoto) or I. Then I come back and he's the main guy so that's definitely something that has surprised me. I think also seeing what has happened inside the whole industry where there seems to be more than ever a whole bunch of privateer teams. I'm not sure if that's because of the whole Yamaha thing or not but I think it's worked out good for the riders. You have all those Motoconcepts guys, the Valli guys, the DNA guys and that's a big change in the way things have been done. They have a good set-up from Yamaha and that's good.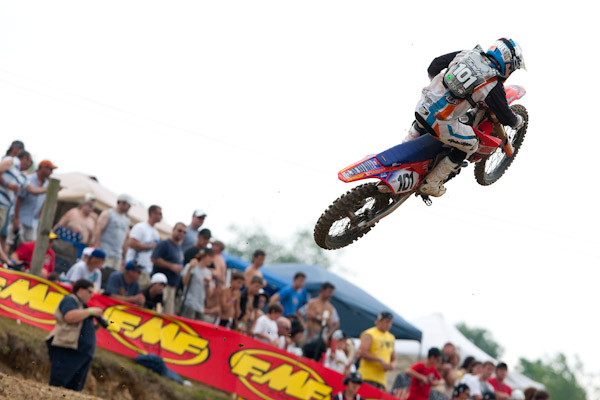 BT101 finally wrestled the #101 from his manager but that's about the only thing he's happy about so far.

You've had some time to think with all your injuries, how depressing did it get at any one time? Did the thought of quitting ever cross your mind?
Nope I never did. That makes it sound really bad talking about it like that and there were no days like that at all. It was more frustration than anything else to be honest. Coming into the '08 season I was hurt and it all started at the MXDN at Budds Creek. That's where it began but anyways, after I was out that whole 2008 season, and remember I'd been out the '06 season as well, I'd been sick of it. I was out 2/3 of the time that I was here in America and it wasn't working for me. And then when I tried to come back for the '09 season, I pulled the pin on things and went home. There were no dark times for me, I got my shoulder worked on and then I did the rehab on it.
At the same time, I enjoyed being home and did things that I'd never gotten to do because I left home when I was 16 and was gone for eight years. I'd only been home a few weeks a time at that point. Living in America and racing the full schedule, although I've never done it, you have to be here pre-season testing and getting ready for things. So I was home and went fishing, learned how to fly and not going to lie, drank a lot of beer. I really enjoyed time with my friends and family and the whole point was letting my body heal up. You're never going to be perfect as a motocross rider but you try to and the one thing I didn't think about was the mental break I got as well. That was the best part. Going down to the park on a Friday night and having a beer, enjoying a family get-together and not just sitting on a couch in America waiting to get better. And I missed going to the races more than anything, I want to do well at the races and that's the only reason I'm here is to achieve my goals and dreams and that drives you more insane than anything.
What about your future here? Supercross or sticking with an outdoor ride only here, what are the plans?
I don't really have any right now, I don't have much future plans in my mind really. I'd say that in September last year when my shoulder was healthy and I made my plans to race in America, I was in a one-year deal with myself. I just wanted to achieve my goals and I didn't want to just be filling the gate. I wanted to come back and be a legitimate threat to win races and titles. And that's why I'm not ready to say what I want to do because I'm still in that one-year deal y'know? I haven't been on the podium yet and that's where, to me, the least I need to do. Get on that third step and I want to get higher than that also. Supercross like you mentioned doesn't have anything to do with it right now.
I'm really enjoying the set-up I've got right now and if I can race the nationals, then the Australian supercross series and then after that, the New Zealand supercross series, that would be great. They run December through March. That's what I did this summer and to me it's going to be getting a good ride for outdoors in America and then doing the other races that I want to do. I don't think I want to be based here full-time, I'm kind of a summer to summer guy (laughs).