I know, I know, I'm like really late with this thing. Just read it anyways and if you want to read the 250 one click HERE. Thanks to Carl Stone for the radical shots.

I know, I know, I'm like really late with this thing. Just read it anyways and if you want to read the 250 one click HERE. Thanks to Carl Stone for the radical shots.
All photos by Carl Stone
Just to give you guys a little added treat, I sent this over to Jason Weigandt over at Racer X and he offered to put his opinions on my opinons and send it back. So you have two super geniuses in one column!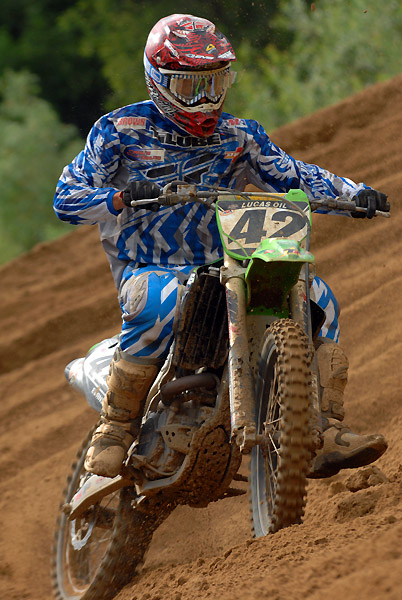 20th-Ben Evans- 76 points. Definitely a disappointing year for Ben, last year in the 250 class he was almost top ten in points and was a true privateer. This year he moved up to the 450's (for the best as his machine doesn't need to be as good plus he's a bigger guy) and he just didn't make it happen like a lot of people (including me) thought he would. The one saving grace in his year was, for whatever reason, he started turning it around the last little bit with three 12th place moto finishes.
Weege- Agreed. I had to call Ben for an interview halfway through the year and when I looked up his finishes, I couldn't believe how bad they were. He even missed some races altogether by missing the 40-man cut in practice. Ben hurt his shoulder pretty bad in supercross but he said he was fine outdoors—just wasn't getting the finishes he expected. I would just lie and say the shoulder still hurt!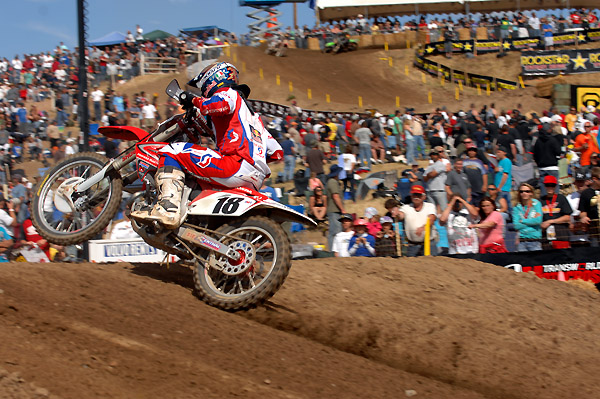 19th– Davi Millsaps- 76 points. Once again, we don't really know which Davi Millsaps we're going to see from one week to the next. At Hangtown, he was lights-out fantastic and ended the day in second overall. That was very impressive but he followed that race up with some average finishes at the next few before suffering a serious crash at Budds Creek and missing the rest of the season. I (and many other team managers) don't understand how someone can be so on one week and then so off at the others. There's no reason why Davi cannot be a top five guy every single weekend and then get on the box once in a while from there. I suppose you could just insert the same thing for almost every year of his career. Anyways, he's on the JGR Yamaha for next year and maybe the structure of that team will help the guy reach some sort of consistency. He does have the one thing you can't teach and that's talent.
Weege- Yeah, Hangtown featured this crazy stacked field, and Millsaps was one last-lap pass away from winning the overall. I know he got hurt at Budds, but what happened at Texas and High Point? I've heard people say "If you can't make it work at Team Honda, you'll never make it work." Let's hope for Davey that this phrase no longer applies.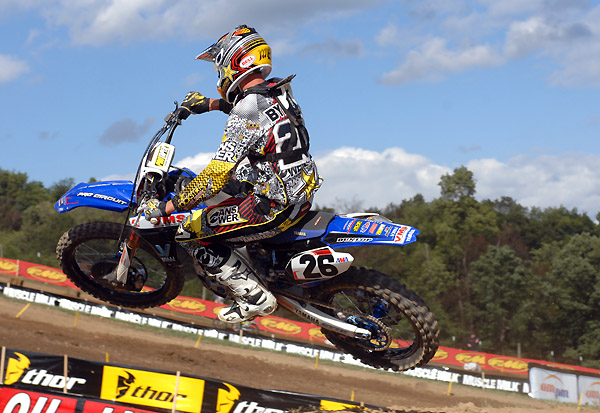 18th– Michael Byrne- 77 points. What a fall for this guy, in 2009 he was top three outdoors, tied for an overall win and was on a factory team. This year he secured a Valli Yamaha ride at the last moment, took a while to get going, got hurt, missed five races and never found his groove for some reason. Given his results in supercross with JGR and now with Valli and we also know that the YZ450F is a little different feeling from a traditional bike, I would think that Byrner needs to stay off Yamaha's in 2011. I just can't see how a hard working guy like Michael could go downhill so fast, it just has to be the surrounding factors and not his actual talent/work ethic.
Weege- I'm wondering the same thing. Where did Byrner's speed go? How does a guy lose it that fast? This one puzzles me.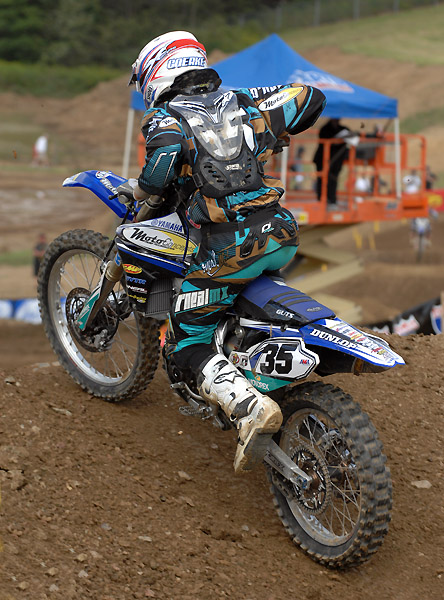 17th– Matt Georke- 119 points. "Beef" Georke struggled coming back from his broken leg this season. He missed all of supercross for Motoconcepts Yamaha, came back for Hangtown but was still hampered by his leg. He put in a great ride at Mt Morris which would make you think he was getting better but he missed the next four races and then came back to Southwick. In the rough sand, the Floridian scored a third overall and then sort of struggled the final two races. In short, I don't really know what to say about a racer that scored more than half his points at two races.
Weege- I've heard more than a few people say Georke doesn't lack confidence, and when he's on he knows and thinks he can run with anyone. A lot of privateers in Matt's position may not be so positive, and I think that's why he can come out of nowhere and just run up front at Southwick. That and his sand knowledge (he's from Florida, and to a motojournalist, anyone from Florida is automatically good at Southwick). Still, you have to wonder if he's ever going to learn any sort of consistency at all.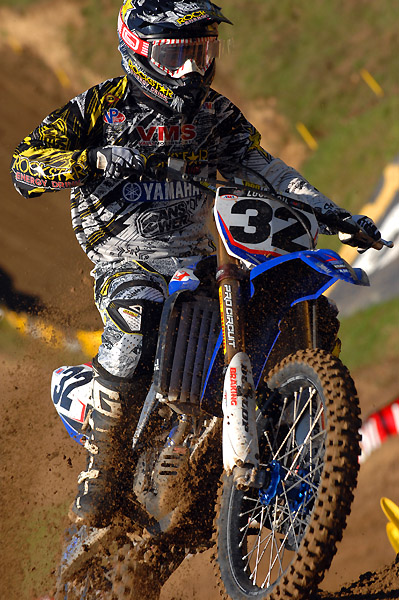 16th– Kyle Cunningham- 132 points. Kyle missed the last four races after hurting himself at the X-Games and this standing is reflected in that. Come to think of it, so is Millsaps, Byrne and Georke-they all got hurt. Anyways, Kyle stepped up to the 450's outdoors and, at times, was blazing fast. You know how the move to the 450 takes some guys and smoothes them out (think Josh Grant)? Well, that didn't work with Kyle who crashed more often than not in the class. He's always got blazing speed and that's hard to teach. For 2011, he's moving back down to the 250's and we'll see more blazing speed, more crashes and a few good finishes here and there.
Weege- I was really impressed with Kyle's riding on the 450, indoors and out, until he got hurt. Let's just forever drop the idea that a rider's size has any impact on his ability to handle a 450. Trey Canard, anyone? We can stick with Florida guys being fast at Southwick, but let's drop it on small dudes not being able to ride 450s.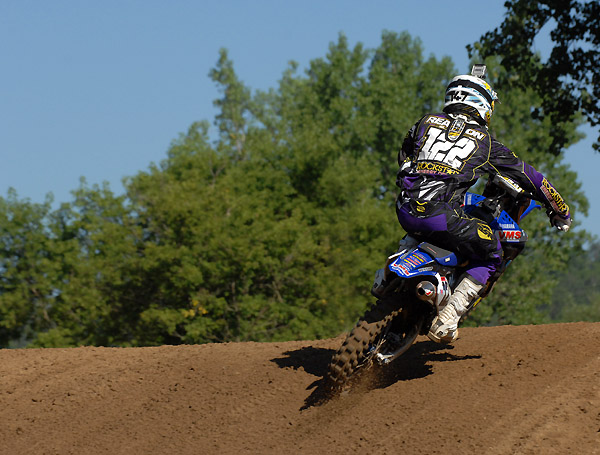 15th- Dan Reardon- 150 points. Well, you can sort of see how Valli Yamaha's year went, their three riders (Byrne, Cunningham and Reardon) secured 15th, 16th and 18th in points. That's consistency folks! Anyways, Reardon didn't like the Motoconcepts Yamaha deal and they went their separate ways around the middle of supercross (although their MCY's old manager got mad at me for saying so around that time. Apparently he figured Reardon could go missing like Jimmy Hoffa and no one would ask a thing) and he joined the Valli team. I have to say, although he had a few decent moto finishes (Washougal, Budds Creek) I can honestly say I don't remember ever seeing him out there and being impressed with him. He sort of had a so-so year and I'm not sure anyone could make an argument that he did well. When I see him out there, I just get mad at Dusty Klatt to be honest. It's a long story…
Weege- I guess, and I hate to say this, but I guess Reardon just isn't that good? That's harsh to say, but he's had three years here in the U.S. without a real solid ride to show for it, and remember, this guy was signed to deals because he gave Chad Reed fits at an Australian motocross race. He's not Chad Reed. He's a cool guy, but even at his best this year, he was only scratching the top ten and not even on the same level as the Sipes/Chisholm/Regal privateer gang. I just thought we would have seen more from him.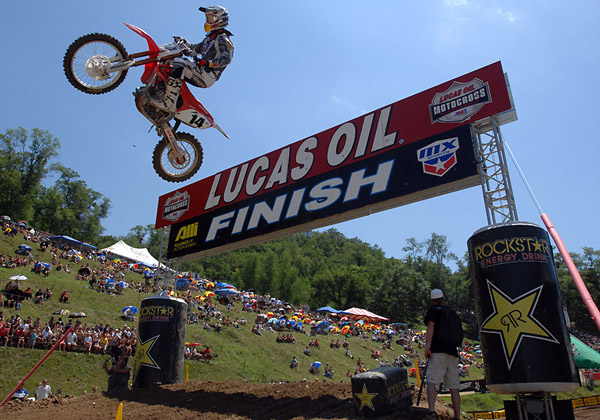 14th– Kevin Windham- 180 points. KW did great in his return to the series filling in for Millsaps on the factory Honda team. Kevin raced six races, won one of them and was a consistent top five guy throughout his return. After his disastrous return last year, some people wondered if he had lost the ability to race mx but fear not, he's still got it. There is no doubt that Team Honda got its money worth out of KW as he could pretty much come out of the truck with some poop on a plate, throw it at the fans there and they would cheer his accuracy and ask him to sign the poop afterwards. But seriously, he seemed to really enjoy himself as well throughout his time back. Unfortunately, when I asked him if his love-in by the fans and his success racing motocross had given him second thoughts about his sx-only deal, he said flatly "No."
Weege- You know how running backs in football have a short shelf life due to wear and tear? Motocross is the same way, and even thought Kevin wasn't injured this year, he did tell me that returning to MX and running this pace really took a lot out of him. He won Steel City, but told me afterwards that his back was killing him! So that's why you won't ever see him race a full 12-race series anymore. I speak for all of the fans when I say I'd still like to see him riding like this for at least six races again.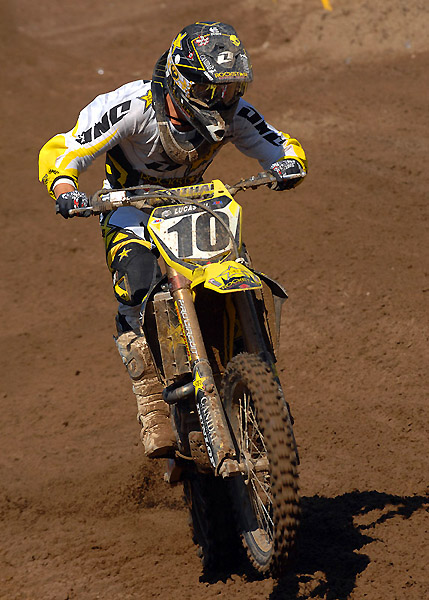 13th– Tommy Hahn- 193 points. T-Hahn wasn't as good this year as he was last year but I'm not sure that means he's not as fast or slacked off in any way. Maybe the Suzuki didn't agree with him as much as last years, maybe he was hurt a bit but at times, Tommy was very fast. Three podiums and a couple of fourths prove that he can still do it. Six motos with no points and three missed races were what did him in and I know he had a few mechanical DNF's in there as well. Tommy is going to ride his third brand in three years in 2011 when he switches to a Motoconcepts Yamaha. Hopefully he can really work on his consistency because that's what he was missing this season.
Weege- Steve, you were at the races. T-Hahn seemed pretty fast all the time, and I think he had the stuff to eclipse the Sipes/Regal/Chisholm gang, but terrible luck spoiled it. He had two mechanical failures rob him of podiums, and hurt his leg while running for one in Colorado. If anyone's point total doesn't show how well he rode, it's this guy.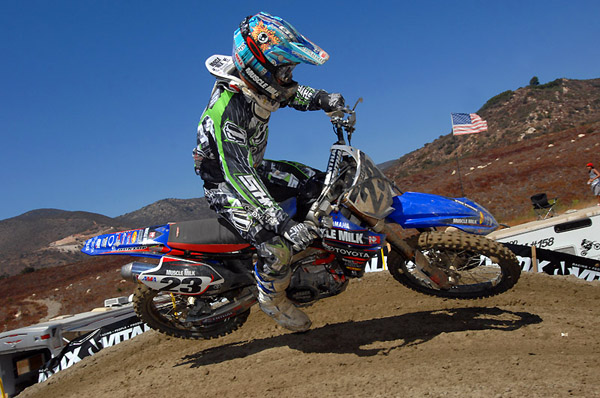 12th– Justin Brayton- 200 points. Justin missed the first two races this season recovering from an injury suffered right before the outdoors started and struggled to find his form after that. Everyone I talk to about JB says that he's much better indoors than out but I don't know about that, I seem to remember him killing it a few times on a KTM 250F. Anyways, he did well at Steel City (which is a good track for him) and holeshot Unadilla and led for a lap or two. Other than that, it wasn't the greatest mx season for Justin. He's a good guy and he's probably harder on himself than any media hack is so let's see him do better when he comes in healthy.
Weege- JB23 (or whatever he's going to be next year) was born and raised in Arenacross. Or, at least, raised there, but it would be impressive if his mom actually gave birth in an arena, no? Anyway, I think his outdoor game is a work in progress, and he was hurt a lot in his 250 years which slowed that progress down. I remember Andrew Short used to pretty much suck outdoors, and now he's a genuine threat every weekend. Brayton will keep working and may be there in a year or two. But I did expect a little more than this, this year.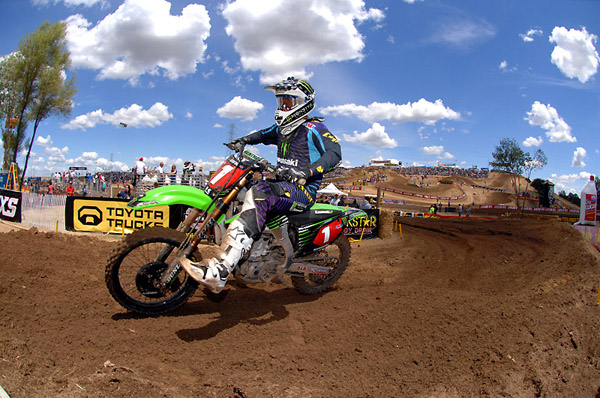 11th– Chad Reed- 204 points. Well where do we start with the defending champion and his, uhhh, less than stellar year? Reed somehow, incredibly, started off at Hangtown with a win which defied all odds. The thinking was, coming off injury, he was just going to be stronger and stronger as the season went on (like last year). Anyways, after a great ride in Texas coming from the back the wheels fell off at Mt Morris with a DNF and a mediocre ride in one moto. From there it was a struggle until Redbud when he almost won and went 2-2 on the day. After that it was an illness and he was out for the year. He's also off Kawasaki (either opting out of his deal due to not being happy or getting let go for not riding well-depending on who you believe)and looking for a ride for next season. A mystery of Scooby-Doo proportions, we don't know what this champion is going to do next year or if he can get his speed back.
Weege- Do we even know if he will actually be back, at any speed? This one makes very little sense, but I have a theory: Chad really wasn't that great outdoors anyway. He won the '09 title, but he didn't exactly dominate, and I'm not sure if he would have had anything for Ryan Villopoto and Mike Alessi if they had not gotten hurt. So Chad, on his best days this year, rode well but couldn't match The Dunge. Plus, he had stomach issues last year and some illness issues this year. Way back in '04, Chad was fast enough to give RC fits for a few laps in a moto. Even when he won the title last year, I never saw that level of speed. I think he's just really, really good at motocross but not great, and then you throw in some of the physical issues, and the wins didn't come. Bummer because I thought Reed vs. Dungey was going to be epic.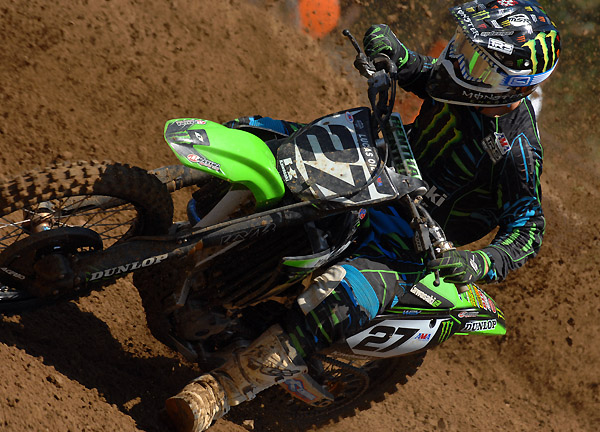 10th– Nick Wey- 223 points. One of only two riders to score points in every moto ( Metcalfe was the other) Wey got on with factory Kawi for the nationals with RV's injury and the results were mixed really. A great guy to fans and sponsors, more riders should look at Wey and realize that results aren't everything when it comes to getting a ride. Wey probably should have done better given his equipment and his work ethic and he had a few good rides here and there but really, he needed to show managers more. Redbud and Washougal were his best races and to me, he certainly looked to be trying hard the entire time but he was off the pace of guys that I thought he was as good as (Kyle Chisholm and Ryan Sipes for example). No matter where Wey goes next year, sponsors will follow because in these tough times, you need to do more than just put in good results. Unless you win and then you can pretty much do anything you want.
Weege- Yes, when you win you can do anything. Want to share any stories? As for Wey, I agree, I thought he would be better. And he's cool and he tries hard. The next time someone says "these guys that are getting beat have no heart, don't train hard enough, etc" tell them to say it to Nick's face.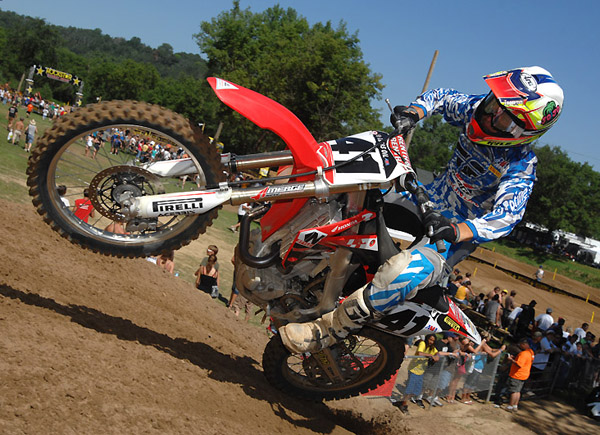 9th– Kyle Regal- 224 points. When Regal was "on" he was really on as his great rides at Texas and Millville attest to. Last year when he was doing it, he was the "OMG kid" and really, whatever he did was cool because he was a total privateer. This year, again as much of a privateer as there is these days (free bikes and salary from gear company) the expectations were that he was going to step it up a bit. And like I said, he did. At times. Then there were the other times that he KO'd himself and missed some races. All in all, there were seven motos scored with zero points and that's too many. Again, like some other guys, Kyle has something that you can't teach and that's speed. Bit of a bummer for me that he's not going to race all the nationals with his new L&M team but hey, these days a guy has to take what he can get and to be James Stewart's teammate and have that great equipment doesn't come around every day.
Weege- Jeff Emig told me the biggest difference about getting on a good bike and team isn't speed, it's consistency. Based on that, it's no surprise that super privateer Regal was fast and inconsistent this season. He's young, he tries hard, he's in awesome shape, he's an American and he's a nice kid. I don't see why more teams weren't clamoring for him. And don't even get started on his supposedly wacky dad. He doesn't come to the races so I can't imagine that's such a big deal.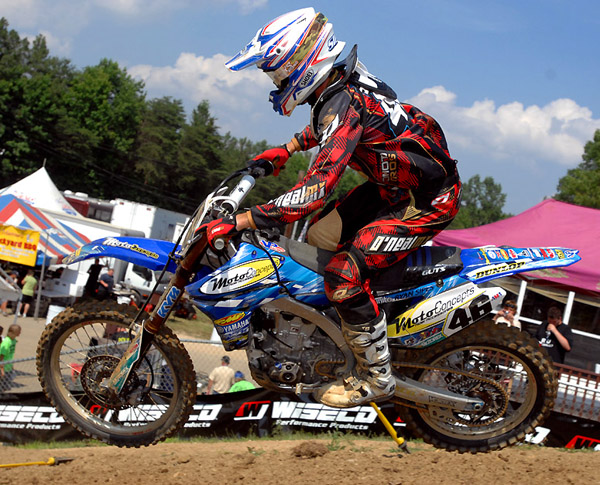 8th– Ryan Sipes- 244 points. A real surprise to me was this guys mx season. A quiet, hard working guy Ryan was pretty good right from the start and he was certainly a rider that smoothed out once he got on a 450. Although there were still a few crashes here and there, Sipes was really solid all season long. Not that much was written about him in the media and that's kind of a shame. Ryan's a good guy and scored a high of a fourth place at Pala. He had a few sixths along the way as well. I think he made a bit of a mistake in dropping back down to the 250 class next year (Star Racing) but a guy has to take a deal when he's got one. My point is, with this outdoor season, he's proven he can ride a 450.
Weege- Sipes has always been fast but he's piled up some highlight reel crashes over the years. If he ever smoothed out, he could…well, do exactly what he did this year, which was ride well and year and impress some people. At least, I hope people were impressed, and if not, they need to look further into the pack than Dungey. After some rough years, Sipes could have really fallen through the cracks, so I'm glad he's gotten it back together.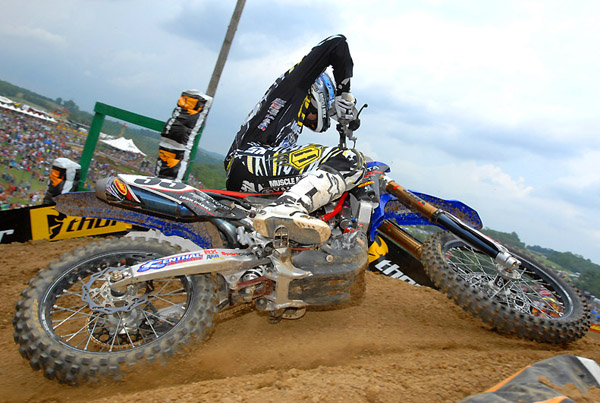 7th– Josh Grant- 260 points. We all know that Ryan Dungey was, by far, the fastest rider in the 450 outdoor class this past year right? Ok-with that fact established-when a guy runs Dungey down, passes him and goes on to win a moto that must mean that rider is pretty talented right? Yes to all the above so that's why Josh Grant's position in the points before he got hurt was a little bit of a bummer. Because as good as Brett Metcalfe and Andrew Short are, they couldn't do what Grant did at Colorado and they were ahead of Josh in points before Grant went under the knife. Missing supercross seemed to sap him of his drive and he wasn't the same guy as last year for whatever reasons. There were a few amazing rides here and there this year but overall, a bit of a bummer for Josh and JGR Yamaha. He's going to Honda next year so this should be interesting to watch.
Weege- I love how this works: rider gets hurt, team saves him for the outdoors to keep him healthy, and then rider and team admit it will take a few races to get going because they haven't raced all year. Josh told Erin Bates this year it would take about five rounds to get into race shape, because you can't replicate racing at the test track. Five rounds! That's almost half the series. And wouldn't you know it, he blew Dungey away in the first moto of round five. Unfortunately, by then it was kind of a lost year for Josh, and I don't think he gelled with his team or bike like he did in 2009—and he pretty much never figured out how to get a start on the 2010 YZ. And once it's not going your way, the focus wanes, the motivation wanes…we've seen it from Josh before. In an injury-depleted field, would it really have been impossible for Josh to get a few podiums in supercross and come into the outdoors a little more ready? And I know, he rode really well at the Hangtown opener. So did Alessi and Reed. And Dungey sucked. That race never happened, really.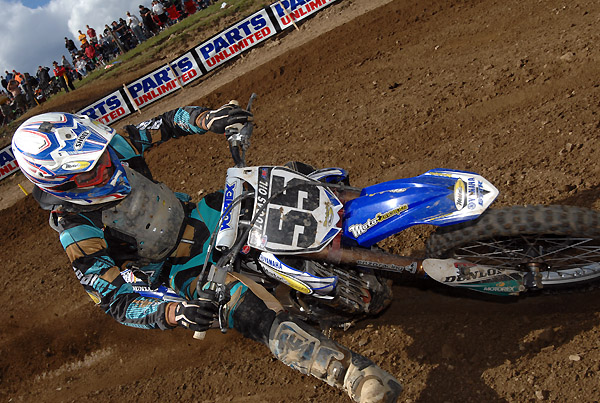 6th– Kyle Chisholm- 266 points. Another real surprise this year, Chisholm showed that he had the goods to go the speed this season. A tick off the top guys (Dungey, Short, Metcalfe and Townley) Kyle's rides were definitely not something that a lot of people called correctly. And a top ten in supercross to boot makes it even more surprising that KC didn't have a ride when the season started. Talk about a guy that makes the most of an opportunity. Chisholm was in shape and didn't have the blazing speed that he probably needs to step it up to the next level but really, it was his first season in the 450 outdoor class. Now that he had this great ride, what can he do for an encore?
Weege- Yeah, awesome year for the Chizz. You couldn't ask for anything more from him, and it's a shame he's still probably remembered for "the lapper" incident because he's really good and really nice and deserves the kind of success he had this year.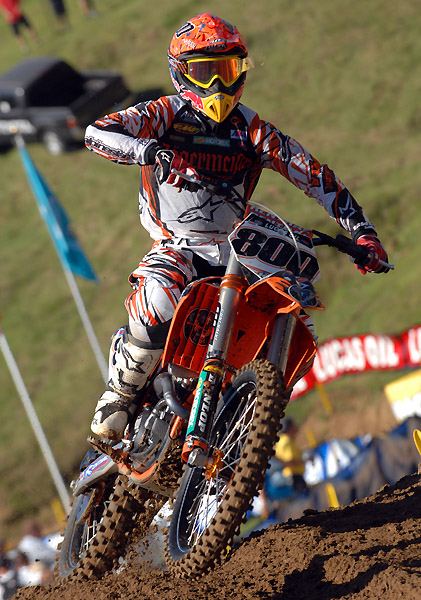 5th– Mike Alessi- 314 points. Well, we're here. We have to address this performance by Mike as he scored a fifth more by attrition than outright speed. There's no other way to put this than 2010 was a colossal disappointment for the 800 (but hey, his goggles looked great!) as it was only a year ago that he came out and was leading the series before suffering a knee injury. The one thing that Mike could depend on was his starts and they went bye-bye this year on the new KTM 350. The bike has to take most of the blame here in my opinion. Being 100cc's down on the competition was not the hot ticket no matter how light and "flickable" the machine is. As far as how he managed to holeshot and win the first moto at Hangtown, well that is a mystery up there with the Loch Ness monster and the Yeti. According to new KTM rider Andrew Short, he's going to be able to test both the 350 and 450 and decide from there what he wants to ride and let's hope Mike gets this same chance.
Weege- Okay, again, let's just pretend Hangtown never happened because trying to comprehend the results there could cause the sun to shine at night, and the earth to spin the other direction. There is no logical explanation for that race. As for the rest of Mike's season, how could you not blame the bike? He was the man last year for a few weeks, and he was just a boy this season. I think the 350 is a great concept for a rider like me (I'm slow and wow I don't even have to kick start it!?) but at the elite, elite elite level, these guys are using all 450ccs they have. The next time someone says 450s have ruined racing because they're too fast and the riders can't use the power and be aggressive, look at how having less power worked out for Mike. And yes, a great percentage of Mike's troubles could have come from a lack of confidence, but what made his confidence wane in the first place? I also don't think he's a very good test rider, so he may not be the best pick as the only factory rider on this bike. He also tends to struggle if he's on a bike that can't get starts….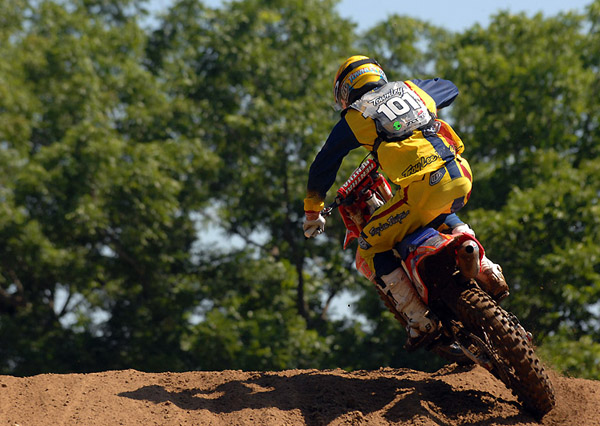 4th– Ben Townley- 324 points. BT was fifth going into Pala but used Alessi's bad day to move into fourth in the overall points. I was impressed with Ben's performance after coming back from practically two years off but I heard from the guys on the TLD team that he wasn't. Ben's a World Champion and a guy that remembers when he was racing Villopoto wheel to wheel and I suppose he wants to get back there. The bad thing for BT was missing a race and having a bunch of dumb things happen to him like tip-overs, crashes and bike problems. He was certainly fast enough to win a moto or two but overall six podiums in his twenty-two motos raced seems to be pretty good to me. With more time on the same bike/team/package next year he should be even better.
Weege- Same thoughts here, Ben wasn't happy (he told me he should have at least won two motos and finished second in points) but for being dead and buried a year ago, we saw quite a bit of life from the guy. But Ben has snagged the unofficial tip-over/washout crown on the tour now that Broc Hepler and Ryan Hughes are no longer out there, and he gave away a lot of points with small mistakes at the wrong time. You could probably chalk some of that up to not having raced much over the last two years. And like Josh Grant learned, 12 rounds doesn't give you a lot of time to get up to speed. Seriously if the economy were in any kind of shape at all, someone would be shoving a lot of money at BT for an outdoor only deal.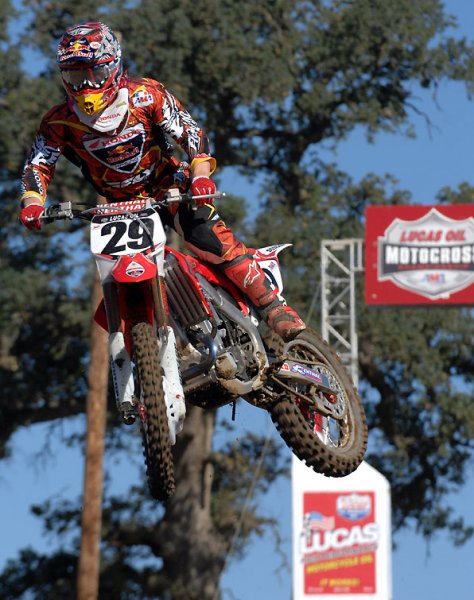 3rd– Andrew Short- 393 points. Shorty was a holeshot machine this summer. For whatever reason, he perfected his starts and came around the first turn first in approximately half the races this year. What he did after that made you either think that he was a A- slacker rider who got tired and will never win or B- a guy that had nothing for Dungey but was right there with everyone else. I prefer the second option and it's simply amazing to me that there are people bagging on this guy for not winning. If you look at the past twenty years of pro racing, there have been very few winners. I'll take the guy that has made the top three in points in eight out of the last nine 450 series. Short was bummed that Metcalfe got him for second in the points (and lost out on a close to 100K bonus) but Metty had momentum and let's face it, rode great. Also let's not forget that Shorty couldn't even line up for a moto at Texas due to bike problems and also struggled at Southwick because of bike problems. Give him a modest 20 points for those three motos and he would be in second easily. Andrew is going to KTM next year and let's hope the orange curse that has bit so many big-bike riders (Alessi, Wey, Preston, Summey) in the past doesn't get him also.
Weege- Yeah it's not Shorty's fault that Reed/Stewart/Villopoto couldn't challenge Dungey this summer. If they did, no one would be counting on Short to break The Dunge's win streak. He couldn't do it, but does that mean he sucks? I also think it's cool that Shorty kept banging starts even if he didn't think he would win the race. A lot of riders wouldn't just hide in fifth if that's the case. Andrew is the perfect fit for KTM: they need a consistent guy who tries hard and is loved by the fans. If he doesn't win a race next year, but rides consistently, they will still look great. And you have to think he's capable of delivering.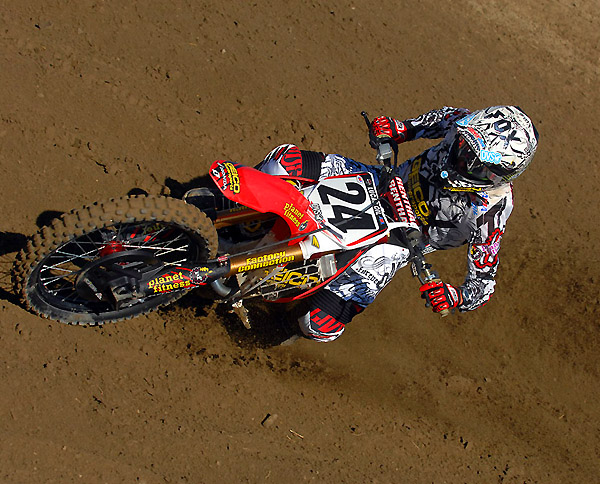 2nd– Brett Metcalfe- 398 points. Right up there with Chisholm and Sipes as total surprise rider, I'd put Brett behind those two guys despite his runner-up finish because we knew that Metty was a great outdoor rider. We just didn't know if he would stay healthy but like I've been talking about, he looked to get smoother on a 450 than he was on a 250. Absolutely robbed of a moto win at Southwick when he ran out of gas, Brett still made seven podiums this year and along with Wey, scored points in every single moto. Metcalfe appeared to be in great shape and seemed to ride hard the whole way. I would put him in the Short/Chisholm category of riders who won't wow you with any one thing out on the track but overall, they are hauling ass. A new bike next year awaits Metty along with the question of can you do it again?
Weege- Dude, I'll put him above everyone on my surprise meter expect for Dean Wilson in the 250 class. I was hoping that Metty could maybe put in some decent 450 rides, but he was beyond decent, he was a genuine threat. He had Dungey beat straight up at Southwick, and he could have won the overall at Pala if he didn't crash in moto two. Yeah, coulda, shoulda, woulda, but my point is, Metty not only finished second, he earned it with real speed, not just by staying healthy when other dudes crashed out. Awesome job.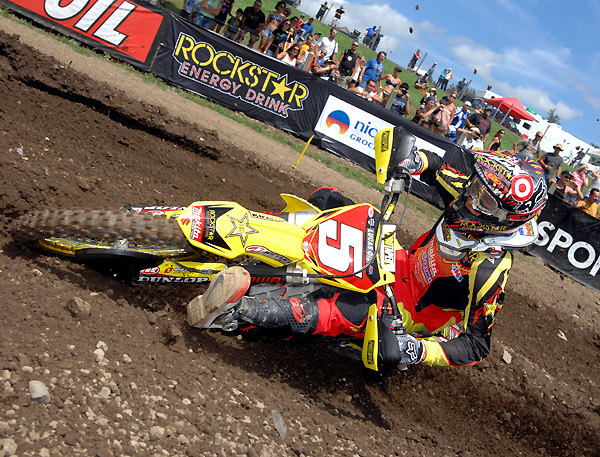 1st– Ryan Dungey- 543 points. Well, who saw this coming? We all knew he'd be good for sure but after his first round 8th place (where I'm still not convinced that he wasn't drunk or high out there) The Dunge ripped off 19 out of 22 moto wins and won the 450 championship handily. It was a tour-de-force performance that is right up there with the greats of the sport. I recently did a podcast where we all seemed to agree that we're not going to know if Dungey is one of the greats of all time or not until after next season. Until then he'll be haunted by questions of who wasn't racing versus who was. Still, you can't find much wrong with Ryan's season but I suppose I'll try. Ummmm, he wasn't the best guy on the microphone and we wanted to know more about how he destroyed everyone? Perfect riding style, in the best shape of anyone in the class, hair always looks good even after a moto and by all accounts, a really nice guy. Am I missing anything?
Weege- Nope.