Here's a little story about my start at Factory Yamaha and the debut of the World Supercross Series.

Here's a little story about my start at Factory Yamaha and the debut of the World Supercross Series.
Photos by Stefan Paetow
Near the end of 2002, I was working for Nick Wey and as per my usual custom around that time of the year, wondering where in the hell I was going to work the following year. Life as a privateer mechanic was tough and even though Wey was top privateer in supercross and top ten in the nationals after missing three rounds, he didn't know where he was going to ride and I needed a job.
I was sitting in Chi-Chi's Mexican Restaurant in East Lansing Michigan with my girlfriend (now wife) when the phone rang with a 714 area code. On the other line was Factory Yamaha team manager Jim Perry and he was inquiring as to whether I was interested in working for Tim Ferry in 2003. Now, I had previously worked for Red Dog in 1999 and had a pretty good year. I was all set to work for him in 2000 at Chaparral Yamaha after that year but unfortunate circumstances (the other guys on the team wanted raises and were presented with a choice between extra help or my salary divided between everyone. Ladies and gentlemen, welcome to Chaparral Yamaha! Where the owner wanted the truck driver to save old water bottles and refill them with hotel sink water.)
So I'm pretty sure you can figure out how that went for me.
After stints at KTM in 2000 and 2001, I effed myself there (another column for another day) and went to Moto XXX for '02 but the friendship with Ferry continued. He felt bad for what had happened at Chaparral, I didn't deserve that. I did a good job and we got along fine. It was just the 18,382nd time of a mechanic getting screwed over somehow.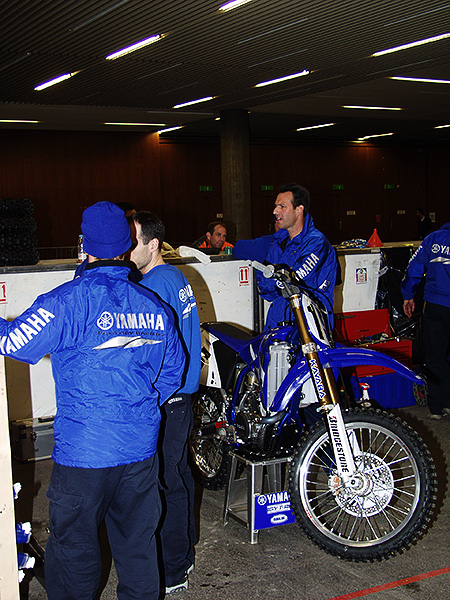 That's new team manager Jim Perry trying to fogure out what goes in what box.
So anyways, with Ferry's wrench leaving Yamaha I was set to reunite with him and all was good for me. My second factory job (after KTM) and of course, all the trappings of what goes with a factory job. Flights, hotels, big salary and per diem! Well all except the big salary part. I was shocked what they were going to pay me for a factory job with a ton of responsibility working for a top five guy but whatever, I took it and went to work.
The supercross promoters had decided to expand the brand to include two rounds in early December in Arnham, Holland and Geneva, Switzerland. These two races and the sixteen continental American races were going to be part of the World Supercross Championship. Factory participation wasn't really strong but our manager Jim Perry thought that with the enormous changeover in team personel (all told there were three new mechanics, a new rider and a new suspension guy) a two week trip to Europe would be a good bonding time as well as shake down the machines before Anaheim 1.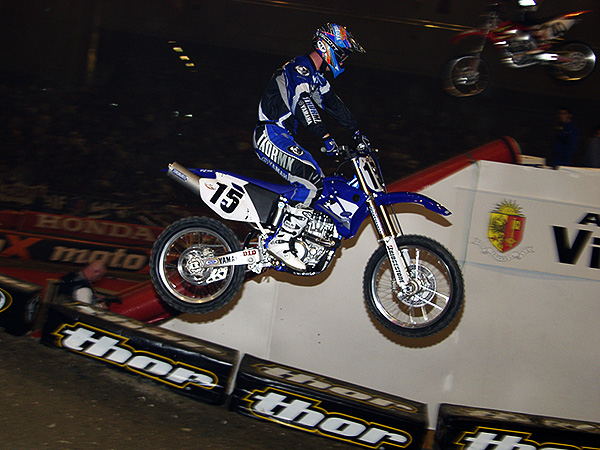 Ferry on the all-new at the time YZ450. We had to follow FIM sound regulations so check out that silencer!
So off to the first round in Switzerland we went and I have to say that because we were the only factory team that committed their entire roster to the series (Sebastian Tortelli was there on a Suzuki and Jeremy McGrath was there to debut his ill-fated KTM ride) we were treated well by the promoters. The rides to and from the airport were lined up, the hotel was next to the arena and things were all handed for us. We showed up to assemble our bikes and get out to the track which we soon saw was more of an arenacross than an actual supercross.
David Vuillemin was on the team along with Chad Reed and remember, DV had led the points race for a long time the previous year, had won three races and podiumed ten times. And remember that Switzerland is primarily French and DV is, well, French. So we not only had the best team there, we had the crowd favorite as well!
I remember that I was nervous for a few reasons, one was that this was Tim Ferry and in the two years since I last worked for him he had blossomed into a consistent podium contender. And the other reason was that because I had never really worked on a four-stroke before and was just getting into the swing of things due to a late start at Yamaha which I will now explain in the only way I can. If you don't want to hear this story of espionage and deceit, then skip down a little ways.
Me being Canadian, it was illegal to work in America without the proper papers and I had for a number of years worked under a T-1N work visa which basically said I was an engineer in training with a special set of skills that no other American can possibly have. I'll wait while you finish laughing.
All done? No?
Ok.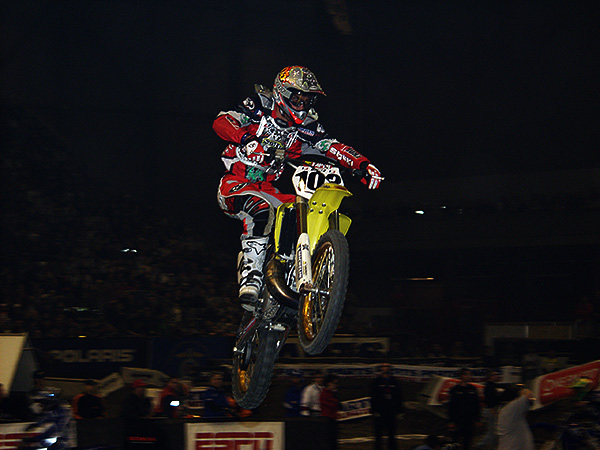 Tortelli debuted his new Suzuki ride and put in two pretty good rides.
So I have to get a new visa each and every year since I had one that was still valid for Moto XXX, Yamaha knew I had to go and get a new one handled but in the meantime, they let me work there while it was getting sorted. They were pretty cool with it really. Here's where it gets a little weird. Ferry's old mechanic's name was Brian Kinney and he chose to leave Yamaha which opened the job up for me. Only I suspect that he found the going for a new job a little harder than he thought. A week into me working at Yamaha, maybe two, I was called up to the Human Resources department at Yamaha and once there, my jaw hit the ground. It was that tiny office that Phil Wendel, the HR dept director, played me a phone message where a female voice said she was with the INS (immigration and Naturalization Seervices) and that Yamaha had a Steve Matthes working there, that his work visa was for Moto XXX, that I was not legal to work there and oh yeah, the IRS also wanted to talk to me. It was just a body blow. I couldn't figure it out. Why was INS leaving a voice mail at Yamaha HR department? Why did the IRS want to talk to me? It was very strange and when the call was over Phil informed me that the call was very strange to him as well. He had some experiences with the INS and admitted that they never leave messages on a machine, there was always letters sent out to the company as well as the subject of investigation (which would be me) and I hadn't gotten anything.
So Yamaha had no choice but to honor the call as legit and sent me off to get the right paperwork and a call placed to my personal lawyer confirmed that INS never handles business that way and that the INS and the IRS have nothing to do with each other. He was flabbergasted as was I. My dream might be dead in the water before I even get started. My mind reeled as I wondered what was going on, myself and Wendel figured the call was a set-up, my lawyer agreed with me but regardless, my Visa did need to be updated. I had some time off. Guess who called Yamaha soon after I was on my "vacation" to see if he could get his old job back? That's right…it was Brian Kinney.
Things were weird and I did some digging around, I even made it a point afterwards to go up to Brian's wife and speak to her. The voice seemed very familiar let me just say that. I have zero proof of what happened but the IRS never contacted me, there were no further calls, there was no repercussions for me working under a different Visa and nothing more ever came from that call. It was bizarre and only the women (and maybe the guy) behind the call know what was up. It was, without a doubt, a fake call and I'm glad that Yamaha stuck by me. I have one other "suspect" that could have done this and I've never known for sure what went down but it was a shitty thing to do for sure. People do strange things when they are under pressure, no doubt about it.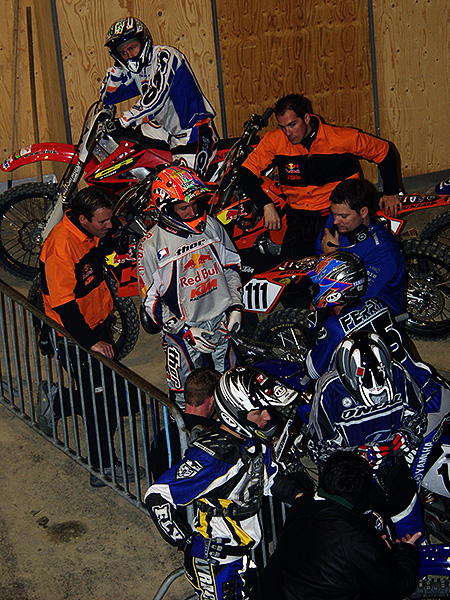 Everyone there was sort of banded together and made the best of it.
Ok, back to the story. I had a little vacation getting my INS paperwork in order and got back without much time to spare before we left for three weeks in the beginning of December. This was still a strange beast to me and I found myself a few times shaking my head and not believing that I was a member of Yamaha factory team. And then I realized that I was in Geneva, Switzerland working on a bike that had valves, springs and something called a timing chain.
I knew that Chad Reed was going to be a great rider but looking back on it, he wasn't really any faster than Ferry or Vuillemin before the season started. I suppose the fact that this rookie was turning the same times (and sometimes faster) than the guy that almost won the series the year before (DV) and the wily veteran that was a consistent top five guy (Ferry) probably should've tipped me off that Reed was ready to start his climb towards being one of the best of all time.
One thing for sure, Reed attacked the track on his YZ250 like no other. He was super aggro in testing before the season, his habit of revving out his bike in the air before he landed was a little unnerving for someone not used to it. And even though we were used to it, more than a few times my neck was sore from whipping my head around to see if Reed was about to cartwheel his brains out. A panic rev and his normal revving were remarkably similar.
Once we got to Switzerland, he continued his impressive riding by being one of the top riders all throughout the day. I believe that DV was fastest (buoyed on by all the French people that live in Switzerland) and when it came time for the main event, it really was anyone's race. MC, although not the fastest, was still a threat. Tortelli looked to be better and any of the guys on blue could win this thing.
The gate dropped and the racing was hectic. It seemed that everywhere you looked guys were crashing into each other and trying to make something happen. In a foreboding statement, Jeremy McGrath was the early leader before Tortelli, Ferry, Reed and DV got by him. It was sort of surreal seeing "The King" get swallowed up like that. Anyways DV got by Tortelli and started to check out, fueled on by his nutball fans.
Tortelli was then eaten up by Chad Reed and, under pressure from the 22, cross rutted the finish line tabletop and collided with Chad in the air. It was a scary collision and one that could have been way worse than the result which was Tortelli almost going down and Reed smashing to the ground.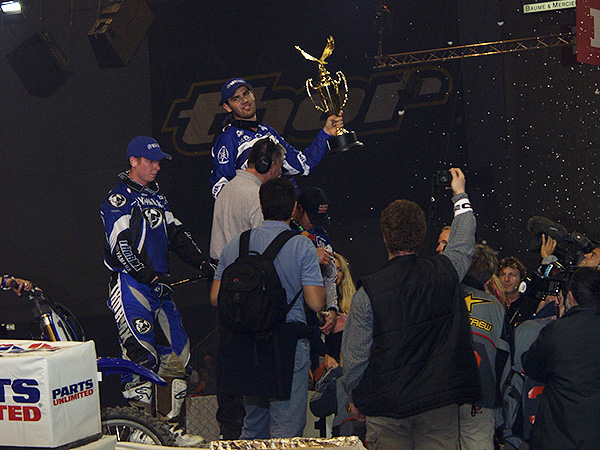 Here's the podium in Geneva.
A very fast David Vuillemin took the win (DV had to ride the semi to make it to the main) with my guy Ferry in second (the bike working primo 'natch) and KTM's Grant Langston in third (See Jeremy, it wasn't the bike! Well, a scant two months later MC was retired to due to numerous crashes on the orange bike and GL was pounded into submission to where he just threw in the towel on a 250SX career. Ironically, he would have to drop back down to a 250cc machine so that he could move back up to what was now a 450cc machine). It was a good night with Team Yamaha ending up 1-2 on the night with Reed able to salvage a fifth but no one in the Geneva pits really thought he was just the fifth fastest rider that night.
So we packed up and moved onto Arnhem, Holland for round two of the World Supercross Series but first it was a long bus ride to Paris, France for a couple of days in gay Paree. The SX series promoters looked after getting everyone there and scheduling tours of Paris. The Ferrys and Reeds managed their own way to Paris (Chad had ridden the GP's the year before and knew the hot way from Geneva to Paris was a much faster train) but pretty much everyone else joined us on the bus.
A couple of days in Paris and then a short ride to Holland where the temperature was approximately -873 degrees with blowing snow. It was ugly outside and although Dirt Wurx tried their best, the dirt was very moist and almost held together with the lime the crew uses to dry out the dirt. It was soft and rutty and would prove to be very challenging for the riders.
I remember that they had press day and one of the 125 European riders cased the triple pretty much as much as someone could case a triple. The dirt was so soft and he sank so far into it that you could make out his complete bottom frame with all the cross-members as well as his pegs and his linkage! It was quite funny to see.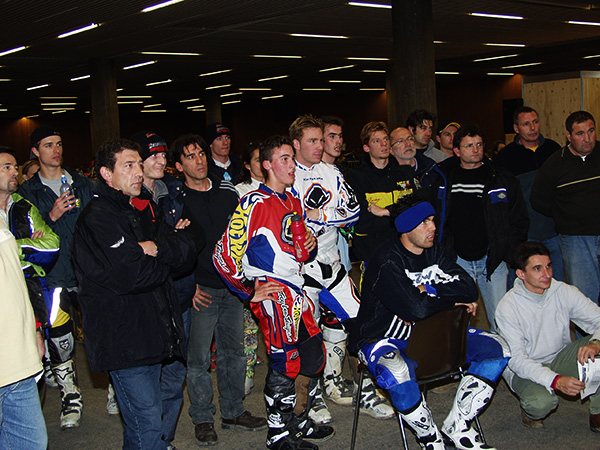 Riders meeting.
Ferry won his heat in a dominating fashion which made me feel pretty good about our chances going into the main but it was not to be. Another bad start for the one-five (something I would have to get used to again)left him mid-pack while out front it was Reed leading every lap on his way to a dominating victory. Vuillemin was second and (far behind the top two) Mike Larocco was third. No one was surprised that Reed won a race, he had been very fast at the US Open that fall and the World Cup race at Glen Helen but it might have been surprising how quickly Reed grasped it.
You see, at Yamaha, we all knew Reed would be fast but there was always the question if he could avoid crashing and making the little mistakes that he had been making. Well, looking back on it, it took Reed about eight races in the 2003 season to figure it out and the race wins started racking up consistently.
As far as Ferry was concerned, he crashed one time and ended up seventh on the night which was a disappointment but his times were right up there to be in the third spot on the night. At least that's what I told myself that cold night in Arnhem packing everything into a crate for transport back to America. The journey was only beginning…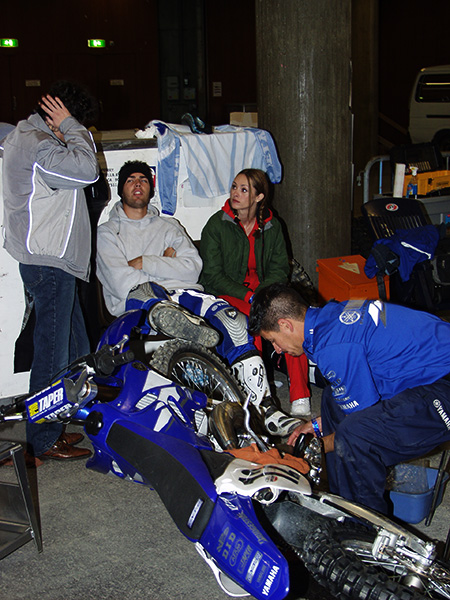 Craig Monty changes a clutch on Le Cobra's machine.