One of the smarter guys in the pits about suspension and chassis development speaks up.
One of the smarter guys in the pits about suspension and chassis development speaks up.
Rick Gilmour is certainly a pretty smart guy, the right hand man to Dan Reardon has been integrated into the team and its success this year. Gilmour, once a pretty good rider back in his home country of Australia, is enjoying life in America. I caught up to him to get a little bit of time to give us the story.
Pulpmx: Hey Rick, can you give us some background on yourself?
Rick Gilmour: I came from Australia; I was racing pro there in supercross and motocross. I would always make things for my own bikes that worked pretty well, things like linkages and soon other teams asked me make some things for them. So then I got in with the factory Yamaha roadrace team over there. From there I just got into racing more and more. And then at the end of 2008, Dan Reardon offered me a job here so I worked for him when he rode for GEICO and then they heard I had some engineering skills so I got my dad to build a linkage for the team which they liked. All the guys, including Kevin Windham, used it. It was pretty easy to make and then when Dan went to Valli I went over with him and started making some parts for them. Like a manifold, front brake hanger and things like that. Frankie Latham helped me get my feet in the door. Him and I would talk about things the Yamaha needed and we'd try it.
So you slowly got into working with more and more people basically by showing them what you can do.
Yeah that's kind of it, you have to earn their trust. And this whole time, back in Australia, I was helping Troy Carroll with his Kawasaki team, making things for him. And the word was getting out there about some of the things that I can do.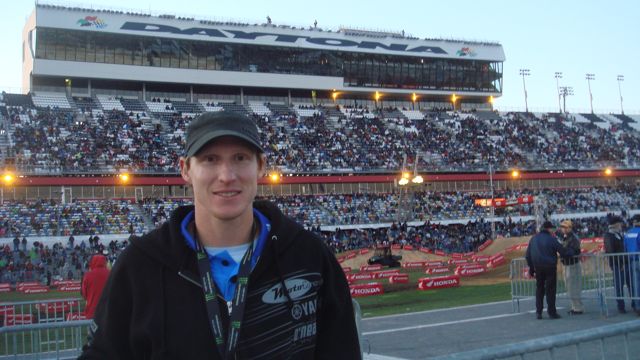 Gilmour at Daytona.
Are you enjoying your time here in America?
It's a dream come true to be here. Just to see the tracks and the series. The bikes and the riders are awesome and I had no idea the amount of testing and development went into the bike.
Reardon definitely came over here with some hype and I think more was expected of him. Why do you think he hasn't fulfilled his potential in the two years he's been here?
I think he's a better 450 rider to be honest, he had some good rides here and there on the 250 but he wanted to ride a 450 but in America that's not the way it goes. So that didn't work too well for him. He had some good races on the 450 until he got injured which was unfortunate because he was getting some good momentum going. Then after that it was a series of injuries here and there which hurt him. And the end of 2009 he raced the supercross series over there and he beat Chad straight up. I just think he needs to avoid the injuries and gotten on a 450 sooner.