Here it is, the second installment of the always popular Fish 'N' Chips column by everyone's favorite British-American, Zach Osborne!

Here it is, the second installment of the always popular Fish 'N' Chips column by everyone's favorite British-American, Zach Osborne!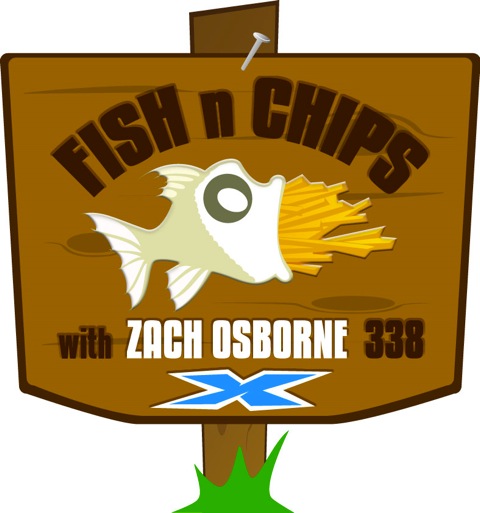 Ummmmmm, Fish N Chips!
Hey guys, this week I'm struggling for an idea for my article. It 9:20 pm here at ClubMX training facility and I just finished up about 45 consecutive games of ping-pong. I should've started ages ago but couldn't find the motive to put down my paddle and get started. So finally I decided I put it off till the last possible minute and I had better get started. I'm that guy who puts everything of until the last minute if I don't set a certain time to aim for. When I was in elementary school I used to either practice or ride my Z 50 until one of three things happened: no more gas, it was so pitch black that the flash light on the front just wasn't enough light or I was starving! What's my point? Well that left zero time for homework and I never went to school without all my stuff done. Therefore every morning my mom would have to wake me up in time to finish my homework, eat breakfast and still get to school on time! Let's just say I have turned in some school work that looked like I wrote it whilst driving down the road on the way there. Simply because I did! Point being I'm a huge procrastinator when it comes to some things.
Like the first line said, this week I'm kind of at a loss for a topic this week. Now I know why every journalist/photographer or media person looks like they've been on a 6 week Starbucks binge! It's because sometimes late nights and lots of coffee are inevitable! So here's to the all nighter pulling, sweet article writing, sick photo taker dudes out there…… I salute you!
I got a few emails this week with kind words about my write up last week. When I sent the final copy over to Steve I sent him a text that read "worst piece of writing ever but it's on in your inbox". So to all those people who wrote to me on email thanks a lot. Not really sure if you we're laughing while writing it or you really enjoyed it but thanks either way.
I had a few really good questions that I'd like to answer this week. First was a question from Steven hailing from Brisbane down under. He asked if I could ride any bike of the opposition which one would it be. I would probably have to say the factory KTM. In my opinion, with a rider as light as Marvin Musquin on it, it has to be one of the fastest bikes in the world as far as power to weight ratio goes. I had an offer from them this year but passed but I would still really enjoy a test ride.
I'm going to try to keep it to one answered question a week though. I don't want this to become ask Zach because it could never be as funny as ask Ping! Ping is pretty good at that funny answers deal. Sometimes I read that stuff and literally laugh out loud. There is actually one thing he is better at though! Getting sucky nicknames to stick! Oh well! I confronted him in my only PulpMX show appearance asking if he could help me find a new one since I'm more fit and trim now but he hasn't gotten back to me yet! Any suggestions guys? I was thinking of actually just not having a nickname… just a logo. I really like the one that Steve came up with for my column so maybe I'll just use that. I think it would be pretty funny. When/if people wrote about me, instead of putting like Zach "ZO338" Osborne they would put the little fish with a load of fries sticking out of his mouth there! Cool? Let me know what ya think!
Sorry this one was a bit random. Hope you got something out of it though! See ya next Tuesday. Maybe I'll write about Christmas or some crazy euro experience. Who knows?
If you want to write me with a question, a column idea or just to tell me I'm awesome, try this- otfmx@aol.com
338