In order to look into the future to find out what's going to happen in the 2011 SX series, I had to go back to the future. Quick, in the Delorean!

In order to look into the future to find out what's going to happen in the 2011 SX series, I had to go back to the future. Quick, in the Delorean!
Most photos by James Lissimore
Crappy Short one by me
Tedesco by Bill Weppner
Scans by me, magazines purchased at 7-11
Photoshop work by Swizcore

The AMA Supercross series kicks off Jan 8th at the traditional Anaheim Stadium in Southern California and for the first time in years, there are more than two possible winners for the title. We've had the James Stewart/Chad Reed battle for a number of years and there was even Ricky Carmichael for a few seasons but there hasn't been a true four man war for a number of years. As most of you know, I'm a lover of all things old moto and after careful studies, I've found that the parallels between 2011 and the 1990 series are amazing.
The two-time supercross champion, acknowledged as the best rider for many years coming back from a bad wrist injury that derailed his march to the title the year before? I'm not only talking about James Stewart but the same could be said about Rick Johnson in 1990. No one really knew if RJ could recapture his form from previous years (turns out he couldn't) and James Stewart is a big question mark in the same manner.
The mild-mannered, hard working defending champion who came out of nowhere to win his first SX title? The guy from the midwest of America, a salt of the earth kind of guy who learned a lot of his tricks from an old champion? Well this could either be Jeff Stanton in 1990 that lived with and learned a ton from Rick Johnson or maybe it's Ryan Dungey who followed Stanton's path last season and refined his craft under the watchful eye of Ricky Carmichael. Let's not forget, both of these guys (Stanton and Dungey) are known to be in peak physical shape.
(And on another note, I have to laugh at the people that say "Oh Ryan Dungey, he's so gnarly that he doesn't need a trainer following him around like so many of his competitors do." Uh yeah, it's not that big of a deal when RC (or RC's mom) opens up the years of training logs, points to the plaques on the wall and then points to the book and says "Do this." You actually don't even need to speak to each other, just point in a Neanderthal sort of way to the plaques, the book, back to the plaques and shriek and yell and nod your head furiously. It's not that amazing that Ryan doesn't have a trainer, he's just doing what a smart kid would do. Now if it was Jason Lawrence he would probably take RC's training logs, light them on fire and try to smoke them. Anyways back to the topic…)
A fair-haired wild child of a rider, someone who could dominate a race as easily as he could crash out of one? Someone that has the potential to win a bunch of races but also miss some with an injury? An up and coming star struggling to last an entire big-bike series? I could be talking about Damon Bradshaw in '90 or perhaps the name Ryan Villopoto comes to mind? Both guys have unbelievable speed and a stellar amateur motocross resume but both are trying hard to push through and win some titles in the premier class. It never happened to Bradshaw-what is Villopoto going to do?
Then there is the old warhorse, the two-time supercross champion a rider that most count out but inside, a fire burns to show the kids that he's still capable. He's got the experience to know that what counts is scoring points for all seventeen races, not a win here or there with some DNF's thrown in. No, I'm not talking about Jeff Ward, I'm talking about Chad Reed. Are we going to see one last push for the veteran?
So there are your four main players for the title and their 1990 counter-parts. Let's take a look at the upcoming 450 season, what to expect from the guys and who, if any, they match up to in 1990.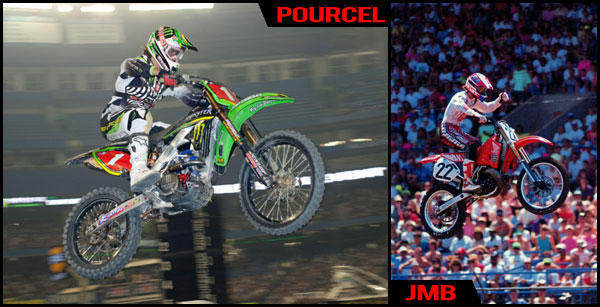 **Disclaimer** There's nobody that matches up to Christophe Pourcel better than Jean Michel Bayle. The mysterious, aloof, talented, headstrong, going into his first full year in the premier class Frenchman Bayle is a carbon-copy of Pourcel but the biggest similarities is in the personality and the skills. Unfortunately, I cannot match them up on a bike because Pourcel is not racing supercross this year. He didn't find an offer that he wanted and somehow, he one-ups Bayle on acting like Bayle in the fact that he's not even going to ride despite being offered a spot on Factory Honda. That's what I call principles!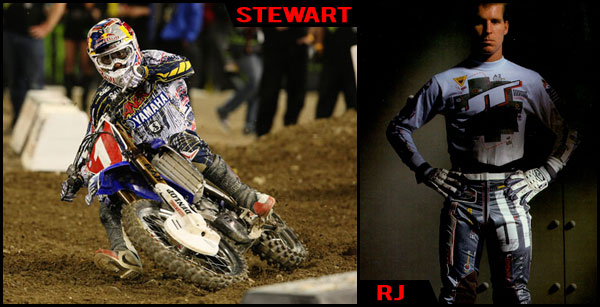 Two really fast guys, two bad wrists- it didn't work for one guy and we're going to find out about the other here real shortly.
San Manuel Yamaha
James Stewart- With apologies to the Dos Equis guy, James Stewart is the most interesting man in the AMA supercross series. Can he come back from his wrist injury? Will he be the same guy that bends gravity and does things that no one else can on a motorcycle? And what about his bike and his team? I believe the jury's still out on the YZ450F, we haven't seen the bike excel quite yet and the L&M team has struggled with setting up James bike (or James has struggled with setting up James' bike) right out of the gate. Hiring former factory suspension guy and an actual engineer Sergio Avante will help a ton but the question marks remain for James and the team. Win or crash baby, that's what we'll see.
1990 Counterpart- Rick Johnson- Well I guess we'll see what is in James' future but in 1990, it wasn't good for RJ. The winningest rider in sx history when he came into the '90 series, no one really knew how the wrist was and if he could come back to being the dominant rider (before he got hurt, RJ had ripped off five wins in the first five races of '89 and got a second before disaster struck)that he was. Thankfully for James, the medical technology has come a long way since Johnson got hurt. Rick could've used some of the new age knowledge as he struggled all year, dropping in and out of the series due to, yep, his wrist.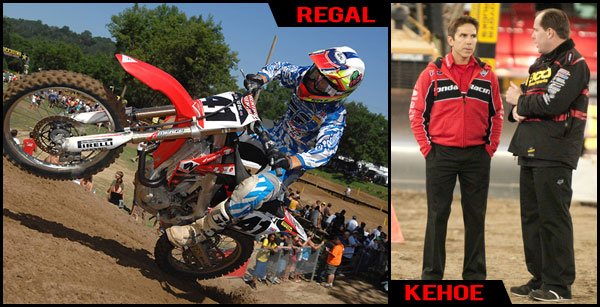 I couldn't find a decent picture of Kehoe in 1990 but he was on a Honda and here he is wearing a Honda jacket!
Kyle Regal- The Regal Beagle is the third teammate in three years for Stewart and we are going to see what the deal is with Kyle. Going major fast before the season started last year seemed like a good launching point but soon after he begged out of the 250 class to move to 450's. That was a disaster (although he did seem fast at times), as Regal left his team and saved it for the outdoors. Once outside he was mega-fast at times and followed that up with some mega-cartwheels at other times. So going with that theme, I have no idea if he's going to be good or if he's going to eat poop every weekend. We shall see.
1990 Counterpart- Eric Kehoe. Never a top rider indoors, Kehoe was stuck on Suzuki for many years and probably many years beyond what he should have been. Don't you feel that he and his teammate for many years George Holland were some sort of prisoners of the slow, ill-handling, let's-paint-the-motor-blue guys island? Finally George broke free and got a ride on factory Honda while Kehoe was probably on one side of a chain-link fence yelling at George (who was sailing away on the Honda boat captained by Dave Arnold) like some sort of POW yelling at the guy that got out. "I'm happy for you George, do it for all of us!" In short we don't know how Regal can do indoors because he wasn't happy with his equipment last year and now, having broke out, we'll see what he can do. Is he Eric Kehoe (stuck on Full Floater island) or George Holland (I'm free and now I'm going to finally win)? In 1990, Kehoe finally broke free but waiting for him was no factory Honda, just one off the local dealers floor.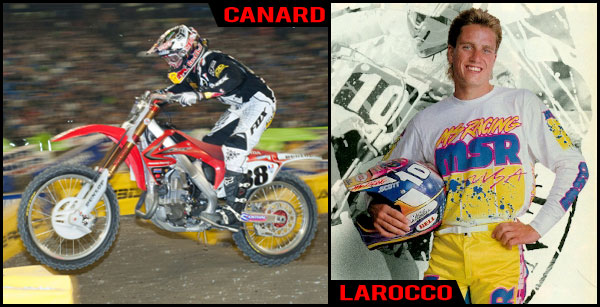 The 2011 Canard is just like his old team manager was in 1990.
Factory Honda
Trey Canard- The kid moved up to take Andrew Short's ride when Shorty got injured and promptly put it on the box in four of five races he competed in. This was just a harbinger to his continued great year, I guess we all should've seen it coming. Anyways, now the kid has to do it for real as he moves right on over to take Short's spot for reals. One added benefit for Canard is that he's familiar with the bike and the crew and his learning curve is going to be a lot shorter because of his 2010 experience. Look for some podiums from this kid and a continued ascent to the top of mx superstar food chain. And if he doesn't do well, I'm sure he will be yelling "Aw shucks" inside his helmet over and over. Here's the part where I bring up that he's working with Tim Ferry again and how Tim Ferry rules. Just make it up on your own.
1990 Counterpart- Mike Larocco. The Rock was a rising star on a Yamaha 125 and was snatched up by factory Suzuki in '90. He was also promoted full-time to the 250 class and some people doubted he was ready after only 1 ½ seasons in the 125 class. And in an ironic twist, Larocco was actually Canard's team manager last season! Mike was quiet, hard working and went on to be a star but wasn't really a focal point in 1990. Eventually Mike figured it out and became a top rider but 1990 was still too soon and I think the same applies to Canard. But Larocco did have a awesome mullet which Trey unfortunately does not.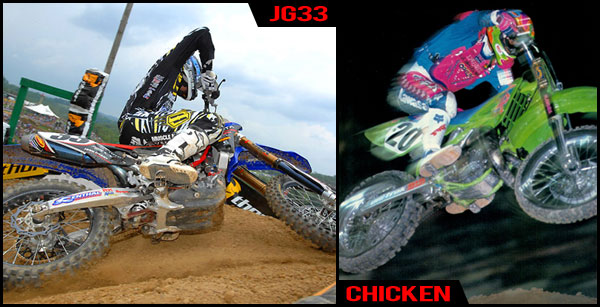 Josh and Jeff- linked forever.
Josh Grant- A little bit of a surprise in this spot, this talented yet mercurial rider needs to figure out what he is. To me the up and coming star in the 450 class tag is getting a little tarnished as the injuries and the average finishes mount. The one thing that saves him is the fact he's really talented and when the stars and moons align, can win a race going away. Don't forget, last season in the outdoors, he caught, passed and yarded Ryan Dungey. Yeah it was only one moto but how many motos did the other guys did that? Grant's coming off shoulder surgery and now has bruised his foot so look for him to get off to a slow start in 2011 but he'll be in the mix at times. Other times, you'll wonder if he was even out there.
1990 Counterpart- Jeff Matiasevich. Chicken was in his first year of full-time 250 class duty in 1990 and was a little like Grant in that he was talented, maybe didn't work that hard at times at being a top rider, ended up with one career supercross win to his name (which is what Josh has at this point) and was a little cocky. There's a line in the VHS copy of my 1990 Season in Review where Jeff says that every five years of so, a bunch of new kids come in and push the "old guys" out of the class. It was the epitome of youth and couldn't you just see Josh saying the same thing?
Monster Energy Kawasaki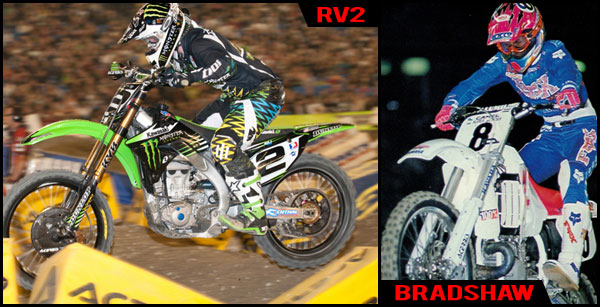 Bradshaw electrified people in 1990 just like RV does today.
Ryan Villopoto- RV won the most races last year but crashed out while trying to run Dungey down at the St Louis round. It was a wicked crash and one that left him on the sidelines for the rest of the year and kept him from racing his beloved outdoors. Ryan has to be frustrated at not being able to stay healthy since he jumped up to the 450's. RV's one of these guys that is a racer, practice times don't mean much because when the gate drops, he'll go as fast as he needs to in order to win. Hiring Aldon Baker seems to be an awesome move as he's in great shape and should be able to be at 100% come Anaheim 1. I think he'll be in the mix for a win week-in and week-out but he will also crash out of a race or two.
1990 Counterpart- Damon Bradshaw. As I wrote above, the similarities are there and even Ryan's ability to speak out in public and say what's on his mind ala Bradshaw is uncanny. Simply put Villopoto and Reed are the best quotes in the series right now. They have bravado and a way to put things as a matter of fact and what are you going to say to refute it? Bradshaw won the first two races in '90 and was in the lead in the third one before crashing and hurting his ankle. He sat out a few races, came back and was a front runner the rest of the way. Pure speed- there was no one better in 1990.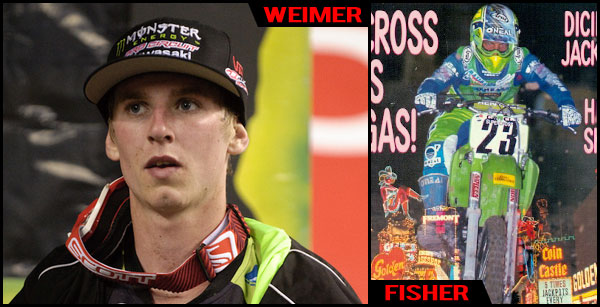 Weimer's new boss at Factory Kawasaki is the guy he most represents from 1990.
Jake Weimer- Playing Robin to Villopoto's Batman is this hard working good guy who's making a jump up to the 450's for the first time. Generally you get a chance to see the guys and how they are as 450 riders at some point but with Weimer, we have no clue. No one has seen him race a 450 in any capacity as a pro. How's he going to do? I think Jake's a solid top ten guy who will learn the ropes and many people think that if you're looking for a sleeper top five guy in the 450 class, Jake could be your guy.
1990 Counterpart- Mike Fisher Fisher was on Kawasaki's and coming into his own in '90. He was a test rider for Kawasaki and not on the full factory team but certainly wanted to drop the R&D job and try his hand at full-time racing. He wasn't a flashy rider but he got the job done quietly and without fanfare. After his 13th place finish in the series in 1990, Fish got a full-factory ride with KTM and improved from there. Oh by the way, did I mention that Fisher is currently Jake's team manager at Kawasaki?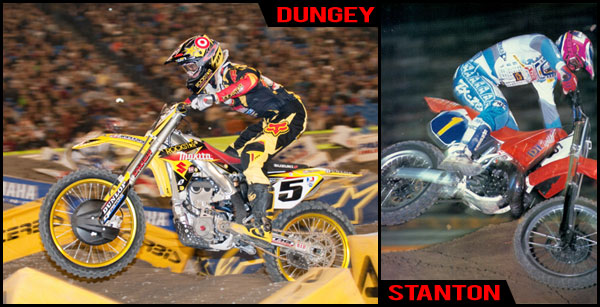 Six-time Stanton was a hard working fast dude-which is a lot like three-time Dungey.
Makita Rockstar Suzuki
Ryan Dungey- There isn't much hype or talk about Dungey going into the season; most people don't know what's going on because he's not doing a lot of interviews and things like that. He's just down there in Florida working hard and trying to get better. They say that keeping your number 1 plate is harder than winning it the first time and I'm sure people are drilling this into his head. The rise of The Dunge last year was remarkable, he seemed to be very ready at Anaheim 1 and then once others dropped out with injuries, he got faster and faster culminating in his destruction of the 450 motocross class. There is also no talk of success going to this humble, hard working kids head. He's got it figured out and like his mentor RC, he's just going to work harder to maintain that level of excellence. He'll be in there for all seventeen rounds and if you beat him, it will be because you're faster. You're not going to outwork him.
1990 Counterpart- Jeff Stanton. The similarities are eerie really because after Stanton won his '89 title, I'm sure he heard all about how RJ got hurt, how he got lucky, how he's not a "supercross" rider, etc, etc. What did Stanton do for an encore? He won the '90 title by not being the fastest (in fact Jeff only won 4 races that year) but by being there each and every race. Could you not see 2011 playing out the same way for Dungey?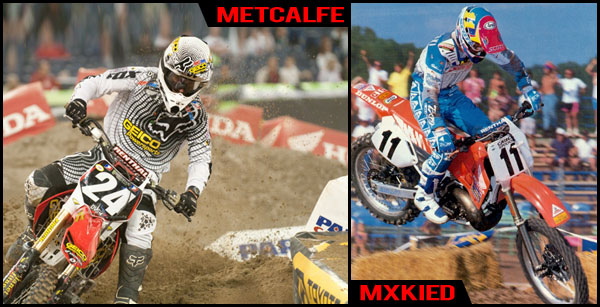 Metty's on a Suzuki next year and is a little underrated- just like Kiedrowski.
Brett Metcalfe- Yet another guy that is moving into the 450 sx class full-time, Metty had a great year last season in the 450 outdoors so even though we haven't seen what he can do indoors, we know he can ride a 450 very fast. The friendly Australian is a hard worker and is kind of a clone of his teammate Dungey only a little bit slower. Metcalfe has to avoid injury (last year in the outdoors was one of his few completed series). I don't think he can win but certainly when you add hard work with talent and a machine that's more than capable, you get top five and podium potential.
1990 Counterpart- Mike Kiedrowski. I watched my entire "Go for the Gold- A recap of the 1990 SX Series" and barely ever saw Kiedrowski. Out of the sixty minute video, he was in there for maybe a total of four minutes. He might have been in some of the thirty seconds or so that was all fuzzy before I had to get up and adjust the tracking but I can't be sure. Yet when I look at the standings from 1990, the MX Keid ended up fourth in the points with 285. Could you not see this exact same thing happen to Metcalfe? Me- "Hey honey, was Brett Metcalfe there tonight?" My wife-"Yes, he got sixth." Me- "Huh."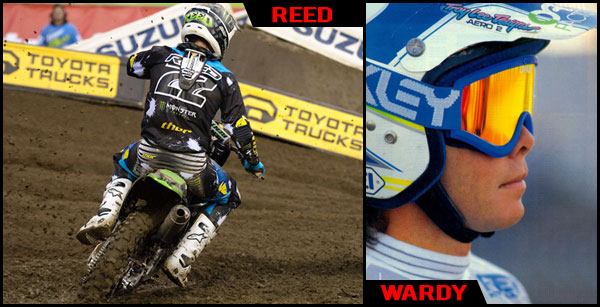 Reed's on his fourth team in four years while Wardy rode for one his entire career, other than that, there's lots of similarities.
Team Two Two Motorsports
Chad Reed- Man, Team Two-Two Motorsports sure stepped up and got a steal of a deal when they inked Chad Reed. The first year team really solidified its intentions to go out and win right away with this guy. What? He owns the team? Oh. Anyways, Reed was forced to go and start his own team if he wanted to race a Honda after the factory went and signed Josh Grant (which according to "people that know", this really pissed Reed off because Grant apparently is riding for free or really, really cheap) to ride for them. Reed's on the bike (fourth brand in four years for him- ouch!) that he wants to be on and is calling all the shots. And if you know Chad, you know that he's got a way of wanting things done and this ensures that everything on the bike and all the testing will be completed one way- and that's the two-two way. He's made some smart hires in getting former factory mechanic Lars Lindstrom (who knows the bike inside and out) and Dave Osterman as team manager (who's demanding but is a great guy and a very hard worker). Will it work? I'm not sure but I tend to lean to the side that yes, he's going to win races and maybe a title next year. Reed's got something to prove and the last time everyone said "He switched teams, he's super rich and doesn't care anymore" he barely lost the sx title and won the outdoors on a Suzuki.
1990 Counterpart- Jeff Ward. In 1990, Wardy was considered the old man of moto who had been around the block and written off by some. He was 29 folks! Reed's 28 and no one even thinks of him as close to being done but then again, in Wardy's era, Stanton retired when he was 26! Anyways, one difference between Ward and Reed is that Ward wasn't considered a threat for the title and in my mind, Reed is very much a threat. Their ages are similar and in the end, Ward went to finish the year in fifth winning two races. And again, he was considered ready for the walker. Also you cannot overlook the fact that Ward was born in Scotland and Reed in Australia. Why you can't overlook this, I have no idea but if you are drunk and blind, one might think that their accents are similar.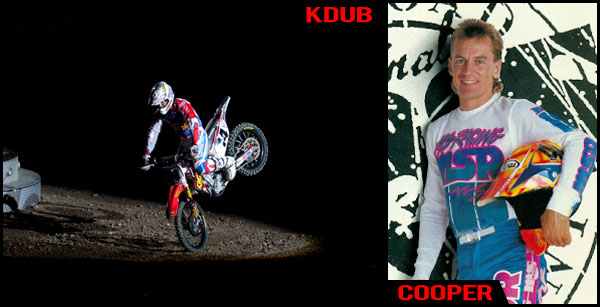 Two of the more popular riders to ever set knobbies on a track.
GEICO Honda
Kevin Windham- The most popular of riders that race supercross, KW is a man that if there are some injuries, could win some races or titles. Why do I say that? Because with Kevin what you see is what you get and that is a guy that's made a lot of money, has a family and isn't going to go out there and quad-quad something in order to make the podium. He's not going to push the limits and who can blame him? If you think about the recent seasons in which Kevin won races and was a contender for the title, you have to think about 2004 when Carmichael missed the series with a knee injury and he won races and finished second in the standings. Then again, in 2008 when Stewart went out with a knee injury, KW rode inspired and chased Reed to the finish. And last year, when the field was once again wide open with the injuries of Stewart and Reed, Windham picked it up and was a factor to win races. In short, if the opportunities are there, he'll take it. If not, he's content to ride around in fifth, get mega-cheers and sign the most autographs. I'd like to see at what point the cheers for Windham turn into boos. He should try and see what he has to do to make the crowd not like him. Bringing out a bag of dead kittens for opening ceremonies? Stopping his bike on top of the triple and throwing poo at the crowd? What exactly does he have to do to make people jeer him?
1990 Counterpart- Guy Cooper. It's not a great fit because Cooper has exactly zero sx wins while Kevin has the record for most wins without winning a title (18) but Cooper in his day was a very popular rider among the fans and even the other riders. Which is exactly like Windham. KW has the respect of his fellow competitors and is sort of the voice of the sport. But another thing that ends this comparison is that by all accounts, every rider on the track was scared to race with Coop because he was a little wild and not afraid to jump anything at any time. Windham is one of the most 'in control' riders out on the track. Look, not all of these things are going to work out so cut me some slack.
Team Red Bull KTM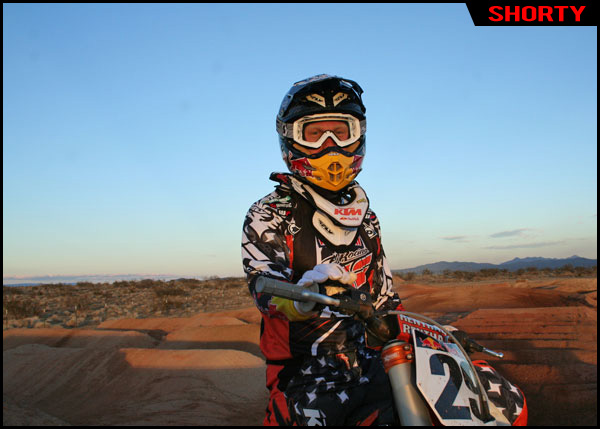 Shorty's got a new home and hopes it brings him his first ever SX win.
Andrew Short- After two decades (that's what it felt like anyways) at Honda, Short moved over to the KTM and was new team manager Roger DeCoster's first hire at trying to bring back glory to KTM after a few rudderless years here in America. Short is a solid rider and person who is going to bring professionalism to your program. He hasn't been talked about much and I'm not sure if that's because Andrew only raced the first part of the series or the fact that he's on the 350 over there. Whatever the reason is, much like Metcalfe, he'll be there every week and trying his hardest. Myself, I'm not sold on that 350 because the start is everything and we saw his teammate Mike Alessi, who used to be able to holeshot on a scooter, lose his ability to get starts once he jumped on that 350. Also, if there's a long whoop section, watch and see if Short gets eaten up at the end of them when the bike runs out of HP's.
1990 Counterpart- George Holland. Short's a better rider than Holland was in supercross and maybe this isn't a great comparison because Holland actually never raced in 1990! He retired the year before but he was a national champion in '88 and ended the '89 season ranked 10th overall in SX yet still hung it up because of a shoulder injury. The comparison I make though is because George was by all accounts a great guy, quiet and did his work to become a great rider. He was liked by most people but out on the track was a pretty fierce competitor. Which sounds a lot like Shorty.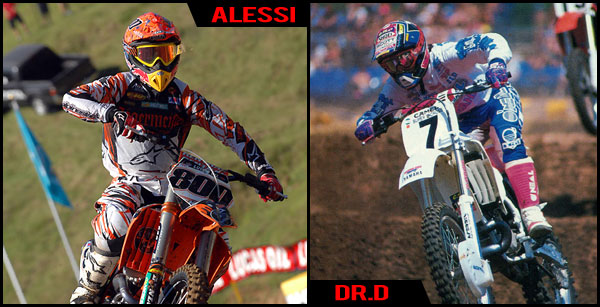 Two holeshot masters, one exhaust company owner, one professional racer.
Mike Alessi- Man oh man, what is the deal with Mike? I have absolutely no clue how he's going to do this year in supercross. Never a strong suit of the 800, he's back from an Australian supercross series where he was getting beat by guys I've never heard of and he's still on the 350 which was the bane of his existence last year in the motocross season. It got so bad for Mike down under that I was expecting to see him battle Lord Humongous from the Road Warrior movies. I spoke to Mike's father Tony (what? You expected someone else?) and he was ok with the Aussie results and how things went down there. Which isn't surprising because if he actually looked at the results and thought about them, he might throw himself off a building. Sometimes, you have to fool yourself I suppose.
1990 Counterpart- Doug Dubach. Here's a guy whowas the king of holeshots back in the day much like Mike is considered today (I'm not ready to write off the start king so fast after 23 motos of so-so starts) and also wasn't considered a supercross specialist. Doug was so weird that back in the early 80's, he raced an '81 RM125 for many years. He just went and bought all the leftover ones from a dealer and kept racing that bike before he settled on Yamahas. Could you not see Tony, if Mike struggles, ask if they could ride the old '07 KTM 450 that Mike did so well on? One thing where this comparison doesn't work is that Doug is renowned as a great test rider, someone who can spot the tiniest intricacies on the motorcycle and make it better and Mike is known as the complete opposite of that.
Muscle Milk JGRMX Yamaha
Davi Millsaps- There are two schools of thought when it comes to Millsaps. One is that he's an underachiever kid who has a lot of talent and coasted on said talent for years. The other is that he's an underachiever who has a lot of talent and wins races. I think the truth lies in between somewhere because say what you want about him, there aren't too many riders who have won races the last few years and Davi is one of them. That's the bottom line, can he win? And the answer is yes. Yet despite finishing third in the series points last year, there was no way that Honda was bringing him back. He's now on the JGR program where he'll be pushed and prodded to try and work hard all the time and he'll have every resource at his disposal that he did at factory Honda. Will it work? I have no clue.
1990 Counterpart- Larry Ward. The man they called Big Bird was much like Davi in the fact that he was never going to win a title but almost every year, he'd rip a win off and make you think man, if he only focused. In '90 Ward won his hometown Seattle race (much like Davi did in Atlanta a few years ago) and ended the season sixth in points. He also had a sweet mullet and changed gear companies 873 times in his career. Someday, maybe people will come around to the idea that just because you win races and not a title, you're still a great rider but for now Davi, like Larry Ward in '90, leaves you wanting more.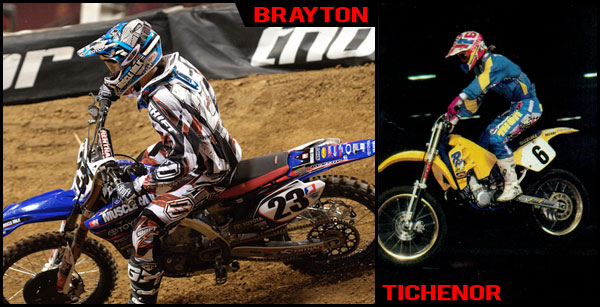 Brayton is looking to better his fifth in the points last year while Ronnie got screwed over after '90.
Justin Brayton- A solid rider who is in the mold of an Andrew Short, Justin is a better indoor rider than outdoor and he's making baby steps towards running the speed that the front runners are going. He's figuring it out and is on the last year of his deal with JGR. He ended the 2010 season fifth in the points and I bet you didn't realize that huh? Yep, the kid from Iowa had himself a pretty decent series and judging by how his practice times are always quick, he has to work on stringing twenty laps together error-free. Which is a lot harder than it seems when there is more action going on around you than a pack of apes raping a pack of giraffes.
1990 Counterpart- Ron Tichenor. Tichenor, a former 125 SX champion kind of got screwed in his career, he was very fast but young when he was on factory Suzuki and the yellow team was no one's idea of a powerhouse in these days. Then he lost his ride and no one decided that a guy that was national number 11, 6 and 12 was worth a damm. What if he was on a team that was run right, had good equipment and had some great riders around him to show him the way? Like Honda or Kawasaki or even Yamaha which had Bradshaw? Yep, Ronnie Tichenor wasn't the hardest worker around (he admits this) but he got royally effed by the gods of motocross if you ask me. Hell, years after '90, on a privateer TUF RM125, he went and ended the season on fourth and yet still nothing. I weep silently for Ronnie's career. What does this have to do with Brayton? Really not much other than I had no clue Tichenor got ninth in the series in '90 and I bet a lot of people had no clue that Brayton got fifth last year.
Dodge Hart & Huntington Kawasaki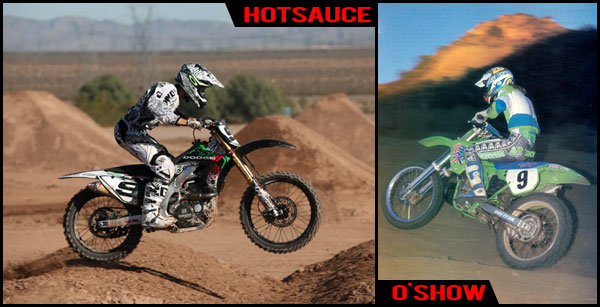 This one is downright creepy. Ivan "O'Show Tedesco and Johnny "Hot Sauce" O'Mara.
Ivan Tedesco- Hot Sauce, running the #9, is on his third bike in three years and looking to reclaim his former glory. Although glory for IT9 is top fives and podiums and even though I've seen it written some places and even Ivan claims it, I don't buy him being a better indoor rider. I've seen him dominate outdoor nationals on a 250 and a 450 and haven't seen him do the same when the track is covered. Regardless, Ivan made the box twice last year on a Valli Yamaha before getting hurt and once he had a chance to jump ship, he did. I believe that it was because of the bike so he should be more comfortable on the Kawasaki and I'd look for him to be top five a bunch and maybe, just maybe he can get a podium if things go right. You can't overlook the hard working, experienced veteran who has won titles before, you just can't.
1990 Counterpart- Johnny O'Mara In '90, The O'Show, running #9, was also on a new bike and like Ivan, it was also a Kawasaki. O'Mara was going to retire at the end of 1989 when his Suzuki deal ran out but Jeff Ward lobbied Kawasaki to get Johnny because he could help out with the testing aspect of racing. Also, Ron Lechien wasn't coming back from his broken leg so some money freed up and bingo, bango-Johnny was back racing. And he actually did pretty well! It's also hilarious to me that a guy who finished the previous year in the number nine spot was written off by pretty much everyone. Anyways, O'Mara was on the box in supercross a few times, rocked fluorescent pink and green gear and still looked good out there this year. He ended the year twelfth in the SX points, battled injuries in the 250 outdoors and was actually third in the 500's but he did retire after 1990. And if all that doesn't remind you what Tedesco could do this year then how about the fact that Johnny 'O was actually Tedesco's trainer for a few years! Yeah, take that!
Chris Blose- Blose ended the year just outside the top ten in points and was pretty solid despite battling an injury in the middle of the series. Blose was a guy that at times seemed in awe of the guys that he was racing against and needs to get over that to advance his career. He's a bulldog of a rider that figures it out and makes it work but it's not always pretty. The addition of Tedesco to the team is going to help Chris out a ton, he's never really had a guy to show him how to do it.
1990 Counterpart-No clue. That's not a rider, I just had no idea who to compare him with back in 1990.
Motoconcepts Yamaha
Kyle Chisholm- The Chiz took a big step up in 2010 and ended up top ten in points which is a massive climb from where he was in 2009. That was when he rode for L&M Yamaha, got accused of trying to take out Chad Reed, blew his knee out and was racing in Germany. Anyways, in one of the more surprising developments of '10, Chisholm got a break when Matt Georke got hurt and started making the most of his opportunity. The real trick is trying to back up your surprising year with some growth and that's what he's working on.
1990 Counterpart-Shaun Kalos I didn't have anyone really great for this spot but perhaps Kalos fits best. A tall, lanky rider on a Yamaha who was an up and comer back in '90 and that's about all I can work into this analogy. The only time I see him on my VHS movie is on the starting line, no good starts, no highlights or anything. I suppose the highlight for Shaun would be if anyone went into the pits and saw his bitchin 40-foot bus that he drove around to the races. Shaun had a horrible year running the number 15 with JT gear and years later, in 1996, I would work for him and realize that he was one different dude.
Tommy Hahn- I can't figure Hahn out. Is he a top rider or is he a guy that can't seem to get over that hump? Last year was pretty good for him as he ended the season in eighth while missing two races but he does, at times, leave me wanting more. Maybe he's just not ready to take that step up into the Ivan Tedesco/Josh Grant/Justin Brayton pack of riders or at least for sure he's not ready to do it for 17 rounds. He's on his third OEM in three years and faces a bit of an uphill climb to get ready on the Yamaha.
1990 Counterpart- Danny Storbeck. This is a really weak comparison and I'm sorry but Danny is from Texas, just like where Hahn lives now and he was once a factory rider just like Hahn was at Honda. After that, I'm out. I do think that Storbeck gets a bad rap as the dude that ruined RJ's career at Gainesville '89 when he landed on Rick's wrist but I just read the magazine from that year and everyone interviewed said it was accidental. Yet somehow Ol' Danny gets hung from the mx history cross for this racing incident. Not a way to remember a guy that ended up seventh in the 1986 250cc national series.
Vince Friese- Friese is racing his first season in the 450's and is trying to do the difficult thing of learning on the job. Not a top rider in the 250's, Vince is slowly coming along and improved quite a bit from last year to this year but he kind of hit a wall. The owner of Motoconcepts is a big believer in Friese and he's letting him figure things out on the go. He's certainly not one to be scared out there and his aggressiveness has gotten more than a few riders upset over the years. This is a big year for Vince in his career. Some riders are also just better on a 450 than a 250 and we're going to find out if VF is one of those guys.
1990 Counterpart- Ross 'Rollerball' Pederson. I couldn't really think of one guy and maybe this is a bit of a reach but because of his aggressive, take no-prisoners style maybe he would be like the former Canadian champion who was AMA national number 56 this year in a part-time duty. Or maybe, like so many other times, this is just a cheap way for me to crowbar Rollerball into a column.
BTOSports.com BBMX Suzuki
Michael Byrne- There isn't too many riders out there that have fallen faster than Michael Byrne. From a member of factory Suzuki, a podium guy in the 2009 outdoors and a guy that was coming into his own to being forced to buy some Kawasaki's to go racing at the beginning of 2010. The economy and lack of rides really hit this good guy hard. From the privateer Kawi's it was onto JGR Yamaha and then onto Valli Yamaha for the outdoors. In between all those teams, there weren't too many great finishes for one reason or another. Byrner's back on Suzuki, the bike that he loves and on a solid team. The rest is up to him and I think he can get back to being an every race top ten guy. Unfortunately for Michael, he's battling a wrist injury from the Bercy SX and will be forced to play catch-up once the season begins.
1990 Counterpart- Keith Bowen. Bowen was a few years removed from a factory ride in 1990 but he was in a similar situation as Byrner in the fact that he was there, he had walked in the golden shoes of a factory ride and he knew that, like first class in an airplane, life is just better when you're there. "Bones" Bowen was national number 24 this year on the TUF Racing Suzuki and ended the year inside the top twenty in points but he never got the golden ticket back to factory equipment. After his two-year deal is up, will Byrner get one?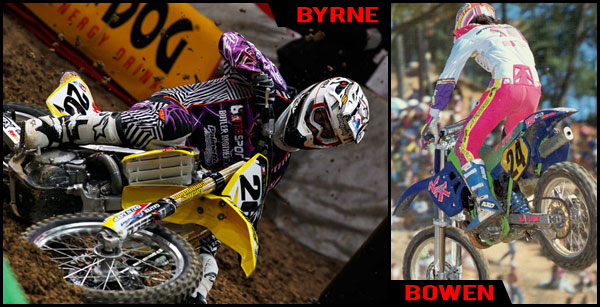 Byrner is looking for a way back on to factory equipment, just like Keith Bowen in '90.
Jason Thomas- If you look up the definition of "journeyman privateer" in the dictionary, most likely a shot of Thomas would come up. He's been at the game a long time and is one of those guys that, when you look at all the dudes racing the 450 class, you just think that there's no way he's capable of making mains. Then he goes out there and does just that. Thomas missed the first round because of his commitment to race the German SX series and when he showed up at round two, he put in some really good rides. Then about half-way through the series, he hit a wall and started regressing a bit. Something that he blames on his constant 365 days a year racing. So what we'll see this year is JT out there, circulating the track and then end up somewhere around 13th by the end of the night.
1990 Counterpart- Fred Andrews "Fast" Fred Andrews certainly put in some good rides at some races and finished inside the top ten in many series yet no matter what Andrews did, he wasn't getting a chance on the factory machine. Eventually he was just pigeonholed into the "Ah, he's just a privateer, he wouldn't do any better on our bike.." excuses and Fred raced a few more years as a top privateer before going into the woods. So he's sort of like JT in that way. No one is going to hire Thomas as a factory rider (I refuse to count his stint at Husky as a factory rider) even if he goes out there and gets a top five here and there. I mean sweet Jesus, Ricky Ryan won the Daytona Supercross and he had to go to Europe the next year.
Rockstar Valli Yamaha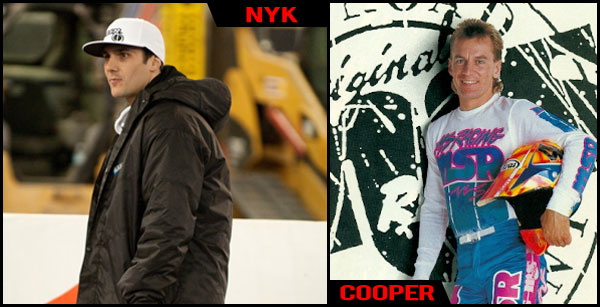 Wey and Airtime are a lot alike if you really think about it.
Nick Wey- Wey proves that speed plus a personality equals a ride for a long time. Wey is a very solid rider to have on your team, he's fast, he's a good guy and he stays healthy. He was one of only three riders to finish every sx main event and for his troubles, he ended up seventh in the points. For 2011, he switches from Kawasaki to the Yamaha of Valli and he'll be in there each and every week battling for a top ten, kissing babies and signing autographs. He's the peoples champion!
1990 Counterpart-Guy Cooper I'm copying here but I racked my brain (didn't take too long) and couldn't come up with anyone else but Cooper. Again, like I said with the Windham paragraph, Coops is a winner no matter if he actually wins the race or not with the fans, the sponsors and the media. Wey is very similar and I bet he doesn't trail Coops by much if you looked at the number of podiums each has gotten.
Austin Stroupe- Stroupe's also on the 450 full-time for the upcoming season (there seems to be quite a bit of guys making that jump) and is going to see if his success at the beginning of last year was a fluke. Although I use the term "success" lightly because Austin didn't actually get any real results outside of a seventh at Phoenix. But he was very fast, got great starts and seemed to be able to handle the big boys class when he wasn't cartwheeling or bouncing off other riders. Stroupe needs to focus and put his head down, the grind of 17 races is quite a bit different than the 8 250 ones. There are a lot of off-track stories about Austin and I have no idea if they are true or not but if they are, it doesn't look good for success.
1990 Counterpart- I'm out. I have no one for Stroupe, I was going to say Lechien but that's an insult to Ronnie. Then I looked at the guys in 1990 that made a jump from 125's to 250's and couldn't find anyone who was in Stroupe's league. Got a suggestion on this or anyone in the article? Write in to steve@pulpmx.com and we'll chat.