The Mick tells us about another year, another bike and another story.

The Mick tells us about another year, another bike and another story.
Thanks to Dirt Rider for the photo.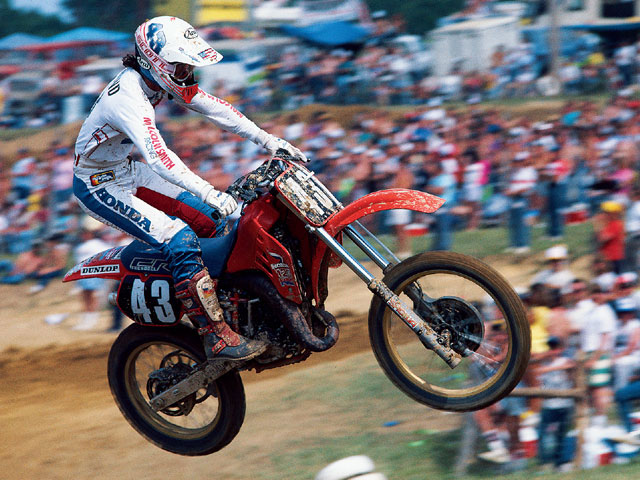 Dymond looking good as always, he would go on to win the '86 125 National championship this year.
"This is 1986, my first year at Honda and this is at Mt Morris on that triple/step-up thing behind the start. That bike was amazing, I remember that. The 125 two-strokes from this year and even previous, the bikes were so awesome. Usually 125 bikes that are fast are hard to ride because to make them really fast, you have to have a lot of top and not much bottom but this bike, man it pulled up top but yet still had pretty good low-end to get you going. This bike I could scoot into the inside, dump the clutch and get going like a bigger bike. I'd already made my deal to go back to Husky for '86 but I got a call from Dave Arnold at Honda saying he was interested. This was the year after that Ron Lechien's deal at Honda ended after a trip to Japan.
So I inherited that spot and I had actually talked to the Honda guys before because I had a pretty good sx season in '85. There were actually few times I spoke to the Honda guys during the year and it finally circled around and I got that deal. Mark Blackwell was at Husky back then and he let me out of my deal so that he could see me succeed. He said the Honda deal was better for me, he wanted to see me do well and wasn't going to hold me back from it. That was nice of him.
Riding at Honda was awesome, riding with guys like David Bailey, Johnny O'Mara and Rick Johnson was great and I spent a lot of time holding my breath. Roger DeCoster actually rode that 125 a ton also to develop it and make it good. They didn't know me and I didn't know how to translate the information that well so he helped out with it. I would like to believe that Roger put his name on the line to get Honda to hire me. In a sense, he had an investment in seeing me do well. He worked with me on the bike and I learned a whole lot about communicating about what a bike is doing underneath you. Chris Haines became my mechanic and thus the process of carburetion began.
Although we had the best bike, we had to make sure it ran strong the whole time and that meant jetting it over and over. I remember spending an hour on Saturday trying to make the thing run right, we would even find a dirt road somewhere to ride the thing on. Even on Sundays, we would be at it all day. Back then, that was key-making the bike run to its potential.
On this day, I think I might have traded wins with Erik Kehoe but I know I won the overall on the day. Kehoe was definitely the strongest competitor to me. Keith Bowen was at Yamaha and was supposed to be one of the best guys, him, George Holland and Kehoe were the favorites. They were all leading the series for a long time until I got on a streak. I think the streak started at this race actually. I had some battles with Bowen here and there but Kehoe was the most solid and consistent. It all worked out in my favor in the end even though I only won three races this first year. I was winning a moto a weekend all year but wasn't able to back them up in the other one.
I wore MSR gear at Husky so I just moved over with them to Honda. I got to bring my gear deal with me but the next year, '87, I was forced to wear Hondaline. I would've liked to stay in MSR that year and probably should've but I was just a rookie in the conference room at that time which was a problem with me throughout my career. I did get a bit more money to wear the Hondaline in '87 but I remember that it didn't all work out in the end for whatever reason. This gear was pretty plain for sure and I looked better in '87 because I had Troy Lee doing my helmet and painting my chest protectors candy-apple red. Honda didn't like that at all because they didn't sell them like that! Funny to see this bike not really having much for graphics and I have my number on my helmet which back then, was pretty rad. Funny how much times have changed huh?
My 1987 bike wasn't as good as this bike. We had traditional forks on this bike and it wasn't long before we started working with the Upside-down ones. This one always had the normal forks and you could've rode over a hand grenade and they would've worked amazing. They worked so good.
I remember this jump as I couldn't do it all the time and there were only a few jumps on the tour that the 250's could jump that I couldn't. I remember that it was really hot this day, the fans were everywhere and I also remember that I met a girl this weekend after the race and that made the weekend really good (laughs)."