Tommy-Gun has a new ride for 2010 but for him, the same challenges remain.

Tommy-Gun has a new ride for 2010 but for him, the same challenges remain.
Going into the third season as a full-time 450 rider, Tommy Hahn has a few things that he needs to improve on to take his game to the next level. One of them is simply staying healthy because Tommy has battled injuries the last couple of years. A solid rider whom probably deserves more press, T-Hahn is, when healthy, a top ten 450 rider. He just needs to stay consistent enough to get up into that next pack of riders.
I caught up to Hahn at his new team's media day a few weeks back.
Me: Tommy, your new team is MotoConcepts Yamaha and can you talk about that little bit?
Tommy Hahn: Yeah man things are good, pretty standard really. I'm about 9 seconds a lap faster on the new bike which is no big deal. That should put me right at the front if not way out in front, looking pretty good and I'm looking to sweep this whole series actually. I'm kidding…
Yeah, I know. Let's talk a little bit about last year-you switch to Suzuki. you battled injuries and had a little bit of a tough year. Did you get along with that bike as well as you did the Kawasaki from the previous year?
I had a lot of people feeding me stories about how I look better on this then on the Kawasaki to be honest but I felt fine on the Suzuki. I liked it a lot, it handled really good, it turned great, and had a good motor. I thought we had a really good package with the bike last year. A lot of problems with me last year was just that-it was me. We got a late start, I came into the series hurt and I actually ended the series hurt. We get our deal done until December 1 and then December 15 is when I got hurt, we went straight into Anaheim and it was an uphill battle from there. The high note was getting second in Seattle and had I got just a little better start I might've even one that race.
You know what? Maybe not because Kevin Windham was riding really good that night and I just watched that race the other day and it's funny because Windham's still my favorite rider and there I am racing against him. That's the funniest thing in the world but anyways the year was full of ups and downs. I had a lot of speed but also had a lot of crashes.
Can you talk a little bit about how this MotoConcepts Yamaha deal came together?
Well my whole team went to 250F's only and I got the boot. Well not really, I didn't get the boot- those guys are good to me. Bobby Hewitt and Bill Keefe were awesome, I was there for three years which is the longest I've ever been on one team. I definitely have to thank them. Bill kind of got me out of a slump after I left factory Honda and he worked with me really good coming along really great I'm definitely thankful for that. The MotoConcepts guys called me near the end of the season and one thing led to another and here I am.
I adapted to the bike really fast as soon as my deal was done, I went out and bought one at home. Soon as I got on one I rode it stock for a couple weeks and then I got some supercross suspension to start riding little bit. I came out here to California, got some testing done and then shipped my bike back to Texas and that's where I've been ever since getting ready.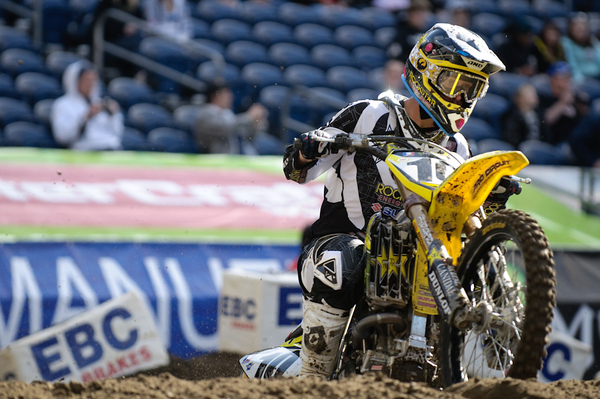 Hahn put in an amazing ride at Seattle last year, almost winning the whole thing!
Yeah I asked team manager David Vuillemin about where you've been and he said that you're out in Texas and that's where you want to be you got your program out there. He probably will want to get you out here more often, you know that right?
Yeah for sure I know that. Mark Barnett built me a couple of supercross tracks out there. If anyone out there knows Mark Barnett they know that he's the best at building tracks. There's a reason why James Stewart, Chad Reed and all those guys get him to build the tracks. He knows what he's doing and is easily the best out there. I mean out there in Texas I have 40 acres a house and everything and really it's just my home.
I'm guessing a guy like you probably isn't a fan of California right?
Yeah I'm not a huge fan of it but it is what it is. The race teams are out here and the companies that have the parts that we need to test are out here with them so it's a necessary evil to head out to California to try and get better. So basically, you have to be out here to test and you just need to get over it. The traffic does suck for sure but you just have to get over it but having said that I do love my home. I've got everything I need out there and it's easy because we just don't have to go anywhere.
This talk about your bike a little bit it's radically different from some of the other bikes you've been riding, what do you like about it?
I really like the power first off that's what I noticed right away, even on the stock bike it's really strong. The stock bike needed be fine-tuned a little bit for the way I rode it but after that it was great. I like that harder hit and everyone says that the handling on it was very finicky but I haven't noticed that yet. Overall it's a good package so far and I feel I have my old whoop speed back. It's funny to say that I lost whoop speed on certain bikes but since I've been on a 450 I've been a little gun shy. Because it's such a big bike for me to handle that I've had to figure it out. I think I have a good package right now with the GYTR motors and Enzo suspension. And I gained some whoop speed, some corner speed and even some more straightaway speed. (Laughs)
So far how has manager David Vuillemin been for you? How many times as he flipped out?
So far it's been good of course he's flipped out on me he flips out on everybody a least once a day. That's just the way he is. Nah, he's good he's very smart, is very knowledgeable about the motorcycle and even with riding. He puts out some tips that are very good. He's good for the team. He wants to win and have us put in good results. And he wants to get things done and that's important. I'm excited to have him here and I'm excited to start racing.
I think he's worried about hurting your guys' feelings, being maybe a little bit too blunt.
He hasn't been around my dad, I'm used to it.
Hey how's your goofball brother Wil doing?
You said it right there man he's a goofball.