The Monster Energy Kawasaki team manager (left) talks about his great night at A1, the changes in the 2011 machine and more in this podcast transcription.

The Monster Energy Kawasaki team manager (left) talks about his great night at A1, the changes in the 2011 machine and more in this podcast transcription.
Photos by James Lissimore
Me: Hey Fish, congrats on a great night for your team and also for Kawasaki and you guys won both races and led every lap of both mains. Got to be exciting for you right?
Mike Fisher: Thanks Steve, I appreciate it and yeah, what a night. I'm still smiling from ear to ear here we are a few hours after the race. As far as the Lites race, everyone impressed me in that one. (Josh) Hansen, he rode in Australia and did well but I was still impressed with his stamina and (Broc) Tickle, I was very happy with his speed. I knew that he had the stamina but his speed impressed me. And Tyla (Rattray), for his first supercross race was great. I mean he had a crash today and we were maybe not even going to let him race it was that bad and he did great also. I'm very happy, they got great starts and those guys are rad.
And really things couldn't have gone any better for your team as well. Ryan Villopoto just looked fantastic.
Yeah, he passed Ivan (Tedesco) early on and was good. Ivan, who was also on a Kawasaki, was cool. Ivan was on it and going fast, when Ryan got by him he really poured it on and pulled away a bit but it was still good for Tedesco. He pulled a holeshot also! When Ryan was getting on it, he was four seconds ahead of, I think Ryan Dungey, it was great because Ryan could ride his own race then. He could hunt for his lines out there, sweep the turns and keep it a gear higher everywhere. He was in complete control out there. It was probably boring for the crowd but it was nice for me. At one point, Dungey made a few mistakes and James (Stewart) caught him a bit which made Dungey have to wick it up a bit.
Out front Ryan had dropped it down a bit, maybe a second or so, he slowed down a bit. Then with three laps to go, he picked it up a bit and pulled back away. That was good to see because even though he's in great shape and we've seen him do 20-25 laps at the test track no problem, to see him so a fast 20 in a race situation with no problem was great to see. I knew he could do it.
Talk a little about Villopoto and what you think he could do this year, he's in good shape, he's been going fast in the pre-season and although you probably couldn't have predicted a Anaheim 1 win- it's still got to be good to see your star come through.
We did not predict he would win here but I for sure thought he would make the podium here. And that comes from watching him train, ride and do everything that he's been doing coming into this race. Compared to years past, he's wayyy better. Unless someone else is doing similar work or way more, than we knew he was going to do good. Of course he could have crashed out or the bike broke or whatever. But he's been working hard, we're really happy with all the data we've gotten from him over the years and the bikes evolved over the years as well to suit him. I'm super happy.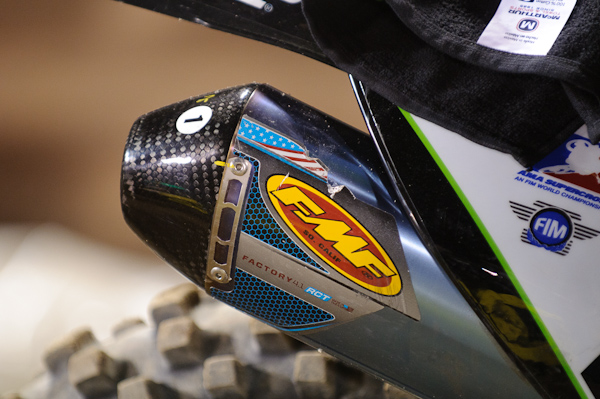 Here is it, the thing that has been creating a lot of buzz the last few weeks.
Before we get to the pipe question, what's one area that you've felt you've improved on with the bikes?
We worked on a bunch of things, I've told this a few times the last few days but what we did was we looked at every part of the bike over the last few years and looked at what we could do better. We looked at all of our notes from last year and although he won seven races last year and we don't want to stray too far from where we were, we looked at the notes at what he said was bothering him here or there and tried to make it better. We addressed, in priority, every single one. We took a stab at each one and tried to improve it somewhat but at the same time, we didn't know how much we improved it. But then again, maybe tonight is an indication of how good we made it (laughs).
Anyways, I think that cornering the bike was something we needed to work on. Our bike has always been stable, we've always built our name on stability and light and nimble was something our bikes were not. We've always felt like when we built a race bike, it was stable, it gave the riders confidence in the whoops and we never really thought about the turning of it. We addressed that and I don't feel like we lost the stability. We had to make some big changes to the machine and that's where we're at.
Ok, so now the pipe question that I've wanted to ask you about. Talk about the decision in switching from Pro Circuit to FMF exhaust systems.
Well, first of all Mitch runs the best Lites team that you can ever ask for. He's perfect for us and we can't possibly ask for any more from him. We were asking for something that…I don't know exactly the details but he couldn't do what we asked of him in time. I know he could've done it but it wasn't happening. I'm not going to go into the details of that. Just to make sure, we have the highest respect for him and all that he's done for the Lites team and also for us. He's done a ton of stuff for our 450 program in years past. We basically peeled away from doing the same thing year after year and to make that happen we had to do this.
Has it sort of reinvigorated the team, from yourself to Rick Asch and down the line, you guys are sort of striking out on your own?
Anytime you do something new, it's exciting and you have to get excited about that I think. We were going for super lightweight on our bikes, ultra-durable, keeping stability where we've had it and that's what we've done. I feel like we've achieved that this year. We're not perfect, I feel like we're about 80% of where we should be here at Anaheim. I asked for more than what we got but we're pretty good. I'm impressed but we have more to go, we have that 20% that we have to work on and then we will worry about the next goal. That starts from today on, from today on we have new goals. Things that we've learned from Ryan today and then when Jake starts riding, things we've learn from him.
Has this affected your relationship with Mitch? How's the status of that these days?
Yeah, I think that Mitch is super emotional and wants to win at all costs. I'm sure he wishes he was still sponsoring our team at the level that he was at and…I have the highest respect for Mitch and there is no problem on my end at all.