The '85 125 National champion gives us the details on another one of his covers.

The '85 125 National champion gives us the details on another one of his covers.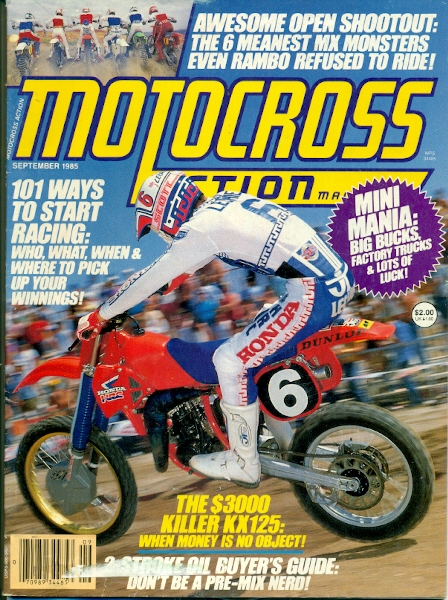 The Dogger on the cover of MXA.
"This is the Las Vegas National in 1985, your hometown. The track was out by Whiskey Pete's somewhere and you go out there, turn right and it was down in there. It wasn't a bad track. I just saw a video of this race a week or two ago, how weird is that? It was early in the season, I'm pretty sure of that-before it got too hot. But it was still super-hot I remember that, it was like 100 or something
I won on this day and what's cool about this cover is that the very next month I had a cover from the LA Supercross from MXA. So that was two covers in two months, I was stoked on that. This bike is a works CR 125 and was so good, the power was awesome and the chassis was great. Good memories about this bike, that's for sure. It was so easy to ride, I could put it anywhere I could. It was light and powerful which is always a good combination.
After I won the title, I took some time off and had to re-group. In '86 the full-face helmet came out and I wore that but this was when the open-face was all that was out. This was a good look for me for sure.
I won the '85 125 national title this year and honestly, was pretty dominant. It helped that I had such a great bike, this was the last year of the works bikes. My riding was at a high level and there were only a couple of guys who I was worried about this year and they weren't in my class. Guys like Johnson, Wardy, O'Mara and Bailey were all my speed but thankfully, they weren't in my class. I knew it wouldn't be that hard to win.
(Matthes note: At this point I launch into my story of being a super-fan of Mark Barnett and how I really thought the Bomber was going to give Ronnie a run for his money as he was on a Kawasaki and back in the 125 class but Ronnie just laughed, shook his head and said "No, wasn't going to happen."Then I slammed my head in a door.)
I don't think Barney was on a bike that was that good back then, I DNF'd a few motos which helped some of the guys get close but I usually won.
It's cool to get on MXA, they were the main magazine back then and I'm thinking that maybe Damon Bradshaw was the only guy to make it on back-to-back covers besides me. Those palm trees were a clothing company and I was just over in Hawaii so I cut out some stickers and put them on the back of my helmet.
I loved all three of the works bikes this year, I raced the 250 in the stadiums and the 500 at the USGP before I cartwheeled my brains out. I blew by everyone and then crashed big. I probably could've backed it down three or four notches but I suppose I wasn't ready for any 45-minute motos (laughs). They all had similar feels to them if I remember right. I would normally get the holeshot on the 125 even though I was a little bigger than the other guys, I was so full of confidence this year, it came easy."