Want to look at the genius that is the Pulpmx Show studio and its hosts? Well, thanks to James Lissimore's lens, you can. View at your own risk…

Want to look at the genius that is the Pulpmx Show studio and its hosts? Well, thanks to James Lissimore's lens, you can. View at your own risk…
Photos by James Lissimore
Before we get to the shots, here's Lissimore's take on his night in the studio:
Thanks Matthes-Well, I have to say that when Steve told me he had booked my flight home after Anaheim One for Tuesday so that I could stick around for his radio show on Monday night, I was intrigued. I remember when Steve first told me about his idea for the PulpMX show at the Montreal SX in 2009; it seemed like a cool idea but I was skeptical about whether or not it would take off. I have to say though, I didn't listen much to it when it first started but I slowly began to remember to tune in and now it's got to the point where I'm actually a regular listener(though mostly after the fact on my ipod).
So, I was actually a little excited to get to sit in studio for the show(how sad is my life?) and when I got in on Thursday I went and checked out his homemade studio up stairs(which you can check out some photos from on my blog http://jkliss.blogspot.com – shameless plug). Man, Steve is taking this radio show thing seriously. He's dorking out on radio gear the way I dork out on camera gear.
On to the actual show….it was super fun. Between Steve, Watson and Tits Legendary running the phone lines, it almost feels like a real show…almost. Steve's doing a pretty good job imitating a real radio host while Tits forgets to turn his mic on and off half the time but hey, it's still more like a real radio show than when Steve was trying to multi-task. Then there's……Watson. All I can say is that I had the "full Kenny Watson experience." He's quite the character and the show wouldn't be the same without him. Plus, he's the foremost expert on European racers and racing.
I had two jobs – dog wrangler and photo taker and I failed miserably at at least one of them. Who knew that the dog cage has to be tight against the stairs or else you end up with four basset hounds in the studio? The show itself was awesome, I don't know if it was just because I was there live but I really think it might have been the best one ever. Between Mitch Payton giving his usually great insight, Ken Roczen who sounds like a great kid and doesn't get english sarcasm, cold calling Tony Alessi and having Trey Canard and "The One" Timmy Ferry on, it was an action packed show. Throw in Dean Wilson trying to call in and imitate a redneck(kind of hard when you sound like an 11 year old girl and things couldn't have been much better. It's hard hosting a radio show, just always having to have something to say and I know I couldn't do it but somehow, and I really can't figure out how, these guys pull it off. Good job!-James Lissimore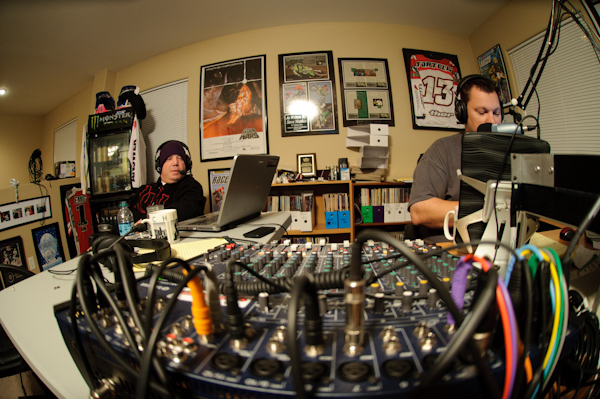 Before the show I'm lining up the guests, and writing the script/timeline. During the show I'm monitoring the levels, playing some sound effects, making sure we're good on time, looking at the stream, trying to read the chat room here and there, looking at texts from GregM, typing and looking at the AOL IM's from Tits. Kenny's job is to read the chat room.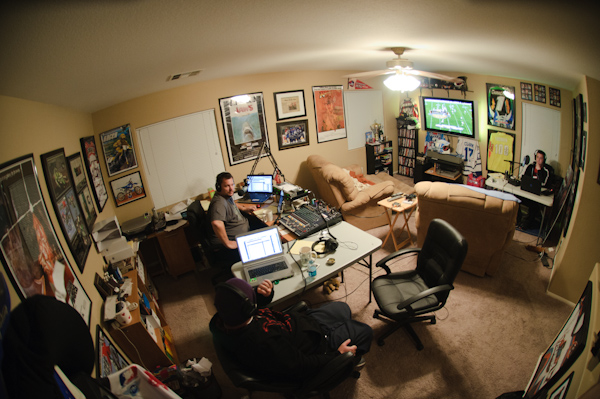 This is my man-cave where I used to go to watch movies and play PS3 before it became the podcast/Pulpmx Studio. Tits (Peter) is in the corner because he was bad and so we don't pick up his audio on the show while he talks to the jerkies that call in. I've got Wey, Ferry, K Smith, Lechien, Tortelli, Emig and Wendel Clark jerseys on the wall. Also some movie posters and assorted junk.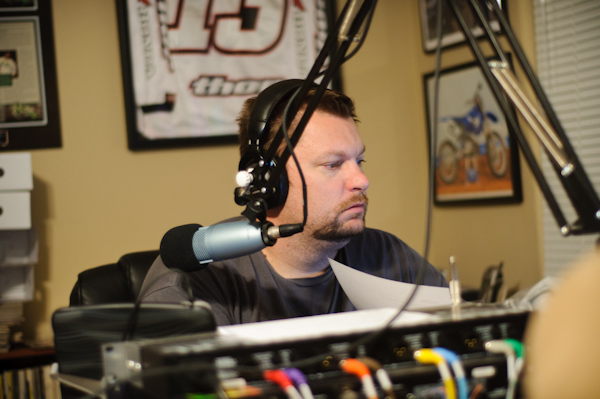 I'm deep in thought here about either Timmy or bearclaws.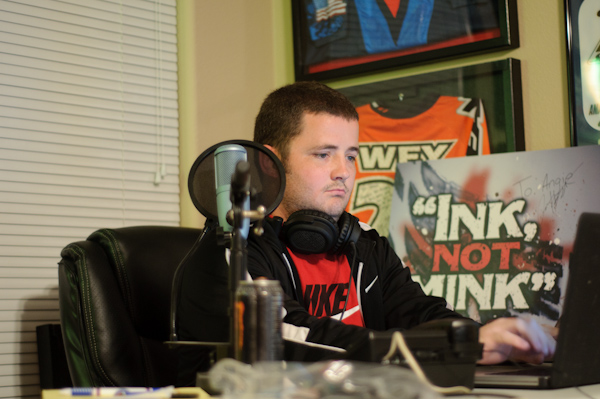 Tits (Peter) hard at work screening calls and getting his news ready.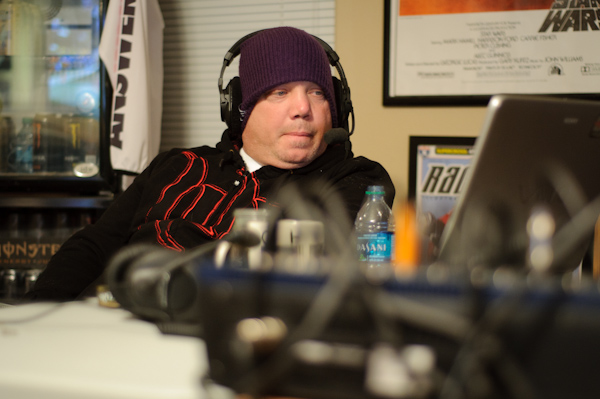 The great Kenny Watson with his headphones over his beanie.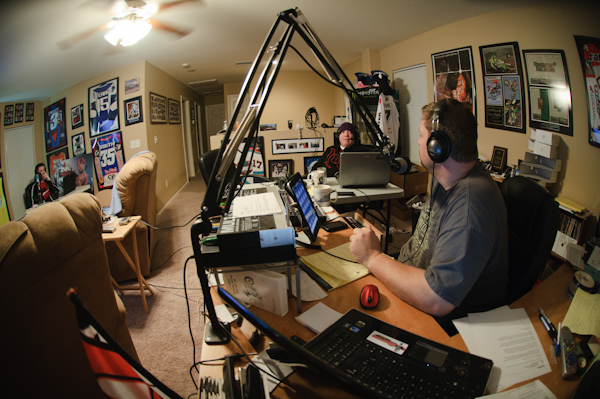 Showtime!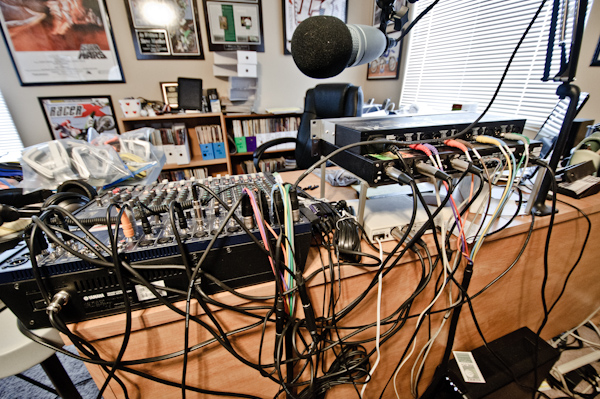 That's a lot of wires! I have no clue where any of those go or what they do. All told, everything we have in studio runs around 7K or so.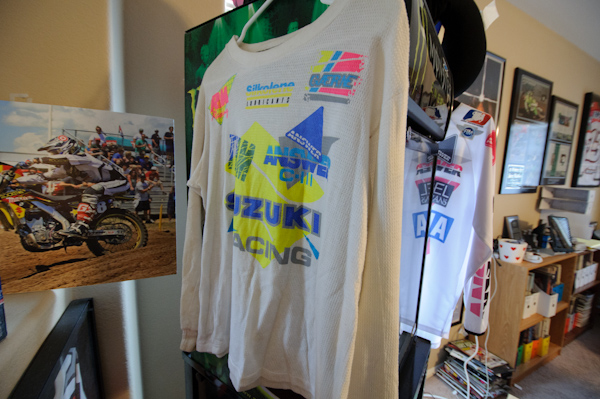 Behold my Ross Pederson jersey in all it's glory! Also that Dungey shot was with a Canon Rebel at Freestone a few years a ago. Take that Lissimore!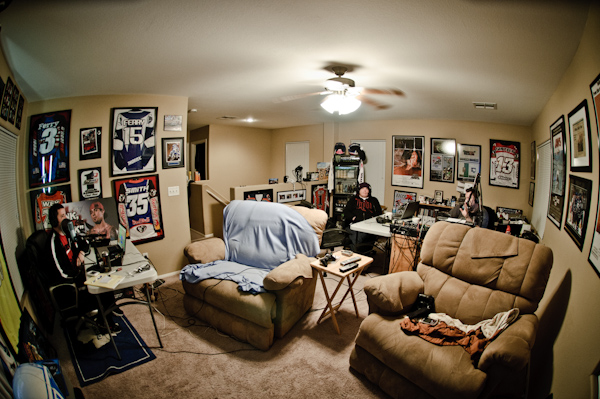 My wife would not be pumped on this shot because of the dog blankets on the chairs but I thought I'd run it anyways.