Yup. these are my readers.

Yup. these are my readers.
Some of you may have heard my story (a few dozen times or in the case of my wife, a few hundred times) about getting screwed out of the prestigious Golden Wrench award at the '99 Mini Olympics. I went there and worked for Ryan Morais when he was an amateur and together, we only lost two motos all week. And that was to some kid named James Stewart. Anyways at the end of the week during the awards ceremony I was all ready to take my award when they gave it to some lady whose car broke down on the way there and had to put on a spare or something like that. Boo Hoo.
Anyways, I got a package yesterday in the mail from a Twitter follower named Elemenohpee with a plaque and this letter:
Steve, I thought you might like this award especially after hearing the bitterness over losing it to some chick . Now you can proudly display this in the man cave. Hope you like it- Elemenohpee
Thank you Elemenohpee, I now have a little peace in my life.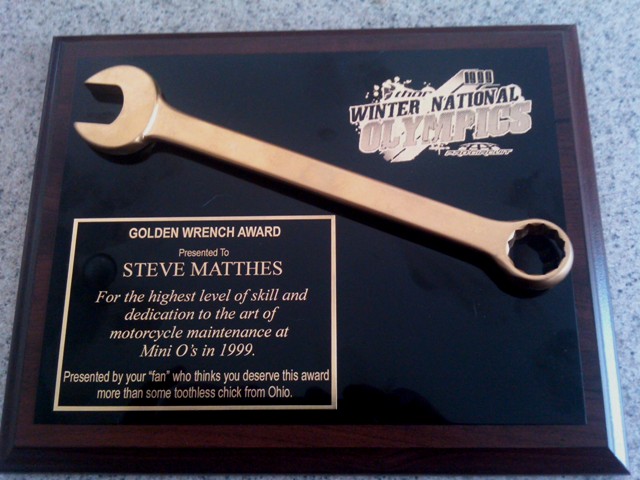 I'm touched.