It's time for another one of these and thanks to Mario out in the desert of California for the steal of a deal in getting these things.

It's time for another one of these and thanks to Mario out in the desert of California for the steal of a deal in getting these things.
Some might say that this particular year was right in the wheelhouse of MXA's golden years. The Wrecking Crew was still young and fast, Jody wasn't bitter, didn't walk uphill to school both ways and life was good. They were the bible of moto, no doubt about it. Let's take a look at MXA in 1986.
If you like this story, I did a few other ones like this that you can check out HERE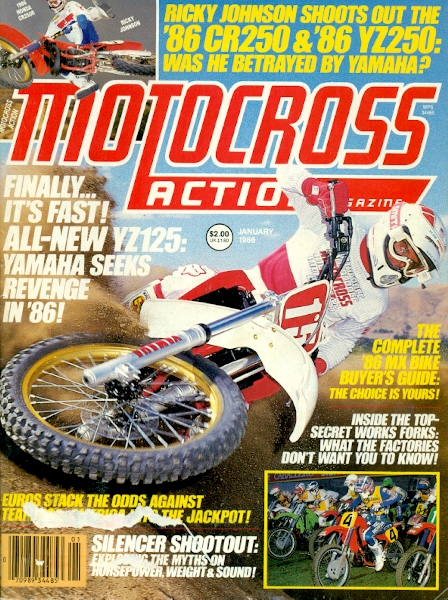 Remember the "Tell Us a Story" with my dad and brother talking about the '85 YZ125 and all the problems it caused them? No, well check IT OUT. Anyways, the headline of the Jan '86 MXA says in regards to the '86 YZ125- "Finally it's fast…" that should tell you all you need to know about the '85. The magazines don't usually out and out mock the OEM's who at this time were buying a ton of pages at a premium rate to talk about their new models. My dad did indeed rush out and pick up the new '86 YZ 125 and 250 and I always thought they looked so bitchin with their lowered tanks.
Also in this issue is a feature on Rick Johnson and it details his switch from Yamaha to Honda for the new year. It would prove to be a great move for RJ as he became pretty dominant on Honda's. For laughs, MXA gets him to "shoot-out" the Honda vs the Yamaha and, shocker, RJ says the Honda is a better bike. Stop me if you can't believe that he would say that.
The bottom right is a story about Ron Lechien's overseas SX trips in a column that he pens himself. Or at least gets whatever El Cajon bimbo that he's hooking up with to write it for him. In the story, he keeps it to the racing as he wins in Sweden and gets second in Holland to Wardy. Jim Holley gets second in Sweden and guess what? Holley is still buddies with the guys in Sweden and organizes the American riders for the promoters.
Anyways, Lechien says the Holland race was held right outside of Amsterdam and good god, would I like to have the story on what The Dogger did the night after the race instead of talking about how the Flying Freckle beat him. Oh well…
There's also a test on the CR 250 which RJ rides. It's predictably awesome in Rick's eyes but in fact, that was a great bike. There's also the '85 MXDN race in the issue (weird they didn't put it on the cover) which USA wins again. It's held in Germany and I've seen videos of this race. The track blows.
Bailey kind of stinks it up but Lechien wins his class with a 1-1-3 and Wardy goes 1-1-1. Somehow, incredibly, Dutch sand master Kees Van Der Ven wins a moto in the 500's on a super fast, hard as concrete track.
Something cool in this issue is MXA "acquiring" a set of true to life Showa works forks and talks about how Roger DeCoster calls them wanting them back. MXA takes them apart and finds…that they are just a cartridge fork with coatings and tight tolerances. Chalk this up to Geraldo Rivera and opening Al Capone's safe and finding nothing.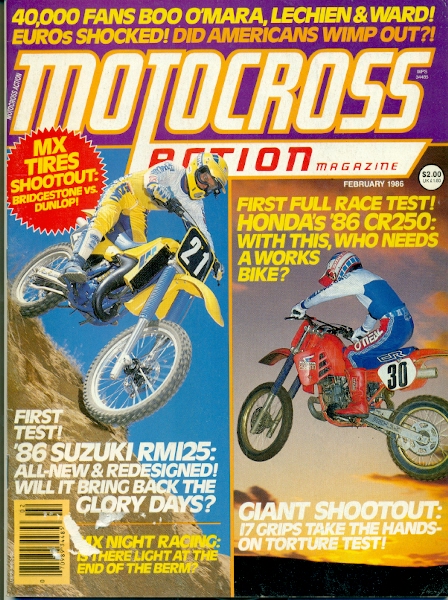 I guess I was wrong about the test of the CR250 last month because this month is the real shake-down. Of course, I wasn't wrong about the fact the bike was awesome. The Wrecking Crew gushes over the red rocket and I like to think that Jody, Crazy Dave, the Floyd brothers all stood around in the meeting for what's going on the cover and decided that the greatest bike of the era should share space with the exact opposite of that. So they chose the '86 RM125.
After '82, the Suzuki engineers basically fell asleep on the job until waking up sometime in 1989. I don't know what the deal was but if you rode a Suzuki in between 83-88, I feel really sorry for you. There was one guy growing up that rode Suzuki's every year, his name was Vince Kolbuck and I used to feel so sorry for Vince. He wasn't that fast but that may be because he was on a Suzuki. Who knows how many Manitoba titles Ol'Vince would have had if he rode a Honda. But I digress…
Anyways, MXA hates the RM 125 from this year, the motor is blue and they say that is exactly how they feel about the bike "blue". Which is Jody-Speak for sad. They do, however, rate the rear shock as "good". Small victories I suppose.
This issue also has the Rodil Cup SX from LA Coliseum and what a shit-show that race was. Remember the whole Americans start on the back row/Euros on front thing? That was abandoned for a if you finish in the top four in the heat, you start in the back row format. That caused massive sandbagging and I blame the whole thing on Johnny O'Mara. He was in the second heat and started the whole thing which made the other riders follow suit.
I have this race on DVD and it's hilarious. Heat one winner Rick Johnson is riding a Jim Castillo/Frankenstein YZ250 with Life's a Beach shorts over his Fox pants. He gets mad at everyone sandbagging and calls them out to the fans. A few years ago, I asked Lechien about this race and he said that RJ was always doing stuff like that and he was probably mad because he was in the first heat and hadn't thought of sandbagging to get a front row start!
Johnny O wins the main event and gets booed. Jimmy Holley wins the Rodil Cup SX title when he beats the supercross specialist from Holland, Jon Van De Berk. Yes, I'm being sarcastic.
MXA also has a grip shoot-out and a story on night racing. Riveting.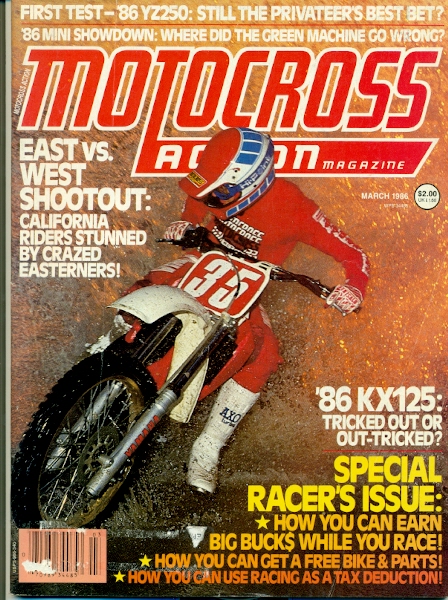 This is a cool cover with Larry Brooks wringing the 86 YZ250 on the beach somewhere. A real cool shot for sure. I'll have to ask LB where that was and the details behind it sometime. Anyways in 85 the YZ250 was really good but in 86, they changed the motor and took a step backwards. At least according to MXA. Weird deal, they improved the 125 mucho but hurt the 250. Anyways, with some motor mods, they think it can still be a pretty good bike.
There's a bunch of mumbo-jumbo about contingency and how to make money at racing and get sponsored. It's full of charts and pay-outs and crap. Jody must have been camping with Lovely Louella this month and mailed this one in.
There's an 80cc shootout between the KX and YZ and really, it's not a fair fight. Yamaha hadn't changed its motor or suspension in three years while Kawi always made a pretty good mini-bike. In fact, a 1984 KX 80 was probably still better than the 86 YZ. They do say that the YZ is good for beginner riders so I suppose that's something.
A test on the new KX125 and I actually had one of these bikes. The gang says the motor's good but that's about it. They fail to mention the plastic breaking if you looked at it cross-eyed, the bolts stripping, the rear disc being a light switch and the general crappy state that the bike would fall into after a dozen rides.
Remember the Rodil Cup from last month? Well the mag details the 125 East/West shootout from that same race in this issue. This was before the Dave Coombs Memorial Race that we all know today. The East's Rodney Barr (of Barr's Competition fame) won the three moto format race (and another east rider, Eddie Warren took second) but the west guys filled out the next eight spots so we didn't really prove anything did we?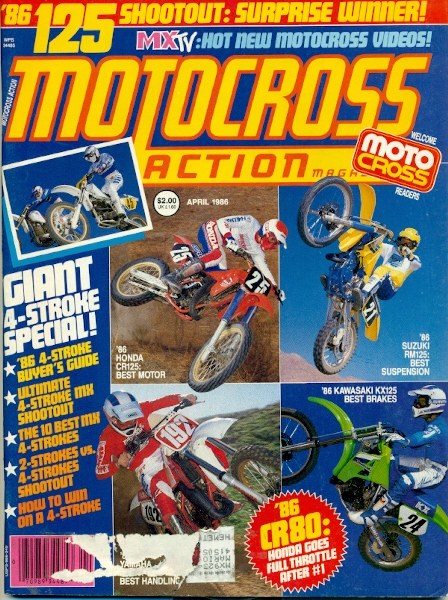 It's shoot-out time! The four Japanese 125's get shaken down to see who makes the best tiddler. Or buck and a quarter as the local motor guy called them when I was a kid. I have a Dirt Bike magazine from 1984 that has a 250 shoot-out in it that includes seven brands. Seven! That's pretty awesome to see KTM, Cagiva and a Husky combined with the regular four players.
Also on the cover is a giant four-stroke special where the gang rides Husky's, ATK's, they tell you how to start one, how much one is worth to sell, the ten greatest four-stroke bikes ever and they shoot-out a CR500 vs an ATK 560. It's so funny to read the article as in it, the MXA guys say that at the outset they think that the CR will smoke the ATK but in fact, the only thing that the CR wins is the 75 year dash. It loses in lap times, 100 yard dash and jumping for distance (ok, a shaky category but I didn't make the criteria's). Oh and one more thing, the ATK weighs 19 pounds more than the Honda.
So in 1986, with only a 60cc advantage, MXA figures out that a four-stroke is better than a two-stroke in racing conditions (also they don't even bother doing the test on hard pack, they already know the thumper will kill it so they do it on sand) but yet the AMA, in all their wisdom, decides to give four-strokes a 300cc advantage (250 vs 550) in the rulebook? And now here we are, years later.
Good job AMA.
The 125 shoot-out is pretty predictable. The motor in the Suzuki is slow, the Yamaha is average, the Kawasaki is good but the Honda is the fastest. So therefore, when it comes to 125's, the Honda is king. In fact, to quote MXA "the Honda romps, it's no contest-it's the best 125 this year."
The Bercy SX report is written by RJ and in it he talks about himself the whole time. Smash cut to 2011 and RJ is still talking about himself the whole time. Not much has changed.
Remember the Golden State Motocross series? Those were awesome and those, along with the Florida Winter-Ams, definitely make me jealous that I wasn't living in Socal in those days. You could probably see RJ, Wardy, etc, etc just chilling in lawn chairs while the race locally. What a time! Of course Hannah always went to Florida because that was where the sand was and that's where men got to be men.
Anyways, the first round is covered in here and says that Johnny O tore knee ligaments and was going to struggle all year. Which he kind of did in that he got third almost every race of '86 behind RJ/Bailey. Well except the 500's when Wardy starting coming out of his yearlong funk and stuck it in there now and then. Lechien struggled in the opener and in fact, he would struggle all year in '86 in the first year of a 3-year 1 million dollar contract. Otherwise known as the "What are you going to do, fire me?" year.
There's a funny Answer ad where O'Mara, Brian Myerscough and AJ Whiting have a chick inside a gear bag and they are all smiling like little sex offenders and are going to carry her off to a gang-bang. Creepy stuff and it doesn't make me want to buy Answer gear. I'm going to have to have a word with Eddie Cole about this.
Oh and you may notice that MXA has the "Motocross" logo from the magazine in the corner, well that's because the month before Motocross Magazine folded and I suppose that MXA was trying to let people know that you can pick up an MXA and get the same quality as they are used to.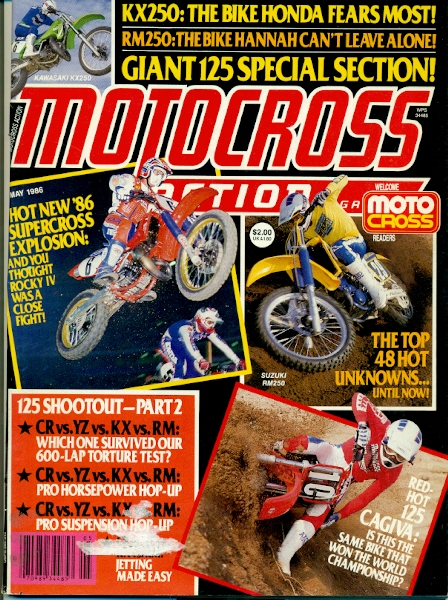 This month is jam-packed with Anaheim SX action, this is of course the infamous RJ/Bailey battle that everyone still talks about. There is also a test of the new Cagiva 125 with the by-line "Is this the same bike that won the World Championship?" which can't be a good sign for the actual test inside.
Also ran thru its paces is the KX 250 and RM 250. Guess what? The RM stinks and not even Bob Hannah's influence can help. Here's the thing though, generally the OEM's are 2-3 years ahead in its development span and Hannah just started riding for Suzuki in '86 and had nothing to do with the new Suzuki's. MXA knows that but hey, putting "the bike Hannah couldn't leave alone" may sell some more copies.
So yeah, the Suzuki sucks. MXA says that last years was better that anyone who buys the bike is going to have to spend money on the engine and suspension. That's all.
The test on the Cagiva doesn't go much better. There's a sticker on the front fender that tells everyone the bike is a World Championship replica based on Pekka Vehkonen's win but MXA asks that it would like the real bike that won, not this POS. Well, they don't use the term piece of shit but they may as well have. Greg Primm has one of these bikes in his warehouse and yes, it looks really crappy.
There's an interview with up and coming Australian star Jeff Leisk and in the article, MXA chooses to run a photo of Jeff cartwheeling from the San Diego SX. The crash broke his jaw and generally jacked him up. Maybe Craig Dack was the photo editor on this day?
Race coverage is from Anaheim (cool little deal that MXA did in covering the main event finishers and I might even rip it off for my Observations column at one point) and San Diego and we all know all about Anaheim but what happened at that second race of the year? RJ crushed it in the mud, Ward second and Keith Bowen third (?!?). There's an interesting photo caption of Bailey that says after the race he threw a major fit and ranted and raved about something. Then it says that's what SX is all about "big league talent and major league tantrums". Wonder what in the hell the mild mannered DB was upset about? Weird.
There's a list of the top 100 up and comers and it pretty much covers all the guys that would go on to be pretty good. I suppose when you choose 100, you're going to get quite a bit right.
The guys love the new KX250, great motor and they say with a little bit of work, you'll be romping all over the competition.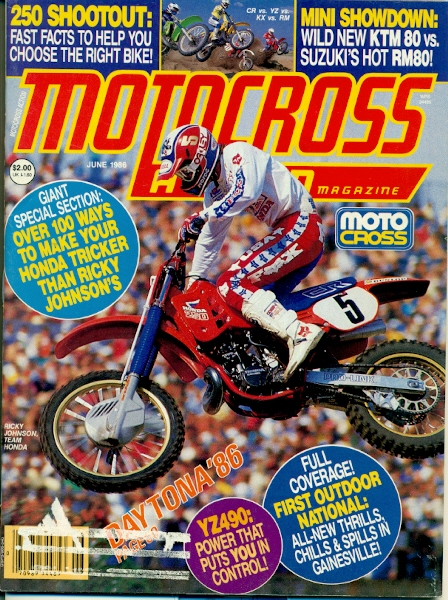 RJ at Daytona graces the cover of the June issue as he killed it at the Daytona SX. It was a nice ride for Too Hip but I like to look a little further back in the results to see the name Ross Pederson in sixth. Yes, that's right-when the track gets gnarly and rough, count on the Rollerball to make it up there. (I've documented my love for Roller right HERE)
Broc Glover gets third which is about the only good finish he has all year because of injuries and looky here, Jim Holley gets fourth which he told me was a massive payday for him from Yama-bucks.
There was also coverage of the first round of the nationals held at Gainesville where, surprise, Johnson goes 1-1 over Ward. George Holland won the 125's while the new Honda rider, Micky Dymond, looked to be a real dud as he went 6-4 on the day. Should've stuck to the Husky 500's Mick! Keith Bowen won the first 125 moto and then MXA writes in the story about how he was seen later that night "happier than he should have been" which meant they saw him at the bar drunk.
The big 250 shoot-out takes place with Honda winning big-time and Kawi and Yamaha tied for second. It would just be another shoot-out win for big red. Be it Dirt Rider, Dirt Bike or Super/MotoCross, Honda has it going on in the mid-80's.
Speaking of which, the MXA test riders are all decked out in gear that has "motocross action" down the side of the pants. Which was always a cool perk that the gear guys did for the magazines but they don't do it anymore to this extent. They should though.
There's a test of the YZ490 which reads a lot like a test of the '83, '84 or '85 YZ490. They close the test by saying "you have a better chance of winning on a YZ490 than sailing off the end of the earth."
Wow.
I was 13 years old in '86 and rode an '84 YZ80 because my brother was the star of the family and got all the new bikes. Anyways, my bike was clapped out for sure and one day my dad came home and said that maybe I should get one of those all-new KTM 80's which made me very, very excited. Never mind the fact that, growing up in Manitoba, Canada I had a better chance of seeing an alien than a KTM and never mind the fact that the Austrian machines were three times the price of a Japanese bike.
Turns out I never got that KTM (Tom picked me up an 87 CR80 which I used to get fourth in the 80cc expert class) and that may have been a good thing because MXA shoots it out vs an RM 80 and the Suzuki smokes it. Might be the only head to head Suzuki won in the dreaded 83-89 era.
MXA does a neat little thing when they take the four works bikes for the day (and remember this was the first year of no true works bikes) and then try to build a production bike as good as what the factories were racing. This month the Honda gets the full-bore treatment of White Power upside-down forks, Pro Circuit motor mods as well as a trick PC swingarm that looks super cool and they say only costs $300! Also they add on some Acerbis radiator shrouds to top off the look. I must say, the MXA bike looks way cooler than the factory Honda of Johnson.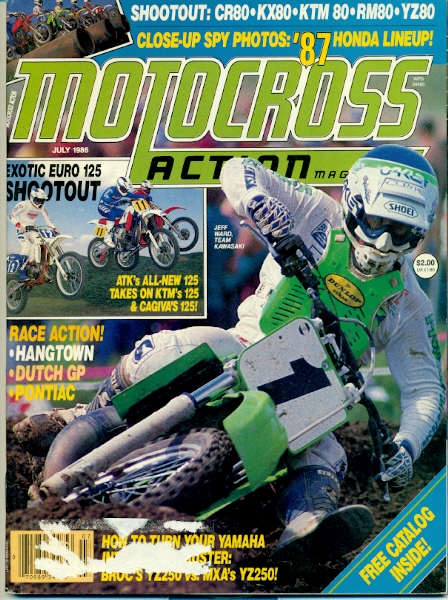 Always loved this cover, it sticks in the back corner of my brain and is easy to recall whenever I want to think about a rider looking sano. Jeff Ward has it going on here with that sweet open face set-up (also, Wardy was always a Jofa mask guy, even when Oakley made a mouthguard, the Flying Freckle stuck with the traditional Jofa.) green chest protector and big ol'number ones.
Loved these Dirt Digits also, I always wanted them but I rode 80's back then and that would look pretty ridiculous. I eventually did get a set when I got on 125's but the red numbers just never looked that good. No more skinny numbers from here on out as a new fashion trend had begun.
A Euro 125 shoot-out? Yes please! Cagiva versus KTM versus an ATK battle to the death. Combined American sales? 42. Anyways it should be cool and again, growing up in Canada, we NEVER saw any of these bikes. Hell, I remember Tony D coming to do a motocross school on a twin shock Husky and I thought it was the coolest thing ever.
There's also an 80 shootout which included the KTM and Suzuki from the month before. I guess they were lacking content for June and just decided to pit the Suzuki and the KTM together. In the actual shootout, the Honda wins best expert bike and the Yamaha wins best novice bike. But again, if went to any local track you could see that the Honda was the best as pretty much 80% of the 80's at the local track were red. Last in both categories was the really crappy KTM. I'm so glad Tom (my dad) didn't lay out 7 grand on one.
Test on the new CR 500 and they love it, the crew says it delivers the best open class performance in the open class. Huh?
Race report from the Pontiac Silverdome and back then they were a two night affair. I never did those as a mechanic and from talking to the older guys, I'm glad I never did. Sounded like a lot of work. Kind of like this review of 25 year old MXA magazines.
Anyways, Bailey sweeps both nights but only makes up six points on RJ who finishes second both nights. There are a series of mini-interviews in there with racers and they ask Glover about his bike compared to Honda's and he says "There are more guys designing pipes at Honda than work in our whole race department."
Wow.
Opening round of the 250 World Championships are covered here (I can't get over how much Euro coverage MXA used to do back in the day) and Jacky Vimond wins but the color photo is Danny LaPorte. Danny was at the end of the road here but decided to give it one more try to get another title. It didn't go well in the deep, wet Dutch sand for The Door as he scored no points.
Remember how MXA has been building works bike killers? This month they take on Glovers YZ and they slap on an Ohlins shock and Simons upside-down forks which are super beefy (for the time) 50mm lower tubes. Weird thing is, the guys just put on an '85 cylinder onto their '86 and that was about it. They were pumped on it. Unlike last month, the MXA guys actually get to ride Glover's race bike (which has an ultra-trick rear disc by the way) and they shoot it out versus their works bike killer. The result? They like their bike better!
I'm sure the Yamaha PR department is pumped about that as is Glover. They say that Broc's bike hits too hard and is too pipey for them.
There are also a series of mini product reviews with, among other things, a Ceet safety seat that goes all the way up to your cap (ala '85 Honda works bikes) and ATK bike shoes. In other news, pick up a 2011 MXA mag and you will see a review of an ATK bike shoe.
Hangtown coverage and R sweeps both motos (zzzzzz) while Dymond and Kehoe swap moto wins in the 125's. There's a photo caption with Glover where it says they asked him if he's looking forward to defending his 500 title from the year before and he says "Are you kidding me, do you think that Yamaha has a bike ready for me yet?"
It's like Broc's trying to sabotage his Yamaha ride each and every time he's asked about the white team. On a podcast I did with him, Broc told me he had an offer from Honda for '85 and he turned it down. Clearly his manager must have been Stevie Wonder.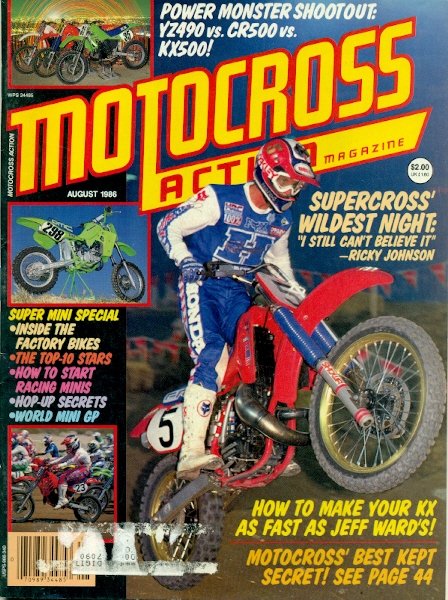 This issue holds a special place in my heart because it was so full of 80 coverage! Mr Know-it-all must have been so happy. This issue could also be called "Rick Simmet's Life Highlight" as the Pacific Northwest rider was the man in this issue. He never did much as a pro but he was interviewed recently by Racer X and seemed like he got hurt a whole bunch.
There's a test of the new KX 500 and they say that despite many years of being the worst 500 out there, the '86 is now the best open bike. Two months ago, they said the CR delivered the best open class performance. Guess we'll have to wait for the 500 shoot-out.
(Pause) There's a 500 shoot-out in this issue! Yes! Yes! Finally we would see who made the gnarliest stump-pulling machine out there. And yes, it's Kawasaki. They are the clear winner according to the Wrecking Crew.
Race action is from Phoenix where RJ performs the expected clinching of the 1986 supercross title. I've seen this race on VHS and it was perhaps the worst sx track ever. Amazingly bad. Like James Stewart would probably not even set foot in the stadium bad.
This month, Jody grabs Kawi's works bike and tries to make the stocker as good. Surprisingly, the only things you can't get off of Wardy's bike is the fork and shock and the ignition. A stock pipe is used with KHI porting and such. Also, they probably can't get the settings that give the bike the 33-inch seat height that Ward probably has.
Again MXA has, in my opinion, surpassed the works bike with its look. The green airbox and cool DMC shrouds make for a sweet look. Did the guys build a better works bike? I don't know, they say they did but who in the hell really knows?
World Mini Grand Prix coverage from Las Vegas in this issue and there are tons of cool shots of the stars of tomorrow. Some guy named Jeff Emig does pretty well, he'll probably go nowhere. There is a complete look at some kid named Ezra Lusk's DMC KX60 that's probably worth more than my house.
Let's not forget the look at the pee-wee rocket ridden by some kid from Oklahoma named Robbie Reynard.
One of the cooler things they used to do was get all these 80 champs together and have them race three motos on bone stock Kawasaki KX 80's. Great idea! Here is the top ten from that year:
1-Rick Simmet
2-Jason Schultz
3- Tallon Vohland
4-Buddy Antunez
5- Lowell Thompson
6-John Kitsch
7-Mike Larocco
8-Damon Bradshaw
9-Darryl Atkins
10- Jimmy Gaddis
They always invited the Canadian 80 champ into this race and my buddy Jason Frenette got to race it in '87 when he won the Canadian 80 championship at my home track. I always dreamed that I would get to go but I could never seal the deal. The year Jason won, I got 12th or something, then 7th the next year and the year after that my race bike blew up in practice and I rode a stocker to 7-7-7 moto finishes for, yup-you guessed it- seventh. After that, I was six feet tall and it was time to get off the eighties. You can watch me beating up on Blair Morgan on 80's on my Pulpmx YouTube channel to verify that I was indeed too big. Sigh…a dream never realized.
There's a bunch of other stuff like setting up your mini and all that but back then, this didn't apply to me because I had a two-year old bike. Only in '87 would I finally step up to a current year bike.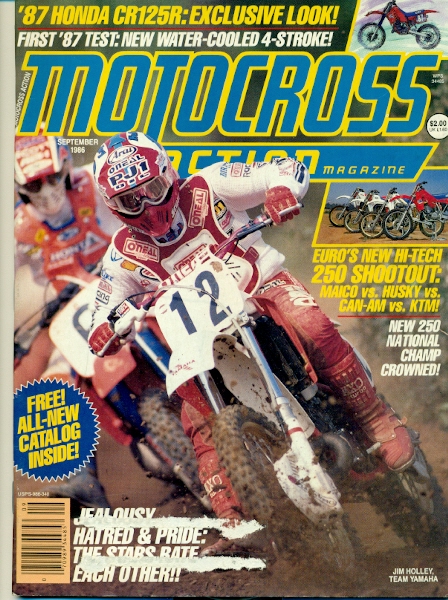 Lookie here, Jim Holley gets an MXA cover! Hollywood was a fixture over at another Hi-Torque publication Dirt Bike, but the Wrecking Crew must have looked past the rivalry and did it anyways. Hey, he's leading Bailey so it must have been a pretty good ride for Jimmy. You can hear him talk about this cover on a Tell Us a Story that I did right HERE.
There's an artist's rendering on what the '87 CR 125 is going to look like and they are actually spot on. They must have had some photos to go off of or something.
Race coverage is from the final round of SX at the LA Coliseum and I've also seen this tape so many times, I think I wore it out. Lechien dangerously moves over on RJ in the air, Hannah races but blows chunks. It's amazing to me that at this time, the Hurricane was 30 years old and was a washed up old man. He wouldn't even jump the triples, he came up to one of them full speed, put his hand up and a guy named Russ Wageman jumped over his head. Think about this all you "Hannah was the toughest human being alive and all these guys are pussies today" people, he was thirty, wouldn't jump things that Russ Wageman was doing and just one year earlier, he was winning races on a Honda.
Oh yes, the sad, sad years of Hannah are something that most fans turn a blind-eye to. I'm not hating, just stating.
Anyways-yawn-RJ wins again.
The 250 nationals wrapped up with, surprise! Rick Johnson winning those as well. Bailey got second in the points and O'Mara got third. That was pretty much the whole season unless Ward got frisky and grabbed the last spot on the podium. The 125's hit the half-way point with Dymond trailing the points but he would come back to win the thing in the end. Sorry for spoiling something that happened 25 years ago.
Again with the factory vs stocker thing and this month it's a Suzuki. The crew takes Hannah's bike which looks like a stock bike and puts it up against its modified bike that also looks exactly like a stock bike. I guess they are like, eff it- who buys a Suzuki anyways? Who cares?
This is why I wish we had more bikes over here, the economy was better and MXA was cool because they have this potential in them. An all-Euro 250 shoot-out! Yes, that's right- the titans of motocross that we've always wanted to see. Maico vs Husky vs Can-Am vs KTM! I wanted to read this story more than any other one in this whole dumb story.
Well except they didn't really shoot them out, they kind of individualized the testing of each model and ranked them in each category. It's like 1AM right now when I'm typing this out so I'm not going to count the dots but it looks to me that the Maico wins this thing. One fact I do know for sure is the Can-Am does not because to quote MXA- "The bike looks like it was put together by a plumber, nothing fits right."
Looks like the Can-Am advertising budget went right out the window with that! Funny stuff. My brother wanted to get into vintage racing a year or so ago and was looking at bikes when he found a mint Can-Am from 1980 or something and he was seriously going to buy it. I had to talk sense into him, they were shitty bikes in '81 and now you're going to buy one?? Where in the eff would you get parts for the inevitable blow-up? Whew, good thing I got him to get some Yamaha's.
Yes, I said some.
There's a cool "Helmet of the Stars" feature in the where, in my opinion, Lechiens ALS-2 looks the best. I always like this kind of stuff.
There's also a Rider Confidential article where the guys take anonymous quotes from people about the strengths and weaknesses of each of the riders and lay them out for the world to see. Transworld MX has also done this a few times and I like it. Some of the highlights for me are people absolutely trashing Keith Bowen.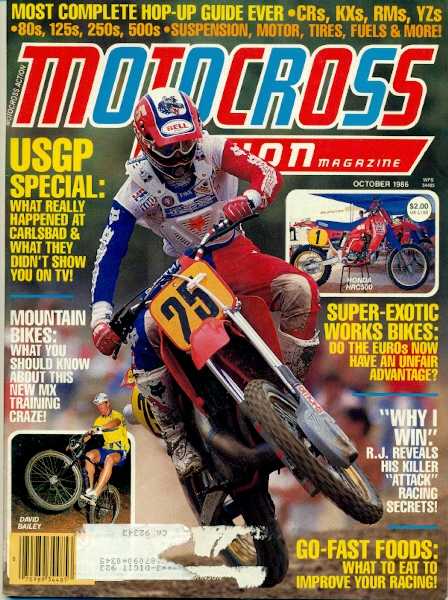 This is a cool issue, it's got the '86 Carlsbad 500 USGP in it which would turn out to be the last ever GP run at the track. RJ just decimated the competition, pulling massive holeshots on his way to a 1-1 day. This gear was so cool, half red and half blue. Especially when you combined it with the different color boots (which RJ did not here but did at other races) and the helmet. But here was the problem with the stuff in my eyes. I had guys growing up that wore it and rode Kawasaki's. Not so cool, I've seen it with orange helmets and that's ugly also. Then there is the whole USA thing on the back side of the pants and me living in Canada that turned me off on anyone not named Rick Johnson wearing them on a factory Honda with his signature Bell Moto-4 on.
But if you were RJ on this day, then it doesn't get much cooler. Great shot.
How about that works Honda 500 that the Euro's brought over to race? Again, doesn't get much better or tricker than those. I wonder how good those bikes were when some dude named Ray Sommo on a beat down YZ490 was blowing past them on the freeway? Back in '86, the Americans were pretty much at the height of their dominance over the Euro stars.
MXA covers the race pretty well with interviews from all the Americans and Euros. The Euros all admitted to riding for the championship and not caring much for this dumb USA race held on cement. The results from the race?
1- RJ 1-1
2- Bailey 3-2
3- Wardy 2-3
4- Andre Malherbe 5-4
5- Eric Geboers 7-5
6- David Thorpe 6-6
7- Georges Jobe 8-7
8- Hakan Carlqvist 9-8
9- Billy Frank 10-9
10- Ron Lechien 4-DNF
There's a profile of the Euro's bikes and to be honest, the YZ 490 of Carlqvist actually looks pretty cool. It's like with this bike and then the '88 YZM 500, Yamaha had the know-how and the smarts to build a cool works bike but they just said eff it, bring out the YZ 490 for its 13th straight year of bold new graphics!
There's a section on Jeff Ward talking about his race day secrets and one of them is to try and get the best start you can. Shocking stuff for sure.
RJ then tells us how to have an attacking riding style with a cool shot of him and Ward going at it at Gainesville from that year.
Mountain bikes are becoming all the rage for people during this year and MXA covers the do's and don'ts of riding the bikes and what you need to start out.
Tricks of the Trade cover all sorts of useful hints for your machine. The one that I particularly liked was the tip telling KX owners that they have a problem with their throttle cables and you should use the '85 one instead. Which is probably something that they learned from Ward's mechanic Tom Halverson as Wardy's broke and he failed to qualify at the opening round at Anaheim. Yep, the epic '86 Anaheim took place without Jeff Ward on the line. Tom was the roadracing chief when I was at Yamaha and he told me the story. It was his first race with Wardy and it didn't exactly endear him to the Flying Freckle. Tom said that when the Japanese learned of what happened they mentioned that they had indeed had a problem with the cable supplier in Japan and oops, sorry about that- probably should have told you that.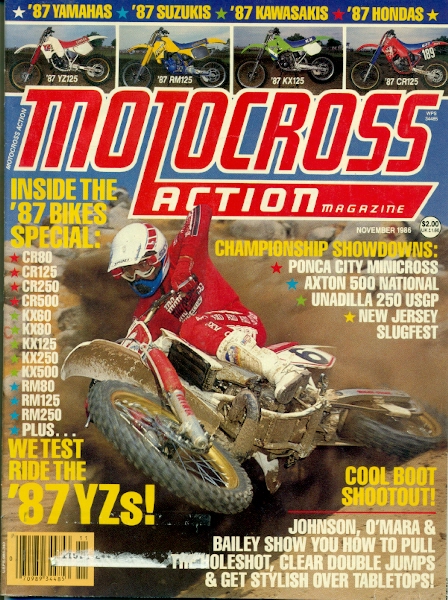 This cover is all the new bikes and a test of the 1987 YZ's! Wow, allow me to catch my breath here while I try to actually get excited about MXA testing the '87 YZ's which were basically the '86's with white shrouds and white frames.
Stop the effing presses.
Anyways, the bike are profiled up top for the world to see. The OEM's had a tradition of unveiling them at the Ponca City amateur race. The big news from the new bikes is Honda put a rear disc on its bikes along with a removable clutch cover and a piggy-back shock. Oh and Suzuki painted its motors a different shade of blue. And you wonder why Honda just kicked everyone's asses year after year?
I normally skip over the new products section except this month has a Griffin ad with none other than Ross 'Rollerball' Pederson in the ad. Yes! Not sure why they used a head shot of Roller and not one of him actually wearing the helmet. Look, I love the Ross but he wasn't exactly a male model. Perhaps Griffin should have just used a photo of him on his way to one of his FORTY-TWO Canadian titles.
Actually now that I think about it, maybe not because Ross actually wore a Moto-4 with Griffin stickers all the time and a smart reader could spot it.
After that section is the one on the new bikes. There must have been some real smart cookies figuring out the Kawasaki's back then. In '86 they looked one way and then in '87 they threw that bike out and came out with a super skinny bike with all new stuff. It was a good bike, not much wrong with it but then in '88, they again threw away all the molds and built a brand new bike. It was a costly three year period for the Team Green guys.
After that is a review of the 500 national at Lake Sugartree otherwise known as "The track that David Bailey rode on every day and was in his backyard". I actually went to this track in 2001 and was all pumped on it but like Carlsbad, it's best days were behind it. Although I did jump that triple step up thing by the start.
Bailey went 1-1 on the day, RJ 2-2 and was quoted as saying he'd like to hold a national in his backyard the next year. Bitter much? Anyways, in the 125 class George Holland won but only because Ricky Ryan's bike seized with five laps to go while the stumpy one was in the lead and in for the overall win. Bummer dude.
You know who got third in the 125 class on the day? Willie Surrat! The rat went 11-2 on the day in a wild score to get the last spot on the podium. Number of words that MXA devotes to Surrat and this awesome ride?
0.
Anyways Bailey would get his revenge on RJ for dominating the other stuff by winning this 500 title and he rocked the sweet orange JT gear doing it. Good times.
250 USGP coverage from Unadilla and Hannah wins it when Johnny O'Mara runs out of gas while winning the second moto. His 1-DNF score is definitely a kick in the balls. Hannah was on the gas but even he admits that he had nothing for O'Mara on this day. This is funny because the year before this Hannah was on his way to winning when he ran out of gas or broke and he gave the win to O'Mara. Looking over the results, it's pretty surprising to see the lack of depth that was there. When the best Euros come over and then some factory riders, you expect a bit of a all-star showdown but instead we get Tom Carson getting ninth overall with a 14-13. Huh?
More Hannah as he also trudged out to Englishtown to race the annual Race of Champions against Billy Liles. Reading through the story, he got worked bad by Bullet Billy but he still managed to get second. Jo Jo won the 500's and Eddie Warren won 125's.
There's a houses of the stars features where they shot the outside of the homes and really, none of these guys look like ballers. Maybe Glover's got the nicest one with what looks to be a 2000 square foot bungalow.
Ponca coverage and some guy named Jeff Stanton does well as does mini superstars Jeff Emig and Damon Bradshaw. Wonder whatever happened to those dudes?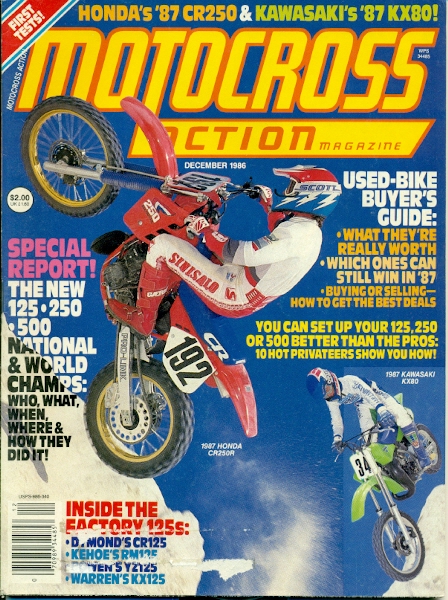 And finally, December is upon us. 7000 words later-I'm wrapping this thing up. Thank god. Anyways, a test on the new CR250 is on the cover and the bike just blows everyone else away with its performance. There are still people that call this bike one of the best production bikes ever.
In the dirt section of the mag, it says that Mark Barnett has signed with TUF Racing and coming out of retirement for the '87 season. It never happened.
They also tell us that Johnny O'Mara signed with Suzuki and to expect an all-new RM 500 by June of '87. That too never happened.
There's a caption of Jim Holley that says he's going to Europe to race the 250 GP's the next year and no, that never happened either. Not a good month for the Wrecking Crew and its sources.
The last sentence of the CR250 test is "This is the bike that everyone will be gunning for-and for good reason." They love it.
Nice little feature on the factory 125's of Warren, Dymond, Kehoe and Bowen. There is so much armor-all on these bikes, I think I need sunglasses just looking at the pages.
Nice JT Racing ad with Bailey wearing the new '87 gear that he would never get to wear in a race as he crashed in the beginning of '87 and would never race again. I picked up that torch from DB though as my dad got me the exact outfit that Bailey is wearing in this picture for approximately 8000 CDN dollars.
Used bike guide where the '84 and '85 Kawasaki's get a one star rating from MXA. I would concur with that as Kawi's held together about as well as a 14-year old girl at a Justin Bieber concert.
500 national wrap-up where, as I told you the month before, Bailey wins the title. The article is notable for a shot of the guy who got 11th in the points that year, Ross Pederson. Rollerball missed some races and scored a 4th at Binghamton and 5th at Millville. Yes, that's right- Pederson was legit. He was also on a YZ490 which compared to Bailey's Hondas was like a VW bug to a Ferrari.
Anyways, enough of that. There's a caption of Lechien that says he would ride great one moto and the next one "it was like he was sleeping" which is 80's code for "he was hungover."
125 national wrap-up and who would've thought that a guy who was riding Husky 500's the year before could win the 125 title? Well, that's exactly what Micky Dymond did. Good for the Mick.
The top ten that year:
1- Dymond
2- Erik Kehoe
3- George Holland
4- Keith Bowen
5-Guy Cooper
6- Larry Brooks
7- Eddie Warren
8- Rick Ryan
9- Jeff Leisk
10- Tyson Vohland
There is also World Championship recaps and congrats goes out to David Thorpe, Jacky Vimond and Davy Strijbos for their titles. The 500's certainly had the star power back then. All legends in the making in the top five in that class.