Mitch gathers around the campfire to talk about helping an American World Champ.

Mitch gathers around the campfire to talk about helping an American World Champ.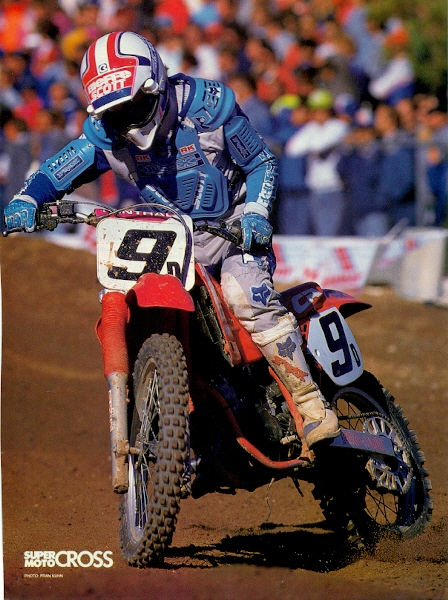 The late Donny Schmit was a great racer and I got one of his main sponsors this year to talk about him.
"I really liked Donny, this picture is from 1989 and he was talking to Suzuki to re-sign with them for this season. Tosh at Suzuki had made him an offer and Donny was trying to get him to go up for more money but Tosh said no way. So then Donny thought that the offer still stood but for the lesser amount of money but it turns out that Tosh was so mad, he pulled the entire contract off the table! They just said they didn't have anything for him.
So he didn't have anything and he wanted to ride a Honda, they were pretty good bikes for sure. We were helping Kiedrowski at that point on his Honda and then later on we helped out the whole Honda team. We were always building stuff the whole time for Honda's and had a pretty good set-up for them. So he was supposed to ride supercross on a Honda and for us but after press day at Anaheim, he came to my office and we shut the door to talk about it. He just didn't like it, he was scared of the 250 in sx and it wasn't going well. He was actually going to quit at one point when I convinced him to do outdoors on a 125. So that was what he did, he focused on that.
He really was a total privateer that year, he did it out of a van. Him and Carrie went around and raced the series. We made sure he had good equipment and he just kept plugging away at it, getting some good results and I think he won a couple of races or motos that year. At the end of the year, he was fourth in the points. We might have bought him a bike or something, it was a long time ago. The Honda was a good bike to work with that season and compared to the other factory bikes, ours was right there with all of them. In fact Honda got all the pipes together from the different companies because they wanted everyone to use the same on and had like a little shoot-out with all the companies. We were fortunate enough to make the best pipe and they used ours. It was funny because they wanted a cone pipe and I told them I had to charge them $300 a pipe because of all the work but I would give them a stamped pipe for free. They said nope, they wanted the cone and they would pay.
Anyways,at the end of the season, Donny got an offer from Sylvain (Geobers) to go to Europe and race Suzuki's over there. Which he looked forward to, it was outdoors and he ended up being a World Champion so that worked out well for him.
Donny was an awesome guy, really friendly and a good person. He was just at a point where he didn't know what he was going to do and I'm glad he didn't quit. He won some races and world titles over there and it worked out well for him and his career."