Better late than never, photographer James Lissimore had to sleep in the ATL airport to bring you these images so please appreciate them.

Better late than never, photographer James Lissimore had to sleep in the ATL airport to bring you these images so please appreciate them.
Photos by James Lissimore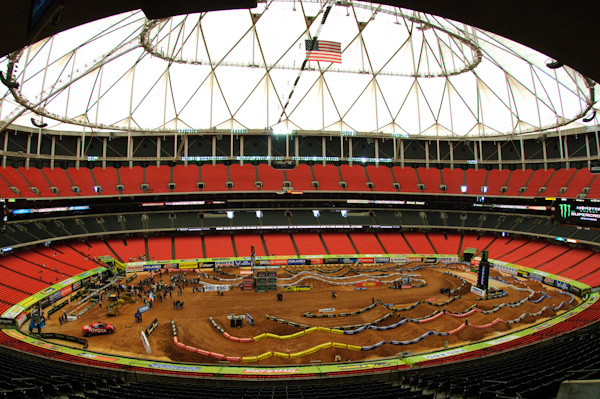 Atlanta SX during track walk, this is during the Chapel Service, hence everyone gathered around the podium.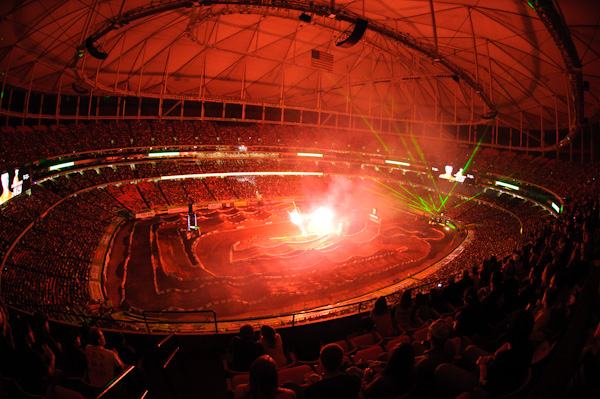 A few hours later, the fireworks began on and off the track.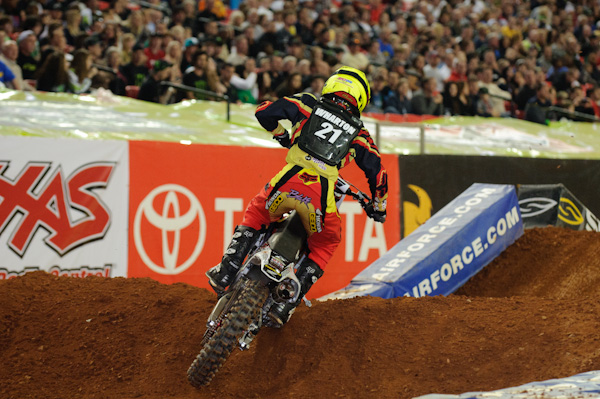 Blake Wharton shoulda, coulda, woulda won on Saturday night. He had it, lost it, got it back and then washed his front end out.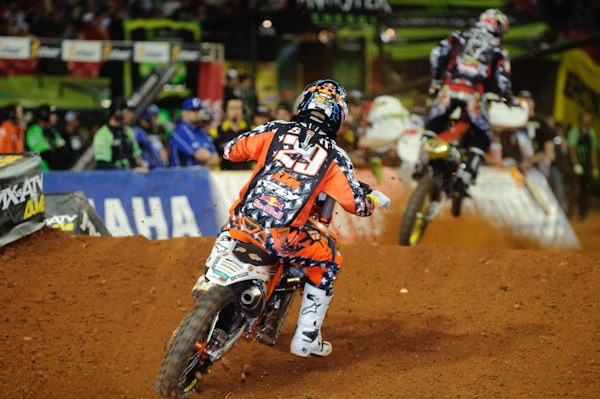 Shorty's getting the hang of that thing, he's riding it much better. One of the secrets he says is holding it wide open on the landings.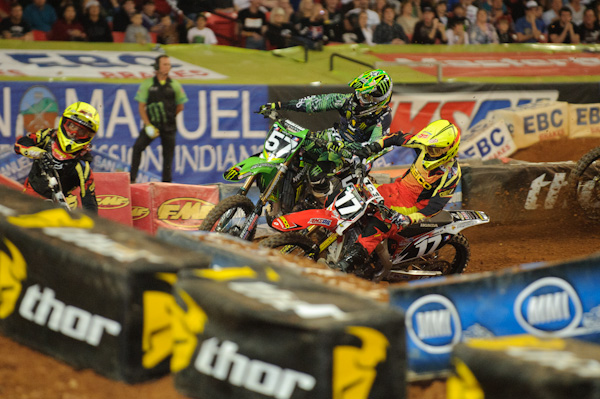 Wharton, Barcia and Baggett go at it early in the race.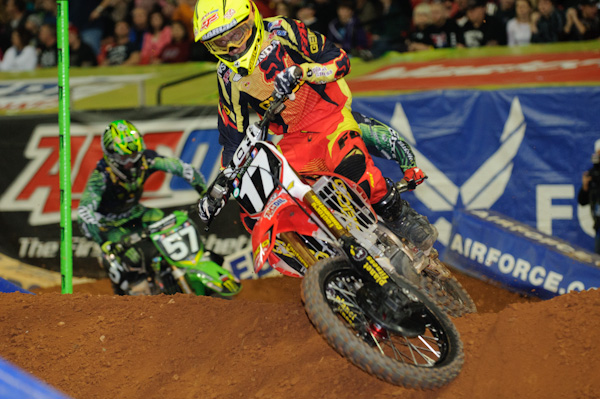 Bam-Bam Barcia won Houston and was in position to win again but had some problems with lappers as well as just plain not being the fastest guy on the night. JB crashed pretty hard in practice and apparently has a broken bone in his hand.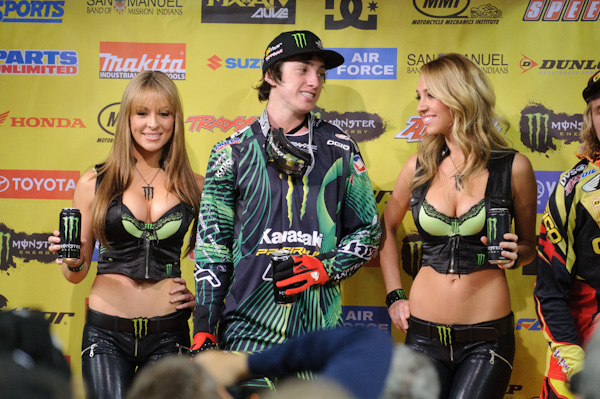 Wilson loves the chicks, no doubt about it. Good thing he won so he can get more of them.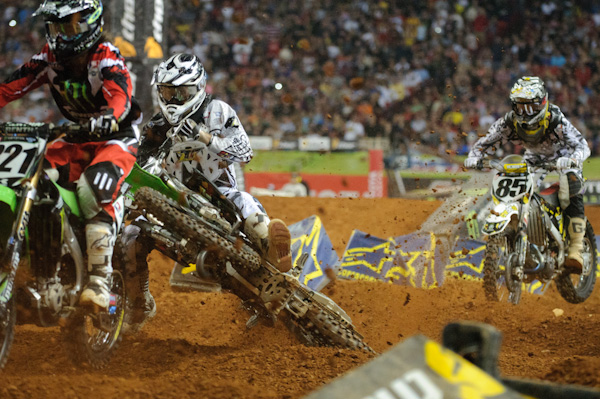 Matt Georke goes down in the whoops, Georke hasn't qualified for either of his main events so far after he returned from injury.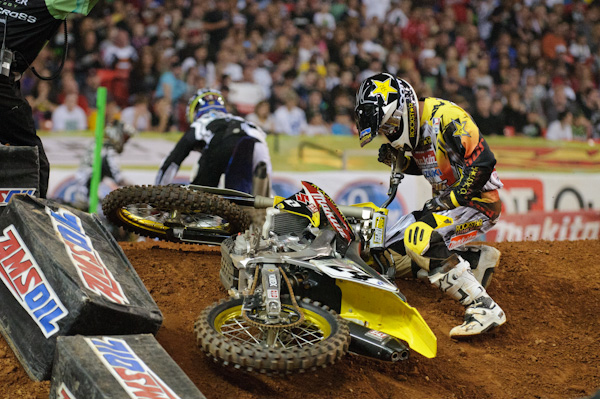 Since we're showing guys who have crashed, here's one of Metty after his heat race crash in the whoops. It was a good one.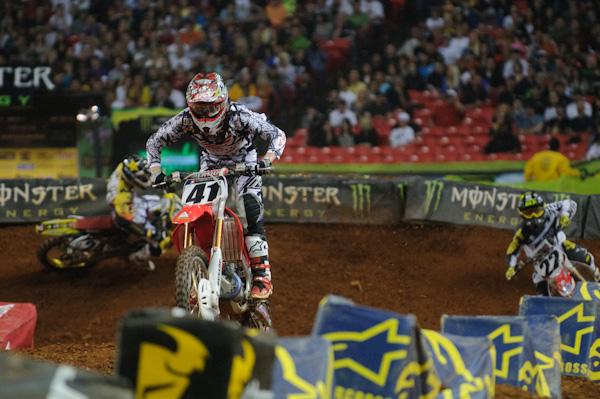 Trey Canard ran up front early in the main event but made a mistake in the whoops and crashed. Trey's definitey one of the guys that can win a race if everything goes his way. He's just making silly mistakes.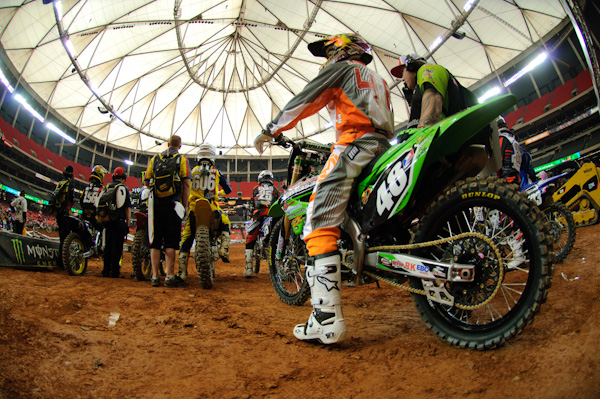 Matt Lemoine awaits his turn to go out for practice.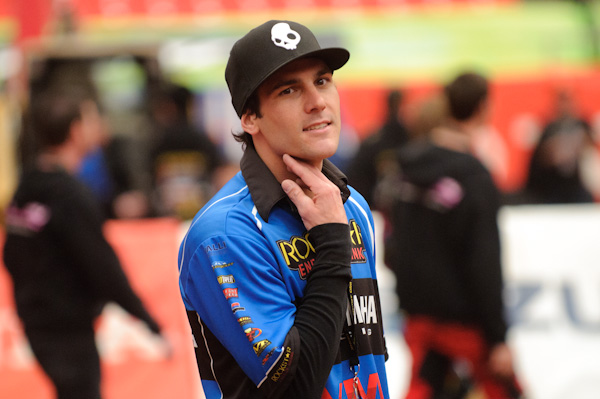 Nick Wey looking good as always. I'm married so I mean that in a strictly man-way.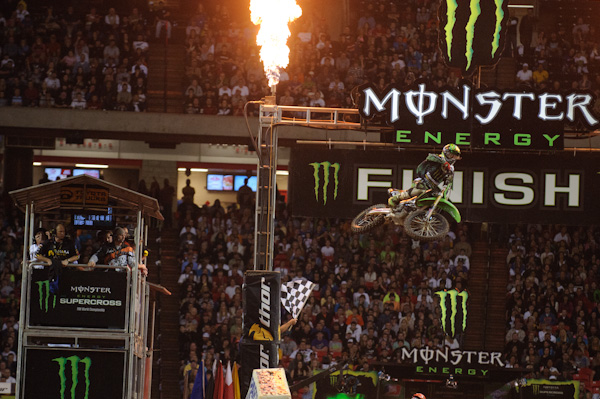 Wilson gets the checkers!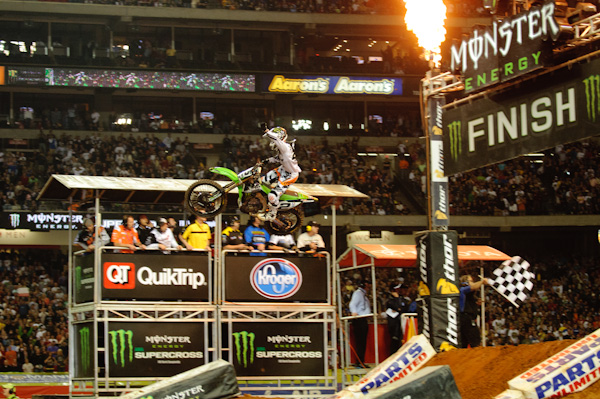 RV takes an improbable victory. Take a look at the team managers tower, not one of them is looking at RV cross the finish line. They are all looking at the Stewie/Reed battle.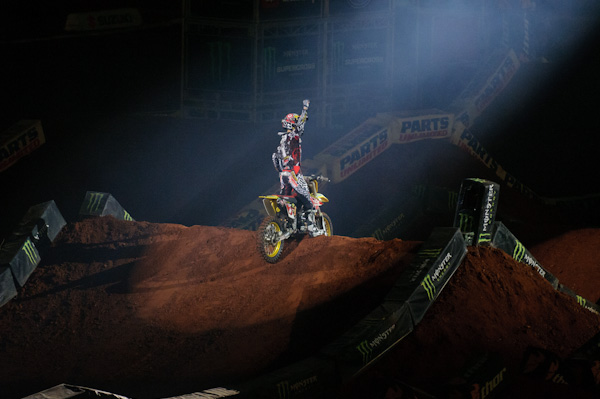 Dungey in the opening ceremonies.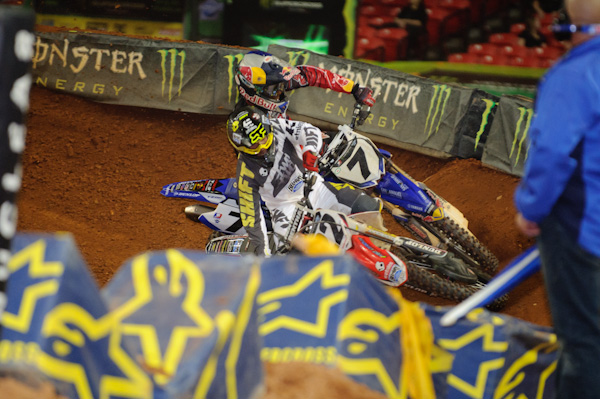 Here is "the pass" and from this angle, you can't tell the extreme angle that Reed came in on Stewie.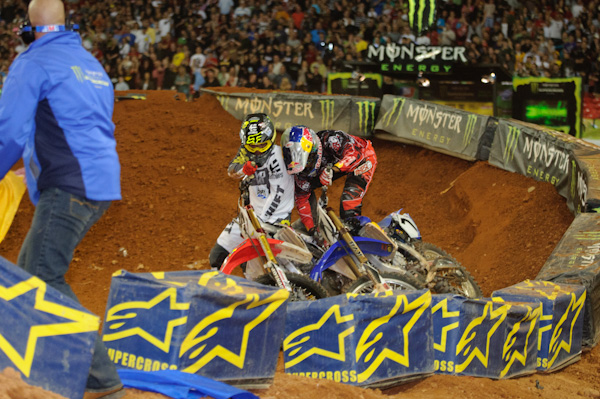 James standing on Chad's seat getting going again is somehow hilarious to me.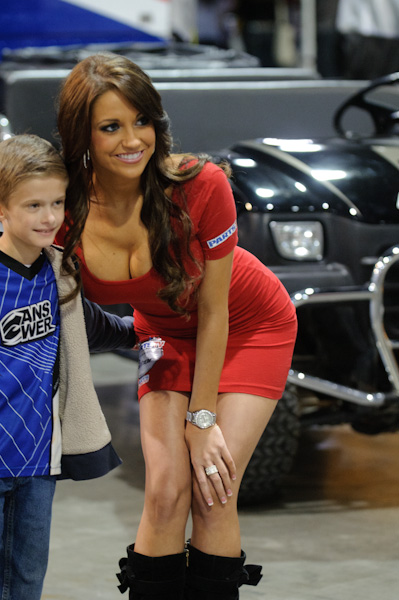 I don't usually notice the various models around the pits (I'm married and not looking for chicks plus really, what are my chances of pulling one of these if I was single?) but this girl was pretty smoking. Nice watch…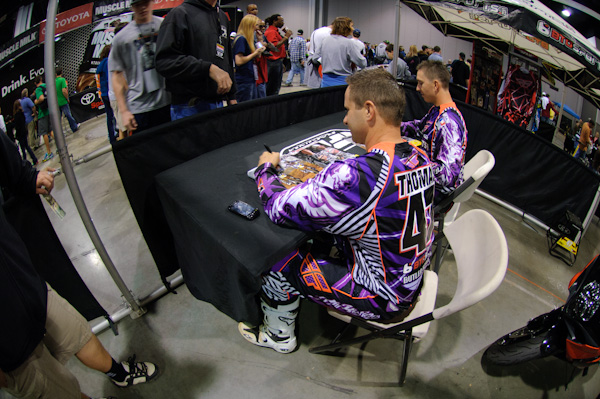 BTOSports.com BBMX riders signing autographs, please notice the phone near JT- it's always around.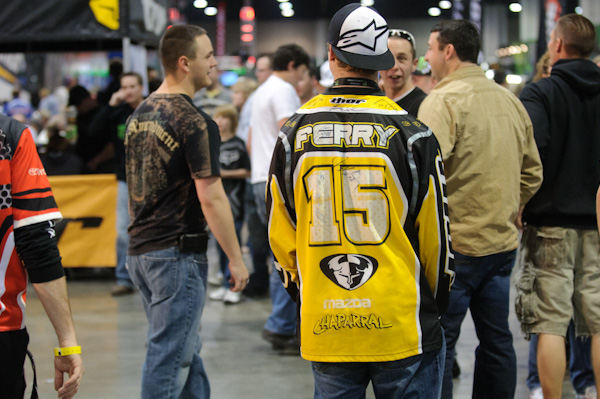 Yeah! This dedicated fan was in attendance wearing a Ferry jersey from 2000. Now that's a fan. I wish I could give him a hug.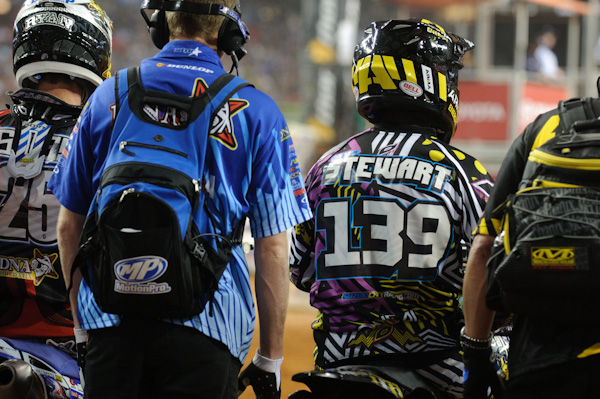 Mookie is going to figure this stuff out and be right there inside the top five very, very soon.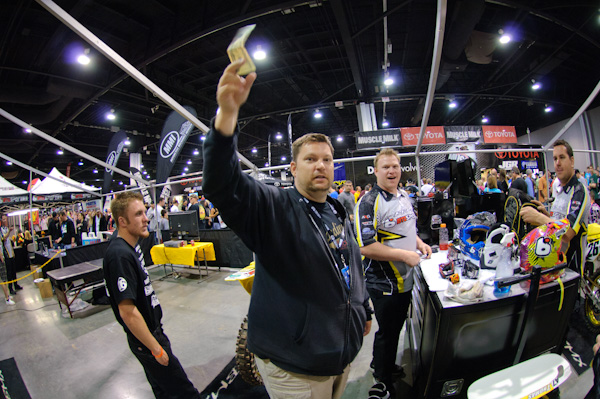 Here I am showing off my winnings from a bet with JT's wrench Dan Truman. I have seriously won so much money off this guy, it's ridiculous. He lets his friendships with riders affect his judgement.