This is it, the column we've all been waiting for from Seattle's own Moser- Moservations- Seattle edition!

This is it, the column we've all been waiting for from Seattle's own Moser- Moservations- Seattle edition!
Moservations
#BeingThere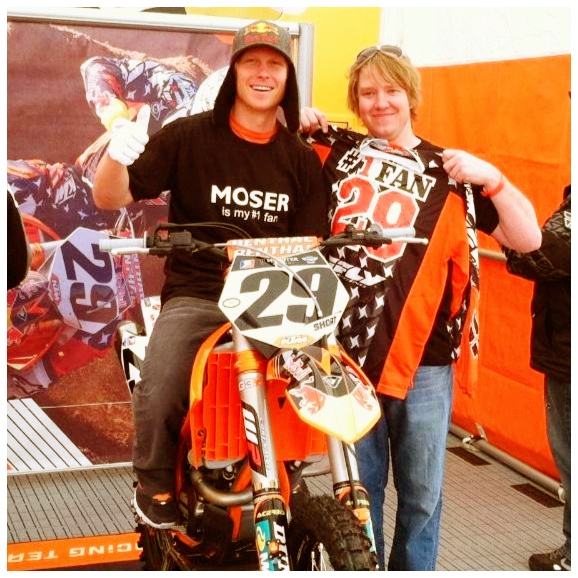 THE number one fan with his rider.
Title #beingthere credited to Steve Cox. What follows is an alcohol induced somewhat accurate account, to the best of my recollection, trip to the Seattle Supercross. This is not a breakdown of the nights racing action and if you haven't read three separate views on what happened in Seattle check out Swizcorner, Redux and Observations if that doesn't do it for you I can't help you, nobody can. My counterpart Mr. Wallace is on a sabbatical in the back country of Mexico, leaving me to shoot my own photos at the Seattle Supercross with an iPhone for this Moservations column.
Preface:
A group of my friends have two annual man trips, Seattle Supercross and the Washougal MX National. During these trips we drink to excess, don't shower, talk about inappropriate things, bench race and have a great time because we're men and that's what we do. At last years Seattle Supercross we where having some pitchers of beer at the Rock Bottom brewery, when who walks by our table? Steve Matthes and Jason Weigandt. I instantly got giddy like a school girl and waived down a waiter so I could buy them a round, one drink later a twitter friendship blossomed.
Friday:
Our vehicle of choice for these trips is a 1991 Buick Roadmaster Estate Wagon (with wood paneling) aka the "Woody" my wife surprised me with it for fathers day a couple years ago. We filled up the Woody pointed it towards Seattle and thrusted forward. The number of pee stops required wood rival that of any pregnant women but none the less the Woody made it the distance. We settled into or hotel room ensured our cooler had sufficient ice, and had a few celebratory drinks. Matthes wanted to get together for dinner but we had reservations with some friends already.
My BFF Holliday aka "the Cryer" (he literally cried when his favorite rider RV2 won the Seattle Supercross in 2009) and I had the pleasure of meeting Mrs. Matthes aka "Pookie" and her friend Suzy as we where leaving the hotel. We made small talk about how good Shorty looks and promised to meet up later for drinks. Ate some dinner, and drank some drinks with friends then met up with the Matthes's at the place we shared our very first drink, the Rock Bottom brewery.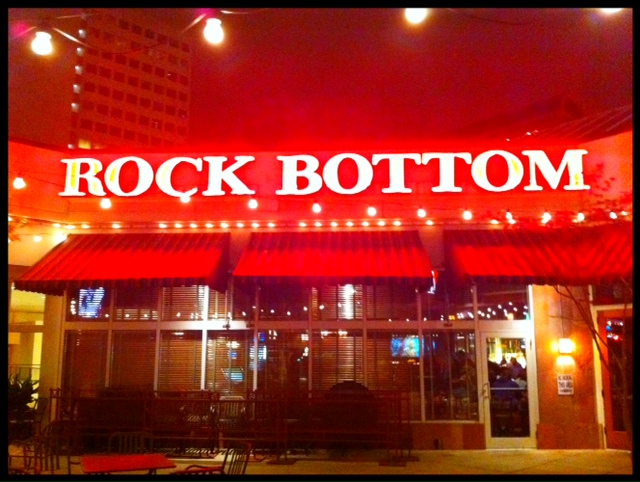 Where lightning struck twice.
No topic was left untouched in this meeting of the minds and Steve even indulged in a few real man drinks, strawberry daiquiris. Weege came a bit late which is out of the norm for him he usually comes early. I did run my hands through Weeges hair to try and uncover the secret and mystery behind his pube like hair but was unable to determine the chemical makeup. We meet Racer X video editor Matt Francis who was a cool cat from what I recall. Our attempts to keep the journalist out as late as possible ended around midnight. The Cryer also called it a night and hoped in a cab back to the hotel.
The ginger (our red headed friend @bigred140) and I started the short walk "just around the corner a couple blocks" to meet up with some friends at a bar, a dozen blocks later uphill we finally found said bar just in time for our friends to call it a night. We went our separate ways and I headed back to our hotel with Smiling Chad when we happened upon a bowling alley next door to the hotel, we couldn't pass up the opportunity to throw some balls down the hardwood at 2:00am and for the record I kicked Smiling Chad's ass, but he never stopped smiling. Finding the cryer passed out in bed with his hand down his pants was the perfect ending to the evening.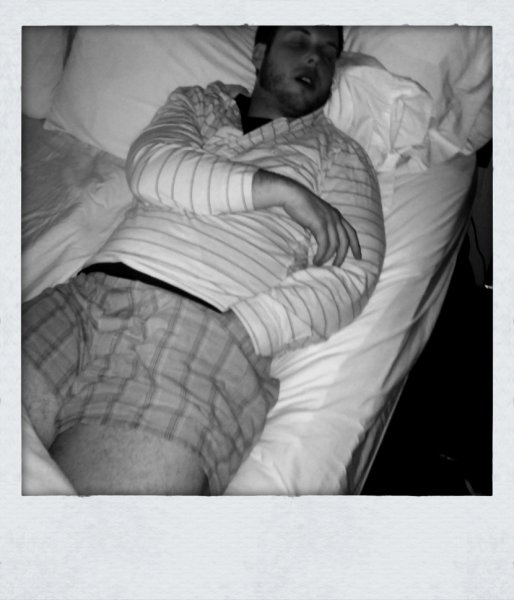 Classic!
Saturday
SUPERCROSS, SUPERCROSS, SUPERCROSS. There is always one guy in the group that gets up early when rooming together for no apparent reason and purposely makes such a racket that everyone is forced to get up, this is how Saturday morning started. If you're not aware I'm an Andrew Short fan, not a big fan, his biggest fan, his #1 fan. Monday on my weekly call into the pulpmx.com show Matthes informed me that I had a "surprise" waiting for me in Seattle. I wasn't given any hint as to what this surprise entailed but I was really hoping it involved Shorty jumping out of a birthday cake or something along those lines. My wife requested that I please shower before meeting Shorty which goes against man trip rules but I'm a rebel like that and showered to ensure I was presentable and didn't smell too bad.
After a few beers for breakfast we realized we where running a bit behind schedule. The Cryer had commited to shaving the number 2 in his chest hair to support RV2 and I was happy to lend him a shaving hand. I only wished I grew enough chest hair to shave something cool also. After finishing up the male gromming we grabbed a cab to Qwest Field.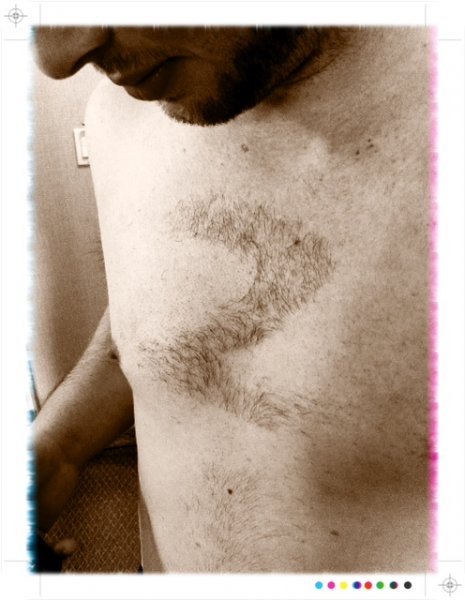 Now this is dedication!
Mrs. Jacki Short was kind enough to provide the cryer and I with tickets into the race (thanks again Jacki) and after picking them up at will call we were both parched and hungry. Luckily we found some nourishment just across the street. While enjoying an adult beverage we bumped into an old friend and shared old stories of racing and stupid things we'd done back in the day, this is one of my favorite things about the races running into old friends.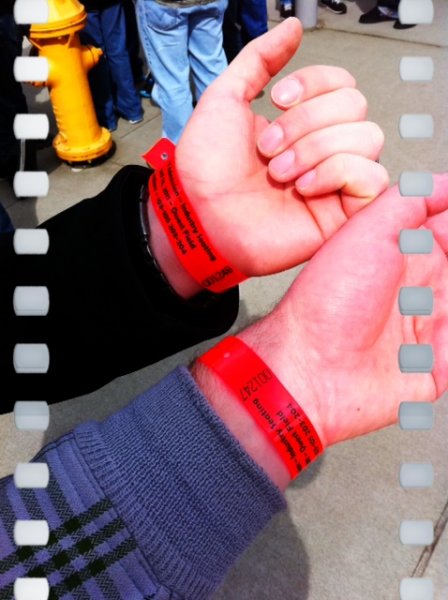 Thanks Jacki!
While deep in conversation Mr. Dan Dunes spotted us, (can't believe he thought we would be in a bar) super nice guy, we complimented him on his interviews, I mean stories and talked about #beingthere. Now fully hydrated we headed into the pits and straight to the KTM tent to see Shorty. I had two tricks up my sleeve to try and impress Short, I was wearing a shirt that said "@andrewshortmx29 follows me on twitter" and I had a shirt to give to him that said "MOSER is my #1 fan". After waiting a couple minutes at the truck we asked Frankie to tell Short I was here. Soon there after, I could see the top of his RedBull hat as he walked out of the truck with confidence and elegance.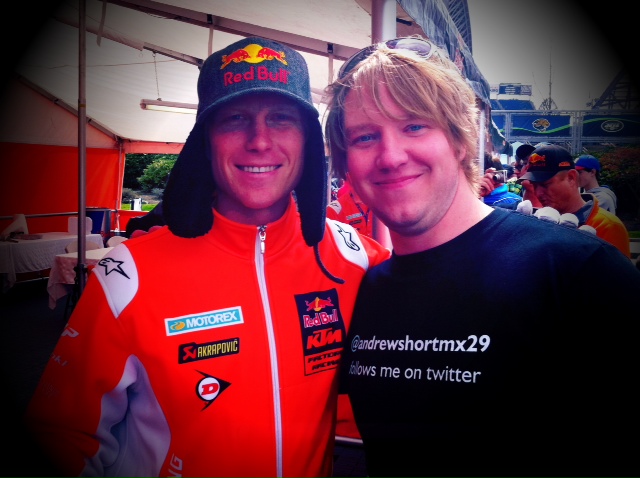 Short's number 1 fan!
We exchanged pleasantries and then he knocked my socks off by presenting me with a custom jersey with "Shorty's #1 Fan" on the back, and an adult beverage of his liking (only in the off season of course). I gave Short his "Moser's my #1 fan" tee shirt, which wasn't nearly as cool as the jersey he gave me; I'll out gift him next time. Then I was invited behind the ropes for some photos. To say I was glowing would be an understatement. To top it all off he also invited us to enjoy the KTM hospitality area for dinner if we liked. Short is a class act it's as simple as that.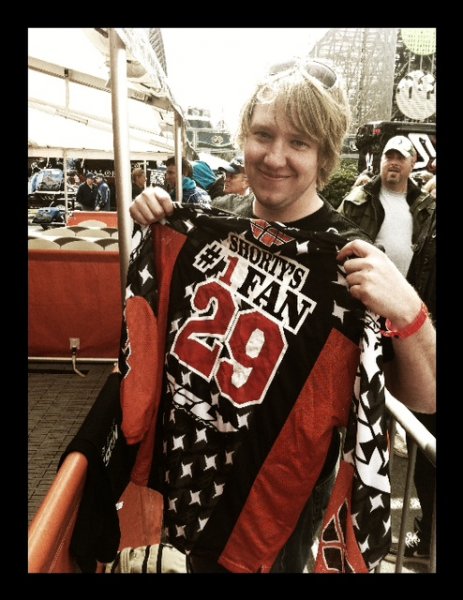 Can you see my glow in this photo?
I know better then to ruin a good thing so left the KTM tent before we overstayed our welcume and headed over to the H&H truck. We spotted Kenny Watson almost immediately and I waved him down, he responded with some four letter words but reluctantly came over to chat with us. We argued over how many lawn chairs we could jump over pool side and Watson swears he can clear three. Kenny offered to put wieners in our mouths later if we stopped by and we left before he wandered off mid sentence. The next moto celebrity we bumped into was Matthes himself who was busy chatting up fans of the Pulpmx show, we quickly showed him my custom jersey and the Cryer's number 2 chest hair which Guy B from Vital caught a picture of.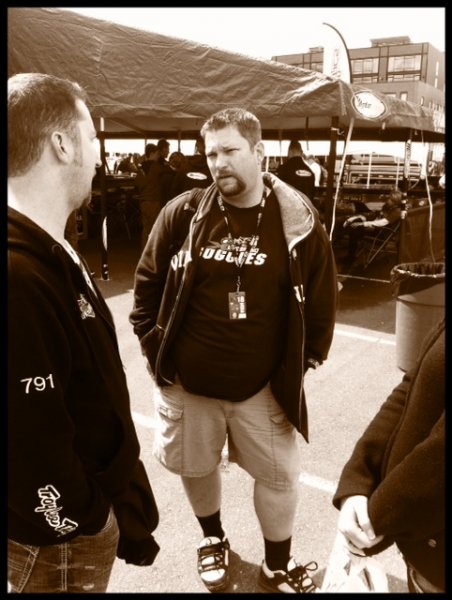 Matthes hard at work.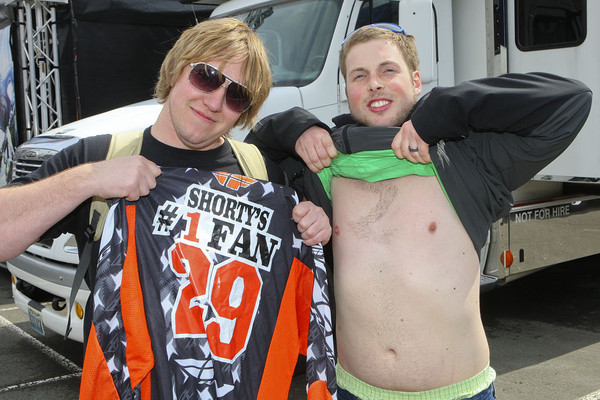 Us superfans made it onto Vital Pit Bits.
Although Matthes said our passes probably woodn't get us onto the track, I knew with the Cryer's good looks and my quick talking we would get on for sure. Well we did get one foot on the track before being told our passes didn't give us track access, it was worth a try. Practice was about to start so we headed up to the stands and meet up with some friends and the bench racing and shit talking was wide open. We were sitting in front of the section that Chad Reed would later crash in during the main event and it was a brutal spot to watch practice. The track looked decent from the stands but it was obviously soft and rutting up fast. I literally lost count of the number of riders that came up short on that triple, mind you I was commited to staying hyrdrated for the entire day so my memory is foggy but none the less, it wasn't pretty. Jimmy Decotis got the worst of it, when he cased the triple I cringed, his arm blew off the bars and you could tell something was wrong right away.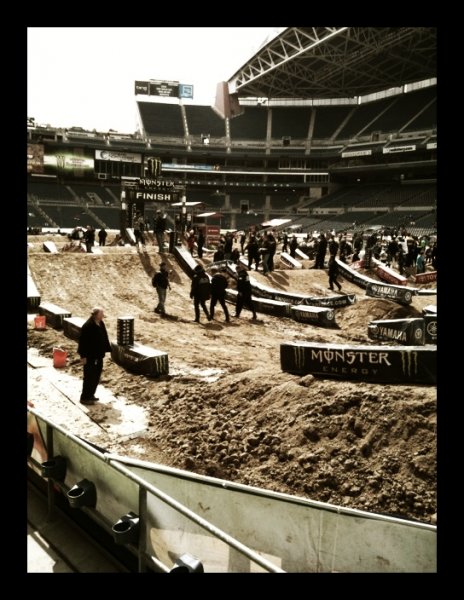 We watched the track walk from the stands.
My man Short was up on the timing board in practice where he belongs and we toasted to his lap time. After practice finished up and the bench racing died down I realized I forgot to have Short autograph my jersey which I definitely needed to make happen. As I've stated the Cryer and I are BFF's and after a night several years ago when me managed to lose one another on the walk home from the bar, a night we no longer speak of, our wives have initiated the buddy system any time we are together so we don't repeat past mistakes. I wanted to go back to the pits and the cryer wanted to do something else I don't recall, but we hugged and parted ways, breaking our wives #1 rule for the weekend "buddy system".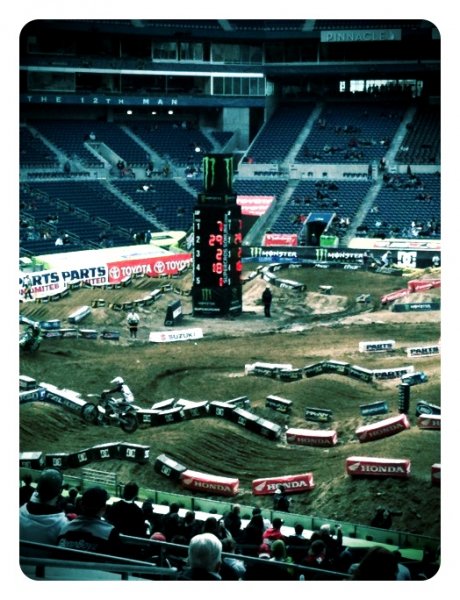 Shorty was the second fastest man on the planet in practice.
Again Shorty was a real gentleman and signed my jersey for me, we talked about line choice (not really) and I went on my merry way. I've always admired the JGR team mostly because they have an awesome pit set up everything is top notch. When Coy Gibbs was a guest on the Pulpmx show I called in and asked him how to keep my copier at work from getting jammed. I thought this was an appropriate time to introduce myself and laugh about my call, and after likely get a tour of the truck etc. J-Bone was hanging out under the tent and I asked if Coy was around he said let me go grab him for you. Coy strolled over a few minutes later and was very excited to meet a fan of the show he sponsors. We had a good laugh about my question, and he had an important video game to get back to or he would have hung around longer (I may have fudged the last sentence Coy wasn't super pumped to talk lets just leave it at that).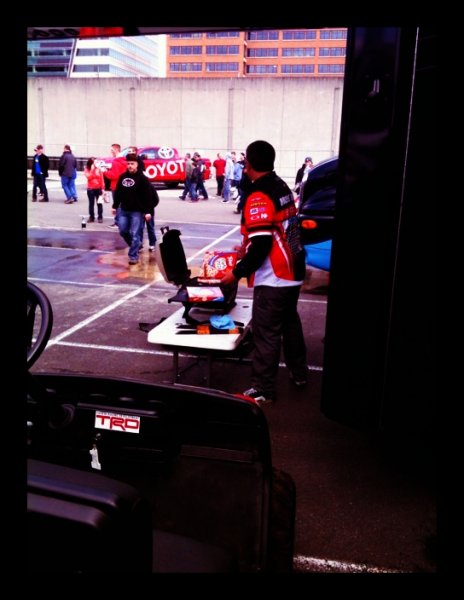 Totinio Pizza isn't exactly the Wahoo's fish tacos that I was expecting.
The pits are pretty full at this point and I'm contemplating my next move when I remember a distinguished member of the @_dream_team had requested a picture of Nick Wey doing his patented blue steel look so I headed over to Valli. As luck would have it Nick was coming out for autographs any minute, my sweet photo almost makes up for the fact that while standing in front of him I forgot the phrase "blue steel" not once, but twice and stood there like a deer in the headlights. Nick's a great guy and he really interacts with his fans, I saw it first hand while I was standing there trying to remember "blue steel".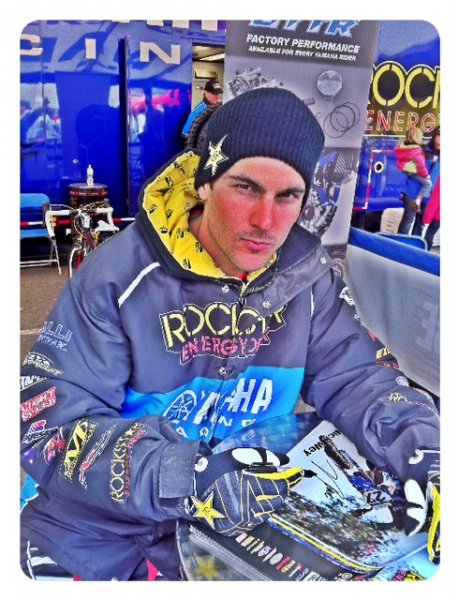 Really, really incredibly good looking.
My iPhone battery was running really low even though I brought two phones, my old phone designated to snap photos in an attempt to save my other battery. I contemplated who I could convince to charge my phone. JGR was out at this point, maybe H&H would, but KTM was my first pick obviously and when I stumbled over there and found Shorty signing babies, and shaking hands. Frankie had posted up in the autograph line in an attempt to end the line, but without much success. After a bit of sweet talking I convinced Frankie I would gladly take his place in line if he would plug in my iPhone and yes, sweet success. I kindly asked the remaining fans in line to come earlier next year that Short needed his rest before the race, everyone understood and left nicely.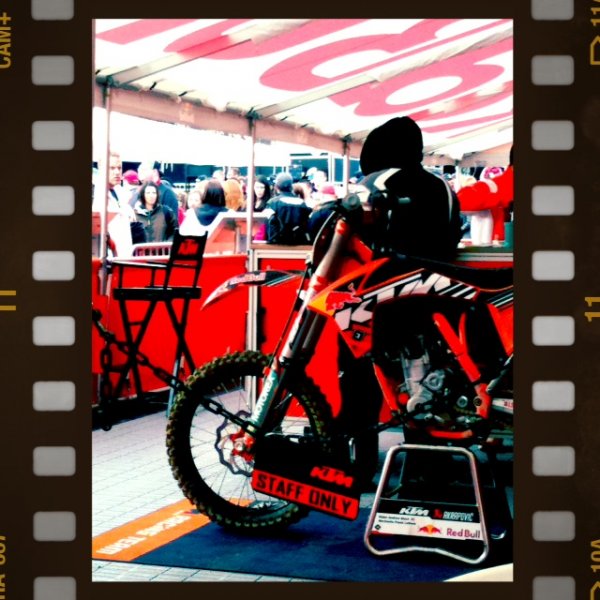 Short's bike is heavily guarded.
I eyed the KTM hospitality area at this point and took Short up on his offer to eat there, steak, chicken, potatoes and RedBull, when it touches your lips it tastes so good. With my iPhone charging and being by myself I felt very disconnected from the world, it's not often you find yourself without twitter, text, emails, phone calls etc. The most logical thing to do at this point was to find a soft quiet area to lie down, which I did in a small area of grass behind the outhouses. Next thing I know a security guard is telling me I needed to move, and apparently the grass was a bit damp because my ass is soaked. After confirming that nobody had stolen the Short jersey off my back or my wallet I wandered over to the KTM pits where Frankie had my iPhone waiting for me, thanks again Frankie.
I checked my missed text and calls, it appeared the Cryer had left the stadium went to a bar and was back at the stadium so I met back up with him in the same area we'd watched practice. The highlight of the night show was when the Cryer spilled an entire drink on his lap. I almost got up and walked out when Short when down in the main event first turn, it was obvious he had injured his junk because he was holding his leg way down by his knee. Shorty rode a great race after getting up in last place and I never stopped cheering him on. Although Chad Reed crashed directly in front of me I managed to only view the last moments of it. And that sums up the racing highlights I can recall.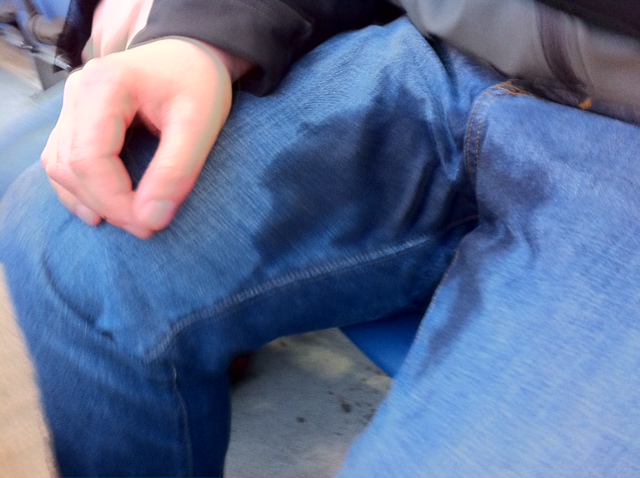 I really hope that is a spilled drink.
The Cryer and I headed down to roam the pits after the race. Frankie was helping teardown the KTM tent and said Short had already left for the night. We happened upon Weege and Matt Francis, Weege was very disappointed that the cryer had not yet shown RV2 his chest hair number 2 in person and drug him over to the Kawi truck. I watched Matthes in action wandering from team to team doing his post race podcasts.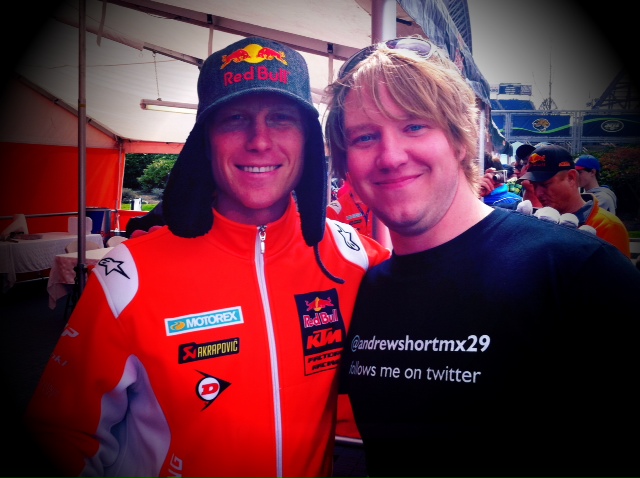 Can't get enough of this photo.
While the Cryer was patiently waiting for the right time to flash RV his chest hair we got to talk with Lance Smail about everything moto, from how awful those fourstrokes he came so close to qualifying for a SX on, to trail riding with friends. I really wish Matthes would do a podcast with this Pacific Northwest Legend lots of stories, very cool guy. Timing is everything and after Matthes was done interviewing RV2, the "official" RV2 fan club (the Cryer and Pookie) got there picture taken with RV. The Cryer manned up with some coaxing from Matthes and showed RV his number 2 dedication in chest hair. Amazingly RV took it pretty well and didn't turn and run.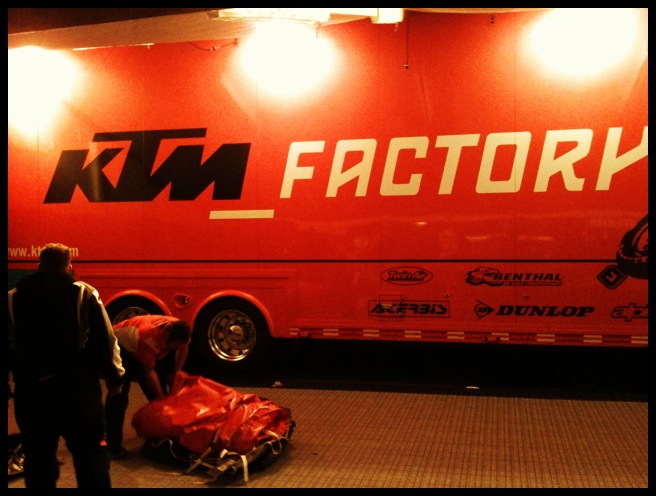 All good things must come to an end.
The pits were dying down and packing up, we convinced Pookie to convince Matthes to get a drink with us, so we meet up with a group of friends across the street for another round, and another round of bench racing too. We talked racing, dogs, grilled cheese, Tim Ferry, Andrew Short, it was magical. Our ginger friend @bigred140 wanted to cum to bar number two with us but his girlfriend had other plans and although he managed to literally run away it was only temporary and he wasn't allowed to join us. Matthes found this extremely funny and coined the phrase #freeginger. Matthes was kind enough to drop us off at the hotel without taking advantage of us, and we called it a night.
Sunday
The morning after. I slept like a baby in my Shorty jersey and again someone got up unnecessarily early for no reason. We pulled ourselves together, packed up and swung through Pikes Place Market to buy some flowers for our beautiful wives.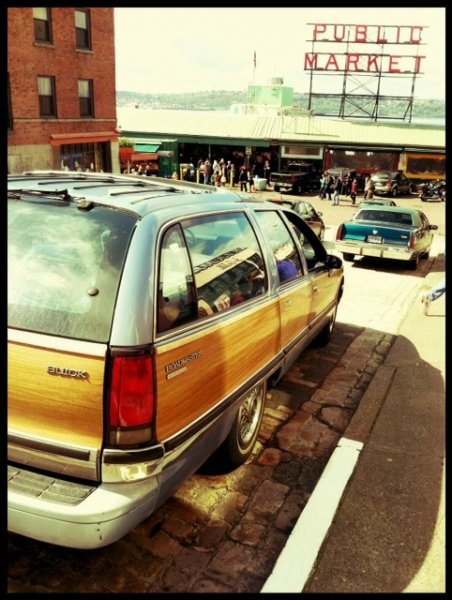 Seattle on a rare sunny day.
It's becume a tradition to eat lunch at Red Hook brewery and take the tasting tour on our way home. By on the way home I mean that it's 30min in the wrong direction of course. As luck wood have it we also discovered a quaint little distillery down the road from Red Hook brewery and we couldn't pass up a little sampling there as well.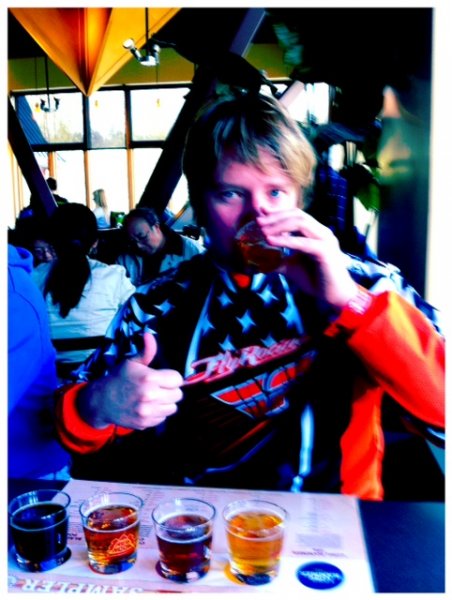 A little brewski taste testing.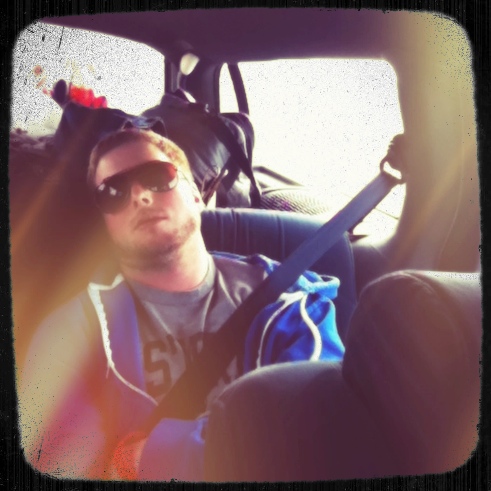 The Cryer sleeping like a baby.
The drive home from these weekends are noticeably quieter then the drive there, the cryer could be heard from the back seat mumbling "why do I do this too myself?" several times over and over. It was another successful man trip, and there are many more to cum. I wood like to thank my Wife, the Cryer, Andrew Short, Jacki Short, Pookie, Matthes, Frankie, Ginger, Shankle, Jrock (for driving). This was my most memorable Seattle SX to date from what I can remember. Thanks for reading and please send any complaints to jasonw@racerxill.com