The World Champion known as Mr 875 tells us about his last ever race.

The World Champion known as Mr 875 tells us about his last ever race.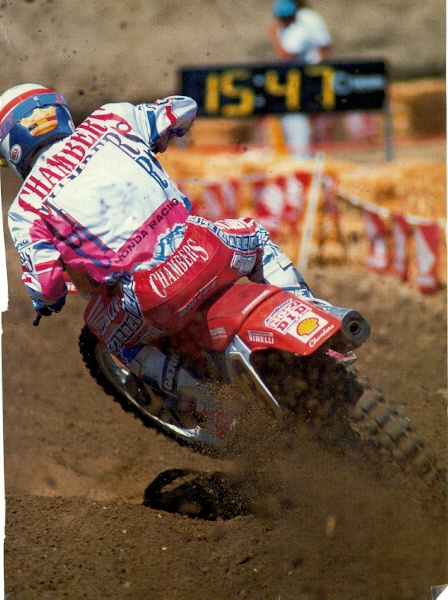 "This picture is from the last Grand Prix of my career, Glen Helen 1990 and it is a special race for me because I won right here in America. Three weeks before the race I decided to stop my racing career and there was this kind of rumor going around in the US that I would not go to America for this race. I didn't need to go because I had clinched the title already. But no, I came here anyways. I was pumped up to do well, I had nothing to lose. It was a very hot day and I remember that in the beginning of my career, I was always pushing so hard that I used to throw up in my helmet all the time. Later on I got that under control and it never happened to me anymore. But in this race, after the finish, everything that I ate came back up and threw up in my helmet.
It was a nice ending to my career to win here. At this point, beating the Americans was a real accomplishment for sure. I won the first moto and I had Johnny O'Mara on my rear wheel for a long time, I had to give it my all and it was a tough fight. I think that pissed me off this day was in the first heat, there was a restart because they said someone jumped the gate. I had the holeshot and maybe it was just a coincidence but the Americans were behind quite a ways! I was so mad, I was yelling at the clerk of the course "Hey, we have a back falling gate, it's impossible to jump it!" but anyways, we had a red flag and of course, I didn't have a good jump and was behind a ways. I was so pumped up about this, looking back at it that is what made me mad. I think the clerk of the course was American! (laughs)
This track is a roller coaster, much different than what we were used to. I did like this dirt better than Carlsbad and the outside environment is also better. I remember that in Carlsbad, we had to watch where we walked because of rattlesnakes. Most of the problems here was the temperature-Carlsbad could also be very hot.
A lot of people thought that the American riders and us Europeans weren't friends but that is not true. (Rick) Johnson and I were buddies! We spent a lot of time together when we came over here and when they went to Europe. When Johnson was over in Europe, we would go out to the disco and when I was over here, I spent a lot of time with Johnny O'Mara doing lots of things besides riding (laughs).
This bike was good, it wasn't as trick as the 80's bikes, it was a step down from them but it was still pretty good. It had a very powerful motor better than those old bikes but it wasn't as good on the chassis side. I remember that we spent a lot of time tuning it to make it good. Even if it's not a works bikes, you have to spend the time to make the bike suit you. We did a lot of fine-tuning with the machine , we did a lot of things to make it a special bike.
My teammate was Jeff Leisk and he had a really nice riding style. He hurt his finger early on and had to have it operated on. His fitness wasn't where it needed to be and generally I looked at him as someone that I had to beat at some races but not for the title.
I liked coming over to America even though we got beat here and there. For me, I have always liked coming over here, in wintertime I would spend a month or two in California. I like to be here and yes, tough racing but one time my mechanic made a remark that I treasure now more than I did at the time. It doesn't matter who was in the race, I was always trying my best and I always wan ted to be first no matter who was in the race. Disappointing for sure to not win but I was trying to win.
For example, in the early 80's when we were coming over here and racing Mid-Ohio with Mark Barnett. He would put seconds on us every lap, it was amazing but then we went home and knew that we had to improve. Soon we got better and got closer to the limits that we needed to be at.
A nice thing about this race was that it was my last race and it was Johnny O'Mara's last race also, we raced 125's, 250's and now 500's together. Same as Johnson, he was near the end as well. What we had back then was special and we all raced time and time again against each other."