I saw a bunch of things on Saturday night that I'd never seen before.

I saw a bunch of things on Saturday night that I'd never seen before.
Thanks to Stephen LeGrand of LeBigusa.com for the pics!
This past Saturday night, Travis Pastrana and his buddies showed up in Las Vegas to show off everything that they've been working on down under on their Nitro Circus show and I have to say, I was impressed.
Hours before showtime, there I was standing on the floor of the MGM Grand Garden Arena talking to Travis and trying to get a sense of what I was going to be seeing in few hours. TP was his usual outgoing self, if you weren't familiar with him, you might think he was putting you on but nope, he's that type of guy. Travis has come a long way from the days of just being this serious motocrosser by day and freestyle maven at night.
Remember when his own team manager Roger DeCoster would get on him for doing FMX shows while in the middle of the outdoors?
Anyways, good memories and I have to say that all of that stuff flashed through my mind as Travis took me through the sights and sounds of what was going to go on later. Pastrana remains the biggest star the sport has ever produced (yes, I'm including James Stewart, Chad Reed and Ricky Carmichael in there) and luckily for us, we couldn't have a better ambassador.
Now obviously I got my tickets for free (and big thanks to Laurette Nicoll- yes she's married to King Kurt- for the help in getting me some extra ones when I screwed up and committed more tickets than I was allotted. I owe her one.) but honestly, I can't see anyone leaving the MGM on Saturday evening thinking that they overpaid for the event or didn't get their monies worth. In fact, my only complaint was that I thought it went a bit long and lagged in sections. Once you've seen grown men on big-wheels hit a ramp once, you don't really need to see it again. Although the dude who tried to land a Barbie pink convertible was very amusing.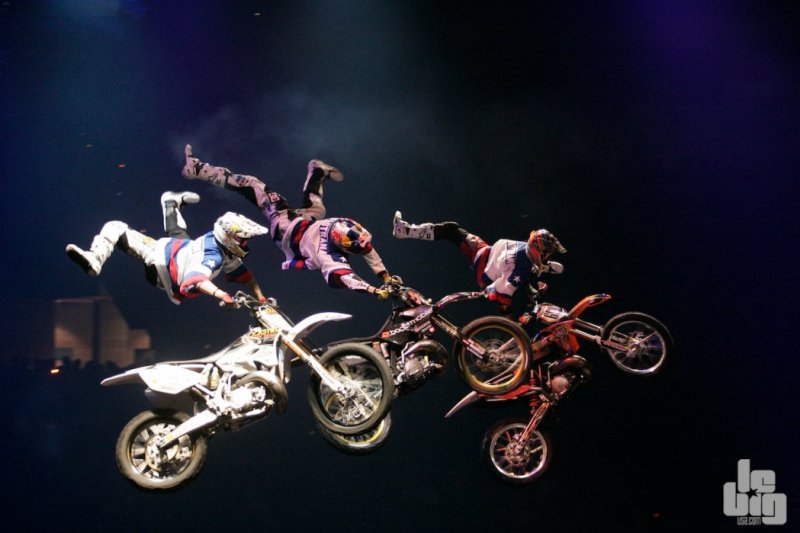 Lots of stuff always going on in the Nitro Circus.
The show was structured in two halves (again a smart plan, gives everyone time to get up, go to the bathroom and most importantly, buy merchandise) and like I said, although long, every time you were wondering what was next, the Nitro Crew would up the ante.
First it was picking someone out of the crowd and TP doing a back-flip with them on the bike, then it was a guy in a cooler hitting the ramp from the very top, from there it was seven man backflip trains (which was a cool visual) and then a guy in a wheelchair doing front and backflips. This was definitely one of the highlights for me.
It seemed like the show would just ebb and flow along which is what a good drama should do. Travis and the boys (judging by the announcer and the people who were setting everything up, it's a mostly Aussie crew) had everything down to a science. Even if a guy got hurt, he was tended to quickly and sort of dragged off so that the show could go on. Me personally, I think the backflip thing is sort of played out (although it's amazing how these guys make it look so easy though) so I was really impressed with the whips these guys were doing- it's incredible that they could pull it back in time.
There was a massive huck by a Chad Kagy (a BMX dude who won gold medals at the X-Games) who went from one ramp to the other in a transtition that was sort of real-life scary. He almost didn't pull it off either!
The climax of the show was Travis and Cam Sinclair doing tandem double backflips which was pretty amazing seeing as how just one guy pulling it off one time is really hard to do. In fact, before Pastrana and Sinclair did their thing, Scott Murray (him of the garden gloves wearing fame) once again failed to pull off his double backflip.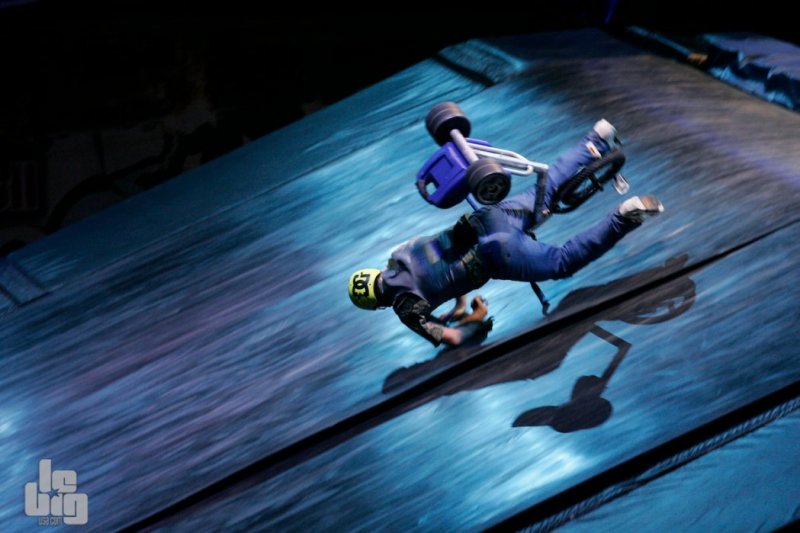 No one really landed the big-wheelers that smooth. Shocking I know.
When it came time for Pastrana and Sinclair, everyone was standing and waiting to see what exactly was going to happen. When they pulled it off, there was just a sense of euphoria in the arena. After TP pulled it off, he ran into the stands much to the delight of the crowd who promptly put them on their shoulders and he crowd surfed like some sort of FMX Jesus.
All in all, a great show with enough thrills and chills to excite anyone. The crowd I was with included myself (cynical moto media member), a 3-year old (who was enthralled by what he was seeing until he fell asleep around 10PM- ah to be a kid and be able to sleep anywhere, anytime), my buddy JR who isn't easily amused by anything and our two wives (who both seemed to love it also) and we all thought it was a great show.
There aren't any plans to take this thing across the country but I think there should be. It's a hell of a three-hour spectacle.
But really, would you expect anything else from Travis Pastrana?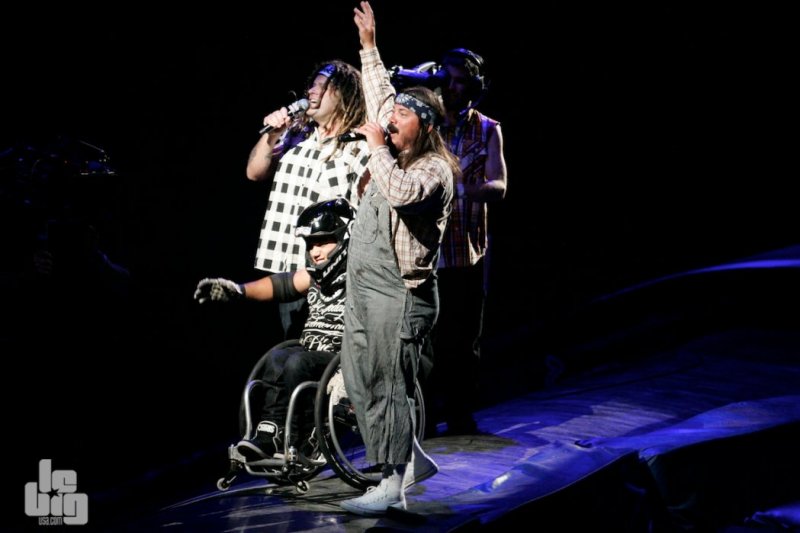 Wheelz, the guy in the wheelchair doing front and back flips was the highlight of the night for many.