McCready gives us his take on the Portugal GP. Go Osborne!

McCready gives us his take on the Portugal GP. Go Osborne!
Desalle and Herlings rule in Portugal

World Motocross Championship
Round 6
Photos courtesy of Youthstream

The red silty soil of the Agueda circuit is easy on the eye and makes the photographers jobs simple in creating sensational shots as the best riders in the world navigate their way around the tough, tight circuit that left some of the top riders licking their wounds. Tremendous racing at the front of both classes entertained the fans all weekend on what turned out to be one of the best GP races so far.
Clemant Desalle served notice in Portugal that he is the man to beat in so far 2011. The Belgian championship leader held off two late race charges from Tony Cairoli who, on his favourite track, would not have been expecting to come away without a race victory. It wasn't just the victories that were impressive but the manner of victory. Yet Desalle somehow was not totally satisfied with his performance and is keeping his feet on the ground, saying matter of factly, " It was good, but I think I can be better, I made some mistake in both motos, but it is good it's a win. I will train and be ready for Spain."
In both races Desalle showed mental toughness, especially in race one where he held off Frossard and Cairoli (his main title rivals) for the entire moto. In race two Desalle had to find his way past home hero Rui Goncalves who was riding inspired on the factory Honda before again having to deal with pressure from Cairoli in the closing laps. It was a performance that left many believing that Desalle could win the World title this season.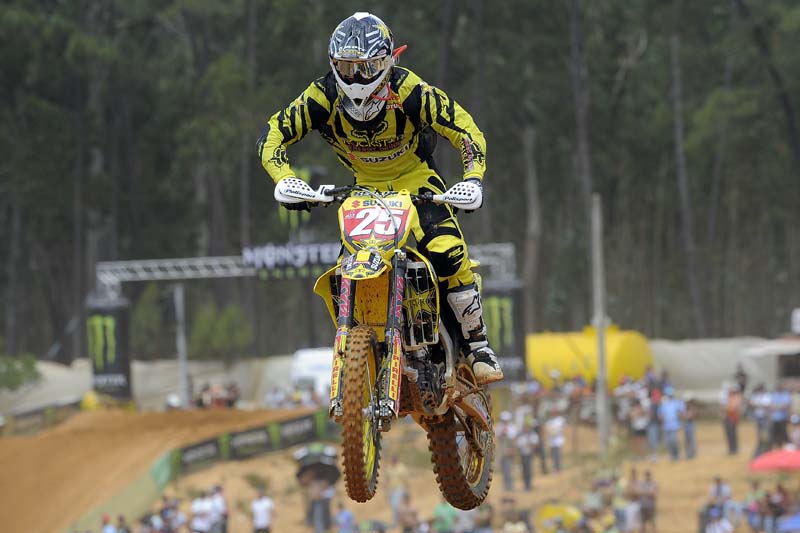 Clement Desalle went 1-1 in Portugal to stretch out his lead in the World Championships.
Cairoli will have something to say about that however. The 2010 World Champ left Agueda second overall with two second places, but he is leaving himself with too much work to do at the end of the races so far this season. The Italian is getting the decent starts on the 350 KTM but he is not attacking straight away like his competition and despite being the fastest man on the track at the end, it is a race against time to get the win and time is winning so far. Still, he is only thirteen points of the lead and you feel there is still more to come from flamboyant Cairoli in the coming rounds.
Evgeny Bobreyshev made his got his second podium of the year, with third overall. Once again Bobby was over the moon with getting to see his Russian flag being unfurled during the podium celebrations. The young Honda rider has shown fantastic speed this season, and with his growing confidence combined with a great team, a win may not be far away.
Teammate Rui Goncalves was fourth overall on his home track. After a good ride for sixth in race one, Goncalves set the place alight with a holeshot in race two. The crowd where hanging over the fences all round the track and Rui held the field at bay for over half the race. He couldn't fend off the pressure from Desalle or Cairoli but still took an outstanding third place and sent the crowd home happy.
Third in the championship Steven Frossard rode a fine first moto as he challenged Desalle for the lead before succumbing to his hand injury and settling for third. Race two didn't go to plan, a terrible start saw Frossard working his way up from fifteenth to seventh but he lost valuable points to the championship leader.
Fellow Rinaldi Yamaha rider David Phillipaerts had a nightmare day. After hauling himself back into championship contention by winning the Brazilian GP, Phillipaerts had two DNF's in Portugal to effectively end his title hopes. His speed has not been in question, and indeed he had podium speed in Portugal, but maybe the pressure of having Frossard beating him has led David to push too hard, at times this season.
Xaiver Boog is getting better and better this season, two consistent rides saw him take seventh overall and once again the top Kawasaki, Bad news for Kawaaski was Ben Townely pulling out of the qualifying race and announcing he would be taking the next couple of weeks off from racing as he tries to find a solution to his concentration problems stemming from his crash in Feburary. Will this leave the way open for Christophe Pourcel to ride for the Mitch Payton backed CLS Kawasaki team?
Ken De Dycker had one of his best rides of the year for sixth overall, the giant Belgian has good speed but bad starts are hampering his chances at getting on the podium.

MX1 O/A: 1. Clement Desalle 50pts, 2. Antonio Cairoli 44pts, 3. Evgeny Bobryshev 36pts, 4. Rui Goncalves 34pts, 5. Steven Frossard 34pts, 6. Ken De Dycker 30pts, 7. Xavier Boog 28pts, 8. Steve Ramon 22pts, 9. Tanel Leok 22pts, 10. Jonathan Barragan 21pts

FIM World MX1 Championship points: 1. Clement Desalle 249pts, 2. Antonio Cairoli 237pts, 3. Steven Frossard 213pts, 4. Max Nagl 192pts, 5. Evgeny Bobryshev 177pts, 6. Rui Goncalves 167pts, 7. David Philippaerts 161pts, 8. Xavier Boog 137pts, 9. Jonathan Barragan 136pts, 10. Kevin Strijbos 134pts
?
In MX2 it was Jeffrey Herlings who left the track the happiest. The 16 year old lead both motos but lost a titanic first moto battle for the win with Ken Roczen, and finished a smart runner -up to Tommy Searle in race two. But after seeing Roczen crash out heavily while trying to pull away early in the race two, Herlings knew another second place would be good enough for the overall, and the championship lead.
Herlings pointed to his front number plate as he crossed the chequered flag, indicating his joy and taking over the red place signifying the championship leader. After the race he had a huge smile on his face, stating, "I am so pumped to win the overall and get the red plate. I was maybe not the fastest guy today but it is not always the fastest guy who wins."
Ken Roczen has now crashed in the second moto for the last three GPs, this time however, he was unable to restart after going over the bars in the whoops section and hitting his head relinquishing his lead in the series. After the race Stefan Everts said Ken had no broken bones but had heavy bruising on his back. It remains to be seen how fit Ken will be for Spain this weekend, but as he showed during super cross he can ride through the pain.
Just why Roczen is crashing so much is an unsolved mystery but it could due to an amalgamation of factors. The first of which may be his heavy racing schedule that started back in January racing super cross ( both 450 and 250), combined with the two day nature of GP weekends, he has already raced a lot, and isn't at the half way point of the GP season yet.
Added to that is the hype and expectation upon his shoulders this season coming in as the favourite combined with the American media and marketing he received while in the US, but maybe the biggest factor is Jeffrey Herlings speed. Herlings has been going toe to toe with Roczen since round two and forcing Ken to ride perfect races at his maximum speed, this has left Roczen no room for error, and eventually the combined pressure seeems to have taken its toll and the errors are coming.
Roczen however has the perfect mentor in Stefan Everts, Everts has been through exactly what Ken is dealing with right now and will be able to give him the correct advise to stem the crashing while retaining his blistering speed.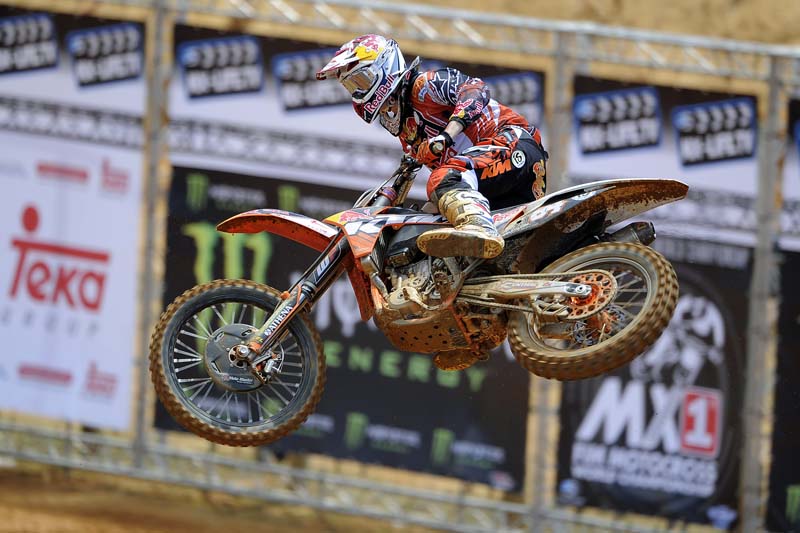 Herlings moved into the points lead with his win.
While Ken is having his problems, he is giving the rest of the field belief that he can be beaten. Tommy Searle is the main benefactor of this and he rode probably the best he has all year to run down Herlings in race two to take the win. If he hadn't been the victim of the green fencing after running off track while trying to pass Max Anstie for third in race one, Searle would have been only a few points behind Roczen and Herlings.
Both Gautier Paulin and Zach Osborne made the podium in Portugal, it was Paulin's third podium in a row and he will be looking for a win in the next couple of GP's, as his speed is improving each weekend.
Zach Osborne's third overall was even more impressive considering he has been suffering from a chest infection all weekend sapping him of strength at the tail end of both motos on what was a very bumpy track. The top five in the championship are breaking away from the rest in terms of points and all five will believe they still have a realistic shot at the title and race wins. But for now the KTM duo are still the favourites with Tommy Searle hanging in there and refusing to go away.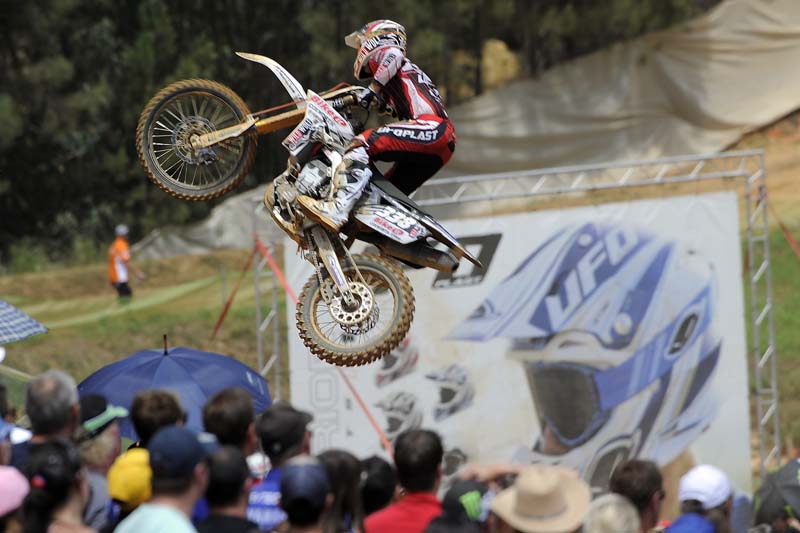 Team America, Zach Osborne got his second podium in a row.
Other impressive performances over the weekend came from Max Anstie who held onto fourth in race one by the thickness of a tyre and backed it up with seventh place. Max is still looked for the speed to run every week with the top five but he is making steading progress.
Arnaud Tonus returned to form on the Wild Wolf Yamaha for fifth overall, the silky smooth Swiss rider should really have been a podium contender but a crash in race one left him having to charge through the field from last to eleventh.
Christophe Charlier had a great ride for sixth overall and showed some of the promise everyone has been expecting when he was beating Herlings and Roczen in the European Championship in 2009.
American Michael Leib made his return to racing for Husqvarna and came from outside the top twenty to seventeenth in race one to claim some points on his 2011 GP debut.
MX2 O/A: 1. Herlings 44pts, 2. Paulin 36pts, 3. Osborne 36pts, 4. Anstie 32pts, 5. Tonus 28pts, 6. Charlier 28pts, 7. Searle 25pts, 8. Roczen 25pts, 9. Roelants 24pts, 10. Kullas 23pts
MX2 Championship classifications: 1. Jeffrey Herlings 257pts, 2. Ken Roczen 251pts, 3. Tommy Searle 224pts, 4. Zach Osborne 198pts, 5. Gautier Paulin 196pts, 6. Max Anstie 167pts, 7. Arnaud Tonus 166pts, 8. Harri Kullas 142pts, 9. Joel Roelants 138pts, 10. Christophe Charlier 130pts