Our man in Europe Mccready gives us his POV on the German GP. Go Osborne!

Our man in Europe Mccready gives us his POV on the German GP. Go Osborne!
Roczen rocks Germany as Bobreyshev rocks the world!
Photos courtesy of Youthstream
MX2
What a day of racing in Germany! A massive crowd turned out to cheer their superstar Ken Roczen in MX2, as well as Max Nagl and Marcus Schiffer in MX1. A warm and muggy day under sunny intervals, laid the platform for some stunning racing and historical moments on the technical and busy hardpack track in Teutschental.
In MX2 it was deemed the Ken Roczen show. Fans throughout the crowd were flying flags adorned with the face of the 17 year old sensation, air horns blasted around the track and the atmosphere was electric as Ken rode around the track.
Race one went perfect for both Roczen and his fans, Ken nailed the holeshot to a roar of approval and tried to check out, but for fifteen minutes Jeffrey Herlings kept Roczen in sight, even closing down on the German at one point and looking the make a move. It was quite a sight to watch the two teenage starlets romp away from the field at a speed no one else could match. Then Herlings backed the pace down as Roczen kept it up and rode off for moto one victory to the rapturous delight of the crowd.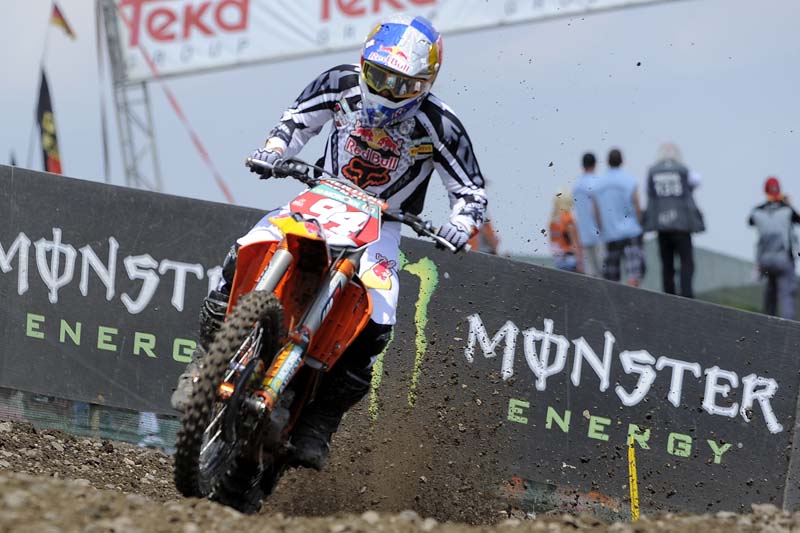 Roczen won in front of his home fans and I was there in '09 and they were going berzerk back then also.
Tommy Searle claimed a distant third after a battle with Arnaud Tonus, but the Swiss dropped back to sixth after his clutch started slipping. Gautier Paulin came through the fourth.
Race two and Roczen holeshot again, while Herlings had a terrible start outside the top ten. Then, still on the first lap, Roczen lost the front wheel and crashed! He remounted just a couple of placed behind Herlings while Gautier Paulin inherited the lead and took off.
The next ten minutes where sensational, both Herlings and Roczen put on a blistering display of speed as they rifled through the field. Herlings passed Searle to get up to second while Roczen powered his way to third. At this point it was Herlings who would take the overall GP victory, but things were about to change. Tommy Searle refused to let Herlings go and clicked into the Dutchmans's pace and Roczen had now caught the pair of them. Searle fought back Roczen and eventually found his way back past Herlings and into second.
It was then that Herlings mentally collapsed allowing Roczen passed too, handing back the overall victory to Roczen and dropping off the pace. Searle tried to close the eight second gap to Paulin, but the Frenchman had it all under control and took his well deserved first moto victory of the year and second overall. Searle took third overall knocking Herlings off the podium, but it was Roczen who came across the line a tired but elated third and took the second home GP victory in three years.
It was an impressive display by Roczen under the presssure. Under huge media attention in the lead up to the event, and smothered by fans throughout the weekend, Roczen still came back strong from a race two mistake to prove he is still the man to beat in MX2. Ken Roczen oozes class and confidence, and it will take a heroic display from the just as fast but mentally more fragile Herlings to take this title off the German.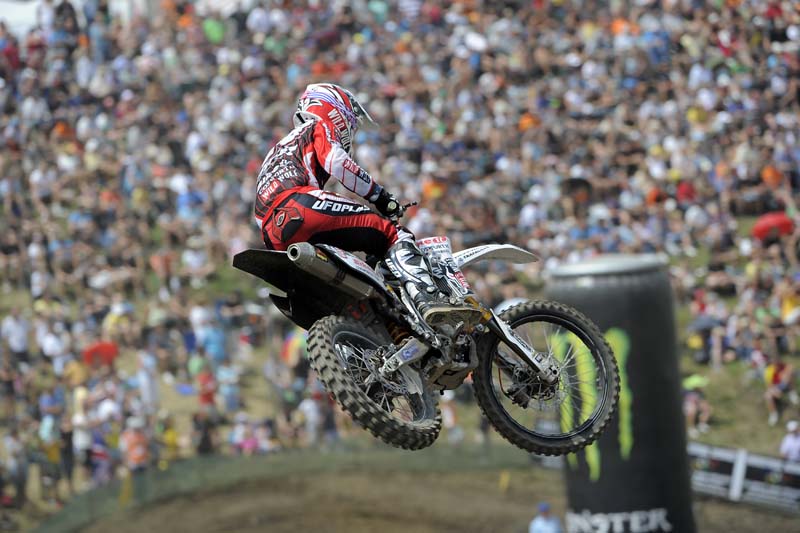 Osborne did about as well as could be expected under the circumstances. He's still a goddam American hero.
Leading American Zach Osborne was diagnosed with Glandular Fever prior to the Grand Prix, but he still came to Germany and rode to a fantastic 5-5 results under the circumstance. Zach was even sick during race two but the American is a fighter and did his country proud all weekend. Fellow American Michael Leib struggled to come to terms with the track all weekend and retired from race one and did not race moto two.
MX2 Overall result:
1. Ken Roczen (GER, KTM), 45 points;
2. Gautier Paulin (FRA, Yamaha), 43 p.;
3. Tommy Searle (GBR, Kawasaki), 42 p.;
4. Jeffrey Herlings (NED, KTM), 40 p.;
5. Arnaud Tonus (SUI, Yamaha), 31 p.;
6. Zachary Osborne (USA, Yamaha), 31 p.;
7. Jake Nicholls (GBR, KTM), 26 p.;
8. Valentin Teillet (FRA, Suzuki Europe MX2), 25 p.;
9. Antonio Jose Butron Oliva (ESP, KTM), 22 p.;
10. Harri Kullas (FIN, Yamaha), 18 p
MX2 World Championship standings (after 9 of 15 rounds):
1. Ken Roczen (GER, KTM), 396 points;
2. Jeffrey Herlings (NED, KTM), 377 p.;
3. Tommy Searle (GBR, Kawasaki), 328 p.;
4. Gautier Paulin (FRA, Yamaha), 319 p.;
5. Zachary Osborne (USA, Yamaha), 265 p.;
6. Arnaud Tonus (SUI, Yamaha), 256 p.;
7. Max Anstie (GBR, Kawasaki), 215 p.;
8. Harri Kullas (FIN, Yamaha), 197 p.;
9. Nicolas Aubin (FRA, KTM), 192 p.;
10. Christophe Charlier (FRA, Yamaha), 170 p
MX1
In MX1 history was made. Evgeny Bobreyshev gave Russia their first Grand Prix winner for thirty years when he destroyed his rivals in Germany. The young Russian has always had raw speed, but in recent weeks he has aligned that speed with good starts, fitness and consistency. Germany was just the finished product.
The 2010 British Championship nailed the holeshot in race one and promptly put ten seconds on Cairoli, Nagl and Frossard. Cairoli was second but made a small mistake and had to fight from fourth back to second again, but their was nothing he could do about Bobreyhev up front who took an ecstatic victory for the first time in his career. Frossard passed Nagl on the last lap to take third.
Race two and Cairoli took the holeshot, but Bobreyshev passed him straight away, Cairoli was in no mood to quit and he took it right back to the Russian. Inside, outside, the Italian was trying everything and was all over the Factory Honda, Cairoli then made his move but hit the back of the 450 Honda and high sided himself into the berm. Cairoli was back in fourth again and had to fight his way passed injured but fighting hard Clemant Desalle and Max Nagl.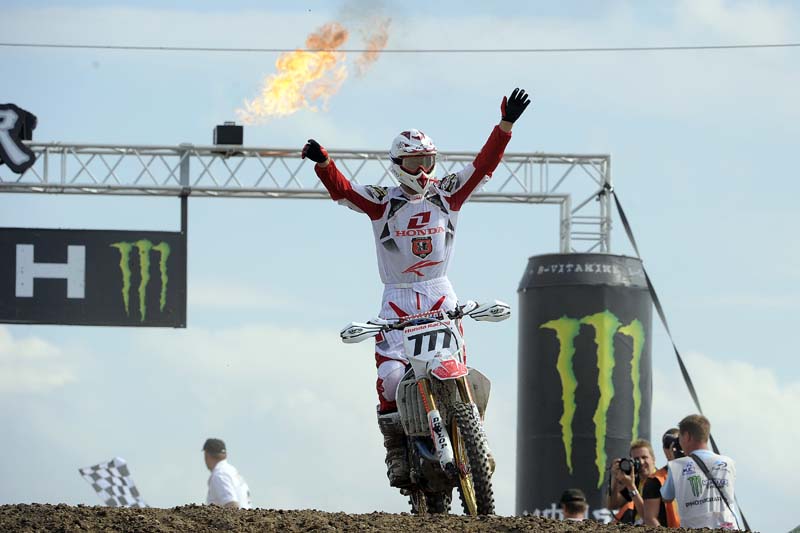 Martin Honda's Russian Bob won his first ever GP in a dominating fashion and good for him, he's a good guy. "I will break you.."
Once back into second Cairoli had six seconds to close on Bobreyshev and in true Cairoli fashion, he did just that. As they came onto the last lap it was a straight shootout for the overall win. Cairoli steamed down the inside of the Russian with three corners to go, they his but Bobby didn't move and Cairoli came to stop, to avoid crashing again. Bobreyshev went across the finish arms aloft, and took his first overall victory of his career. Cairoli took a disappointed second but extended his points lead.
Clement Desalle took third and salvaged third overall, looking more like his old self as his works his way back to full fitness after his dislocated shoulder just two weeks ago.
Steven Frossard's championship hopes took a dive in race two, when he hit the starting gate and then crashed half way though the race, leaving him only able to salvage fifteenth place.
The big story coming into the weekend was Christophe Pourcel, but the French struggled to adapt back to GP racing and seemed shocked at the depth of competition. Starting in seventh in race one, Pourcel was back in twelfth within three laps, before pulling off due to the stones pelting his chest after he forgot to wear a chest protector, not sure how his team would have felt about that excuse though!
Race two and Christophe was hanging on to a top ten placing before pulling out again, this time complaining of a poor set up, he did rejoin the race for a while after some suspension adjustments. CP will have to get comfortable on the bike quickly and regain some fighting spirit if he wants to win a GP before the seasons end. With six moto winners already, there are already many guys that can win, and CP needs to get his act together quickly to get on that level to become the seventh.
Pourcel's return to the GP's didn't go very well and hopefully soon he'll show his speed.
But it was Bobreyshev who announced himself as the new star of MX1. As he stood on the top step of podium looking up at his Russian flag with tears in his eyes, listening to his national anthem being played at GP for the first time in 30 years, he no doubt reflected on the manner of his victory and the personal sacrifices he has made to get there, as well as the pride he has given to his country. At that moment, for that day, Evegeny Bobreyshev was the best rider in the world, and he earned it.
?MX1 Overall
1 777 Bobryshev, Evgeny RUS MFR Honda 25 25 50
2 222 Cairoli, Antonio ITA FMI KTM 22 22 44
3 25 Desalle, Clement BEL FMB Suzuki 16 20 36
4 999 Goncalves, Rui POR FMP Honda 14 18 32
5 2 Nagl, Maximilian GER DMSB KTM 18 14 32
6 9 de Dycker, Ken BEL FMB Honda 15 16 31
7 7 Barragan, Jonathan ESP RFME Kawasaki 13 15 28
8 183 Frossard, Steven FRA FFM Yamaha 20 6 26
9 19 Philippaerts, David ITA FMI Yamaha 12 13 25
10 11 Ramon, Steve BEL FMB Suzuki 11 12 23
?
MX1 World Championship standings (after 9 of 15 rounds):
1. Antonio Cairoli (ITA, KTM), 366 points;
2. Clement Desalle (BEL, Suzuki), 348 p.;
3. Steven Frossard (FRA, Yamaha), 326 p.;
4. Evgeny Bobryshev (RUS, Honda), 294 p.;
5. Maximilian Nagl (GER, KTM), 282 p.;
6. David Philippaerts (ITA, Yamaha), 250 p.;
7. Rui Goncalves (POR, Honda), 249 p.;
8. Jonathan Barragan (ESP, Kawasaki), 204 p.;
9. Xavier Boog (FRA, Kawasaki), 203 p.;
10. Steve Ramon (BEL, Suzuki ), 203