This week it's deep thoughts on Facciotti, 250 rides, Les Smith and a light dusting of silly season stuff.

This week it's deep thoughts on Facciotti, 250 rides, Les Smith and a light dusting of silly season stuff.
Photos by James Lissimore
The recent signing of Canadian Colton Facciotti by the Troy Lee Designs Honda team is looked upon differently depending on what side of the border you live on. If you're north of the 49th parallel, you're very excited and looking forward to this. If you're south, you're just thinking this is a two-race fill in for injured rider Christian Craig and big freaking deal.
As a Canadian living in America, I'm somewhere in the middle of the mass hysteria and the apathy. I'm pumped that Facciotti (along with teammate and 250 champion Tyler Medaglia) decided to head down south after their race series was finished. I've always wondered why the top Canadians for years just sat at home and waited for an American team to call them. That wasn't going to ever happen and it especially wasn't going to happen after the Dusty Klatt experiment failed at Star Racing. Klatt, a multiple-time Canadian champion headed south after clinching the 450 title in Canada. He made a few disastrous moves right off the bat (for one, taking a 250 ride when he was clearly a better 450 rider and crashing heavily at Anaheim 1 which spooked him for the rest of sx) and people who were thinking that he as going to be the guy to pick up the torch laid down by past Canadian heroes Jean-Sebastian Roy and Ross Pederson were let down with a huge thud. Not too mention that Klatt's personality wasn't the most suited for the go get'em, aggressive nature of American motocross.
So I'm pumped that Medaglia and Facciotti reached into their own pockets and spent the money to head down south, against the best riders in the world, and try to see where they measure up. A fifth in the first moto for Facciotti was more than respectable as was Medaglia's 13th overall.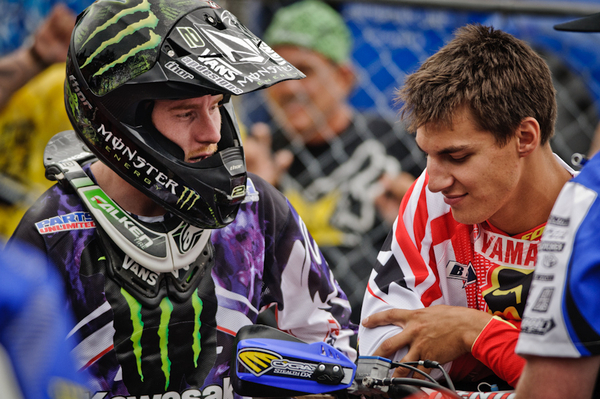 Facciotti and Ryan Villopoto probably talk about some arenacross in BC back in '04 or something.
This ride earned Colton a look-see by Troy Lee Designs Honda for the last two races and in speaking to team manager Tyler Keefe the other day, it could be for beyond. The team certainly wants Craig back but Christian isn't signed with anyone right now and is apparently looking at all his offers. The fit for Facciotti is great because he's a Red Bull athlete and can keep his Canadian RB deal (when I was helping Colton down here try to get some help, the helmet deal seemed to be a big deal for him. I imagine it pays him well but the bad thing is, most teams I was talking to have an energy drink deal. So happens that TLD and Facciotti is really a match made for each other. Such is life in the new American moto-x series) and in that sense it works.
In another sense it doesn't because the TLD Honda squad is a west coast 250 team only which means that if Facciotti impresses, if Craig goes somewhere else and IF there's not other proven Americans that want to go to TLD (in other words, a perfect storm has to happen for Colton), he would have to ride a 250F on the west series and I don't think that's a recipe for success for the heavy and tall Facciotti.
So if Colton can keep up these rides and does indeed attract some interest from American teams, he needs to ask himself a couple of questions that top Canadian riders have had to ask since the CMRC rescued Canadian motocross from the floundering series it had become under the rule of the CMA in the mid-90's.
Do I want to be a big fish in a small pond or a small fish in a big pond? Do I want to take a huge pay cut with the potential to make way more if I succeed? In effect, Facciotti has to decide if he wants to gamble his talent (and make no mistake about it, he's got serious skills and a work ethic), take a chance with a team in the USA and slog it out in the trenches to try and make it. Or does he want to take the approximately 150K he makes in Canada, the easy wins and just bank everything and be a hero up there. It's not an easy decision to make if you put yourself in his shoes.
I had a few managers ask me what the deal was with this guy after the first moto.
He's certainly good enough to get a ride with a Valli Yamaha, Motoconcepts Yamaha or any of those types of teams. In my honest opinion, he's around a top ten rider or so with the potential to be better. He's driven, he works hard and he can ride supercross (that's been the question to me when I ask around the teams but being from British Columbia, he's automatically a good indoor rider as well he did the entire west sx series on a 250F in '06, making most if not all the mains) so I think he could probably make around 40K and all expenses paid on one of those teams. And that's just a probably. It could be worse, the differences between a rider like James Stewart who finishes first and the guy who finishes just nine spots behind him is astronomical in the sport today. But that's another column for another day.
Facciotti has probably banked some good money from the last few years of dominating up north and he'd be reaching into that account to make sure he's got everything he needs to have his program set-up.
So next year when you hear about what Facciotti has going on for the 2012 season, you'll know what his thinking was. And no matter what he does, I can't say I'd blame him one way or another.
***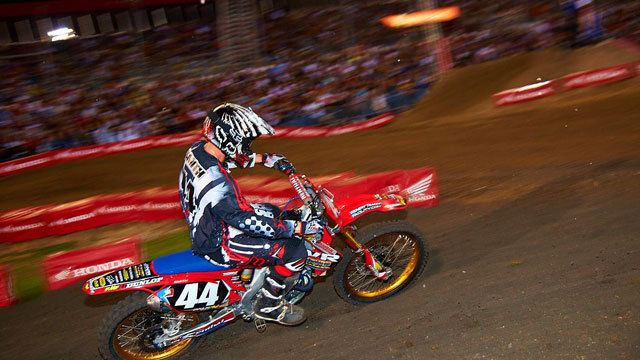 Les on a Honda. Photo courtesy of Honda
One rider who is the epitome of making deals for wheels is JGR Yamaha's Les Smith. With his strong ninth overall at Southwick in the 450 class, you would think that Smith has been on the Yamaha team all season but you'd be wrong. The North Carolinian has been on a virtual merry-go-round of teams and bikes this season. The kid who once trained with Jeannie Carmichael and rode at RC's farm as an amateur has certainly been tested this 2011 season and in the end, he's probably going to be better for it.
Smith started out with a PR about him being on a Chaplin Kawasaki team for supercross but for whatever reasons, that team fell apart before it could get started. So Les started supercross as a privateer on the JWR/South of the Border team competing in the 250 East Coast series on a Honda. Smith ended the series in a respectable eleventh overall with a high of a seventh at Jacksonville. It's never easy competing in the high-dollar 250 class on a privateer over the counter purchased parts machine but Smith showed glimpses here and there. From there Smith caught a break in that JGR Yamaha's Justin Brayton crashed in supercross and wasn't going to be ready for the start of the 450 nationals. So Smith went up to the big class filling in for Brayton at the second round in Texas (after not thinking he was going to be able to do the nationals at all as a full-privateer) and performed pretty well considering he was making the jump from a CRF250 to the funky Yamaha YZ450F. Smith's best finish was his first moto on the team as he ended up in tenth. Then Brayton came back to the JGR team and Smith was once again, without a ride.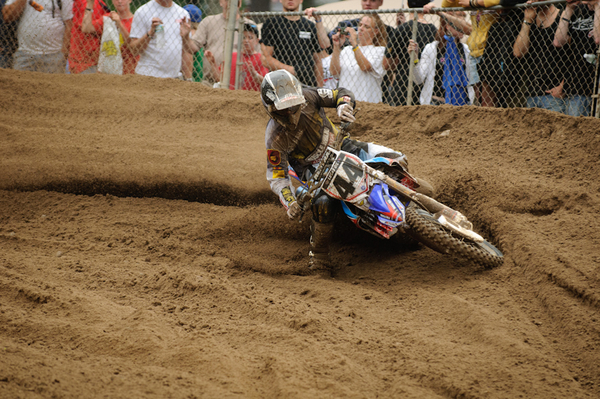 Les on a Yamaha.
Or was he? The Rockstar Suzuki 250 team, decimated with injuries rang up Smith and just like that, he was back in the game! Only problem for Smith was the adjustment to the bike as tough, especially seeing as how the team wasn't able to provide him with a practice bike for during the week. He was on his trusty CRF250 and then would have to show up and jump on the Suzuki. Predictably, Smith couldn't take this opportunity and run with it. He struggled badly on the Suzuki and it was a bummer for me to see, this was his chance on some good equipment and it just didn't work out. Six motos and the best Les could do was a 14th. It wasn't the ideal situation for either the team or Smith and they parted ways once the squad got back some of it's injured/benched riders.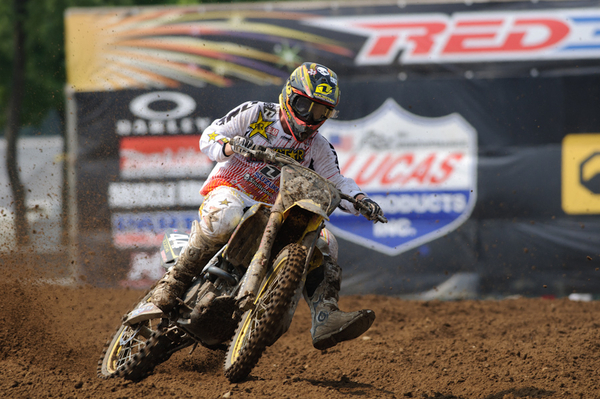 Les on a Suzuki.
But this magical mystery ride wasn't over quite yet. The JGR Yamaha team suffered yet another injury but this time it was Davi Millsaps who underwent knee surgery. He would be lost for the rest of the season so Smith jumped back to the 450 class, back to the Yamaha and put in some solid rides (at Unadilla, his first race back, he was up there before crashing out) including this weekend's top ten finish.
So let's recap-
Houston- Las Vegas- South of the Border team on Honda CRF250F
Hangtown- No ride.
Texas-Budds Creek- JGR Yamaha on a Yamaha YZ450F
Lakewood-Millville- Rockstar Suzuki on a Suzuki RMZ250
Washougal- No ride.
Unadilla- Pala- JGR Yamaha on a Yamaha YZ450F
It's been a trying year for Smith and he's shown some good perseverance in dealing with all the obstacles thrown his way and I just wanted to mention it here because chances are, no one else will be talking much about him. You can follow him on Twitter if you want @lessmith44
***
So one of the many questions in the 250 class for 2012 is what is going to happen with the two big guns in the class. Which would be the Monster Energy Pro Circuit team and the GEICO Honda teams. Both squads seemed filled up but with the recent departures of Josh Hansen and Broc Tickle (one out willingly, one not) the Pro Circuit team went from filled up to needed two riders. The GEICO Team appears set for next year with Justin Barcia, Justin Bogle, Eli Tomac and Wil Hahn but I got word recently that, just like what Pro Circuit does, the team wanted to add in a west coast supercross-only rider. The PC team has Dean Wilson and Blake Baggett signed up for next year and although Tyla Rattray is looking around for a 250 SX/450MX ride next year, the smart money has him coming back for one more year.
So who's out there to fill in the one sx-only spot for GEICO and the sx-only and full deal rides for Pro Circuit?
I think that there are a few guys out there who would be on interest to the teams. One rider that is catching everyone's eyes is privateer Darryn Durham who was certainly fast in the one heat race he raced early in the year before breaking his foot. He came back from that but his momentum was lost. In the nationals, Durham started very strong and even led almost an entire moto. Since that high point at, well, High Point, Durham's been fast but has either had mechanicals or crashes. Him or his teammate Alex Martin hold the title of fastest guys with the worst support titles. And that's not a slam on Eleven-10 Mods either, they are doing what they can to help the guys out. Unfortunately for Martin, I think he might be overlooked somewhat when the teams come calling but he's certainly been riding great lately. Also, add in Matt Lemoine to that mix who has even less help than Durham and Martin.*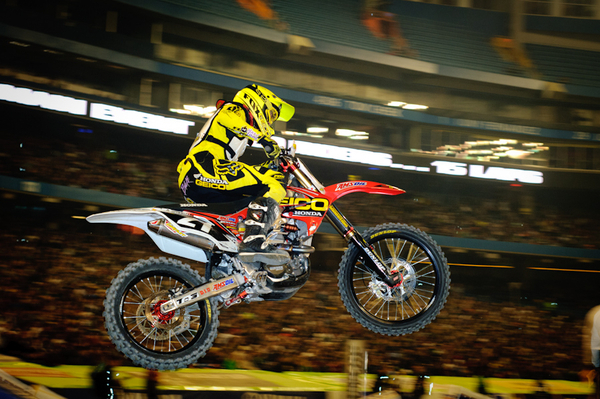 Remember this guy? I'm sure Mitch Payton does.
Durham even tested a Rockstar Suzuki about halfway through the outdoors and I would think that Mitch Payton is watching Darryn closely. He's exactly the type of rider that would succeed with Payton's team. Someone with talent that just needs structure and a good bike. That's exactly what Pro Circuit provides to a guy and to me, it would just be a question if Durham can live with the somewhat strict testing/practicing routine that Pro Circuit demands of its riders.
What about Blake Wharton? The Texan has been out for the entire summer with a shoulder injury and he didn't set the world on fire with his sx season but he was dealing with the shoulder there as well. Wharton is a past supercross winner as well as a podium guy in nationals and last time I looked, there weren't too many riders standing around needing a ride with those credentials.
Would GEICO take him back as a west coast SX guy? I'm sure they would be I don't think that Blake would want that kind of ride. He's deserving of better but he could roll the dice, take that ride and hope that someone gets hurt for the outdoors and he could fill-in. Would Mitch look at him? I would think so because again, speed is speed and Wharton has some. Look at the last guy Payton had on his team who was at GEICO. Jake Weimer worked out pretty well right?
Malcolm Stewart's out there and he's shown some great skills in supercross as well as determination and speed outdoors. The question with Malcolm is how much his father, who's a strong presence at the races, is going to be involved with the son. I don't think Pro Circuit would want that to deal with that situation but maybe. Strong rumors are that Stewart's already signed and sealed with Star Racing for next year anyways. Lance Vincent? Gareth Swanepol? Les Smith (who I'm sure would love the opportunity to stay with a team for two months, never mind a year)? Scott Champion? They'll all out there.
To me, Durham and Wharton hold the cards right now as most wanted but no matter what happens, the Pro Circuit and GEICO Honda's phone will be ringing.
*- I added in Lemoines name after this column came out. I forgot about him to be honest but he should be right there in the line for guys who need a promotion.
***
As far as silly season stuff is concerned, there are a lot of different rumors out there going on and they mostly involve James Stewart and what he's going to do next year. There is no doubt that he's talking to some teams about possibly changing color to yellow next year. He may stay where he is, he may ride a Yamaha at another team (JGR) or he may just go to the factory Suzuki team. All of those things are in play for 2012. Looks like Larry Brooks/Jeremy McGrath team will be going ahead for next year even though they lost out on the big fish they were courting (Ryan Dungey). (By the way any doubt that Dungey was going to KTM was pretty much squashed the other day when I was on Rocket Rob Buydos' Throttle Radio Show with KTM off-road rider Mike Brown. Brown, who maybe thought we weren't live or something, was talking about how he's seen the new 450 that Ryan is going to ride next year thereby probably causing KTM PR department to swallow their tongues.)
Brooks/MC will be, according to people that I've talked to, be able to buy full Honda works parts from the OEM when they place their order this fall. So that's certainly an attractive commodity for any rider out there. One of the riders they've talked to, Justin Brayton, seems like he's going to the full factory Honda team alongside Trey Canard so there's one man down for Brooks. After that I know he's talked to Mike Alessi, Andrew Short and rumors are the Frenchman Christophe Pourcel has also had his tires kicked by the team. Alessi isn't for sure done at KTM and neither is Short for that matter. One of those two will be back to team up with Dungey for next year. But I think if the team tries to make the second rider race aboard a 350, they could find out that there's not going to be anyone there for the taking.
Reed seems like he's pulled in an energy drink sponsor for next season so he might want to add another rider alongside himself on that team. Will he still be on Hondas? I thought for sure it was going to happen but now I hear maybe he'll be Suzuki mounted.
Factory Suzuki has a spot to fill alongside Brett Metcalfe and things will get interesting here shortly. Look for Alessi and Short (Brayton's pretty much a done deal. JGR will not match) to be the next guys after the Stewart dust gets settled. One thing for sure, things are definitely heating up.