Who will win the 2012 250 motocross title? We're getting the jump on the other sites with this one folks.

Who will win the 2012 250 motocross title? We're getting the jump on the other sites with this one folks.
Who's Going to Win the MX Lites Outdoor Title in '12?
Pics by Lissimore
Swizcore- Now this is a tough debate. The sheer aggressiveness, alpha-male presence and skill-set that Justin Barcia brings to the class makes him the first name to pop in my head. The thing is, as we saw this outdoor season and every-time there is a gate drop, there are so many X-factors that you can't get by on just your own preparation anymore. That's not to say that preparation is irrelevant, quite the opposite. You need to put in more effort to prepare yourself than ever in an attempt to reduce the effects of those X-factor's which are challenging you at every round.
Justin showed at times he had the speed to dominate the class(Red Bud) but this series more often than not, those X-factors proved to be more dominant(again, Red Bud). Oddly, it's Justin's exciting explosiveness that also makes me weary to pick him as the title favorite.
Some of those X-factors come in the form of riders and the riders I see challenging Justin for series supremacy are: Marvin Musquin, Ken Roczen, Eli Tomac, Blake Baggett and of course Dean Wilson.
Let's start with Tomac. Next season will mark his third outdoor season(man, time flies) and he is still trying to rectify his hot weather issues and find stability and consistency over the course of the outdoor season. Coming from his pedigree, he has the tools and program to make it happen. But will he?
Blake Baggett showed this year, he has crazy speed but that speed is matched by crazy inconsistency and bad starts. Double B needs to can the sporadic issues and take a page out of his teammate and nemesis, Dean Wilson's book.
Dean flat out dominated this outdoor series and looked more and more impressive with every race after his win in Unadilla. We've all heard how getting that first title kind of breaks through a mental barrier and makes anything possible. A Dean-Fifteen repeat wouldn't surprise me in the least.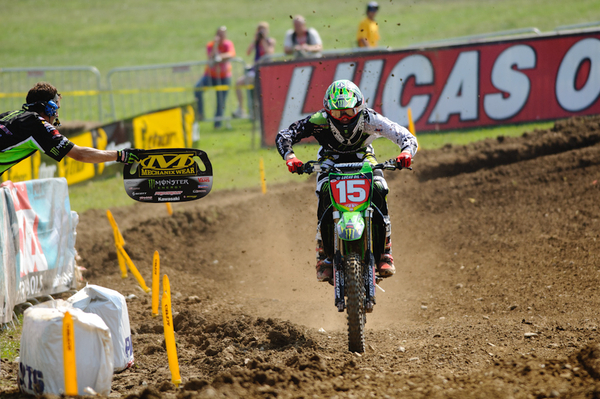 The Swizzle likes Wilson to repeat.
Next we have Marvin Musquin. Make no mistake, Marvin, a World Champion, came back to the series with lingering injuries and still looked impressive at times. Marvin will win races next year. The question is will they be overalls and how many?
Lastly is the German wonder-boy, Ken Roczen. For all intents and purposes, Ken is probably the most exciting rider to come to professional American motocross since James Stewart. The kid oozes charisma, flat-hauls the mail and just loves life and having fun. Another World Champ joining the series in 2012, Ken could very well have the largest fan base on the gate in the Lites class. He's THAT likable. His free spirit, skills and experience make him a legit pick for the title, yes, even in his first year.
Who am I picking though? My gut is telling me Dean-Fifteen will continue his impressive progress from the end of this series into the outdoors of 2012 and bring home the number one plate again. Consistency is difficult to maintain during a series and that is where Dean has proven dominant, making him the smart choice in 2012.
Matthes- Like my man Swizzle says, tough choices all around. Wilson's got the belt right now and the problem when you debate predictions that are so far down the road like this one, you could easily get it wrong. I'll give you the challengers and we'll throw a dart at the board at the end of this. If I'm right, I'll be sure to gloat and remind everyone. If I'm wrong, trust me- no one will remember this mid-September and I'll get off scot-free.
Dean Wilson- Well, duh. Of course Dean will be one of the guys and for the first time in three years, the champion of the 250 class will be staying in it to defend his title. Dean's incredibly talented, focused and seems to "get it" if you know what I mean. The only reason Wilson would falter is injury or maybe he slacks off a bit once the money and fame start coming onto him like a tsunami. His style is more suited for outdoors (long legs, hanging off the back, a little ragged) than indoors but I'm sure it won't be long before he gets a sx title as well.
Tyla Rattray- Well second place two years in a row seems to indicate that he'll be right there next year as well. Although he may just jump on a 450 for outdoors, right now he's signed for the 250 class and Rattray will be there every race. He just doesn't seem to have the blazing speed to rip through the pack like Wilson and Baggett. Where he starts is very, very key to where he finishes.
Blake Baggett- Blake's got the speed and the wins to prove that he's got the speed. Does he have the consistency to figure it out? Wilson was so, so good and never crashed hard, rode crappy or anything like that. In most normal years, Baggett's 2011 is enough to win any title. He's got to be bumming. For the BB Gun, it's keep on keepin on.
Marvin Musquin- We finally saw what Moving Marvin can do with some confidence and staying injury free and he proved that he can run right up there. He'll be strong all season but get the title strong? I'm not sure.
Justin Barcia- Barcia's season will either go really, really well or it will be another complete disaster and he'll move up to the 450's early. He can take his confidence gained this summer on the 450, realize that he's got the speed to really, really win the outdoor title and whomp up on everyone. Or he'll be bummed that he's not in the 450's, that he can't ride the small bike as well as the big one and keep crashing until his cries uncle. Yep, it's that black and white methinks.
Ken Roczen- "Kowboy" Kenny (I'm starting it right here, right now) will be there for the title and if you don't think so, well then you're high or drunk. Or both. Roczen is a special, special rider who has speed, style and skill to kill. He's got to manage the long grind of an outdoor season better this year (Decoster says his diet is terrible) and realize that that the AMA series doesn't have long breaks in it and that it's a whole lot hotter in the summer over here than in Europe. In the end he'll be fine but I do think it's going to take him a season to get fully prepared for the nats. Who knows though, if he won it first year out, I wouldn't be that surprised.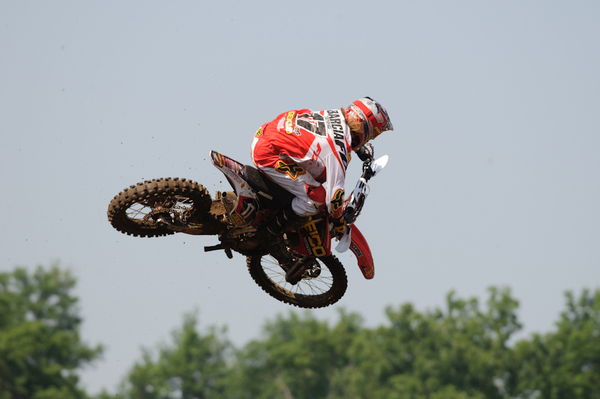 While I pick Barcia to get his first title. Sort of.
Ok so who am I going for?
I believe that Barcia will take the confidence he's gained from this summer and also understand that this is, the last chance to win a 250 mx title before the opportunity is most likely gone forever. I can see Bam-Bam winning the title pretty easily.
Then again, I can see him crashing out as well. We know Wilson will be good and we know these two kiddes aren't huge fans of each other. It should be great either way.