Some great news today for the JGR team as they signed James Stewart for the next three years. Here's how it all broke down.

Some great news today for the JGR team as they signed James Stewart for the next three years. Here's how it all broke down.
And there it is. The last show dropped today in the silly season when it was announced that James Stewart is taking his talents to the Joe Gibbs Yamaha race team. It's been long rumored and a very interesting decision that, to me, indicates a big gamble on behalf of both James and the JGR team.
At one point JGR was in discussions with Suzuki to move over to that brand. A stigma with the new Yamaha, some friction between blue crew and JGR in regards to what parts they use and the fact that all Yamaha would give the crew was a one-year deal. With Yamaha teams changing OEM's (Motoconcepts and L&M) or downsizing (Valli), it's funny how positions of strengths and weaknesses teeter-totter like a seesaw and now it was JGR holding the hammer.
An innovative and forward-thinking team that wasn't always digesting the candy that factory Yamaha fed them, JGR does things a little differently than most other independent teams. For example, they run Showa forks (contrary to what Yamaha would like which is the KYB) and a shock built entirely new from the ground up, the JGR team had their bikes working pretty well for team riders Justin Brayton and Davi Millsaps last year.
The JGR team has the background, the budget and the staff to win championships, they've just never had the rider. Until now.
James Stewart had had a couple of rough (for him) seasons now. After going 24 for 24 in 2008 on a Kawasaki, he was left without a contract from the only team he had known and went with the supercross-only deal with the L&M Yamaha team. A supercross title in '09 was the reward but even that was a closer battle with Suzuki's Chad Reed than many thought it would be. In 2010 it was a crash at the second round and a broken wrist and this past season, there were some wins but also some spectacular flame-outs along the way. I can honestly say that for the first time in my life, I saw riders track down and pass James Stewart. You never really saw that before, usually James' mistakes were self-afflicted and that allowed the competition to grab some wins. In 2011 though, it was a different James Stewart than we'd ever seen before.
I'm very surprised at this deal and the way it broke down was in three steps. The first step is that Stewart got on a Suzuki during the summer and really liked that machine. He felt right at home on the yellow bike and was aiming to do something for 2012 that allowed him to get on one of those bikes. Suzuki team manager Mike Webb dropped more than a few hints that he thought they had James, Stewart loved the bike and I can remember as far back as RedBud, Webb had his eyes on James.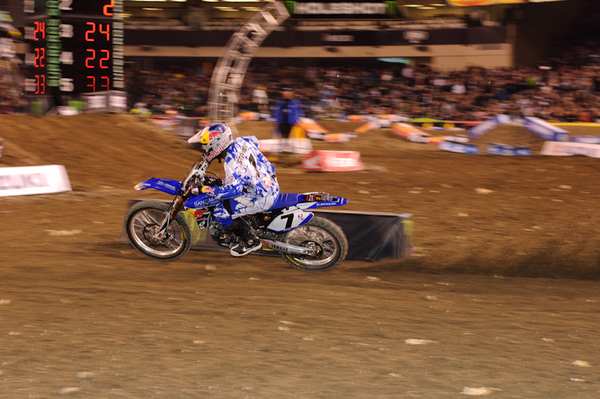 Stewart in 2012? New team. Same color. Photo by James Lissimore
With the upheaval at Suzuki, things were late in getting going as far as budgets and what the yellow team was going to do. They lost long-time sponsors Rockstar Energy Drink as well as Makita but that was ok, Stewart is a Red Bull athlete and in today's world, energy drink money is everything. It seemed that things were lining up nicely to have Stewart replace Dungey as the lead rider on Suzuki. And who knows, maybe Red Bull would do the whole team.
At the same time as all this, JGR team's deal was up with Yamaha and they were sniffing around to try and see what else is out there. There were some serious talks between Suzuki and JGR and that would in turn allow Stewart to ride yellow under that banner because it seemed that the funds to pay James Stewart weren't going to be there under the factory awning.
The third and final step was JGR deciding to re-up with Yamaha for the next three years in what was a great deal for Coy Gibbs and the team. In the words of someone on the team "We got everything we ever asked for that was turned down in the past and more" which comes with flying the flag while other blue teams were downsizing or bailing altogether. This was thought to be the final nail in the coffin for Stewart riding for JGR. There wouldn't be anyway he would stay on a Yamaha right?
But at the urging of his old mechanic Albrecht, Stewart rode the JGR machine so that, in the words of Albrecht "that box was checked off" in the search for a team and bike. The test took place first on a motocross track and then again a few weeks later on a supercross track and both times James came away impressed with the work that the innovative team had put into the also-innovative Yamaha YZ450F. And he was happy and relaxed with the entire JGR crew. The team uses Pirelli tires which is also a step out there for Stewart as he's never ridden on them before. Trust me when I say that tires are a huge deal for the racers of today. Obviously Pirelli's product showed Stewart that they are up to the challenge to provide traction to a rider that may just ask a motorcycle to do things that no one else does on the gate.
Both parties have a lot to prove with this transaction and to be sure, it's a huge three-year commitment on behalf of both parties. In talking to team manager Jeremy Albrecht, Stewart doesn't have to race the outdoor series but "if he's happy" then he will also suit up for the first time in three years in that series. No matter how anyone paints this signing, it speaks volumes for the JGR program that James would go there. The Yamaha was not his first choice and in talking to people in and around his program, the bike was definitely pointed at as to a reason we saw an uncharacteristic James Stewart the last couple of years. In the end, in what surely must have been some agonizing, Stewart picked the bike that he never thought he'd be on ever again.
This season just got a whole lot more interesting and pressure-packed for the team in North Carolina. That shouldn't be a problem for these guys, they've been getting ready for this for years.