You're probably wondering my opinion on some things. Well, here ya go.

You're probably wondering my opinion on some things. Well, here ya go.
Photos by James Lissimore
1- Is the James Stewart to JGR Yamaha deal going to work?
Well, it's certainly going to be interesting, that's for sure. Stewart did everything he could to not ride a blue bike in 2012 but in the end, finding the team that he wanted (Suzuki) not able to offer him what he wanted, he stayed blue but went with the JGR team. This is an interesting gamble and one industry insider that's close to the situation says that he's lost respect for Stewart based on the fact that all he heard was Stewart bad-mouthing the Yamaha. If the bike is that bad, take the low-dollar, low commitment deal from Suzuki and prove to everyone that you still got it.
But if you listen to James, he'll tell you that the JGR Yamaha is much, much better than his L&M Yamaha and more importantly, the things that JGR can do to make Stewart happy were key to staying with Team Tuning Fork. I don't know what the truth is (probably somewhere in the middle) but I do know this year is huge for James Stewart. He's got to win the title (or come very close to it) and cut down the crashes. He's not getting any younger and as any old motocrosser will tell you, after a while you don't want to hit the ground anymore or your riding starts to reflect that fact.
The JGR guys will trot out some different suspension that James has ever been on, Pirelli tires and more than likely, an entirely new tank/shroud combo designed by JGR to make the bike slimmer and easier to flick around. I know that Stewart is the most talented rider in the class with the ability to do things that other cannot so he's got that going for him. Will it be enough? I tend to lean towards that it won't be but the pressure is on James and JGR- they're in the spotlight next year big-time.
2- Pala's out, Lake Elsinore is for the final national- huh?
There's no way I saw this coming. I don't know if it's been officially announced yet but everyone I talk to seems to think it's a done deal. Lake Elsinore at one time was probably in the running for top ten crappiest tracks in the world. And yes, that's including Phoenix Supercross in 1986. The place has been redone from entrance to exit and has some elevation, some nice viewing areas and apparently, all new dirt, which is the most important thing. And the dirt came from deep in the ground as well and who knew that place had anything of value beneath it's concrete upper surface?
No doubt the MX Sports/Glen Helen break-up has cost both sides (although much more from the tracks side which went with a GP and lost shit-tons of money on that deal. And hey, wasn't there supposed to be a MXDN there?) and I know for a fact that the teams that spend a ton of money racing want (and maybe demand) a Southern California national. Pala seemed pretty good, not the greatest spectator track and I'm not sure what happened there but they're out. MX Sports can't be jumping around from facility to facility in California so I'm sure they hope that this Lake Elsinore thing can work. Will it work? Honestly, I can't say for sure. I definitely have my doubts but until I'm out there and see it for myself- the jury's still out.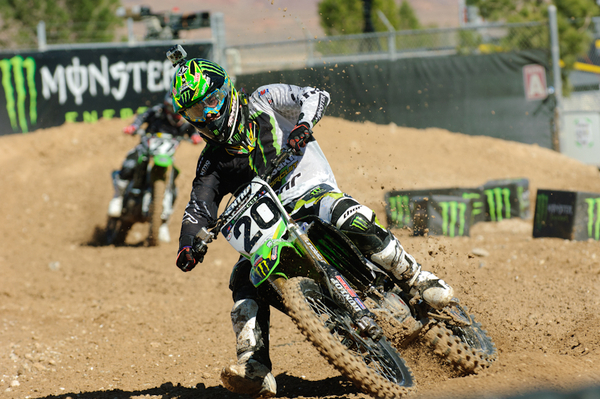 Tickle debuted a 450 at the ME Cup and did pretty well.
3- Pro Circuit is fielding a full-time 450 rider in Broc Tickle. What's this all about?
For years people have wondered what was stopping Mitch Payton from putting out a 450 team and the rumors have swirled from the days of Grant Langston to Josh Hansen that it was going to happen. It just never has. If you ask people at Pro Circuit, they tell you that Kawasaki doesn't want them to go ahead for fear they will beat the factory team. When you ask Kawasaki, they say they don't care but there's no money from Kawi to Pro Circuit to help out because they already have a 450 team and hence, because of budgets, Pro Circuit has never jumped in.
Well those days are over because of a contract snafu with defending west champion Broc Tickle. Tickle was signed to a two-year deal and no one seemed to look and see what Tickle's status was for the year if he won the class. And his status was, because of his years in the class, that win and he was kicked out. Maybe nobody thought he could win, maybe nobody thought the rudderless AMA would enforce the rule but whatever it was- Tickle had a Kawasaki contract and had to ride a 450. And with that, Pro Circuit decided to go 450 racing! Maybe not with the splash they had intended but nevertheless, Tickle's a good rider and we know PC will field a competitive bike and the support that a rider would need.
It's going to be tough for Tickle because the team is based on 250's and when the 250's are on the track, well Tickle's in the pits and then when he's on the track, everyone is back at the truck. Don't get me wrong, Payton and the crew will put everything they have into having Broc's back but it's going to put pressure and stress on the crew. As far as Tickle and his results, I'm sure he'll be a main event guy but in his first year, in this deep field- I think he's going to struggle to get top tens. Tickle's contract is up at the end of the year and if you hear of PC re-signing Broc or hiring on another 450 guy, you'll know then if this is an effort or just a "let's honor our contract and do the right thing" type of deal.
4- Mike Alessi is taking his talents to Motoconcepts on a Suzuki.
Yes he is. And it's a curious move and one that only came together after Alessi exhausted everything with factory Honda, the Brooks/McGrath team, Suzuki and Two-Two racing. By all accounts Mike's father Tony was working the phones trying to do anything but ride for Motoconcepts who had presented Mike a deal early on in the silly season process. Nothing against the MC guys but I think Alessi wanted a chance to ride a factory bike. As Tony has told me many times, the bike is the major thing for the Alessi's. There are many things that people could criticize the family for but one thing you cannot is the fact they don't put the dollar first. They realize that if you have the bike, the results will follow and then the money comes.
And when JGR came in with a deal (Mike even flew out to North Carolina, tested the bike and sort of agreed to a deal) Alessi's tried hard to go there but the deal was already announced with Motoconcepts and they were stuck. As someone close to Alessi's told me recently, if JGR had been one-week earlier, they would be on that team right now. Coy Gibbs, owner of JGR, told me that Mike was flying on the bike, looked great and he knew he was getting someone who took racing seriously.
So knowing all this, it seems that Motoconcepts was pretty far down the list for Team Alessi but in the end, they are there for the 2012 season. The move cost them their agent Steve Aldalco who didn't agree with the move, advised Mike and Tony against it and in the end, dropped them. The Alessi's have now moved on to Allison Turner who is on her second go-around as the family's agent.
All that aside, will this work? I'm think that, with Tony managing the program and calling the shots, I'm not that confident that the equipment Mike will be on will be compatible with his competition although he was going fast at the Monster Energy Cup until he crashed. I had a prominent suspension man tell me that Mike's bike looked like crap to him in the sand whoop section all day and it was packing bad right there. And he wasn't surprised that at one point it spit him off.
Without a dedicated group of motor and suspension men helping him along, I'm afraid that the direction on the motorcycle is going to be a weakness for Team Alessi. Mike's tried many times to get out of racing a supercross season so I wouldn't be surprised if the indoors season starts off badly and soon Mike pulls the plug to get ready for his true love- the motocross season.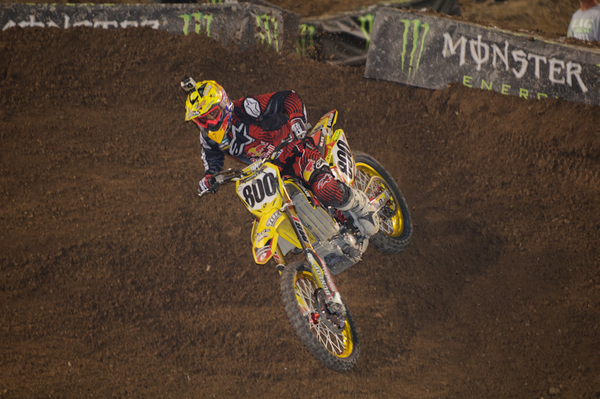 Mike needs a strong start to his season to make this move work.
5- Can Andrew Short get back to where he once was?
Shorty had his worst year of his career since he moved up to the 450 class last year on a KTM. We know now that the 350 is a bad idea for professional racing just by the simple fact we now have two riders (Alessi in 2010, Short last year) that have underperformed by a great margin once they got on that bike. I suppose they could've asked me about it and I could have saved them a ton of money as I've never once drank the Kool-Aid on this bike like so many others (Ping, I'm looking at you). There's no replacement for displacement but I'm getting sidetracked here.
Anyways, Short's back on a Honda factory bike riding for McBrooks team and coming off some serious injuries to his elbows. He's probably not going to be 100% at Anaheim 1 but according to his team manager Larry Brooks, that's ok. The way Brooks figures it, Short's always started really strong before sort of tailing off toward the end of the year so now he'll be just hitting his stride come mid-season.
What do I think? Well I don't think that Shorty is going to start winning races indoors with this move but I guarantee he will do much better on a red bike than he did on an under-powered orange one. He'll move back into that top-five range with some podiums because he'll have one of the best bikes on the track, he's working hard off it and he's got pride that he doesn't want to slip to the back without a fight.
6-What's up with Valli Yamaha?
Well they are now Star Racing. We think. In this always-professional, always-on the up and up sport that we all love, we really don't know what's going on with that team. We think they've merged with Star Racing but we've seen no press releases as of yet to tell us what's going on.
We do know this. Austin Stroupe (a hold over from last year) will race a 450 as will Ryan Morais. Nico Izzi is racing a 250F on the west coast. But he's not racing for Star Racing as they have their own roster. Izzi has already ridden for Star Racing a couple years ago and that didn't work out. But hey, Star has had Martin Davalos twice so why not Izzi?
This team is setting up to be wildly erratic. You never know what you're going to get with Stroupe. He's got a ton of talent but hasn't been able to figure out that you have to work hard as well. Izzi? He's got a long way to go to match his early career results and it's unfortunate he's more well-known for his off the track exploits.
The rock of the team will be Morais who's as professional as they come and one of the nice guys in the sport. He's moving up to the 450 full-time and although the few races he did last year with the Rockstar Suzuki team didn't work out, Morais will work hard to be better every week. I don't know what Chad Lanza (the owner of Valli) was thinking with his rider choices but maybe he knows something that others in the industry don't. Maybe it will all come together but in my opinion, I think Morais will be in that truck all by himself. Or maybe the Valli truck isn't going to be there and it will just be the Star Racing one. I (and many others) don't really know. (ED NOTE- Today it came out via Twitter that Metal Mulisha will be involved with the team in some capacity)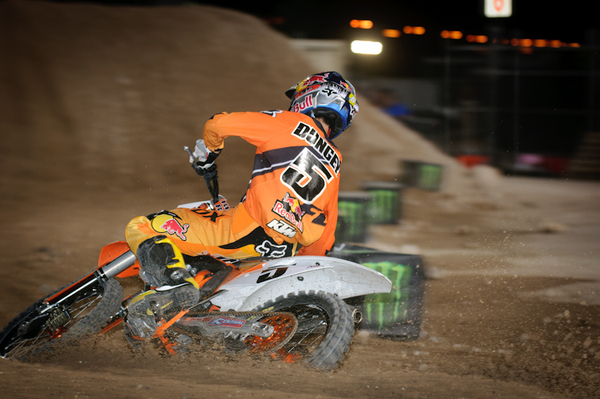 Hard to see Dungey doing better than he did in 2011. The same? Maybe but to me, he'll be a bit worse.
7- Will the Ryan Dungey to KTM move work?
If your definition of "work" is a supercross title, then no. I don't think that's going to happen. As a matter of fact, I think Dungey won't do as well on the all-new KTM 450 as he did on his Suzuki. It's just too much to overcome with a brand new model with an OEM that has never, repeat never, made a podium in the big bike class. The learning curve is steep but this signing isn't about 2012. It's about 2013 where all the kinks and bugs will be worked out (let's not forget that both Short and Alessi had more than a few mechanicals last year at the races. More than any other factory in my unscientific poll I just took in my mind) and the team will be ready to go for 2013. Dungey won a race last year and finished third in the points. I say he goes winless in 2012 and ends up fourth in the points next season but in 2013, things could be different.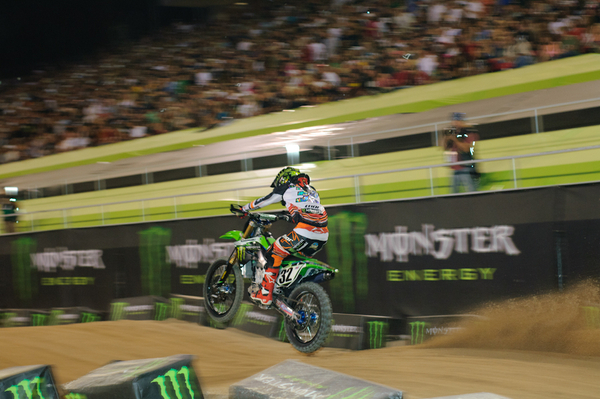 Weimer's going to step it up this year, I just know it.
8- Who's taking a step up in 2012?
I think that contract time makes people do funny things. You have to realize that the thought of working at 7-11 the next year is a very motivating thought for a racer. The guys want to race professionally as long as they can and make as much money as they can so that they never have to work again. So racers tend to take a few more risks when they need a deal for next year, they tend to maybe work a little harder than they used to in order to keep the level of living it up, well, up.
In this case, you can write off riders that don't have the equipment to run with the big guys or the team that is capable of providing support one would need to get the big bucks in 2013. And stripes don't change on a Zebra so you can't pick some rider that has not shown an inclination to work hard to all of a sudden turn into Rocky and start running up mountains.
Nope, you have to go with a rider that's in a contract year, works hard and has the bike and team to take a step up. That sort of narrows the field down a little bit so for me, Kawasaki's Jake Weimer seems to fit into this group. Weimer works hard (he's on the same program as Ryan Villopoto), has the bike (his results improved greatly on the 2012 Kawi 450 late in the nationals) and is in the last year of his contract. Looking over at the Pro Circuit truck and seeing Dean Wilson in the last year of his Lites deal and sniffing to get into the big truck is all the motivation that Weimer needs to make it happen. Will he win the title? I doubt it. But look for Weimer to consistently be in that "next group" of riders after the top five. Will it be enough to stay with Kawasaki in 2013? I'm not sure but I do know we'll all be saying Weimer's name a lot more.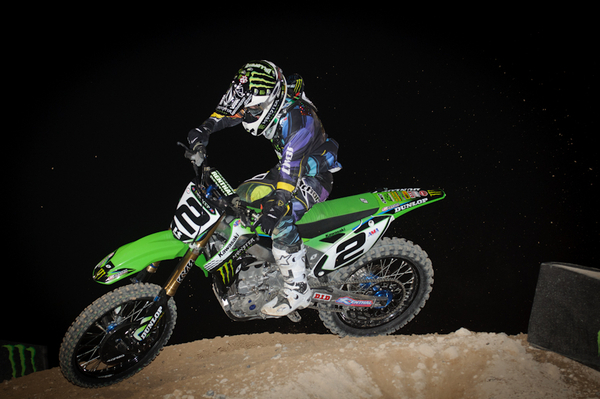 RV's looking like a good bet to repeat.
9- Can Ryan Villopoto repeat his supercross title?
I think he can. His main competition all has things going against them going into the season. Stewart's on a bike that he may or may not like and showed us last year that he likes to crash. Trey Canard is going to miss a few races and hasn't shown us that he can stay injury free. Chad Reed is hurt right now and some close to Reed seem to think that he always performs much better in the underdog mode than he does as one of the favorites so 2012 might be a bit of a slacking year for the #22. I'm certainly not saying that because I've counted Reed out way too many times now to not think he can win but passing on something someone told me the other day. Dungey, well we've covered that.
Only Villopoto with the same bike, the same team and the confidence of knowing all of this seems to be set up for a repeat. I was talking to Villopoto the other day and he expressed amazement that Anaheim was coming up so fast and that when I asked him if he's ready said "I guess so" which is RV-speak for "Yeah I am, I know I'm fast and I'll be at the front every race". Not one to be psyched out by what any of the other riders are doing, Ryan looks to be set up nicely to repeat. And although he's put in the work to do just that, to me it's more of the fact that his competitors changed too many things up in a sport that rewards those that keep it simple.