Pulpmx reader Paul Quesnel is back with his take on Zach Osborne's return to supercross. Good stuff.

Pulpmx reader Paul Quesnel is back with his take on Zach Osborne's return to supercross. Good stuff.
The Real 338:
The Zach Osborne Story
By Paul Quesnel
Photos by THE James Lissimore
First of all, let's get one thing straight. The black #338 laying down fast laps at Anaheim this past weekend was not piloted by the troubled and astray Jason Lawrence. Instead, the Monster Energy/Bike It Yamaha was in the hands of Zach Osborne, an unknown to many, but a hero to most. The reason he can be classified as a hero is because Zach is pretty much the only American representing the red-white-and blue in the motocross world championship. A spectacular amateur talent out of Virginia, Osborne spent little time racing professionally here in the states before heading to Europe to compete in the GP's. After turning pro in '06, Zach struggled to live up to the reputation he made for himself in the mini-ranks due to constant injuries and health issues. When an opportunity to race across the pond came in '08, Osborne jumped on it and hasn't looked back since. In a time where most young European talents strive to win a world championship in order to get a ride in the United States, Osborne is doing the opposite and is hoping to rebuild his reputation by winning races abroad. Now heading into his fourth season in the MX2 class, Zach has seen a lot, won Grand Prix's, adapted to the European lifestyle, won the respect of hardcore moto fans, and is now looking to win a world championship before heading back to the states full time in 2013. There is still one problem though. With Osborne not racing an AMA event since 2008, some fans coming into the sport might not appreciate or even be familiar with the original #338 and his struggles. So let's take a look at Zach's career and see how he came from being a failure here in the U.S. to now being America's only hope for a championship overseas.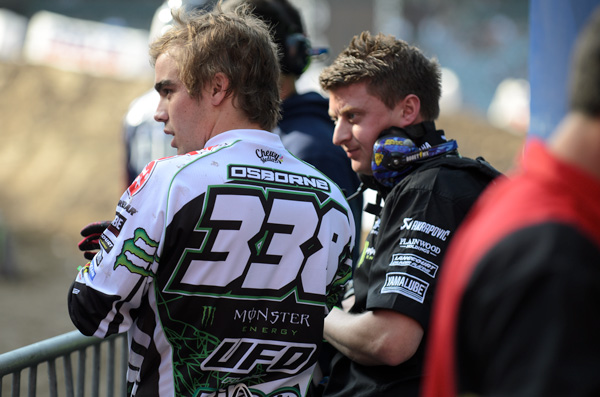 Yeah, we know he was there with his UFO gear and weird sponsors but trust us, Osborne is American
Zach Osborne grew up in Virginia and was surrounded by racing all throughout his childhood. His father, Mark Osborne, was a professional drag racer in the pro stock NHRA series and undoubtedly can be the person credited for steering Zach into motorsports. With the assistance of his family, Zach showed promise early in his motocross career and as a result, was handpicked by KTM to develop their soon to be released 85cc machine. After spending months testing in Austria, he returned to the states with the support of KTM and would go on to put together a very impressive amateur career. By winning the Junior World Championship in Latvia and the 85cc 14-15 title at Loretta Lynns in 2004, Zach had firmly cemented his phenom status in the sport. In '05 aboard a KTM 125, he would continue to impress the industry by earning a couple moto wins against the likes of Trey Canard and Ryan Dungey to furthermore solidify his rank as one of hottest prospects coming out of the amateurs. The soon to be 16-year-old had been KTM's hotshot mini-rider for years and the time had finally come for him to live up to the hype. Without any announcements or press releases, Osborne showed up at Daytona in '06 and impressed many by winning his day qualifier and later finishing fourteenth in the main after a spectacular first turn crash. Following that, he chose to sit out the rest of the supercross season and turned his focus towards the nationals. With financial backing from his father mixed with the support coming from KTM, the rookie showed up at Hangtown and displayed good speed by placing sixth in the first moto. Everything was going great for Zach. He was a talented young rider who looked to have a very bright future in motocross. Unknowing to him though, his career was about to go down a very different road. After his strong showing at Hangtown, Zach would struggle with nagging injuries as a result of constant and unforgiving crashes. Above all that, the most damaging thing to happen to his image/career would take place at round four in Budds Creek. After leading the majority of the first moto, Osborne would eventually fade back to twentieth place without ever crashing, leaving many people to believe that the slightly pudgy Virginia native was a slacker and out of shape. Unbeknownst to him at the time, Zach had actually suffered a heat stroke that would eventually lead to bigger problems later on. He took some time away from the races to regroup and ultimately came back at the end of the season but struggled to get the results everyone expected from him.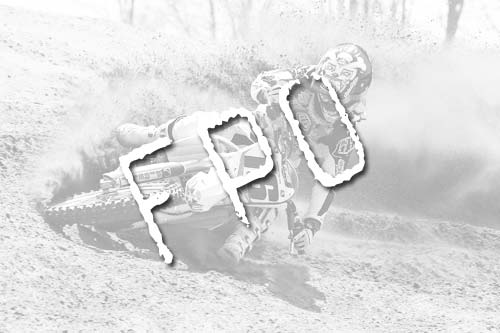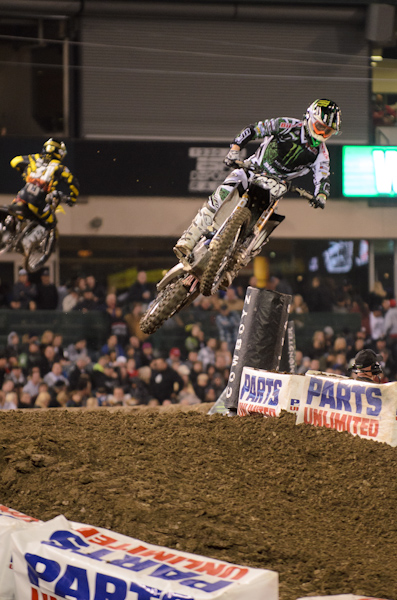 Osborne returned from years abroad and logged in the third fastest time in practice at Anaheim.
Still aboard his KTM 250 SX-F in '07, Zach entered the east coast supercross series ready to put in some solid results. Despite putting in a valiant effort, he would only gain a few top tens throughout the season and surely didn't resemble the amateur sensation everyone watched battle for titles at Loretta's a few years earlier. Most people figured he would pick up some speed once the outdoors started up and get back on track but sadly for Zach, it just wasn't to be. Once the heat of the national series came, he would delve even deeper into his downward spiral and only score 3 points in the first four motos of the season. Even with him being accustomed to the scorching weather of Virginia, Zach seemed unable to deal with blistering heat that coincided with the motocross season and was constantly sick. He wisely decided to take some time off to figure out what was going on with his body and during this time he met Dr. John Edwards. Luckily after thorough testing, Edwards was finally able to figure out why Zach's body was becoming so run down. Edwards came to the conclusion that Osborne was suffering from chronic bronchitis and exercise induced asthma. Zach had thought that the heat stroke he suffered at Budds Creek the year prior was the cause of all his recent health problems but as it turned out, it actually just brought his other ailments to the surface. After being in such poor health for almost a year, he took care of his bodily issues with the help of Dr. Edwards and started getting ready for another attack on the outdoors. When he returned, many people didn't know the truth about Osborne and thought he was just some lazy kid that didn't train hard enough. Unfortunately, Zach would not get a proper chance to prove the critics wrong as he would quickly sustain a neck injury which would force him to miss the following two races. He came back for the last three rounds but his results would show that the time he spent on the sidelines had severely hindered his speed. In all, Zach's '07 season was pretty much a demoralizing nightmare and sadly the bad news would continue to come. After being with KTM for about 8 years, the orange army decided to let go of their once highly touted wonder boy to complete the disastrous season for Zach.
Some people might say that the darkest hour is right before the dawn. Surely that's what Osborne had to have been thinking when after just being let go from KTM, he was picked up by the once highly regarded Yamaha of Troy team. From the outside, the YoT team looked to be very well ran and very well funded, but by '08 they were not the powerhouse many people thought they were. Either way, to Zach this was his second chance at success. His health problems were, for the most part, taken care of and he was ready to make an assault on the west coast supercross championship. Once again though, the moto gods would not treat him very kindly. At Anaheim 1, he would break his scapula in his heat race and be on the injured list for most of the series. Now healthy and heading into the outdoors, Zach was looking primed for some top five finishes but yet again, he would crash out of the series opener at Glen Helen and break his wrist in the process. Between all the injuries, the lack of results and the turbulence within the team, his season was again looking pretty dismal. When Zach was finally all healed up and ready to return, the team didn't have a bike for him to ride and it looked like he was soon to be let out of his contract with Yamaha of Troy. He was on a fast track to becoming just another hotshot amateur that just couldn't make it in the pros. He was looking for another job and it looked like his racing career was about to be over.
Smash cut to today. Looking at Zach's career at that point, could anyone back then have ever guessed that just three and a half years later, he is the only American to win a GP in this century and is now a title contender for the MX2 championship? When the Yamaha of Troy team wouldn't stop jerking him around, he saw an opportunity in Europe with the English based Utag Yamaha team, took it, and has since made a name for himself all over the world. It was a chance to reassert his credentials, and just what he needed at the time. Late in the summer of '08, he would make his Grand Prix debut in the grueling sand of Lommel where he showed good speed by placing eighth in the second moto. Just a couple weeks later, Zach would win a moto against the soon-to-be champion Tyla Rattray in Ireland to distinguish himself as serious threat in the class. Osborne committed himself to a full time assault at the MX2 title in '09 and would win his first GP with a 3-1 score at the third round in Istanbul. Once again though, he injury gremlin was about to show its ugly face. Just weeks after his first win, Osborne would take a hard hit to the ground due to an engine problem and break his scaphoid. Out for the year and in a sense back to square one, things we're not looking good for the foreigner. He refused to give up though and was determined to make things work in Europe.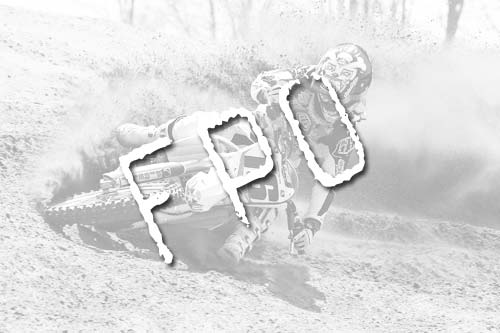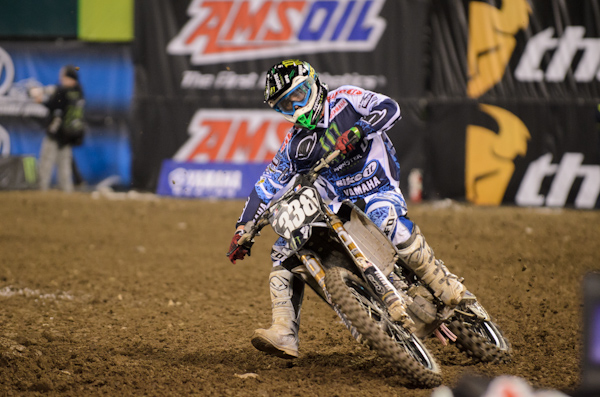 As Osborne said to me "I didn't forget how to ride supercross but it's possible I forgot how to start in supercross" after a bad start held him to a ninth in the 250 main.
In the off season, Zach would take a risk by electing to train and prepare for the '10 season in the dark winter of Norway. The preparation would pay off as he would have the best season of his professional career and the only one without serious injury. He earned podiums in France, Germany and the U.S. aboard his new Cosworth/Bike It /Wild Wolf Yamaha en route to finishing fourth overall in the MX2 championship. He would also win the MX2 British National Championship against some very tough competition and began growing a collection of fans in Europe with his demeanor and results. In '11, he started the season with many top fives and a couple podiums but Zach would eventually be in a constant battle with injuries and sickness, once again! At round three in Glen Helen, Zach tweaked his wrist but still put in a good enough effort to get fourth overall on the day. After the Swedish round, he would be diagnosed with the Epstein Barr virus only to later separate his shoulder at a British National, abruptly putting an end to his season.
Splitting the cost to race with his team, Zach showed up at Anaheim this past weekend ready to reestablish himself as a supercross threat. At first, many mistook him for the other #338 (J-Law) and the people that did remember him didn't think he had the speed to run anywhere near the top five. Even though his team doesn't have much experience with supercross and Zach hasn't raced indoors since 2008, he surprised everyone by qualifying third overall and getting a solid fourth in his heat race. His main event didn't go so well due to the starting gate debacle but he was still able to get a very respectable ninth place finish. Overall he was exciting, aggressive, and fast. His bike looked good all day long and by jumping into the class and being competitive right away, he was able to remind everyone that Zach Osborne still has some supercross skills.
Although he is prone to crashing, sickness and injury, you can't help but to love Zach Osborne. He has been down and out many times but he never loses hope and he always comes back swinging. With his career in the states ruined by less than mediocre results in '08, he was quickly becoming just another one and done amateur horror stories. After coming up short here in the U.S., Zach has battled back to the top of the sport by racing on the Grand Prix circuits of Europe and has become America's most successful GP racer in the last decade. To put it in perspective, the last American to win a world championship was Bobby Moore in 1994. In the last fifteen years, several U.S. riders have made the blind leap of faith and tried to gain their glory by racing the GP's. For most, the longing for home became too much and they quickly came back with a new appreciation for the comforts they overlook every day. Zach was able to succeed overseas because he's a hard-worker, he's down to earth and comes from a solid back ground. He doesn't go for the glitzy life-style and he's able to embrace and appreciate the culture of everywhere he goes. He's enjoys racing across the pond and he's forged a great relationship with his team. Ultimately, his success in Europe can be credited to his willingness to adapt to any situation and the positive outlook he puts on things. Zach, now facing his last season in the MX2 class, wants to win the world championship before he comes back to the U.S. and it looks like it's going to be a great battle between him, Herlings and Searle. Beyond that he is focusing on making his return to American racing in 2013 and to make that happen he's racing the first four supercross rounds to remind everyone that he has the skills to race in the stadiums of the United States.
If Zach wins the MX2 title this year and then comes back and has a successful career here in the states, it will be one of the greatest comebacks of all time. If he doesn't, you still have to give Zach props for never giving up and having the balls to leave everything he knows in pursuit of greatness overseas. He's a awesome kid that doesn't get enough credit for being a great representative of American motocross all around the world, so if you see him at a race anytime soon, go up to him and say thank you. If nothing else, show him some respect and please stop calling him J-Law.