Ironic: containing or exemplifying irony; coincidental; unexpected: It is ironic two weeks in a row both riders comming up Just Short have also finished 10th in their heat race.
Ironic: containing or exemplifying irony; coincidental; unexpected: It is ironic two weeks in a row both riders comming up Just Short have also finished 10th in their heat race.
By: Moser
Photos by: Andrew Fredrickson and Matt Wallace
In one of the first articles I ever wrote for pulpmx I was honored to use the photos of a Mr. @Wallace109. Wallace has been around the sport of motocross a long time he's a real straight shooter and not just with a camera. If you recall a story Kent Watson told about Deegan slipping ambien into a burrito to incapacitate someone prior to a night on the town that would be thee @Wallace109. You are more likely to find Wallace living the quite life in the mountains these days than at the track but he came down out of the mountains long enough to take some photos at Oakland and was kind enough to provide me with some awesome pictures of the riders who came up Just Short this week. I highly recommend you check out Wallace's pictures on his blog, lots of eye candy and behind the scenes stuff, of the non porn variety. http://myfavoritewallace.blogspot.com/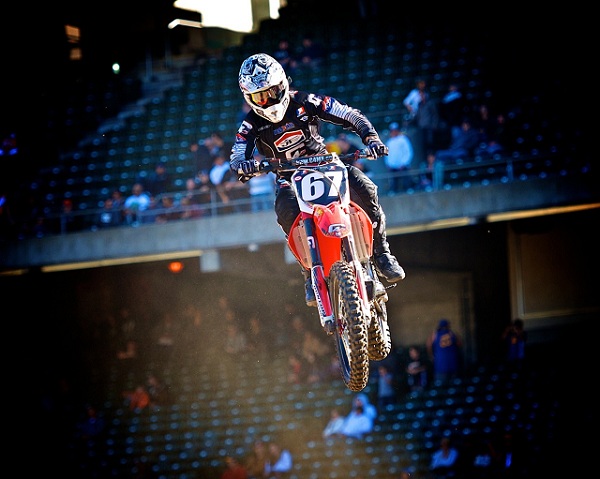 This all black JT gear looks really sharp with the red Honda. Photo: Matt Wallace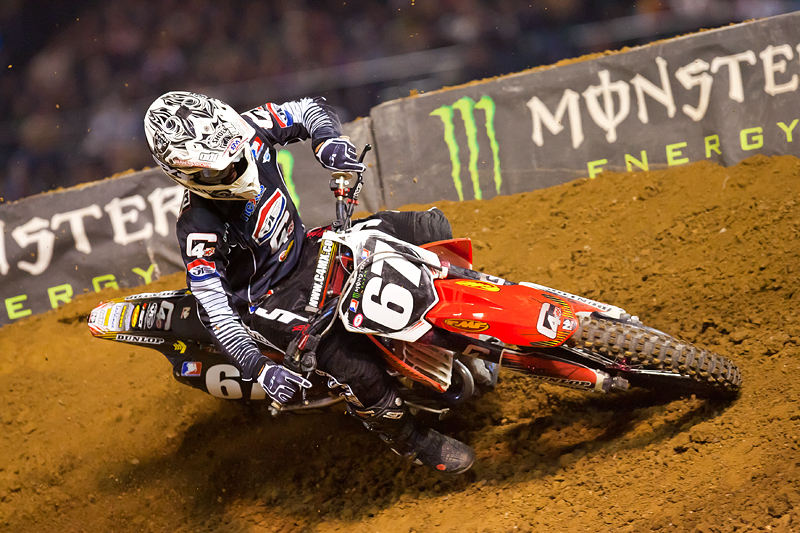 Scott chasing down a qualifying position and he was oh so close.
Photo: Andrew Fredrickson
#67 Scott Champion – C4MX/Nexis/JT USA/FMF/Dunlop/Sidi/Renegade Fuels/Red Seven.
When you hear the name Scott Champion you probably think of a hard working privateer, just trying to make it to the races trying to qualify and who can't catch a break. Or maybe you think of a guy who got a one off ride on a Factory Yamaha 450 at Washougal a few years back. Alright who am I kidding most people instantly think of Scotts girlfriend, model, pit reporter and single handedly increasing the sale of Kleenex, Erin Normoyle. To the best of my recollection Scott has been doing it the hard way ever since he turned pro. At one point he was even forced to race Erin's bike which is a true testament to how bad this guy wants to race. It takes a real man to swallow his pride and straddle not his girlfriend but her motorcycle. Jokes about Scott riding his girlfriend's bike practically write themselves, in hind sight I feel a little guilty about making jabs at Scott amongst friends after copious amounts of alcohol and I admire his motivation to make it in the pro ranks.
So far this season Scott has made 2 main events and missed 2 main which is slightly better odds then you get at the roulette table. Scott get's picked on because he's dating Erin which is unfair and I can completely relate to, lots of people consider me a sex symbol and say lot's of inappropriate things to me on twitter (especially @itsORourke). By all accounts Scott seems like a good guy who's working hard, keeping his head down and giving it up to his team. You've probably come across some of videographer Kyle Cowling's work he shoots some really cool videos. His Andrew Short video was shot at night (don't worry its rated PG13 Shorty keeps his clothes on) it's an awesome one off video with angles and lighting that you don't ever see, if you haven't seen it check it out at the following link: Kyle Cowling "After Hours" Shorty video http://vimeo.com/27790947
After you watch the Shorty video you should also check out this cool piece Kyle did on Scott before the Supercross season with a little insight into what makes Scott tick and the life of a privateer. Kyle Cowling "The Privateer ft Scott Champion" video
http://vurbmoto.com/theatre/privateer-ft-scott-champion/7873/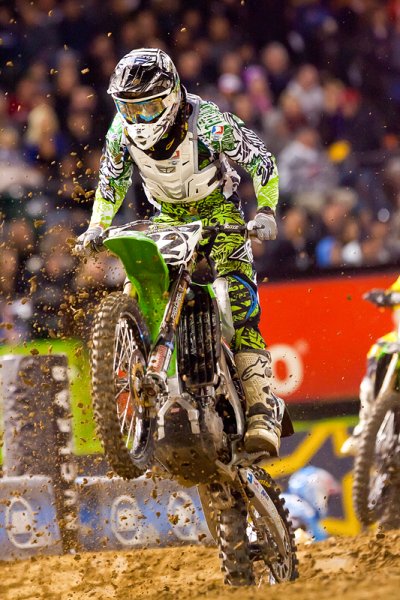 Pooh put himself in a good position to qualify off the start.
Photo by: Andrew Fredrickson
It's true what they say Pooh likes his hunny and is a big boy.
Photo by: Matt Wallace
#82 Justin (Pooh) Sipes – Sipes Racing Inc/Pro Logics/Gateway Cycles/Scott/Fly/Dunlop/Gutt
If you didn't know Justin is the younger brother of Ryan Sipes and has been trying his luck in the pro ranks for a little while now. We have another great nickname this week as Justin is lovingly referred to as Pooh. I don't claim to be an expert in too many things, Andrew Short, how to open a beer bottle with an iPhone ROKFORM case, but Pooh is definitely one of them (and I don't mean the Pooh Weege breaks hotel bathrooms with) my 2 year old is a big fan of the orange bear. A bit of trivia that someone (a man who brags about all things Canadian) requested I include. Winnie the Pooh is actually named after Winnepeg Manitoba. It's a long story and if it interests you look it up on Wikipedia but long story Short, a Canadian black bear was bought for $20, shipped to a zoo in London and was the inspiration for Winnie the Pooh. How did Justin end up with the nickname Pooh you ask? I had the same question, a love for hunny, maybe he doesn't wear pants, perhaps he has a pet pig named piglet? After several texts, emails, tweets, phone calls, and googling, I received an answer from a man who no longer eats food that leaves his possession in fear of being drugged and "Justin looked like Winnie the Pooh as a kid". I suppose you can literally take the nickname Pooh, at face value.
In terms of current fast professional racing brothers we have (in order of overall combined speed) Hahns, Alessis, Moss', Sipes', Durnhams, Whartons, I think that's all of them. The dynamic of brothers racing coming up through the ranks, practicing, and training together is always an interesting story and generally not a success story for both. I seem to recall hearing Pooh is a relatively big boy and as such rides the 450 which in Supercross is an uphill battle both ways in the snow. There have been very few true privateers to make the main event yet this year and that's not going to change in the near future. The television time these guys get in the LCQ is horrendous it doesn't give me much time to watch them and evaluate their riding, which is probably for the best. Nonetheless it appears from the lap times and finishing positions Pooh has a real shot at making a main event this season.
Thanks for reading this Short recognition of the guys that almost made it, and thanks again to @Wallace109 and Fred for the photos. See you next week. Moser
Please send coupons for Frosted Mini Wheats and/or complaints about this column to jasonw@racerxill.com