Soap Operas have a little bit of everything, scandals, heart break, affairs, second chances, drama, and people falling down elevator shafts, Supercross if often a true to life soap opera and amazingly entertaining.

Soap Operas have a little bit of everything, scandals, heart break, affairs, second chances, drama, and people falling down elevator shafts, Supercross if often a true to life soap opera and amazingly entertaining.
By: Moser
Photos by: Cudby and THE James Lissimore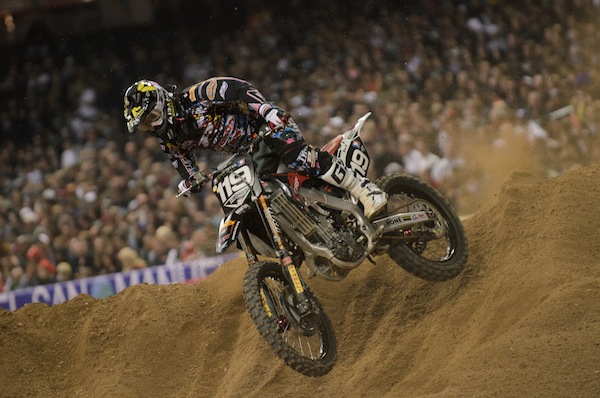 The blacked out gear and black accents on the Honda has a Darth Vadar feel to it.
#119 Max Anstie – Gariboldi Factory Honda Martins Racing
There is never a dull moment or headline when it comes to the life of Max Anstie. Prior to turning pro he I recall he made news with an epic video at an amateur national that was a virtual T-bone fest with his amateur KTM teammate I can still picture some of the slams it was classic. Standby let's see if I can find the video it would totally be worth it. After a few Google searches with key words Anstie, KTM amateur, takeout, I found the race I was thinking of Oak Hill 2009. I can't seem to find the specific video with the awesome slams but here is a quick interview that Vurb Moto did with Anstie after the "incident" note the cool cowboy hat he's rocking. http://www.youtube.com/watch?v=rflQQ9VcpwI It's all coming back to me now Anstie and Jason Anderson were both on the KTM amateur team and after some aggressive riding in one race it turned into a classic moto dad's argument that caused lots of bad blood under the KTM tent, with an end result of Anstie getting DQ'd for the remainder of the weekend. Add in the drama of Anstie's dad hooking up with the KTM team coordinator at the time (eventually having a kid and getting married I think) this is some legendary sand through the hour glass amateur soap opera moto drama.
Anstie seems like a funny easy going kid in all the interviews I can remember with a positive outlook toward racing and his given situation at any given time. His domineer is that of a kid who just loves to ride his dirt bike and as long as he's got a bike to ride is going to have a Shorty sized smile on his face. I can't think of any other sport where being a ginger gives you a competitive advantage but history has proven that having red hair adds a bit of speed between your legs. Anstie has jumped around quite a bit in his still young racing career (hard to believe he's only 18 years old), riding on several different brands and different teams. He's has some real flashes of speed at times and some stand out rides and finishes in SX, MX and the GP's, but is lacking in the consistency. From what you read on the internet and magazines the word on the cyber street is that Anstie's father is difficult to work with and the cause of the several burnt bridges in the industry, and the constant team switching would leave my to believe there has to be some truth to that. With 3 top ten finishes so far this year I would call his SX season a success so far, A2 was the first main event he's missed this year. Anstie is considered a serious contender for wins in the GP's MX2 class this year, and this weekend's race in San Diego will be his last SX race of the year before heading back across the pond. There is no doubt that Matthes is a big supporter of his decision to race the last two Supercross races unlike Zach Osborn, but one has to wonder if Anstie hadn't raced at A2 and missed the main event if that would have been the better choice, I suppose his result this weekend will be the determining factor.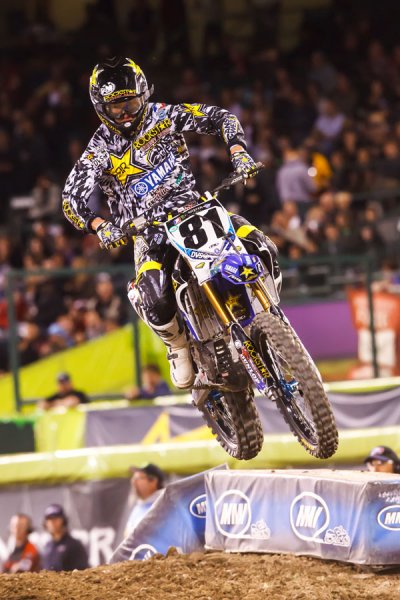 JT$ would say riding a couch is easier than riding a Yamaha.
#81 Robert Kiniry – Star Valli Yamaha/Rockstar Energy Drink/Metal Mulisha

Nobody likes to see riders get hurt and if your one of those guys that watches sports, nascar and such just for the crashes please go see a shrink there is something wrong with you. Injuries in SX/MX is unfortunately to be expected, and prior to the season starting after the music had stopped and all the rides were taken there were still several fast guys without a ride for the upcoming season. A fill in ride is always a nice feel good story, it's an underdog getting a chance or second chance or third change and as Rocky proved you take as many chances as they give you. The inevitable fill in rides are always a gamble and don't always work out great but Kiniry filling in for the injured Mo is already a success in my eyes. (btw get well soon Mo). Kiniry didn't have anything lined up for the 2012 SX season and was sitting on the couch (literally) when he got the call to fill in. Qualifying for the main even at Oakland with only a couple days on the bike, and not just any bike but the "different" handling Yamaha is more than anyone could have expected. The class is stacked and every week we've seen riders missing the main event that are expected to qualify (Brayton, JT$). For Kiniry to set down the TV remote and Doritos, make the main in Oakland and only miss the main by 1 spot in both the Heat race and LCQ at A2, someone over at Star Valli Yamaha rolled the dice and came up snake eyes.
Que the Rocky music as Kiniry is no doubt training right now in really Short shorts running down the beach with his trainer and chasing after chickens to make the most of this opportunity (Rocky references at the request of Matthes) I don't know much about Kiniry he's been around awhile now I couldn't tell you his specific race history or story but I can tell you he's already making the best of this opportunity and good for him. This isn't quite as extreme as the guy who falls down the elevator shaft in the soap opera and falls into a coma for several years then comes back and starts sleeping with his wife's younger brother but it's still a good story. If you see a picture of Kiniry with his helmet off the dude looks more like a boxer or UFC fighter than a SX rider, very strong and square jaw line he looks hard headed literally not figuratively, not someone I want to bump into in a dark alley. There is a really really incredibly good looking guy who is really hot right now by the name of Aaron Hansel, he did an interview with Kiniry about getting the fill in spot for Mo on the Star Valli Yamaha team, check it out here.
http://www.racerxonline.com/2012/02/01/5-minutes-with-bobby-kiniry
Thanks for reading this Short recognition of the guys that almost made it. See you next week. Moser

Please send complaints about this column to jasonw@racerxill.com